PNGAA Update
As well as organising PNGAA events, members of the Management Committee continue to network on your behalf, attending a wide range of events and activities, encouraging new members and possible partnerships to keep our association vital and viable. Featured here are reports and updates from the committee, other news of interest and a welcome to new members. And, therefore, our relevance, our survival.
COVID Has Not Been Kind to This Fine Association. Yes, there are really positive things happening behind the scenes, especially in collections. The gathering and storing of historical objects and artefacts, documents and photographs that chronicle the extraordinary shared relationship of PNG and Australia continues.
However, to explain my COVID reference: COVID restrictions have stopped our growth. Stopped us even replenishing our membership. The virus put a stop to many plans by the committee to hold events, which we felt would grow and diversify our membership.
We had grand plans to stage big shared events … with Sydney Wantoks, for example. In the form of barbecues, preferably mumus, music and perhaps even a Pacific battle of the bands. Events to bring the generations together. Have some fun … while at the same time growing awareness of what we do and why.
If not for COVID, we would also have held an historic meeting in Port Moresby. There are so many people in PNG itself with strong Australian connections: an Australian parent, an Australian schooling, Australian friends or just an interest in our country, our relationship, the region and the world. They just do not know enough about the PNGAA. As you all know, face-to-face is the vital communication currency in PNG. But we could not—and cannot—travel there.
You've heard me time and again refer to the need for this association to evolve and become more involved and entwined with the current PNG—while still honouring the past. Forgive me for repeating a quote from John F Kennedy:
History is a relentless master. It has no present, only the past rushing into the future. To try to hold fast is to be swept aside.
As I've said before: We (all)need to urgently and actively engage and recruit our daughters and sons and our grandchildren. We need to pass the baton of history as it rushes into the future. We need to evolve and grow PNGAA, so that a proud history is not lost, and it becomes the basis for new history being created each and every day.
We also owe it to the former custodians of this proud association for their years and decades of selfless, volunteer work. We need to make sure the joint PNG–Australia history remains a part of the narrative of both countries.
This week, I sadly and reluctantly informed the committee that I would step down. My relentless—and growing—professional workload with Kundu Productions means I can no longer give the time they and the association deserve. However, I have promised my ongoing support.
I really want to help make the Port Moresby event happen. And I pledge to do that. I will continue writing about and making films on PNG. I will always be a supporter and advocate of this association. I look forward to returning to the committee one day.
Concluding, I want to thank everyone on the committee for their selfless dedication, especially in these difficult times.
MAX UECHTRITZ,
1 May 2021PNGAA
President 2019–21
From the Incoming President
The PNGAA relies on the voluntary efforts of its members to fulfil the roles of executive and general committee positions, and without the dedicated contributions of all committee members, the PNGAA would not exist.
At the recent AGM, held on Saturday, 1 May, there were committee positions unfilled due to lack of nominations. These gaps in our ranks leave serious holes in the team and, unless filled, will hamper our ability to drive new alliances, new initiatives and to continue to promote and expand the PNGAA.
I would urge any financial member who believes that they can contribute to the growth of our Association, to consider joining the committee and contributing to the future success of the PNGAA. If you would like to clarify what is involved or to discuss any aspect of the committee's work, please feel free to contact me as follows:
Chris Pearsall:
Mob: 0410 530 502
E: chris.pearsall@bigpond.com
OR: admin@pngaa.net
Your involvement and participation will be warmly welcomed.
CHRIS PEARSALL
2021 PNGAA AGM
The minutes and reports from the2021 AGM are available on the PNGAA website at https://pngaa.org/official_business/)
PNGAA Books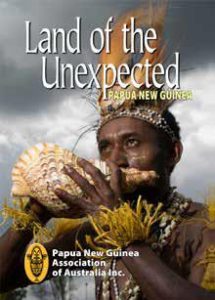 We are delighted to have a new publication, Land of the Unexpected: Papua New Guinea, available and, through the sales, we aim to fund-raise for a PNG project in the 2021 year—details are being resolved as we print and will be announced soon. An earlier version of this book was initiated by members of the PNGAA for the CWA's launch seminar on PNG, their 'country of focus'. It has since been added to considerably with both information and photos, and is an outstanding new publication of 100large-format pages and over 200colour photographs to highlight the amazing country of PNG. It also recognises Australia's important role in developing PNG to become an independent nation—an achievement of which both countries should be proud.
Originally intended as a computer-generated e-book for our members, due to the unprecedented number of requests for a 'real' book—as many members don't have computer access—we have made the decision to have it printed as a stand-alone book.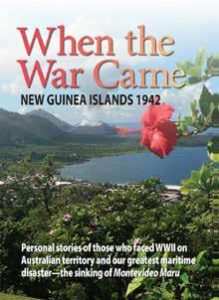 But, unfortunately, we will no longer be able to offer it at no charge. Please do support the PNGAA and our fund-raiser by purchasing copies for yourself, your family, and for other people with whom you might like to share our story, e.g. perhaps a local school—we know itis a publication to be browsed and enjoyed by all (see the Inside Front Cover of this issue).
And, of course, we also have When the War Came: New Guinea Islands 1942, published in 2017 to commemorate the 75thAnniversary of the Fall of Rabaul and the sinking of MS Montevideo Maru, Australia's greatest maritime disaster. It tells the stories of the civilian and military men, women and children caught in the lead up and aftermath of the Japanese invasion and occupation of the New Guinea Islands in 1942. The books are available at our STORE: www.pngaa.org/store
Events Co-ordinator's Report, 2021
I began in this role to give back in some way to Papua New Guinea (PNG).
To be a part of the PNGAA Committee was an opportunity to achieve this aim. However, knowing some of the members but, most particularly, the president of the day, Andrea Williams from Court Street Primary A School, Rabaul—it wasn't too difficult. When I started it was difficult to learn what the membership wanted. So, I just tried a few ideas, picked up what I came across and did the best I could.
The event that has grown most successfully has been the opportunity for women of PNG to share their experiences. The event that took a great deal of time and effort was the Book Expo. It was a well-rounded project and I was pleased with the multiple offerings. However, it wasn't supported for a variety of reasons. Andrea has been the most marvellous support in learning the role. Andrea has had to cope with me and all my peculiarities. All the Committee members have assisted my growth into the role in one way or another.
A special thanks goes to Murrough and Joy Benson for their practical and continuous support at all events. I don't think people realise just how much time and dedication is involved in all that the Committee does for PNGAA.A warm and sincere thanks to all of you during my time as Events Co-ordinator. My huge thank you to all the Area Events Co-ordinators, for continuing or commencing in their roles during my time. The decentralising idea has been important in providing events closer to home for many of our members.
I am most appreciative of Cheryl Marvell, who has assisted my transition to leaving the role. It has been great to complete the majority of the events I had started to organise. The new ideas being brought to the Committee will make the role easier.
Networking with various other groups on events and projects has been beneficial and enjoyable. So, I do encourage another person to join the Committee and offer their skills and experience. Overall, I am most content with my contributions since 2010Ol lain bilong mi, oli nambawan tru. Oli halipim mi long gutpela wok. Bung wantaim na hamamas olsem yumi ol wantok. Tenkyu tru!Having had Roger by my side every step of the way, attempting to steady my high-flying dreams to what could be achieved and supporting me in the practical aspect of the role has been a blessing, at most times for both of us.
Both my sisters were supportive. Lisa was always willing to listen to my thoughts, ideas, disappointments and her suggestions will always be appreciated. What can I say for all the book sales and the little extras like the lavender posies that Jane organised? To see their faces as the event had to be pulled together on the day, always lifted my heart.
Nigel and Monique, Lija and Winstone, Shan, Zion and Ruby thank you all for attending, singing, selling raffle tickets, helping to setup and knowing how important all this was to me. It has been a joy to get to find friends of old, meet new friends, know a little bit more about you and be of service to you all. Wishing you all health and continued togetherness in the Spirit of PNG.
SARA TURNER
Book Donation for PNGAA
CollectionThe author, Mary Mennis, has generously provided a copy of her book, The Babau of Rabaul: Tolai Fish Traps of Papua New Guinea, for addition to the PNGAA Collection. The book is a detailed and well-illustrated account of the traditional fishing methods of the Tolai people of New Britain.
Collectively this system is known as babau. It includes descriptions of its components—the bamboo traps, nets and the platforms from which these were launched to gather a certain fish, urup.
Originally these were all made from materials gathered in the bush and assembled at a special site, matanoi, near the beach. The first descriptions of babau were by George Brown, the missionary who came to the area in 1975. Further descriptions of babau were recorded and photographs taken by Richard Parkinson, a planter and brother-in-law of Queen Emma.
Brian Mennis, who was Assistant Surveyor General of TPNG at the time, made a detailed study of the traditional fishing practice in 1973 and many of his photographs are included in this book (his Vale was published in Una Voce, December 2018). The current adaptations of the system, especially as a consequence of 1994's volcanic eruption, were examined by Mary Mennis who re-visited Rabaul in2019 and had a series of interviews with Tolai people arranged by Tiolam Wawaga.
Published by: UPNG Press Port Moresby—Cost: $35.00Available from: Mary Mennis, MBE Lalong Enterprises, 25 Riesling St, Carseldine, 4034 QLD
PNGAA New Members
The PNGAA Committee welcomes the following new members: Marie Andrews, Pascale Bonnemere, Bennie Clarke, Louise Darmody, David Doolan, Rhonda Forrest, Bill Fry, William Gill, Paul Greblo, Jan Grose, Karo Haltmeier, LeeAnne Katsaris, Robert Keown, Wayne Larcombe, Neil & Takie Murray, Bob Teerink, Don Walker& Jack Wall.
Farewell to a Great British Institution
On behalf of our members, the PNGAA extends our deepest sympathies and condolences to Her Majesty and the Royal Family on the death of Prince Philip, Duke of Edinburgh. Please turn to the back cover of this issue for our tribute. Susie McGrade, from Rabaul Hotel, was in London at the time and laid f lowers outside Buckingham Palace.
She wrote on Facebook:
I carried Rabaul on my shoulders, because I think he really did care for the Commonwealth and his friends in the Pacific!