PNGAA REPORT
From the President
The start of 2022 has come and gone again and perhaps, like me, you are in a little trepidation as to how the remainder of the year will unfold with COVID still hanging over us and seemingly endless debate about how to deal with it, including the seemingly pointless debate (in my mind) about whether to vaccinate or not.
Many of us who were born in PNG in the 1950s and 1960s, were vaccinated with BCG to provide us with protection against tuberculosis, and I don't ever recall there being much debate among parents as to whether or not to have children vaccinated. It was simply highly recommended and the advice of trained medical professionals was accepted as the right thing to do to save people from a serious disease. The same thing happened with smallpox and polio vaccinations and I daresay most of us were given a healthy start in life because these vaccinations were available and not fiercely debated or contested.
As I write this report, I am now waiting to see if a second COVID booster is recommended and I continue to be amazed at how much attitudes to public health have changed and how much resistance there is to vaccinations these days.
'PNG Voices'
I have recently had several conversations with the Whitlam Institute, located within the University of Western Sydney, in regards to their most recent research project specifically focused on Papua New Guinea. Entitled 'PNG Voices—Perspectives on Australia and the World', the report aims to provide Australian policy makers with enhanced knowledge about how the people of Papua New Guinea perceive themselves, their communities, their country and their relationship with Australia—for the benefit of our long-term bilateral relations.
The report was produced after an extensive series of interviews, focus groups and surveys with a wide range of PNG citizens and is due to be published in March 2022. I am hoping to arrange a lunch event in Sydney where the PNGAA can participate in a public launch of the report.
Corporate Membership
Your committee has been continuing its work to promote the activities of the PNGAA and is considering a number of initiatives including increasing the participation of corporate members. Before doing so we need to define specific guidelines for such members and the executive committee and I now have these guidelines under active consideration.
We hope this will, among other things, create new partnerships that can be used to increase the resources and capacity of the PNGAA to provide a higher level of interaction with PNG and to address bigger challenges. Further information will be available once the committee has finalised its position.
Kokoda Track Memorial Walkway
We have also resurrected our discussions with the Board of the Kokoda Track Memorial Walkway, located in the Sydney suburb of Concord. The Walkway is an established tourist attraction and educational site commemorating the battles along the Kokoda Track during WWII. These discussions have been focused on the objective of securing a permanent home for the growing collection of books, documents, files and artefacts donated to the PNGAA over some years.
The site includes an education centre and kiosk as well as the walkway and, obviously, has a close affiliation with PNG. The actual land on which the Walkway sits is owned by Canada Bay Council and we are arranging discussions with the mayor and your committee feels that there is a natural synergy, which would provide benefits to both parties, including a potential increase in visitor numbers.
PNGAA New Members
The committee welcomes the following new members: Ron Austin, Tony Behm, Michael Challinger, Ken Cheung, Antonia da-Rin, Terence Hubbard, Yvonne & Tim Leahy, Richard Lee, Eddie Leonard, Debbie McNeil, Dorelle Parry, Ashley Rogers, Graham Setchell, Chris Skelding, Kim Terrell, Victor Terry, Brent Thomson, Peter Walpole and Quenten Watson.
Hopefully, 2022 will be a healthy and fruitful year for all of us and I wish everyone
the best.
Chris Pearsall, President, PNGAA
The PNGAA Needs YOU!!!
Like most volunteer organisations, the PNGAA operates with the assistance of dedicated volunteers who are willing to provide assistance to further the development of the PNGAA and the advancement of its objectives.
Currently, the PNGAA Committee badly needs a few volunteers who are able to assist by providing a few hours each month to undertake a number of critical tasks essential to the smooth and efficient running of the organisation. Specifically, we need:
A Committee Secretary • A Treasurer • An Events Co-Ordinator
Usually committee meetings are held about every eight weeks via Zoom, offering convenience for committee members not based in Sydney. You will be joining a dedicated group of existing committee members who have a strong interest in Papua New Guinea and its people, and who want to see the bilateral relationship between Australia and Papua New Guinea continue to grow and prosper. It is now forty-seven years since Papua New Guinea achieved independence and since then the nation has achieved a lot through many difficult circumstances.
However, good relationships with Australia can only be maintained and grown with continued nurturing of the relationship at government level and through the work of organisations such as the PNGAA.
But the PNGAA can only be as effective as the collective skills and involvement of its members!!! That's why we need to fill the above committee positions.
If you can help, please feel free to contact me for any further information. Chris Pearsall—president@pngaa.net
Editorial
This and later issues of PNG Kundu acknowledge the eightieth anniversary of the year the Second World War came to Papua New Guinea.This was a significant event in Australian history—never before had land under our control been attacked by a foreign power.
In this issue we recount the story of the bombing and invasion of New Britain, the initial military success of the Japanese and its horrific aftermaths, the Tol Massacre and the loss of the Montevideo Maru. Subsequent issues of the journal will retell the stories of battles in Papua and on the New Guinea mainland, and the long campaign that ended with the defeat of the invaders.
These well-recorded military histories are graphic illustrations of how war impacts the people directly involved—the men and women of the armed services and their families.
Australian and other civilian residents of the Territories of Papua and New Guinea had their lives seriously disrupted. Women and children were ordered back to Australia. Men were called into service in volunteer units of the Army. The people who were also seriously affected were the Papua New Guineans and resident Chinese who lived in the villages in and around where Allied forces and the Japanese fought pitched battles. The stories of some of those people are now being told, as in PNGAA's book, When the War Came: New Guinea Islands 1942.
Other stories of the striking actions of individuals to the threat of war continue to emerge. An example, on page 18 of this issue, is the response of the Resident Magistrate on Misima Island when it seemed that Japan might invade.
This issue also records the life and death of Ben White, soldier, coastwatcher and postwar planter with a special tribute on page 58.
And, on a lighter note, the front cover of this issue features a view of Kwato Island—an island in China Strait, Milne Bay Province. It is famous for the hilltop church that was built in 1891. More information about the church and Rev. Charles Abel, is included in 'Saving Kwato Island' on page 34.
JOHN EGERTON, Editor, PNG Kundu
News from the PNGAA Collection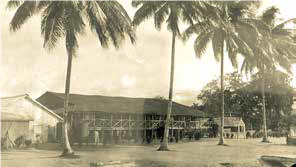 Early in 2022 a very welcome box was delivered from Maria Andrews full of historical documents and photos that her father, Roy Andrews, had collected during his lifetime.
Roy was a Kiap from 1959 until independence in 1975. He served in the Simbu Province, Milne Bay Province and finally at the District Headquarters in Samarai. His love for the country shines through in his collection and his strong interest in those who came before him.
Details of just a few of the items:
Original photographs taken by John Hinton of prewar Salamaua.
Old prewar postcards and small photo albums that he has collected.
Warren Young's self-published book on the Japanese occupation of Rabaul.
Old photos but unfortunately some are unnamed.
Copies of documents surrounding the Battle of Milne Bay, 1942.
Three volumes of copies of letters written 1929–32 by JHW Johns to his parents and sister. Johns appears to have been employed in Salamaua—perhaps at the Bank of NSW branch.
If you can shed any light on our unnamed photographs here, we would love to hear from you.
Thank you, Maria, for thinking of us and keeping these items safe until we could receive them.
If you have any material that you think might be of interest to us or of historical significance that you think should be kept, please contact me on 0438635132 or collections@pngaa.org.au
Cheryl Marvell, PNGAA Archivist
Celebrating PNGAA's 70th Anniversary with a Tropical Christmas Lunch
A great day was had by all, and we were fortunate to have Kylie Adams-Collier, with her lens and extraordinary eye, taking snapshots to remember this special day! Thank you so much, Kylie.
Julianne Ross Allcorn, an Archibald and Wynne Finalist, AGNSW 2021, winner of the AGNSW Wynne 2020 'Trustees Watercolour Prize', and PNGAA Events Co-ordinator from 2009–15, generously donated the lucky door prize—a 2022 calendar and cards reflecting her wonderful paintings. These are available by contacting Juli.
Beautiful bilums were available for purchase through Karo Haltmeier, who is donating funds to the Sepik. PNGAA was pleased to assist Karo in this endeavour.
For a full report and some 'mug' shots, please see the Inside Back Cover of this issue.
Andrea Williams
Notice of Annual General Meeting—30 April 2022
The 71st Annual General Meeting of the Papua New Guinea Association of Australia Incorporated will be held in Sydney on Saturday, 30 April 2022 at the Hornsby RSL, 4 High Street, Hornsby, NSW, commencing at 11.30 am.
A luncheon has been arranged starting at approximately 1.00 pm.
AGENDA
Members present and apologies
Confirmation of Minutes of the 70th AGM, 1 May 2021—available on the PNGAA website at https://pngaa.org/wp-content/uploads/2021/07/PNGAA-AGM-1-May-2021_-002.pdf
Business arising from the Minutes
President's Report
Treasurer's Report and receipt and adoption of the Audited Financial Statements for the year ended 31 December 2021
General discussion
The Objectives for which the Association is primarily established are:
a) to strengthen the civil relationship between the people of Australia and Papua New Guinea;
b) to foster and encourage contact and friendship with Papua New Guineans and promote friendly association among members;
c) to foster and maintain an interest in contemporary and historical events in Papua New Guinea;
d) to provide appropriate financial, material or intellectual assistance to projects of benefit to Papua New Guinea as an Association individually or in conjunction with other agencies;
e) to publish journals, magazines, newsletters, websites, books and other media to inform and educate people about Papua New Guinea and to provide a means of communication among members of the Association and others;
f) to encourage the preservation of documents, historical and cultural material related to Papua New Guinea, including the production and recording of oral and written histories; and
g) to safeguard and foster the retirement conditions of superannuated members of the former services in Papua New Guinea.
In pursuance of these Objectives, the Association:
a) will not be involved in, nor engage in, partisan politics; however, this does not prohibit the Association from engaging with members of parliament or public servants in pursuit of its objects; and
b) may raise funds for its approved projects.
AGM LUNCHEON DETAILS
The AGM should not take long and there will be plenty of time for mingling (observing social distancing as required). PNGAA requires that attendees are fully vaccinated. It is anticipated that there will be a guest speaker at the AGM so please watch the website, www.pngaa.org, and social media for further information. Members, their families and friends are all welcome—but please let us know if you wish to come to the luncheon by either:
completing the booking form and payment details on the 'Treasurer's Corner' form included at the end of the March 2022 PNG Kundu and returning it by Thursday, 14 April 2022; or
by direct credit to the PNGAA bank account, including your surname, member number (if known) and the code 'AGM' in the transaction description —and followed up with a confirming email to treasurer@pngaa.net as the full transaction details do not always show up on our bank statement.
The cost of $45.00 per person does not include liquor or soft drinks but these will be available from a cash-only bar. Bookings and pre-payment are essential and need to be made by Thursday, 14 April please.
Please note that Good Friday is 15 April 2022.
Cancellations advised by Thursday, 14 April 2022 will secure a full refund. This is the date we need to inform the venue of final numbers; after this date the Association must pay for those unable to attend. All PNGAA functions may be affected by changes to Covid-19 restrictions applying in NSW.
There is free on-site parking available to those driving—entrance via Ashley Lane at the rear of the Club. The train station is nearby; public transport information Ph: 13 15 00.