PNG Kundu: our drumbeat, our stories, our voices
Kundu' (drum in Tok Pisin) is derived from the Kuanua word for the New Guinea
rosewood (Pterocarpus indicus) from which most drums are carved and shaped. Kuanua is
the language of the Tolai people of the Gazelle Peninsula, East New Britain, and provides
some fifteen per cent of Tok Pisin words, which is probably the most spoken language in
Papua New Guinea, second only to English.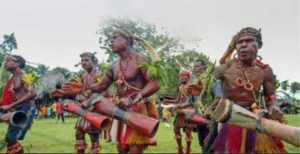 THE KUNDU is called 'GABA' in Hiri Motu (previously Police Motu), a lingua franca from the
south coast of the mainland. Hiri Motu is a pidgin form of pure Motu spoken by the original
inhabitants of the Port Moresby area. These people used to trade their clay pots for sago during
epic canoe voyages along the south coast, mainly to the west of Moresby.
The hourglass-shaped drum is the most widely used musical instrument throughout Papua
New Guinea. It is usually carved from a single piece of rosewood and many are constructed
with a handle—they are often incised with ornate depictions of animals such as crocodiles
and pigs, or with ancestral totems. Rosewood is found in (mainly lowland) tropical areas from
India to Solomon Islands. Thus Highlanders need to obtain their kundu, or material, by trade or
otherwise use substitute local timber.
The drum skin may come from a variety of sources, such as lizard and snake skins and even
the tree kangaroo, held tightly in place by tree resin. Wild native beeswax or, in many cases today,
gum pellets are positioned on the surface of the skin tympanum to achieve the desired pitch.
The kundu might be used by individuals or small groups for entertainment, but it is more
widely seen at big dances (sing-sings) in the Highlands where hundreds might line up and move
in rhythm to their massed drum-beats. Preparations for festive occasions include the smearing
of the skin with pig grease in the Highlands and coconut oil in coastal areas, and thus drums
acquire a high polish over time.
Similar to the kundu, and sought after because of intricate carved designs, is the Trobriand
Island drum—the kesosau. However, this type lacks the hourglass waist of the kundu. The
favoured timber for Trobriand drums is kwila (Intsia bijuga). Another type of drum, the garamut
in Tok Pisin, is mostly found in coastal areas and lowlands of the north coast. This is not a
musical instrument but rather was used as a means of sending messages over distances.
Various drumbeats have passed news from village to village of births and deaths, danger,
war and weddings. As accompaniment to songs, dances and festivals to this day they help
retain, interpret and translate for modern Papua New Guineans the lore and customs
of their ancestors.