PNG in the News
Women in Politics in PNG
Lily, a magazine published by Pacific Islands Publishing, and usually devoted to fashion and other topics of interest principally to women, has, in a recent issue (No. 25), featured stories about women in politics and has profiled many of the candidates trying once again to get elected to parliament. An article by Rebecca Nugent and Carmel Pilotti identifies some of the reasons why, almost uniquely, the parliament of PNG has no members who are women.
The first obstacle is the entrenched mindset—identified as cultural—that holds that only men are fit to lead and that the place for women is in the home caring for husbands, children and the elderly, the animals and vegetable gardens.
There are the physical demands of campaigning in areas with inadequate roads and transport, lack of financial support and in most cases failure of endorsement by the existing political parties. Only a third of the women who contested the last two elections were endorsed by a party, the lowest female endorsement rate in the Pacific, and one of the lowest in the world.
There are, however, many women who, in spite of these obstacles, are determined to stand for public office. The latest estimate is that at least 200 women will contest the 2022 national election in both the 96 'open' seats and the 18 provincial ones. Polling was scheduled to take place from 2 July to 22 July 2022.
Femili Coffee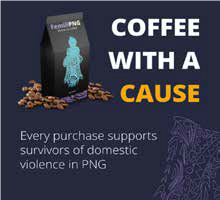 On 10 June 2022, PNG Project News announced the launch, by PNG's High Commissioner, of Femili PNG coffee in Australia. His Excellency Mr John Ma'o Kali CMG, OBE said:
'Make your morning cup of coffee a force for good. When you buy Femili PNG coffee, you are contributing to the empowerment of women and their communities in PNG. By purchasing from female coffee farmers in PNG, we are helping women to achieve sustainable livelihoods in the coffee industry. This economic sustainability also makes it possible for women to bring about meaningful, long-term change and development in their communities.'
Femili PNG is a PNG NGO that provides services to survivors of family and sexual violence.
The distinctive Femili PNG coffee label was kindly designed by well-known artist Lesley Wengembo. The inspiration behind the design is the idea that women are the backbone of Papua New Guinea, represented by a silhouette of a woman carrying a baby in a bilum.
To order Femili PNG coffee, go to: https://shop.femilipng.org
https://www.femilipng.org/femili-pngs-patron-launches-coffee-with-a-cause/
The Bilum Story
On 19 May 2022, the Lowy Institute, Sydney, hosted the screening of a new film, The Bilum Story, about the making of bilums and the women involved in translating bilum making into a source of income both in PNG and internationally. The film was funded by the Department of Foreign Affairs and Trade under the Australia–PNG Partnership and produced under the mentorship of the Difference Incubator. Seventy guests attended the event. These included members of the diplomatic corps in Sydney, businesses, associations including PNGAA and individuals with personal links to Papua New Guinea.
Before the film was shown there were short presentations by Mihai Sora and Jonathon Pryke of the Lowy Institute, Caleb Jarvis of Pacific Trade Investment, Anthea Smits of the Difference Incubator and Caroline Sherman of Among Equals.
After the screening guests, while enjoying the hospitality of the Lowy Institute, had the opportunity to interact with other participants and to admire some of the bilums and other products displayed by Among Equals who are based in Sydney and Bilums and Bilas whose headquarters are in Madang.
Among Equals is a not-for-profit group in Sydney which aims to enhance economic opportunities for women and their communities. It has identified the bilum makers of PNG as artisan weavers and is committed to honouring and promoting this ancient tradition globally.
An earlier film about bilums available on Among Equal's website (following) was made in 2017. It was made on Caroline Sherman's second trip to PNG and it, too, highlights the incredible women artisans and the ways in which Among Equals is helping to empower them. Among Equals has invested $165,000 into the communities in PNG in which they are working and their objective is to increase the market for bilums worldwide, and by doing so considerably increase the profits for reinvestment in PNG communities.
In 2014 Bilum & Bilas (B&B) was started as an online bilum store focused on linking artisanal products to international buyers in an effort to generate better income for bilum weavers and artisans.
The B&B team has discovered the complexities, expense and instability of the craft and bilum supply chain. The intricate craftsmanship, traditional processing and labour that goes into creating a bilum is what makes them so unique, but it also means they are challenging to produce at a scale that provides the artisans with a stable and equitable income.
More recently B&B's contemporary jewellery, inspired by the beauty and essence of the bilum, although in micro form, has been added to their collection. The range of products marketed by B&B can be seen on their website (following).
Florence Kamel, who features in The Bilum Story and in the film produced in 2017 by Amomg Equals, established Jaukae Products in 2002. This is a co-operative representing about 60 weavers and is based in Goroka. Forty of these artisans work from Florence's home while the others work at the Goroka Bilum Market.
The new film runs for about thirty minutes and a trailer can be viewed at https://thebilumstory.com
Organisations interested in hosting a screening of the film should contact: Public-Affairs-PortMoresby@dfat.gov.au
http://www.amongequals.com.au
https://www.bilumandbilas.com
https://oneoftwelve.com/bilum/jakaue-bilum-products
Ilma Savari, Tapa Cloth Maker, Exhibits at London Royal Academy of Art
In August 2019 Rebecca Hossack, the principal of art galleries in London, Miami and New York, was invited by the Ömie people to visit their remote community on Mount Lamington, the notorious volcano in Oro Province, Papua New Guinea. She was, she said, only the seventh European to travel into this remote part of the country and was touched by the warmth of the welcome she received.
The Ömie are a small group of fewer than 2,000 people living in seven villages on the side of the volcano. They had invited Rebecca to visit them to see their intricately decorated tapa cloths, woven from the fibrous inner bark layers of rainforest trees and pounded on rocks with palm-wood mallets.
All colours used are created from natural vegetable dyes, and the areas of appliqué are sewn with a needle made from the wing-bone of a bat, and thread spun from reeds.
During the four-day climb up and down the steep valleys to reach the villages, Rebecca got to know Ilma Savari, a tapa cloth maker, and recognised in her the spirit of a great artist. Since her return to London, and throughout COVID-19 lockdown, Rebecca has maintained a close relationship with Ilma and the people of her village.
Although tapa cloth has a long tradition in the Pacific, Rebecca felt that Ilma's work takes this art form in a new direction. Her art has a distinct inventive spirit, restrained palette, and graphic sense reminiscent of Picasso's use of traditional tribal designs.
Through the auspices of the Rebecca Hossack Gallery, Ilma Savari's work is now on show in London and is the first artist from Papua New Guinea to exhibit at the Royal Academy of Art in London. Her artwork, 'Maja Nune – Eye of the Sun', is on display as part of the annual Summer Exhibition from Tuesday, 21 June 2022.
Pacific Permanent and Temporary Migration
Pater Hooton of the Lowy Institute said in a posting of 21 June 2002 that the consolidation of Australia's identity as an Asia-Pacific nation is 'a work in progress'. Further he believed that earlier Australian governments' failure to take seriously their domestic and international responsibilities has done enormous damage to Australia's standing in the Pacific.
The new Australian Labor Government has committed to listen more carefully to its neighbours and to re-examine conditions of entry to Australia by temporary and permanent migrants. The introduction of a quota and lottery-driven Pacific Engagement Visa similar to that operating in New Zealand is a welcome initiative. It promises to add a new dimension to Australia's permanent migration program. An initial cap of 3,000 visas annually will need to expand if it is to be of benefit to countries like PNG, the Solomons and Vanuatu which, in the past, have provided few of Australia's migrant intake.
Proposed changes to the Pacific Australian Labour Scheme, and the creation of a Pacific window in Australia's permanent migration program, will benefit people directly by expanding opportunities for employment, education and training, and by increasing remittance flows. The economies of all participating countries, including Australia, should benefit and further should enhance Australia's standing in the region.
For this to happen, the initiatives must have the resources needed to secure their effective implementation and have in place the appropriate bilateral understandings and domestic safeguards against worker exploitation.
Hooton also argued that special provision needed to be made for countries like Tuvalu and Kiribati which are under immediate threat from rising sea-levels. There should, he said, be a specific climate change quota beyond the annual migration cap.
https://www.lowyinstitute.org/the-interpreter/pacific-labour-mobility-and-existential-threat-climate-change
PacificAus Sports Netball series 2022
The PacificAus Sports Netball Series was played 21 to 26 March 2022 at Netball Central, Sydney Olympic Park. Sponsored by the Department of Foreign Affairs & Trade, the competition included teams from Fiji, Tonga, Samoa, Singapore and Papua New Guinea (PNG). The series was free to watch and streamed on Zoom.
Each country played each other once and the two best countries played a grand final.
The PNG coach, Anni Iammo, said her biggest problem was selection. COVID-19 restrictions and the few vaccinated players in PNG hampered selection greatly. It could be said that the one selected was not PNG's strongest team. Players were chosen from all parts of PNG (based in Port Moresby and Lae) and PNG born girls playing representative netball in Cairns, Brisbane and the Gold Coast, Queensland.
The coach said PNG's aims were to improve their world ranking which they did so the competition was judged to be a great success although PNG won only one of the four games they played, beating Singapore 64-49. The competition was won by Tonga who beat Fiji 60 goals to 52.
Gregory Corner
World No Buai Day—7 October 2022
Businesses for Health works to support any behaviour that promotes health and reduces the likelihood of developing PNG's deadliest infectious disease—tuberculosis. Chewing betel nut puts more pressure on the immune system and makes developing TB disease more likely.
COVID-19 measures have had some unexpected consequences—like more chewing. Whilst the infection control benefits of mask wearing are well known, in PNG masks have enabled people to hide their workday chewing. With fewer mask wearing requirements now in place, Businesses for Health has announced the start of their campaign to get the workers of PNG to consider the health and financial costs of chewing buai.
The campaign is set to run over seven fortnights. Chewers have been given time to think, analyse, plan and find friends to support them in reducing their chewing habit. It is understood that chewing is part of many people's usual routine, so planning is required for success in reducing dependency on PNG's favourite addictive drug—betel nut!
Buai Challenge
(businesses4health.com)