PNG in the News
Featuring articles and news reports about contemporary Papua New Guinea—also included are the nation's sporting achievements and events, and stories about young people doing interesting things—we encourage young people to become involved in PNGAA to ensure the strong ties formed between PNG and Australia continue into the future.
Young People in the News
Two young people associated with Bush Dokta, Ishani Kaluthotage and Lavau Nalu, were recently selected to represent Australia and PNG respectively at the One Young World (OYW) conference in Munich in 2021. Bush Dokta addresses health inequalities of people in rural Papua New Guinea through connecting health workers in Australia and PNG to deliver appropriate health equipment and support. Ishani Kaluthotage is a medical graduate currently completing her Masters of Public Health and Tropical Medicine and Rural Generalist training in Australia. She has developed a strong relationship with PNG as a volunteer doctor and as a medical educator through Queensland Rural Medical Education and Kiunga Hospital, Western Province.
She represented Australia in the Lowy Institute's Australia-PNG Emerging Leaders Dialogue in 2019 with the goal of strengthening the relationship between the two neighbouring countries. Her passion lies in health policy and minimising health inequalities in low resourced environments within the Indo-Pacific region.
There has been a transition from the leading causes of deaths in PNG previously being due to infectious diseases such as tuberculosis and malaria towards on-communicable diseases such as heart disease, stroke, COVID and diabetes.
As Bush Dokta's Australian-Papua New Guinea Liaison Officer she hopes to help promote access to primary health care services in rural and remote areas, increase public awareness of the importance in minimising risk factors for non-communicable diseases and work with other healthcare workers towards achieving defined goals for the reduction of non-communicable diseases.
Lavau Nalu is a multidisciplinary story teller and a final year medical student at the University of Papua New Guinea, with a keen interest in GlobalHealth, low resource Emergency Medicine and Digital media.
Recognised as a leader in the Pacific, Lavau has been involved in many health projects, selflessly devoting his time to improve health outcomes, previously working with Youth with a Mission (YWAM) Australia Medical Ships, Korobosea Medical Clinic and the Grass Skirt Project. At present, Lavau works as a youth health educator and executive team member for the PNG Health Project, an organisation dedicated to improving health literacy amongst the youth of PNG. Simultaneously, he serves as the PNG-Australian Liaison and Cultural Advisor to the Bush Dokta Initiative Project Yumi, an Australian charity getting essential medical equipment to rural Papua New Guinea.
His interests in Global Health and exploring other cultures have seen him accepted for medical training in Australia, Vietnam and PNG—gaining a greater understanding of his fellow international health workers and affording him opportunities to join global panel discussions having previously been invited as a delegate to the Australian National University, Asia Pacific Week and awarded the Leading the Pacific Scholarship to One Young World2021 in Munich, Germany.
He was awarded a 2021Kokoda Track Foundation Ishani Kaluthotage Archers Leadership Award for his work in public health in Papua New Guinea.
Beyond medicine, Lavau cofounded and curates Archiveples — a digital media project that renegotiates the visual narrative and external perception of Papua New Guinea, by documenting visual stories of PNG shared by Papua New Guineans themselves, navigating histories and false assumptions about PNG and the larger Melanesian community. He is currently an Associate Artist in digital storytelling at Talanoa.
Lavau has not only been selected to attend OYW 2021, but he has also been invited by pharmaceutical giant, Bristol Myers Squibb, to be part of their health delegation for the Summit.
Through OYW, he wants to tap into a global network of collaborators, hoping that this platform will allow for greater visibility of not only the struggles faced in Papua New Guinea but also to highlight the incredible work that organisations like Bush Dokta, PNG Health Project and others do—to fill the gaps in health provision in PNG.
Editor's Note: Kundu thanks Mikaela Seymour, Co-Ordinator/Bush Dokta—Project Yumi Initiative for biographical notes on these young people. http://projectyumi.org/bush-dokta
COVID and the Treaty Villages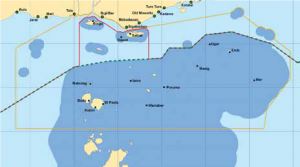 Because of the worsening of the COVID outbreak in PNG the Australian Government has prohibited access of inhabitants of the Treaty villages into the Protected Zone, established by the Torres Strait Treaty between Australia and Papua New Guinea. This treaty was signed in December 1978 and became active in February 1985.
The main reason for the Protected Zone is to enable inhabitants to carry on their traditional way of life. For example, traditional people from both countries may move freely (without passports or visas) for fishing, trade and cultural activities within the Protected Zone. The formation of this zone has also helped to preserve and protect the land, sea and air of the Torres Strait, including the native plant and animal life.
Traditional inhabitants come from the coastal villages of Bula, Mari, Jarai, Tais, Buji/Ber, Sigabadaru, Mabadauan, Old Mawatta, Ture Ture, Kadawa, Katatai, Parama and Sui in PNG. These villages were named in the Treaty (see map above).
People from Sigabadaru, in the Western Province of Papua New Guinea, are our nearest neighbours. Like the people of Buji/Ber they need only a five-minute boat trip to get to either Saibai or Boigu. These two northern-most of the Torres Strait Islands have had long term traditional contact with Papua New Guineans. The COVID inspired prohibition order has made this contact illegal.
Some of the effects of this prohibition were described by Rachel Chun in Sydney Morning Herald, 27 March 2021. Since the border closure, people from Sigabadaru have had to go to Daru for supplies like food, medicines, cleaning products and fuel. The cost of this is prohibitive and because there are reports of cases of COVID in Daru the villagers fear going there.
The inhabitants of the three closest Australian islands, Boigu, Dauan and Sigabadaru, have been visited by vaccination teams at the time of writing (11 April).
None of their near neighbours in PNG are likely to be tested for COVID or vaccinated for some time. Their inability to go about their normal lives and the threat of infection they face is making life even harder for Australia's closest neighbours.
PNG Rugby League Team on the Gold Coast
The Intrust Super Cup is Queensland's premier Rugby League competition featuring traditional clubs and regional teams from Tweed Heads to Papua New Guinea. The team from PNG, the SP Hunters, has made Runaway Bay on the Gold Coast their home base for the 2021 season. They have already won a big crowd of local supporters who have claimed them as their favourite The SP Hunters team, 2021 (top) and their fans (below)team. These include members of the Gold Coast PNG Club.
Editor's Note: I was directed to this story in the Post Courier by Greg Pike.
https://postcourier.com.pg/png-laudsrunaway-bay-community-in-goldcoast/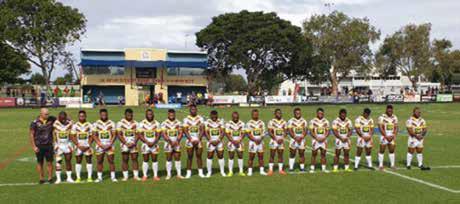 COVID-19 Death
The ABC has reported that the man who died in a Queensland hospital from complications due toCOVID-19 on 6 April was a Papua New Guinea (PNG) national who also held UK citizenship.
Malcolm 'Kela' Smith who was a former member of Parliament in PNG, and later Governor of its Eastern Highlands Province, died on 6 Arpil. A victim of COVID-19, he had been cared for in Redcliffe Hospital since he was airlifted from PNG on 28 March.
In offering condolences to the family, Queensland Health added: 'PNG is one of Queensland's closest neighbours, and when we can offer support to our neighbours, we can, and we will."
John Winterbotham, associate member of NGVR & PNGVR Association has provided these comments on Mr Smith's army career and later role in aviation in PNG:
Mal was also an Australian Army veteran who served as a pilot with Army Aviation including a tour of Vietnam in 1969 where he was awarded the Distinguished Flying Cross for extracting twenty-eight soldiers of 8 Battalion, Royal Australian Regiment who were trapped in a mine field.
He flew his Sioux 47G3B1 (MASH style) aircraft into, and landed in, the minefield on multiple occasions to extract the stranded soldiers whilst, at the same time, delivering combat engineers into the site so they could clear a pathway for safe movement out of the minefield.
Mal l at e r owned and managed the largest rotary wing (helicopter) business in the southern hemisphere—Pacific Helicopters based in Goroka, Eastern Highlands, PNG. Mal served ten years as Governor of the Eastern Highlands and was awarded the CMG and MBE for his service to the people of PNG.As a distinguished Australian army veteran his full story needs to be told rather than being referred to, simply, as a PNG national and as a statistic of COVID-19.'
Editor's Note: We expect a complete vale for Mr Smith in a later edition of Kundu.
Solar Plant for the Markham
Australia has approved finance for the proposed large-scale Markham Valley Solar Plant, located in Markham Valley, Morobe Province. The solar plant will connect to the Ramu electricity grid, which supplies Lae, Madang and the Highlands. The plant will be Papua New Guinea's first utility scale solar power plant and one of the largest solar plants in the Pacific. Construction is expected to commence in 2021.
The solar plant is part of a broader suite of Australian investments under the Papua New Guinea Electrification Partnership that will build new power plants, expand the electricity grids and connect households, schools, clinics and businesses to electricity for the first time, right across Papua New Guinea. The majority of the finance for the solar plant will be provided through the Australian Infrastructure Financing Facility for the Pacific
The project will reduce power generation costs, lower greenhouse gas emissions and displace high-cost, diesel fired electricity generation on the Ramu grid.
https://www.aiffp.gov.au/investments/investment-list/markham-valley-solar-plant
JCU Award for Dr Bragge
Dr Lawrence (Laurie) Bragge has been admitted recently to the award of Honorary Doctor of Letters by James Cook University, in recognition of his significant contribution to scholarship and education, in particular the history of relations between Australia and Papua New Guinea.
Dr Laurie Bragge served the Australian and Papua New Guinean Governments from1961–78. He worked in seven of Papua New Guinea's (PNG)twenty Provinces, starting at the rank of Cadet Patrol Officer and being promoted to Assistant District Commissioner in recognition of his contribution to Australian administration of the then Territory of Papua and New Guinea.
During his service, he gained abroad knowledge of PNG National, Provincial and Local Government Legislation and administrative processes. He developed a deep understanding of PNG cultures, including customary land management and conflict resolution.
Dr Bragge made significant contributions to the history of Australian exploration of PNG through the patrols that he led, one of which was accompanied by Sir David Attenborough.
Dr Bragge studied at the Australian School of Pacific Administration, which was a tertiary institution established by the Australian Government to train administrators (and later school teachers) to work in PNG. His studies included subjects in anthropology.
In the context of his work as a government officer during the 1960s and 1970s, he applied his anthropological training by doing rich ethnographic research, particularly in the Sepik River region.
Dr Bragge conducted interviews with more than200 Sepik elders. He carefully transcribed and analysed the interviews, organised a well-documented collection of artefacts, took more than 3000photographs, and kept a detailed field diary. After leaving the Sepikarea, he worked in other parts of PNG such as the Highlands, Milne Bay, the Upper Sepik (Telefomin-Oksapmin) and the Gulf Province.
Since his retirement he has written seven large volumes on the history of the Sepik, based on the invaluable research data he accumulated while in the field. Sir David Attenborough has expressed admiration for Dr Bragge's research and writing in his introduction to the work.
Dr Bragge recently donated his collection to James Cook University (JCU), comprising his oral history archives, documents, entire PNG library, a collection of about 3000 digitised photographs, as well as approximately 900artefacts, which contain a number of outstanding examples of PNG art.
The Bragge collection documents an important aspect of PNG-Australian history and therefore is a significant asset in forging closer links between JCU and PNG. The collection is an invaluable addition to the research and teaching infrastructure of JCU and is expected to generate numerous research projects aligned with the university's tropical agenda.
Already several research projects for future Higher Degree Research (HDR) students have been identified.
The collection has the potential to generate research collaborations across national boundaries with anthropologists, archaeologists, historians and linguists working in PNG, with University of Papua New Guinea scholars and with the Papua New Guinea National Museum.
Dr Bragge has contributed generously to the research endeavours of many anthropologists and other scholars who have sought him out when conducting their own research projects. He has shared his knowledge and (before donating it to JCU) made his archives freely accessible to HDR students and others working on PNG history and culture.
Chinese Ramu 2 Hydro Project
Ben Fordham, writing in The Australian Newspaper, 12February 2021, said that the PNG government had approved a new$2.6 billion Chinese hydro-electric plant. The Ramu 2 plant would be built, financed and operated by a Chinese company for twenty-five years and then handed back to the government of PNG. PNG Power Ltd has approved, provisionally, an agreement, to purchase power from the new entity. The contract for a transmission upgrade project to link the Ramu 2 project to the national grid has been awarded to another Chinese company and will be financed from a $223million loan from Exim Bank.
https://www.theaustralian.com.auworld/warnings-over-pngs-chinese-hydro
Following the COVID News in PNG
Two topics dominated the news from PNG since the last issue of PNG Kundu. The first was the death of Sir Michael Somare and the second, a little later, was the rapid increase in cases ofCOVID-19 in Port Moresby and elsewhere in the country.
Acknowledging the grief of the people, the Government declared a period of twelve days of mourning at about the time increased numbers of COVID cases were appearing in the capital. No restrictions were placed on the size of gatherings for haus krai. The Australian Government was quick to respond to the COVID situation. On 25 January the High Commissioner in Port Moresby announced that Australia would provide $144 million for COVID vaccination over three years. Extra vaccine could come from Australia's support for global efforts to access vaccines through the COVAX Facility Advance Market Commitment (AMC) for developing countries.
Within two weeks a Chinese government official tweeted that China was assisting the nation with Mai & Laurie Bragge a supply of COVID-19 vaccines.
PNG's Acting Foreign Minister, Rainbo Paita, said there was no agreement with China for the supply of vaccine. (ABC News, 6 February 2021)
In February 2021, the number of cases increased rapidly, with 449cases reported in that month alone, bringing the total to 1,365 with fourteen deaths. Hospitals were under pressure as the number of patients mounted and some healthcare workers were infected with SARS-CoV2, the virus that causes COVID-19.
(https://www.who.int/papuanewguinea)
In response to the worsening COVID situation the Prime Minister, Scot t Morrison, announced on 17 March that Australia was working to give one million doses of Astra Zeneca vaccine, originally destined for Australia, to PNG. He announced also that 8,000 doses of vaccine made in Australia would be sent to PNG immediately to help with PNG's widespread outbreak. Plans were afoot to send both medical supplies and support teams to assist the PNG government.
On 1 April 2021, according to The Loop, the Government of the Peoples Republic of China donated $US 300,000 to PNG. The Minister for Foreign Affairs and Trade, Patrick Pruaitch, said that the money would be given to Port Moresby Hospital to assist it in dealing with the COVID-19situation. The Chinese ambassador said that medical equipment necessary for the management of the surge in COVID cases would follow when flights between the two countries resume.
(https://www.looppng.com/coronavirus/china-donates-us300k-covid-19-response-91119)
By 6 April 2021 the number of COVID-19 cases in PNG had increased to 7,038 with sixty-one deaths.
The World Health Organization (WHO) had intensified collaboration with the Government of Papua New Guinea, as mass gatherings to commemorate the country's founding prime minister threatened to accelerate already rising cases of COVID-19.
Meanwhile, health charities aid another health crisis was looming as the pandemic caused major setbacks to tuberculosis treatment programs. The PNG Government was planning to start a full national vaccination roll out in May, but experts say the country needs more help with the complicated logistics of delivering vaccines and healthcare to the country's nine million residents.
(https://www.who.int/papuanewguinea)
On 8 April Rachel Chun, writing in the Sydney Morning Herald, said that PNG's Health Minister Jelta Wong told Reuters PNG received 132,000 doses of the Astra Zeneca vaccine from India. (https://www.smh.com.au/world/oceania/twin-health-disasters-facingpng-with-no-mass-vaccine-rolloutuntil-may-20210407-p57h6c.html)
At the time this story was prepared (7 May 2021) more than11,000 cases had been recorded in PNG.
https://www.worldometers.info/info/coronavirus/country/papua-new-guinea/https://www.abc.net.au/news/2021-05-04/covid-19-numbers-fall-inpapua-new-guinea-fears-casesmissed/100107888
JOHN EGERTON
COVID Q&A Booklets
The Melanesian Foundation (Madang) has prepared, promoted and distributed question and answer booklets for Pidgin (https://tinyurl.com/3pkhhu5s) and Motu speakers (https://tinyurl.com/58ewe4ss) to help dispel mis-information about COVID vaccination.