PNG IN THE NEWS
Featuring articles and news reports about contemporary Papua New Guinea—also included are the nation's sporting achievements and events, and stories about young people doing interesting things—
we encourage young people to become involved in PNGAA to ensure the strong ties formed between PNG and Australia continue into the future.
Andre Oberleuter and His Bassoon
Andre Oberleuter, grandson of Bernard Oberleuter (ex-Lae) and son of Jason, is a talent to watch! Andre is in his second year as Principal Bassoon of Queensland Youth Orchestra, and has played in youth programs of the Australian Youth Orchestra and the Queensland Conservatorium.
In 2019 Andre won first prize in the open section of the National Double Reed Competition and is a finalist in the 2020 Queensland Symphony Orchestra Young Instrumentalist Competition.
Andre is under the direction of the Associate Principal Bassoon of the Queensland Symphony Orchestra, David Mitchell.
In 2019, Andre was appointed Principal Contrabassoon of the Australian Youth Orchestra's Young Symphonists Program in Melbourne and has also been Principal Bassoon of the Queensland Youth Symphony for two years. He is also the Bassoonist of the Queensland Conservatorium-based Acetaria Wind Quintet and has had the pleasure of working with world-class musicians like Andrew Marriner (Ex-Principal Clarinet, London Symphony Orchestra) and Jeffery Crellin (Principal Oboe, Melbourne Symphony Orchestra).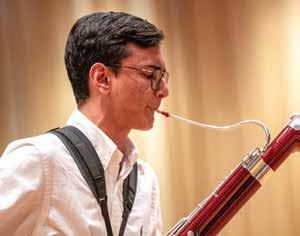 He has been tutored by and participated in masterclasses with high-profile bassoonists such as James Aylward (Netherlands-based freelancer) and Whittney Crockett (Principal Bassoon, Los Angeles Philharmonic Orchestra).
He has been tutored by and participated in masterclasses with high-profile bassoonists such as James Aylward (Netherlands-based freelancer) and Whittney Crockett (Principal Bassoon, Los Angeles Philharmonic Orchestra).
Prior to Covid-19 Andre was scheduled to perform as soloist with the Indooroopilly Chamber Orchestra in Brisbane on 21 June, 13 September and 6 December 2020. Further information from Email:
icorchestra@gmail.com
Later in 2020, he looks forward to going to Canberra for the Australian Youth Orchestras Young Symphonists.
In the future, Andre hopes to study at university and do some training abroad.
PNG and the Covid-19 Virus
For a nation of nine million people, PNG has an extremely low rate of identified Covid-19 infections: a total of eight cases recorded. The government's response to the original two positive cases was swift and harsh—a state of emergency, non-essential business lockdowns, bans on domestic air and road travel, and restrictions on markets and roadside selling. Parliament further extended these restrictions in early April.
These restrictions may have been instrumental in controlling the spreading of Covid-19, but a few facts need to be noted.
Firstly, only a very small number of tests have been conducted—until recently about 350 within PNG. Secondly, the source of most of the cases has not been identified, which raises concerns that there may be widespread undetected transmissions through the community. Limited supplies of tests has meant that samples are having to be sent to Australia for testing, where 1,000 have now been undertaken.
In addition, the PNG health system, underfunded and fractured, is already stretched to the limit dealing with outbreaks of malaria, dengue fever, drug-resistant tuberculosis (TB), HIV and a recent outbreak of polio. There are 37,000 active cases and 4,700 deaths from TB. PNG has 600–700 doctors and 3,000 hospital beds, of which only 100 are intensive-care beds.
Port Moresby Hospital has been described as 'already full of TB patients'. At the time of writing, there are only fifteen ventilators in the country, although more are believed to be coming. The new Health Minister, Jelta Wong, describes PNG as being 'at the end of the queue for PPE gear.'
In addition to the testing being conducted for PNG in Brisbane, Australia has provided a $20.5M support package to PNG, including provision for more personal protective equipment and increased testing capacity. It has also provided PNG with collection kits made up of swabs and other supplies required to collect samples from people who may be infected with COVID-19. Rapid response teams have also been deployed to PNG provinces, including the regions which border Indonesia's West Papua, to collect samples.
The Australian Government has also waived payments until the end of the year for a $300M loan provided in November last year. In the words of Shane McLeod from the Lowy Institute, 'It's the start of what will should be an important and ongoing role Australia can play in helping PNG to deal with the virus and its impact. It's also one less thing that the country will have to worry about as it deals with what will be a massive challenge in the days ahead.'
Vicki Long
Information based on articles from the Lowy Institute, the Sydney Morning Herald, the Canberra Times, the Guardian and the ABC.
Dympna Leonard, PhD
PNGAA congratulates Dympna Leonard, who has recently gained her PhD for research into anaemia of Aboriginal and Torres Strait Islander children and their mothers in remote Far North Queensland.
Originally from Ireland, Dympna has worked on food supply, nutrition and health issues in remote Australia since 1992. Before that she worked in PNG (Gulf, Morobe and Milne Bay) for ten years, and also in Vanuatu, Myanmar, Samoa and Maldives.
Her PhD research showed that children who had been anaemic in early life (at age six to twenty-three months) were more likely to have developmental disadvantage at school age.
Anaemia is a condition where haemoglobin levels in red blood cells are low, and that impacts on the ability to transport oxygen through the blood. Anaemia can slow the young child's learning and development. Prevention of anaemia helps protect early childhood development and helps children do well at school.
Dympna developed her speciality in nutrition for mothers, babies and young children during her years in Papua New Guinea from 1978 to 1988. 'That's where I learnt how to assess child growth, household food security, and so much more' she says. 'There was a lot of malnutrition then. Now there are options to treat acute malnutrition—Ready to Use Therapeutic Foods (RUTFs)—that are life-saving. Another innovation since that time are the multi-micronutrient preparations from UNICEF to prevent childhood anaemia. Since then patterns of malnutrition in PNG and elsewhere have changed, with overweight and obesity increasing while child under-nutrition and anaemia are ongoing problems. Food security is another challenge, in urban settings and elsewhere.'
In Australia, Dympna said it would be good to see nutrition in early life included in the 'Close the Gap' agenda with an added layer of anaemia prevention for Aboriginal and Torres Strait Islander mothers and their children.
Footnote; Dympna originally went to Papua New Guinea in February 1978 for two years but after two months, crossed paths with kiap Deryck Thompson. The rest, as they say, is history …
ANDREA WILLIAMS
ANZAC Day Service in the Huon Gulf, Lae, PNG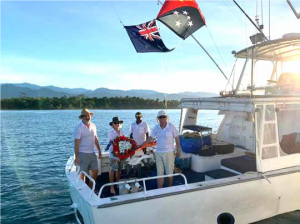 PNGAA member Philip Franklin, MBE and his wife, Louise, were joined by Mr Paul Murphy, Australian Consul-General in Lae, Papua New Guinea and Paul Kembos from Salamaua Village aboard MV Satisfaction(owned by Philip and Louise Franklin) for a dawn service at sea in the Huon Gulf, adjacent to Scarlet Beach (Buso River) the site of the 9th Division landing commencing the Battle of Lae, 22 September 1943 (pictured).
The ceremony included reading of 'The Ode', playing of 'The Last Post' and singing the three National Anthems of PNG, New Zealand and Australia.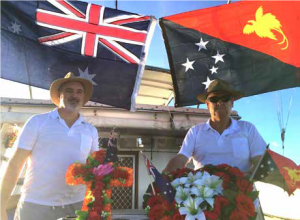 It was very moving and surreal remembering those who had participated in this battle and thinking how peaceful and beautiful the landscape is today. In particular Phil remembered his father, Douglas Franklin, who served with the RAN in these same waters and his grandfather, Frederick Franklin, who served with the AIF in WWI, and became a POW in Hong Kong duringWWII.
After the service we spent the day fishing near Finschhafen where Louise tagged and released a Pacific Sailfish.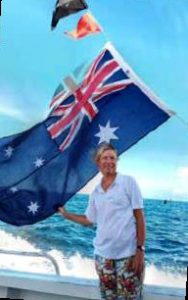 A very memorable ANZAC Day.
Louise Franklin
Porgera—Enga Province Gold Mine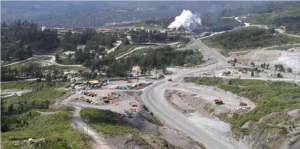 After months of speculation and failed negotiations, a special Government Gazette (No. G229 published on 27 April 2020) officially proclaimed what many knew was coming—the refusal to grant an extension of Porgera Mine's Special Mining Lease (SML 1(P)) was officially notified by PNG's Governor-General (GG).
The GG's notice also terminates the Mining Development contract the Government has with Barrick, the operator and its partners, which include recognised landowner groups. The company had earlier announced the decision of the Mines Minister and immediately started closing down its operations.
The Government's decision came despite strong support for Barrack, and fierce criticism of the government by the officially recognised Porgera Landowners Association. There are, of course, other landowner groups some of which support the Government's stand.
Such situations are inevitable where, over the years, the Government has capitulated to landowner demands and now hands out free equity and royalties worth tens of millions of Kina. Thus, land disputes have dramatically increased which often result in landowner benefits not being distributed and so adding to tensions.
The Government's decision has come on top of its refusal, earlier this year, to grant ExxonMobil and Oil Search et al a development licence over the P'nyang gas field in the Western Province. Further, the Minister for Petroleum has signalled his intention to introduce a bill in the next sitting of Parliament which will further add uncertainty to foreign investors. He is proposing a new Oil and Gas Act as a Constitutional law containing production sharing as a basis for investment.
It is the uncertainty that such announcements create that make investors nervous. Stability is the key to investment and any decisions by governments that signal a change in policy usually end up in disaster. This is especially so when other less scrupulous countries and companies see an opportunity to exploit host-nation politicians with alternative offers.
Add the Covid-19 crisis to the equation, together with the drop in oil price to US$20.00 per barrel, and it is little wonder that Oil Search shares trading at $7.70 in January recently fell below $2.50.