PNG IN THE NEWS
Prime Minister Marape Opens New Airport at Kavieng
Prime Minister Hon. James Marape said the Government was investing in other key infrastructure developments like the K125.7 million Kavieng Airport Development.
He said this in front of a massive crowd on 3 November
2022, when opening the project which he launched in June 2020, and which was built through the Asian Development Bank (ADB)-funded Civil Aviation Development Investment Programme (CADIP) and Government counterpart funding.
The project covered pavement strengthening and a 500 m runway extension to achieve a total length of 2,200 m, construction of the new terminal building, construction of the new airport market facility, construction of the powerhouse and installation of standby power supply, installation of an airfield lighting system, installation of water supply and a new carpark.
PM Marape thanked ADB for its support of CADIP since 2009 and its continuation through CADIP II.
He also announced:
K10 million would be provided for expansion of Kavieng Town and urged local landowners to free up land for this purpose and
A new port would be built in Kavieng through the Australia-PNG partnership program.
The Prime Minister and a large delegation from Port Moresby arrived in an Air Niugini Boeing 737 aircraft to demonstrate that Kavieng Airport can now handle international flights.
He was accompanied by Civil Aviation Minister and Namatanai MP, Hon. Walter Schnaubelt, Treasurer and Kavieng MP, Hon. Ian Ling-Stuckey, Finance Minister, Hon. Rainbo Paita, ADB Country Director David Hill, management of the major airlines Air Niugini and PNG Air, department heads, provincial administration representatives, local leaders and New Ireland people.
Meantime, across the Bismarck Sea in Manus, Deputy Prime Minister Hon. John Rosso opened the East-West Coast Highway Redevelopment.
Australian Ministers at COP27 in Egypt
Writing in The Age on 7 November 2022 Nick O'Malley reported that Prime Minister Anthony Albanese would not be at the scheduled Climate Change Summit in Egypt (COP27), choosing instead to attend ASEAN, Asia-Pacific Economic Co-operation and G20 meetings in Cambodia, Thailand and Bali, respectively. Instead, Pat Conroy, Minister for the Pacific will represent Australia during the first days of the talks in Egypt, along with the newly appointed climate change ambassador, Kristin Tilley.
Negotiations over new climate measures would be held during the second week of the meeting and would be attended by Climate Change and Energy Minister Chris Bowen.
Conroy said he would use the first days of the talks to meet with Pacific Island leaders to discuss plans to co-host a COP summit with them in 2026.
'It is important to be asking them what role they think they would like to play rather than having Australia dictating to them as we have done in the past,' he said.
'Climate didn't define Australia's entire relationship with the Pacific … but it was seen as a sign of disrespect that the last government rejected taking action on climate change, which is the number one existential threat to the Pacific,' Conroy said.
https://www.theage.com.au/environment/climate-change/australia-seeks-to-sell-its-new-climate-credentials-on-global-stage-20221106-p5bvyh.html
Press Conference Port Moresby, 1 Nov 2022
My visit here demonstrates the new Australian Government's commitment to our relationship with Papua New Guinea, our closest neighbour and one of our dearest friends. This is the third visit by an Australian minister in the last eight weeks.
This is the second day of my visit, and I've had some very productive meetings so far, including yesterday with Foreign Minister Tkatchenko. I updated him on our budget announcements that are particularly relevant to Papua New Guinea. They include a very significant increase in investment in Overseas Development Assistance—foreign aid. The budget last week increased our ODA or foreign aid by $1.4 billion over the next four years, which is the largest increase in a decade.
It included allocating $1.9 billion this financial year to aid for Pacific nations, including Papua New Guinea. This is the largest contribution Australia has ever made to Pacific development, including $600 million to Papua New Guinea.
I also updated Minister Tkatchenko on our reforms to the Pacific Australia Labour Mobility Scheme, a scheme that is critical to filling skills shortages in Australia, increasing skills development in countries like Papua New Guinea and providing very strong income streams home. To give you an example of the power of that scheme—the average Pacific worker under the scheme sends back $15,000 a year.
I had very productive conversations about how we're turbocharging that scheme, making it more attractive for Australian employers, increasing protections for Pacific workers, starting trials of Pacific workers being able to bring their families over for longer-term visas and starting a trial of 500 aged care workers in that scheme.
We also talked about our $32 million Indo-Pacific Broadcasting Strategy to increase the engagement of the Australian Broadcasting Corporation into the Pacific and partner with Pacific media to help develop and mentor journalists.
We talked about the Pacific engagement visa, where for the first time in the history of Australia, we will allocate 3,000 permanent migration spots annually to the Pacific for permanent migration. And I also informed Minister Tkatchenko that we would be increasing our funding for Pacific aerial maritime security surveillance by 250 per cent to crack down on illegal fishing that robs Pacific Islanders, and Papua New Guineans in particular, of one of your greatest natural resources,
This morning I visited Kwikila Village and District Hospital, where I saw community health workers and village volunteers vaccinating babies, weighing babies and toddlers, making sure that Papua New Guineans are given the best start in life. This is a partnership between the Australian Government, the Papua New Guinean Government, the central health district government and health authority and the local village that is saving lives right now.
I'm looking forward to further ministerial meetings over today and tomorrow. I'll be launching an AFL partnership with Papua New Guinea. I'll be launching a development film festival, and then on Thursday, I'll be travelling up to Kokoda to take part in the commemorations for the 80th anniversary of the Kokoda campaign, a campaign that really symbolises the deep and abiding commitment between the people of Australia with the people of Papua New Guinea.
The Minister concluded his press conference by answering questions about enhancing the Pacific Labour scheme for participants from PNG, the Bougainville-PNG peace process, the development needs of PNG and border surveillance.
In concluding the Minister said there were several reasons why Australia was spending most of its overseas aid in PNG. Firstly, PNG is both the largest and closest of Australia's Pacific neighbours and secondly, we owe both an obligation and debt to the people of PNG. We have that continuing obligation from colonial times to assist development and the bond and debt that arose from the contributions Papua New Guineans made to the defence of Australia during World War II.
The full transcript of the press conference is available at this site:
https://ministers.dfat.gov.au/minister/pat-conroy/transcript/press-conference
Goroka Coffee at Melbourne International Coffee Expo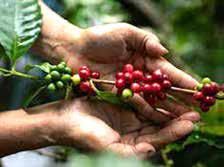 Papua New Guinea-based coffee bean exporter, Elijah Harro of Alpha Coffee Collective, joined forces this year with industry stalwart and long-time
international coffee advocate Gina Di Brita at the 2022 Melbourne International Coffee Expo (MICE), where they worked to highlight the unique and world-class flavours of Papua New Guinean coffee.
As the region's largest dedicated coffee event, MICE is an annual event that brings together the best of what the industry has to offer. As part of Pacific Trade Invest (PTI) Australia's inaugural 'Pacific Showcase' stand, Alpha Coffee used the exhibition to showcase their single origin organic arabica, which comprises a mix of the Arusha, Typica, and PNG Blue Mountain varieties, all of which score between 85 and 89 points on the Q-coffee system, developed to grade speciality coffee.
With over 11,000 visitors, the exhibition was a great opportunity for Pacific businesses like Alpha Coffee to increase the recognition for Pacific coffee and their own brand awareness, while also forging direct buyer connections in the Australian market.
Launched in 2012 with a purpose to connect coffee buyers and sellers, MICE seeks to bring industry members together in a dedicated space. As an annual event, it also provides an anchor point for international guests to connect with new and existing Australian customers.
The 2019 event saw Gina Di Brita of Numero Uno Coffee Roasters win the 'Eleonora Genovese Australian Coffee Woman of the Year' award. An industry icon and co-founder of the International Women's Coffee Alliance of Australia (IWCAA), Di Brita says she is passionate about championing and building relationships with Australia's closest coffee producers, smallholder farmers in Papua New Guinea.
General Manager of Alpha Coffee, Elijah Harro, says the wide-reaching impact of coffee sales on the community is immense.
Australia Gives Newbuild Patrol Boat to Papua New Guinea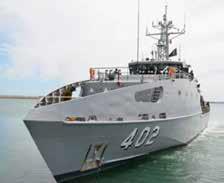 Shipbuilding group Austal has delivered the ninth Guardian-class Patrol Boat (GCPB) to the Australian Department of Defence. The vessel, the future HMPNGS Rochus Lokinap, was then given by the Australian Government to the Papua New Guinea Defence Force at a ceremony held at Austal Australia's Henderson shipyard in Western Australia.
The vessel is the second of four Guardian-class Patrol Boats to be delivered to Papua New Guinea under the Pacific Patrol Boat Replacement Project, part of the Australian Government's Pacific Maritime Security Program, and follows the delivery of the HMPNGS Ted Diro in December 2018.
Austal CEO Paddy Gregg said the delivery of the latest Guardian-class Patrol Boat to Papua New Guinea had further enhanced the company's relationship with both the Australian Department of Defence and the Papua New Guinea Defence Force.
'Austal not only design and build the Guardian-class, but also deliver a comprehensive training program to each crew accepting the vessels. Through this successful handover process, we are continuing to develop a very strong, productive relationship with the Papua New Guinea Defence Force and their crews,' Gregg said.
Faster, with improved seakeeping, better amenities and an enhanced mission capability—including an integrated RHIB stern launch and recovery system—the Guardian-class patrol boats provide the Papua New Guinea Defence Force with a much-improved naval asset to carry out border patrols, regional policing, search and rescue, and many other operations domestically and internationally.
The Pacific Patrol Boat Replacement (PPB-R) Project was awarded to Austal in May 2016, with an additional contract option awarded in April 2018, taking the program to 21 vessels, valued at more than A$335 million. Twelve Pacific Island nations including Papua New Guinea, Fiji, the Federated States of Micronesia, Tonga, Solomon Islands, Cook Islands, Kiribati, Marshall Islands, Palau, Samoa, Tuvalu, Vanuatu and Timor Leste will receive the vessels through to 2023.
Austal Australia's expanded service centre in Cairns, now incorporating a 1,200-tonne (80-metre LOA) slipway and an 1,120-tonne mobile boat hoist, continues to provide in-service support to the growing Guardian-class Patrol Boat fleet.
The 39.5-metre steel monohull patrol boat—designed, constructed and sustained by Austal Australia—is based on a proven design platform that has included the 38-metre Bay-class, 56-metre Armidale-class and 58-metre Cape-class patrol boats that are in service with the Australian Border Force and Royal Australian Navy.
The vessel is named after Brigadier General Rochus Lokinap, a former Commander of the Papua New Guinea Defence Force from 1987 to 1992.
'Marine Link', June 2022
Harim Tok Tok, Vol 137, Dec. 2022

Trade Between Papua New Guinea and China and Australia Compared
In a story reported in 'Business News', 6 December 2022, Prime Minister Hon. James Marape said Chinese President Xi Jinping had given him an undertaking to buy more of all that Papua New Guinea (PNG) produces.
The undertaking was made during a bilateral meeting between President Xi and PM Marape on the sidelines of APEC 2022 in Bangkok, Thailand on 18 November 2022, where PM Marape said that it was no longer aid or grant that was in the forefront of his agenda but trade, commerce and more business between both countries.
PM Marape said after the meeting that the onus was now on PNG to start increasing production in agriculture, forestry, fisheries, mining, oil and gas, and other areas like tourism to supply the very big Chinese market. 'The meeting with President Xi Jinping went very well,' PM Marape said.
In an editorial commenting on this news item the Post-Courier of 7 December 2022 compared trade between Australia and PNG and the projected increase of trade with China.
Stating that bilateral trade with China was already greater than that with Australia the editorial went on to criticise what it described as 'boomerang' aid projects funded by Australia and the lack of investment by Australian companies in businesses in PNG.
An Ominous Warning for Papua New Guinea
Andrew Anton Mako writing in a PNG-Devpolicy blog from the Development Policy Centre, ANU begins with this quote by Jerry Garry, Managing Director of PNG's Mineral Resources Authority (MRA):
'When we don't have any of these copper and gold mines anymore, where are we headed?'
According to Mr Garry, mineral resources from large mines (both current and pipeline) will be exhausted in 40 years. Oil and gas will also eventually run out.
The country has made little progress over the years in diversifying and expanding the economic base to enable broad-based, inclusive and sustained economic growth and development.
The government and its policymakers understand that the mining industry is capital-intensive and has few linkages with the rest of the economy besides the jobs it creates and the contracts it provides to local landowners. The main contribution the industry makes should be the transfer of resource rents to the government through royalties, taxes and profits (where the government has an equity stake).
But this is where the problems start.
First, the contribution of the resource sector to government revenue has been underwhelming—less than 10% in recent years.
Second, it is incumbent upon the government to deliberately and sustainably invest the resource rents in the rest of the economy, including through infrastructure development, strengthening of governance and institutions, as well as building human capital by investing in sectors such as health, education, water and sanitation.
This has not happened consistently across the country, with billions of kina lost to corruption and mismanagement.
Third, and underlying these two problems, PNG seems to be subject to the 'resource curse', which is when a country is unable to successfully translate proceeds of its abundant natural resources into gainful economic growth and development outcomes for its people.
No one can dispute that PNG's resource rents have not produced commensurate development outcomes for the country and the people.
PM James Marape has embarked on a process to increase the proceeds of natural resources to national stakeholders, though how successful he is remains to be seen.