Papuan Carriers Memorial by RICK MOOR – PNGK June 2021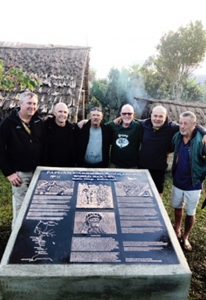 The Kokoda Track, which runs ninety-six km through the Owen Stanley Range in Papua New Guinea, was the location of the 1942 World War II battle between Japanese and Australian forces in what was then the Australian Territory of Papua. The track runs from Owers Corner in Central Province fifty km east of Port Moresby, across rugged isolated terrain which is only passable on foot, to the village of Kokoda. It reaches a height of 2,250 m as it passes around the peak of Mount Bellamy. The track traverses primarily through the land of the Koiari people.
Peak Learning Adventures was approached by Scott O'Reilly of the iPi Group of Companies (PNG domiciled) to design, manufacture and install a plaque in Naduri village located at 1511 m, halfway along the Kokoda Track. While there are many memorials along the Kokoda Track commemorating Australian soldiers, there is very little that acknowledges the significant contribution of the PNG carriers and soldiers. Installation of the plaque occurred over the long weekend of 9–11 June 2018 by the Kokoda Memorial Foundation (KMF) team of Grant Robinson, Mark Evans, Peter Evans, Len Thompson, Meech Phillpott and Eric Winn (see Monument Men). They were assisted by Peak Learning Adventure's guides Zac Zaharias, Eric Uwea, Nikki George and Rick Moor (see Planning Team). The team was inserted into Naduri by helicopter along with the construction stores consisting of fifty bags of cement, formwork and tools.
This magnificent plaque is the largest and best along the Kokoda Track and a great credit to the KMF for their highly professional work—all done by volunteers. The plaque was designed and sculptured by Ross Bastiaan from Melbourne who has produced well over 200 plaques, many of which are in PNG and Gallipoli.
The Naduri villages were overwhelming in their support for the plaque which also commemorates Ovoru Idiki, a long time Naduri resident and Fuzzy Wuzzy angel who passed away in 2013.
Ovoru spent countless hours educating trekkers on the sacrifices of the carriers during the Kokoda campaign. The community showed overwhelming support, many ceremonies, sing sings, services and prays took place over the week. Most of the community carved their name on a stone, these were placed in a case that was inserted into plinth (see image ofTime Capsule). The three clans that reside in the village gave their blessing verbally and in writing.
This memorial could not have been possible without the foresight and generosity of the iPi Group and its CEO, Scott O'Reilly, OBE.