Papua New Guinea Butterfly Collection by Ted Edwards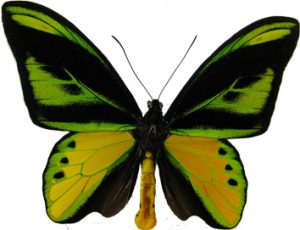 The Australian National Insect Collection (ANIC), part of the CSIRO, is recognised both nationally and internationally as a major research collection. It is the world's largest collection of Australian insects and related groups such as mites, spiders, nematodes and centipedes, housing over twelve million specimens.
IN MAY OUR LEPIDOPTERISTS were delighted to receive the Robert Gotts Collection under the Taxation Incentives for the Arts scheme. The collection is primarily of New Guinean butterflies.
Robert Gotts (1929–2018), universally known as Bob, began collecting Australian butterflies in northern Queensland in the mid-1950s. In 1961 he and his family moved to the highlands of Papua New Guinea, where his first posting as a teacher was to Tari in the Southern Highlands. His son, Bob Jnr, tells how he captured their first Ornithoptera chimaera by hand on a hibiscus flower at school. Bob then went on to rear a series of O. chimaera and discovered the life history of the species, which was later published by Ray Straatman.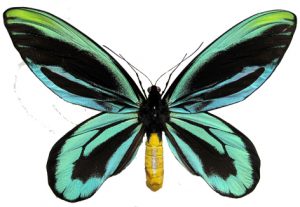 Bob became great friends with the small community of butterfly collectors in Papua New Guinea, including Ray Straatman, Harry Borch and Richard Carver. From then on he collected intensively in all but two of the New Guinean provinces, and widely in South and Southeast Asia. Bob would offer his class of school children a small reward for any live pupae collected and, with such sharp eyes in support, rapidly built up a large collection. Bob Jnr remembers that over time they had forty pairs of O. alexandrae hatching in the laundry cupboard. There is a story of a technique he and Joan (his wife) developed; while she drove slowly along a track, he stood on the backboard of the vehicle, net at the ready. One day, at the end of the track he was missing, having fallen off thirty miles back.
When PNG became self-governing in 1973, Bob returned to Sydney, living at Wahroonga, but he continued collecting widely in Asia and the Pacific, commissioned by JP Sclavo and others. In 1994 he sold most of this first collection overseas but immediately started to build a second collection. He moved to Winmalee near Springwood, NSW, in 1996 and continued to build the collection, concentrating on a few groups like Delias (Pieridae), of which the collection contains some paratypes, and Ornithoptera (Papilionidae, birdwing butterflies).
Eventually, through Ray Straatman, Bob was invited by Freeport Mining to join with Norris Pangemanan to write a book on the butterflies of the area covered by the Freeport Copper Mine in West Papua. He travelled to Tembangapura and Timika, wrote the text, took the photos and then typeset the book before sending it to the publishers. Mimika Butterflies was published in 2001 and ran to a second edition, which has itself become a collector's item.
The collection is contained in four fourteen-drawer wooden cabinets, beautifully handmade and with well-fitting protective doors. The donated collection is about a third the size of the one originally sold. This is a fantastic addition to the ANIC. It provides us with an even deeper coverage of Delias, a genus of Australian origin but with many species in New Guinea and Indonesia. There are specimens of Leucacria known from two rare species, which Michael Braby assures me are the probable sister-group to the speciose, spectacular Delias.
The ANIC Brandt collection is deficient in Ornithoptera and, while the birdwings are not part of our research focus, the fact that the Australian National Insect Collection should be so deficient in these large butterflies was an embarrassment. Bob Gotts' collection contains all the species, and good series of them, except for O. alexandrae, which we have from other sources. There are some miscellaneous gems, such as drawers of stick insects and Parnassiinae, the Northern Hemisphere, cold-climate subfamily of Papilionidae, which are so exciting for an Australian overseas to see alive.
Bob Gotts married Joan Keith in 1954 and they had three children, a girl and two boys. All spent their early childhood in PNG and all have a treasure trove of the most wonderful memories. Bob himself never forgot the wonder of O. goliath on the wing at Bundi in Madang Province.
The lepidopterists warmly thank Bob Gotts and his son, Bob Jnr, and their extended families and are thrilled and excited by this wonderful and special addition to the ANIC.
Reproduced from the ANIC newsletter on their website