Observations on Mining Capitalism in Papua New Guinea by Martin Kerr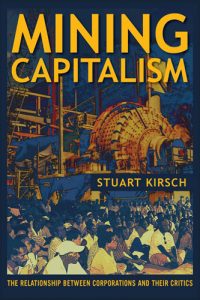 Stuart Kirsch's book, Mining Capitalism: The Relationship Between Corporations and Their Critics, broke into a memory bank of experiences with a powerful message. Observe and take notes, whether photographically, through reports and correspondence, or on a smart phone. Kirsch's observations as an ethnographer on the Ok Tedi River, PNG, led to the then biggest legal challenge on environmental matters to a mining company ever.
SO, STIMULATED BY THIS BOOK, featured on page 48 of this issue, I have a few observations to share. As a cadet patrol officer, I was assigned to Telefomin, an isolated South Sepik station on the north side of the Hindenburg Range. A newly-turbocharged helicopter for high altitudes was assisting in a mineral survey of the area. I was privileged to ride in it and inspect country to the north-west. A thirty-six-day patrol followed, February–April 1965, led by Assistant District Commissioner John Wearne.
To the south, the Star Mountains were tramped over by a private expedition which included Telefomin-based school teacher, Barry Craig (later to become Curator of Foreign Ethnology at the South Australian Museum), psychologist Paul Symons, geologist Mike Shepherd, David Cook and Tom Hayllar, and backed up by medical assistant Jean Huon Navrancourt using the facilities of the Baptist Mission.
In early January another 'private' expedition funded and led by District Commissioner Tom Ellis, a former medical assistant prewar in the Maprik region where gold was being mined, headed west and possibly south-west into the Ok Tedi region. I heard no results of this latter expedition. It was a discreet and brief fly-in-fly-out manoeuvre staffed by experienced PNG Nationals.
I was enthralled by these goings-on. John Wearne and I looked for gold in several creeks and found iron pyrites, associated with auriferous ground. Gold was a romantic concept. I searched for it again in 1967 while working on the Sepik River as a trader and crocodile skin buyer for Las Kompani's John Pasquarelli and Warren Hanson. Found nothing, though Pasquarelli was then opening up the Frieda River, where he had discovered copper ore and gold in 1963, suggesting he would put me in there with a team of locals to start a mine of sorts. In August of 1967 Wau-based geologist, Duncan Dow, was also investigating the headwaters of the Sepik for the Australian Bureau of Mineral Resources. However, Pasquarelli was entertaining a fellow PNG parliamentarian; highly intelligent Graham Gilmore (a purported son of Errol Flynn), who after a messy divorce was staying with John at his headquarters in Ambunti. So not much was done then.
Gold-capped Mount Fubilan in the Star Mountains, where Ok Tedi mine is situated, was first summited in 1958 by two kiaps, Len Aisbett and cadet Harley Dickenson, their police and carriers. I came to know Harley in 2002 while with my new girlfriend, Anna McGibbon (Chu), who, in her book Kapiak Tree (2008), mentioned a discreet affair with him in Angoram in 1959. Harley became a member of the Victorian Legislative Assembly before losing his seat and writing memoirs, mainly in the form of his paintings, which included Mount Fubilan. Harley later told me he was looking for recognition from BHP for his historical feat in 1958.
While working in Melbourne, and later as a BHP shareholder, I observed BHP's development of the Ok Tedi resource from 1982 and also Rio Tinto's developments in Bougainville.
These activities engendered romantic illusions: breaking new country with bulldozers and explosives, only recently discovered by the white man. The locals were counted and land issues identified and negotiated. These were minor impediments. The mineral resources were there to be quantified and exploited. The tide of international mining capitalism was rising fast, though I did not fully appreciate it at the time.
Nevertheless, over these years I penned the Amon trilogy of novels, reflecting on the human experience of mineral discoveries in PNG involving fictional French companies, a French love interest, local entrepreneurs and tribespeople; compared to real German and American involvement with BHP as the managing partner in Ok Tedi, or Rio Tinto's development of the Panguna mine on Bougainville.
Mining Capitalism, gifted to me by my son, Thor, a lecturer in Cultural Studies at Curtin University for my seventy-eighth birthday is a challenging read. The author's modest and hesitant observations of the degrading of waterways were first published in PNG, where he lived for two years, 1986–1988. They contrast vividly with his broad-ranging, well-researched professorial study twenty-five years later.
Kirsch recognised that, from his experience in Ok Tedi, local charismatic leaders had to emerge, and, with the help of local and international non-government organisations (NGOs), would intervene and mount legal challenges against BHP for compensation. Slater and Gordon, based in Melbourne, were the lead lawyers.
The author describes mining projects in PNG, West Papua, the Solomon Islands and elsewhere. Mineral resources were discovered and exploited, and in most cases, lax environmental standards were applied, either to unforeseen and unsolvable conditions as in Ok Tedi, or through acceptance mining waste could be disposed of through riverine degradation or deep sea-bed dumping.
Stuart Hirsch investigates NGO involvement, including activism against big companies as well as collaboration. He observes the use of science and self-auditing and how these can be manipulated by corporations and the supporting academy. In more recent times, he evidences new mining operations with emphases on community involvement and the influence of social media.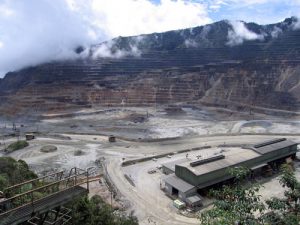 When BHP abandoned management of the Ok Tedi mine in 2002 the PNG government continued to allow the pollution of the river systems. Profits massively increased providing more income to finance PNG budgets. In the case of other mines, different conditions applied. The option of rebellion over legal action, as on Bougainville, resulted in abandonment of large-scale copper mining in 1989, even though under the shadow of referenda there is talk of re-opening the mine at great capital expense.
Throughout these examples of big mining let's not forget large scale employment of PNG nationals occurs in these operations. In case of the Lihir gold mine local businesses provide mechanical repairs and other services enabling the mine to operate more profitably than previously. Senior managers living on site also make a difference. Communities and the human side of capitalism can get on with each other given a cultural will to do so. It is this kind of co-operation some projects in Australia are seeking to establish with local communities, white and indigenous. A recent example is Andrew Forrest's Fortescue Metals Group mining operations in WA.
Shared experience is the everyday business of resource extraction; engagement of labour, transport, equipment maintenance, social development, educational opportunities; solutions made at the 'coal face' are more efficient and equitable. But head offices of large corporations and state-run enterprises with mining projects need to be kept under constant purview.
A greenhorn policeman on that long patrol with me and John Wearne in 1965 married a Telefomin girl. Her daughter holds a senior administrative position at the Ok Tedi mine. PNG surveyors, mining engineers and other workers from mines on Bougainville, the Porgora and Ok Tedi have been recruited to help overcome Australia's skill shortages. The PNG democratic government must continually review its position, with emphasis on clarity concerning mining, oil and gas, forestry, agricultural and fishing projects: including importing skilled labour; training, retaining and remunerating workers; handling tax, royalty payments and compensation to land users and owners; environmental, financial and other contractual arrangements.
Mining Capitalism is a useful reference tool providing an analytic framework on how capital and big companies attempt to achieve their objectives.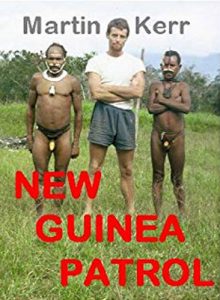 Martin Kerr's New Guinea Patrol was first published in 1973.
His cult memoir, short stories and seven novels, including the Amon trilogy and Papuan refugees' novel, Diansinkan—the Exiled, are available on Kindle.