Vales – Una Voce Dec 2016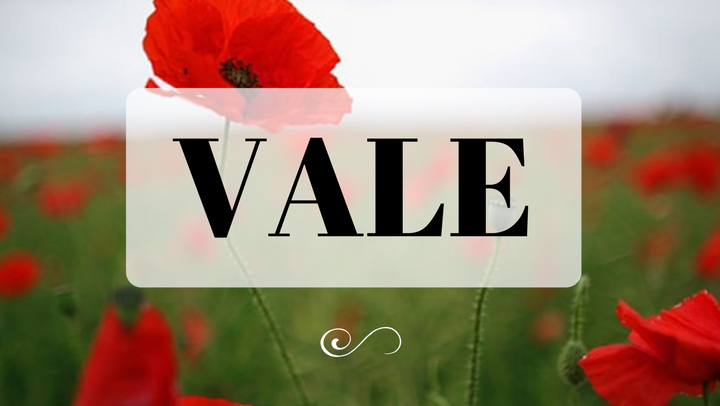 BAXTER, Barrie D; | BREDMEYER (Dr Theodore) CBE; | CRAWFORD, Bruce; | CULLEN, Eileen Rose; | CURTAIN, Sir Michael; | FOLEY, Pam (nee Bakewell); |GEYLE, Adrian Martin; | HOARE, Stuart James D; | MARVELL, Peter Clifford; | METH, Maurice; | PROBERT, Ben; | RACE, Sydney; | REITANO, Mary Alice Kathleen; | ROWE, Peggy (nee Margaret Florence Austin)
BAXTER, Barrie (3 September 2016. age 88 at Murrumba Downs, Qld)
Barrie was born in Lancashire. U.K. He joined the Grenadier Guards in 1946 resigning in 1948 to join the Lancashire Constabulary from July 1948 until March 1960. He moved to Australia and on 9.5.1960 joined the Tasmanian Police Force resigning on 27.4.1961 On 1.5.1961 he was appointed to the Royal Papua and New Guinea Constabulary as a Sub Inspector. His first posting was to Bulolo where he served for 2 years, followed by appointment as instructor at the RP&NGC police college firstly at Kila and subsequently at Bomana. In June 1965, he was appointed to the newly formed RP&NGC Special Branch and served in this role at Mt Hagen and later at Rabaul until 1969. Between 1969 and 1972 he was the Chief Licensing Inspector attached to the Liquor Commission headed by Ralph Ormsby and later by Vern McNeil. His final posting was as O.I.C. Boroko.
On 3.2.1971, as a result of his cumulative police service, he was awarded the Queen's Long Service and Good Conduct Medal. In accordance with the transitional progress to Papua New Guinea Independence in September 1975, he, like many other permanent Administration officers, was retrenched under the provisions of the Australian Government Permanent Officers Employment Security Scheme on 27.2.1974 at the rank of Superintendent.
Returning to Australia, he worked for the Brisbane City Council for around 17years in an administrative role. A keen bowler, tall and "ramrod straight" as a result of his years in the Guards, he represented Papua New Guinea on several occasions in the Commonwealth Games. He leaves a widow of more than 60 years, Catherine (Kitty), three adult children and their families. Maxwell R. HAYES.

BREDMEYER (Dr Theodore) CBE (25 September 2016
The judicial officers and staff of the Supreme Court of WA extend their most sincere condolences to the family of Dr Theo Bredmeyer CBE, who retired as a Master of the court in 2002 after 11 years of dedicated service to the court and a lifetime of service to the administration of justice in Australia and PNG. The family arranged a service on 3 October at St. Andrews Anglican Church, Subiaco. See more HERE.

CRAWFORD, Bruce (1 September 2016)
It is with great sadness we are emailing to let you know Bruce died peacefully in the early hours of Thursday, September 1, surrounded by his family. He had been living with a terminal idiopathic pulmonary fibrosis for some time. Jenny, Katherine and Andrew Crawford
CULLEN, Eileen Rose (29 December 1925-15 September 2015)
Widow of Hector Keith (deceased April 1973), also a Queenslander, and mother of TP&NG-born sons Terence, Alan & Brian, Eileen passed away after a brief illness from complications due to pneumonia. She ceased regular golfing about a decade ago and, in more recent years, her short-term memory had been noticeably failing. Eileen is survived by her sons and their families, Dr Robin King Cullen & Bronwen King Stacey, Julie & Kirsty & Sean Cullen, and Colleen & Libby Cullen, respectively and her own younger sister Marie. As well as Keith, her parents and both older brothers also predeceased her. As a post-WW2 new bride, Eileen accompanied Keith to Lae where he, as a cartographer and photogrammatist, was involved in recovery of mapping and other material for Forestry and other purposes. Terry was born in Lae while Alan and Brian had Port Moresby as their place of birth following Keith's relocation there as the Chief Draftsman for Forestry in the late 1940s. Keith was boarded out in 1971 in the public service Localisation process and the family "went finish" to Brisbane. Eileen was a stenographer-typist whose skills were such that during her time as a principal private secretary for one Director of Education was often called on as a Hansard Reporter for the early House of Assembly. Bracketting her employment in the Administration through the 1960s, she worked also in the private sector, with Ken Burke's various enterprises in admin roles prior and later as office manager with Willing English & Devin Consulting Engineers. As she told it, her early career ambition was to be a solicitor but such was the cultural and economic constraints of her childhood years, that desire was not to be realised and, of the prevailing sex-role stereotypes, it was to be off to commercial/secretarial school. To some extent but post-retirement, she vicariously "studied" Psychology and History from typing up Terry's assignments (until he finally learnt to touch-type for Journalism) in his Bachelor of Arts degree which was undertaken concurrent with his Architecture course. She attended various of Terry's graduation ceremonies with the most recent being an MBA in the late 90s and for Robin's PhD ceremony at UQ several years earlier. To an extent, Eileen followed closely and took great comfort from the career achievements and personal travel adventures of her sons and families, especially those of Terry & Robin with their regular extended visits to Paris as well as Alan's various trips such as to Central America and Ireland. After leaving the Territory, she made only one overseas trip herself, that being with Terry & Robin to Singapore & Hong Kong. These probably diverted and distracted her from the gradual failing health and eventual passing of her many local friends and the many contemporaries with whom she maintained contact.

CURTAIN, Sir Michael (11 September 2016)
Sir Michael Curtain, owner of civil engineering and construction company Curtain Brothers Limited, has passed away in Townsville just before PNG's 41st Independence Anniversary. Sir Michael started the Curtain Group along with his brothers Dan and David Curtain in the country in October 1966 with the commencement of operations by the company known as Curtain Bros Papua New Guinea Limited.
For further information visit HERE and HERE

FOLEY, Pam (nee Bakewell)
In 1946 an adventurous young woman named Pam Bakewell, a member of the Australian Army Medical Women's Service, got on a boat in Sydney to go to Japan to help the occupying forces.
The boat got as far as New Britain, an island off the coast of Papua New Guinea, and she got off to go to midnight Mass. She asked the local colonel how to get to the church and he introduced her to another Catholic, an Irish lieutenant, Mick Foley, a very tall young man with very white skin and a shock of very red hair, who took her to the church and brought her safely back, as instructed.
Mick was instantly smitten, although Pam wasn't quite so sure. But one thing led to another and eventually a letter arrived in Sydney for her mother, inviting her to the wedding and, because cloth was still scarce after the war, asking her to remake her debutante dress into a wedding dress. This was duly done and Mick and Pam were married at the beginning of 1948.
By then, Mick had been recruited to work in PNG and was a 'kiap', a patrol officer. Eventually he became a district commissioner and member of the House of Assembly. He was then stationed in Gasmata in southern New Britain and Foley settled down to make a home in a place where there was only one boat every six weeks, a situation that made her inclined to be a terrific hoarder for the rest of her life. She also quickly started picking up the PNG pidgin.
In Gasmata, Foley was soon pregnant and her mother insisted that she return to Sydney for her first child, a daughter, Kerry. After that, however, she stayed in PNG despite its lack of medical facilities and over the years the family moved on to Kandrian, Rabaul, Kainatu in the Central Highlands, Mount Hagan and Kuniawa. She gave birth to her second child, son Christopher, in the back of a Land Rover. A second daughter, Kate, was born on the floor of Kainantu council chambers during a meeting. Mother and baby were carried home by local stretcher bearers
(''dokta bois'') with police lanterns. The third daughter, Mary, was born 2 1/2 months prematurely on a ship in international waters, delivered by the first mate and christened by Mick with seawater just in case she didn't survive.
Throughout their travels, Foley managed life and family as one of the few white women in the highlands , and one of even fewer of the white women who spoke pidgin. She cared for everyone, including junior officers and their families, and the servants. As Mick moved upwards in his work, Foley also took on entertaining visiting royals and government people. Prince Philip and Lord Mountbatten came to visit at different times. Gough Whitlam, then the Leader of Opposition, stayed on a visit with his wife, Margaret, and Foley's main memory was that Gough wouldn't stop talking and Margaret had to drag him off to bed very late that night.
Then, the early 1970s, Mick developed heart trouble and the family was sent back to Australia. Mick was asked to run the Red Cross in Darwin, but his cardiologist said he could no longer work in the tropics, so the family relocated to Sydney. In 1975, Mick died leaving Pam heartbroken and with three teenaged children still to raise.
She also had to get a job and she started working for a florist. Soon that wasn't enough so she took an administrative position at ASOPA (Australian School of Pacific Administration) in Mosman. Even after she retired from ASOPA in the 1980s, she continued working at St Michael's Catholic Church in Lane Cove until well into the 1990s.
She also did voluntary work with many charities. She was also for many years' secretary of the Retired Officers Association of PNG. Until she was 90, she volunteered at the Mater Hospital. She also liked to visit the Chatswood Catholic church and chat in pidgin with the Chinese women who had also lived in PNG. She did voluntary work until she was 90, still driving herself around. Then she had pneumonia, and two heart attacks. Her last two years were spent at home, cared for by her family.
Pam Foley is survived by her children Kate, Mary and Peter, son-in-law John, daughter-in-law Emma, five grandchildren, three great-granddaughters and sister Ann-Marie. Her children Kerry and Christopher predeceased her.
Harriet Veitch Life of adventure as one of few white women in PNG SMH – Monday, 5 Sep 2016 – Page 26 Copyright © 2016 The Sydney Morning Herald.


GEYLE, Adrian Martin (17/02/1930 – 22/11/2015)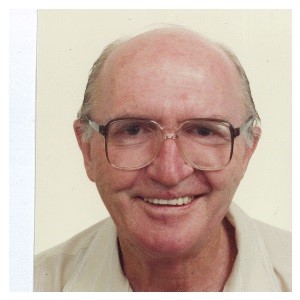 Born in country Victoria (Berriwillock) Adrian was the third of seven children to Vincent and Philipa. Childhood memories shared in his unpublished book 'Omeo' reflect his adventurous nature and sense of wonder as he navigated developmental milestones from 6-16 years with his six beloved siblings – Desmond, Yvonne, Barry, Valerie, Graham and Beverley. They all readily adapted whenever their father Vincent's role as a bank manager necessitated a re-posting. Adrian recalls his mother's wonderful attention to re creating a welcoming home and her tireless contributions to community life. They all carry connections to the Victorian townships of Ouyen, Omeo, Charlton, Warracknabeal, Birchip and Bendigo. The older children eventually boarded at St Patricks and Our Lady of Sion in Sale.
His avid journal keeping later contributed to his factual and often entertaining chapters of significant events and life experiences in Papua New Guinea. There are more than a dozen of these in Una Voce's Kiaps of PNG and later chapters of the books that Davide, his friend of many years refers to in his obituary. The camera and rolls of film Adrian carefully protected from the ravages of the harsh tropical environment captured significant images he would later refer to for a number of large oil paintings, such as the PNG tribal hut.
In a letter written 30 years ago he offered an explanation of how he moved to live in the remoteness of PNG.
'A couple of my knock-about [sic] same- age mates had been away to war and back, unsettling me with their fascinating accounts of what they'd seen and been through. As one of 23 applicants from all over Australia I landed a career job as a cadet patrol officer in Papua New Guinea. At the age of 23 I was appointed an Officer of the Royal Papuan Constabulary and a Member of the Court of Native Matters, a magistrate, stationed in the Upper Fly River area… pretty heady stuff for the boy from Collins Street, Melbourne Branch of the Commonwealth bank after only 2 years in the field!"
After a break from his two-year patrol officer position for health reasons he returned as a field assistant with two oil search companies in the Sepik District. He did not escape Malaria living in the jungle, but made light of the relapses we saw him suffer when back visiting his mother and father in Ballarat.
Noted in his diaries are dates of his being appointed to the Upper Sepik River Reconnaissance Gravity Survey and core drill party and in 1956-57 as Native Labour Supervisor. Then in 1968 he became Public Service Commissioner Konedobu Port Moresby. He was responsible for 'drafting the first income tax return form for indigenies and assisted in the education of New Guineans in their responsibilities as citizens in a society in transition through formal education and modernization.'
I can also imagine his enthusiasm in the role he embraced from 1968-1970 advising PNG school- leavers on career choices in schools of the Central District.
It was such a treat to find a private keepsake amongst his things, written by his PNG Party Leader S. J. Paterson "… Mr Geyle's able handling of the Native Affairs, a result of several years spent as a Patrol Officer in the Territory, contributed greatly to the success of the 1956 filed season….much of the 1957 party's success in recruiting native labour is due to the goodwill established by Mr Geyle."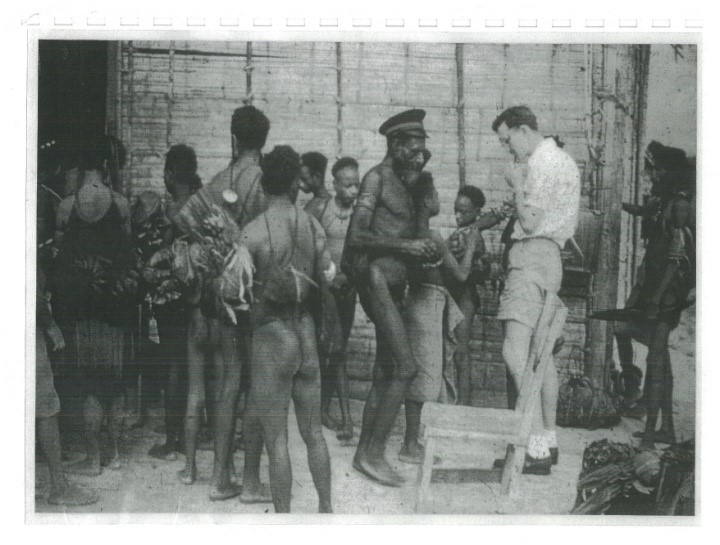 Adrian was preparing to teach by completing a two-year teacher training course at the Australian School of Pacific Administration in 1972. However the intended program lost its impetus when the change in Government funding for PNG schooling impacted on his dream to contribute to the betterment of the isolated tribal communities. He clearly developed a life-long quest to understand and work toward the betterment of life for tribal indigenous people, and continued with additional teacher training through to 1977 with the NSW Department of Education. He later embarked on a new journey working with his own Aboriginal people in Arnhem Land, Gove, after venturing up to Darwin.
Driving a taxi for many years in Sydney provided freedom to pursue his Master's in Education and his insatiable quest for better knowing people and their views on life. He had a particular flair for his chosen subjects of anthropology & politics, and considered his opportunities to talk with his passengers as other chapters in the University of Life. In 1986 a conversation over a long distance cab fare with a Manuscript Librarian prompted his next project which was to complete his writings to share more broadly. Self-publishing was not an option. His memoir and collection of photographs in Currents and Customs: Stories of a tribal kind have been stored for posterity at the Pacific Manuscripts Bureau in Canberra and are available internationally. They document through his eyes and the lens of his cameras, his rite of passage through traditional Papua New Guinea indigenous society via the "road less traveled by" (Robert Frost) which he chose and recorded so that we could experience The Road Not Taken in our own lives.
After 17 years living in his beloved Ballina in the Northern Rivers Adrian finally settled on the need to live in supported accommodation close by in beautiful Bangalow. Being close to nature, animals and birds was very important, as were his connections to neighbours and friends in the local community who were his chosen family.
Adrian never gave up his quest to make a difference, asking me to support his intended letter to a local minister of Parliament about an aged care anomaly only weeks before he passed away quietly and unexpectedly in late November 2015. This remarkably private and humble uncle sometimes spoke of regrets that he was never a father. Yet he nurtured so many children throughout his exceptional life, encouraging them to believe in themselves, stimulate enquiry and expand their capacity to take on worthwhile challenges. Kathryn Geyle
Adrian Geyle (Cont.) As an adventurer in the true style of Ernest Hemingway, Adrian Martin Geyle was forever searching abroad for the meaning of life and the very baseline to the quintessence of man.
Born into a staunchly catholic family in Victoria in 1930, Adrian wrestled his entire life with his God and his faith but never abandoned either. He sought solace in his quest to rediscover himself and justify his existence on this Earth.
A universal man, Adrian was a brilliant scholar, philosopher, photographer, story teller, artist, lawman and teacher. Yet it should never be assumed that his influence was only restricted to the upper echelons of society. Like Hemingway again, Adrian was equally a man of the people. Whether as a kiap (he was the first white man in the Green River District of Papua New Guinea in the 1950's), or as a cab driver in the urban jungles of Sydney in the 1990's, his egalitarian beliefs were embedded in his personality and he was perceived by all as a man of conviction as well as a benevolent and compassionate human being.
Adrian did rediscover himself and he did justify his existence on this Earth. His memoir and collection of photographs in Currents and Customs: Stories of a tribal kind have been stored for posterity at the Pacific Manuscripts Bureau in Canberra and are available internationally. They document through his eyes and the lens of his cameras, his rite of passage through traditional Papua New Guinea indigenous society via the "road less traveled by" (Robert Frost) which he chose and recorded so that we could experience The Road Not Taken in our own lives. Supplementing these, he contributed a host of stories about his experiences which were published in Una Voce over a period of years.
Vale Adrian Martin Geyle. The world is a better place for your having been here.
Davide A Cottone
HOARE, Stuart James (30 June 2016 aged 86)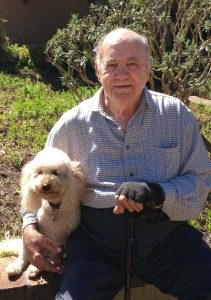 Stuart Hoare was born in Annandale in 1929. He and his younger brother attended schools in the Inner West of Sydney. A career in agriculture appealed to him from early on and he wanted to go on to Hawkesbury Agricultural College straight after completing his junior years at Hurlstone Agricultural High School. But he was too young to do this, so he filled in the necessary waiting period by working for two years on his uncle's dairy farm on the Darling Downs.
After acquiring his qualifications at Hawkesbury he took up employment in the Young-Boorowa area with the Soil Conservation Service of the NSW Department of Primary Industry. Following this was work on a large agricultural property near Toowoomba. Towards the end of his twenties he decided to head north to the tropics. He believed that he was the first Australian to be recruited to the former British Solomon Islands Protectorate administration as an Agricultural Officer. He started with a Honiara posting and later was sent to Auki on Malaita. Here he often went barefoot on patrol until his system became infested with the dreaded hookworm. The lesson did not go unheeded.
After two years in the Solomons he learnt via Sydney contacts that there were agricultural positions being advertised in Papua. He applied and was soon relocating to Koitaki in the Central District, not far from Port Moresby where he took up a job as assistant manager on a rubber plantation. He was very surprised to see just how fast the latex would drip from a large tree that had been tapped. In the locality were packhorse trails dating from pre-war times that were used to transport bales of smoked rubber sheets down to the Moresby wharves. Stuart arrived in the Territory of Papua & New Guinea just as the payment of income tax became a requirement for expatriate residents. One of the questions asked of those who were filing a return was the date of their arrival in the Territory. He had no difficulty remember his – April 1, 1960.
In the middle of 1961 he was appointed as an agricultural extension officer – a didiman – at Goroka. This was just as the Department of Agriculture Stock & Fisheries began a programme to set up locally owned cattle projects throughout the Highlands. In the course of his work there, then and during a later stint, he visited much of the highlands – Okapa, Kainantu, Aiyura, Henganofi, Minj, Banz, Mt Hagen and Baiyer River. Later at Rigo in Papua, he met Beryl Richardson, a teacher from Kwikila High School. (Beryl made no bones about her reaction at the first sight of Stuart. 'He's the bloke for me,' she told herself). They were married in 1969 and were posted to Bainyik in the East Sepik. Not long afterwards he was appointed Provincial Agricultural Officer in Wewak where his talents and experience were put to good use. After Wewak, he was posted to Vudal Agricultural College as a lecturer. Beryl taught at Kerevat National High School. He saw out his last year in the country – 1979 – at Mendi.
Coming south, Stuart put his savings into a business venture with a third party. Unfortunately, this failed so he had to go out and earn a living again. He worked for a while with a pest control firm and later with the NSW Education Department. Other challenges he had to deal were his separation from Beryl and the sad loss of his younger daughter, Jacinta. His elder daughter, Renata, married and much to Stuart's delight produced two grandchildren, Katiya and Oskar. He retired to the Gold Coast where he kept himself busy with such activities as performing charitable work with the Salvation Army, helping with Meals on Wheels and lecturing with the University of the Third Age. He eventually moved back to Sydney and lived with Renata & Chris and their family for all save three months of his last eight years. He maintained a keen interest in Papua New Guinea and, to Renata's mild alarm, continued to add appropriate PNG titles to his library till the end. No pastime appealed to him more than simple yarning – recounting his experiences in PNG and listening to those of others.

MARVELL, Peter Clifford (8 June 2016)
Peter Marvell was born in North Sydney on 27th May, 1932. He completed his schooling at North Sydney Boys' High School from where he matriculated in 1949. He excelled at Rugby and represented Combined High Schools. He remained throughout his life a keen member of the Old Falconian's – an old boys club from North Sydney Boys High School. From the end of1949 to the start of 1954 he worked for Ku-ring-gai Council as a clerk. In January 1954 he accepted a position with the Administration of Papua New Guinea. By then he had married Mondy Healy. They had met when they were both only 16, engaged at 18 and married in 1952, both aged 20.
Peter applied for a job in 1954 and was accepted by the Department of Agriculture Stock and Fisheries, Port Moresby. He had to leave straight away even though Mondy was pregnant with their first child. Although promised housing it took six months to secure married housing and by that time Monday arrived she was carrying their six-week old son Steven in her arms. They were picked up at the airport by great friends Norm Webster and wife Pat. Norm passed away in April 2016, two months before Peter. They remained close friends all their lives.
Twelve months later Peter was promoted to Supply Officer for the Department. Like many others at that time he accepted much responsibility at a very young age. Peter joined the Konedobu Hockey Club and later went on to represent Papua. Mondy had joined the Papuan Players and appeared in several plays and musicals. They had a great life in Port Moresby and were very happy there. In 1955 Peter was transferred to the Lae office as Regional Clerk replacing Jack Thomas a B4 who was retiring. They secured a house on a hill above the hockey fields. You could see all the way to Salamaua. Unlike Port Moresby they had to get used to the extra rain and the earth tremors. His position included the regular internal audit of all agricultural centers, promotion of cash crops for the locals, quarantine control on the New Guinea mainland and he travelled extensively through the country. Peter became one of the founding members of the Lae Hockey Association.
After nine years in Papua New Guinea, with the children getting older and with the lack of schooling locally, there was a need to send them to Australia for schooling. Peter and Mondy could not entertain the thought of sending them away so in 1962 they returned to Sydney. The family then comprised Steven (born Sydney), Cheryl (born Port Moresby), Garry (born on leave in Sydney) and Kevin (born Lae). Peter obtained a position with Sydney University Union where he was to become Secretary (CEO) in 1969 and the first Secretary of the amalgamated Union and Sydney University Womens' Union in 1972.
In 1973 Peter moved to The Grain Elevators Board of NSW-later to become the Grain Handling Authority of NSW. He took the position of Board Secretary and stayed for the next fifteen years. Recreation during those years included coaching junior Rugby and sailing. In1988 he took early retirement from the Authority to concentrate on the wholesale plant nursery which he and Mondy were establishing on four acres of land at Terrey Hills. While at Terrey Hills Peter became involved in local affairs and served as Secretary and Treasurer with the Terrey Hills Progress Association for several years. The nursery (Petamon, a combination of both their names), although small, became quite successful but by 1998 the heavy work was taking its toll. They decided to sell and retire to North Turramurra. In retirement, as a hobby, they took up beekeeping, both Peter and Mondy became active in the North Shore Beekeepers Association where Peter served as Librarian, Secretary and President. In 2013 they were both made Honorary Life Members of the Association. Over the years they won many prizes for their honey at the Hawkesbury Agricultural Show and the Sydney Royal Easter Show. Peter was a great supporter of the Papua New Guinea Club and was an early adopter after its inception. His daughter Cheryl is a current member. Peter made many great lifelong friends from his time in Papua New Guinea and it remained a highlight of his and Mondy's lives. His family and friends miss him terribly

METH, Maurice (4 September 2016)
Maurice Meth was a long time employee of Burns Philp (PNG) from 1972 to 1990. He served in the Burns Philp Shipping & Transport division in Lae and Port Moresby. Maurice's funeral was very fitting in a small church in Mossman (North Queensland). There were eulogies by one of his brothers, his niece and friends from the golf club. All attested to his life-long passions for golf, the business of shipping, and an always-optimistic outlook on life. Vale Maurice.

PROBERT, Ben (14 August 2016)
Ben passed away in his home in Bristol UK aged 86. Ben came to Australia in 1966 and worked in the Northern Territory for a number of years before becoming a mature age Assistant Patrol Officer 1970. He spent his whole career in the Southern Highlands with postings in Ialibu and Koroba before taking over from me as Assistant District Commissioner at Tari in 1979. In 1986 he left the service and worked in Wafi and Mt Kare before returning to England in 1996 to be near his family. In retirement he travelled extensively, enjoyed his grandchildren and spent many hours tending to his allotment by the village common, growing vegetables.
On a more personal note we became good friends during the time Ben was in Koroba. After we returned to Australia he became a regular correspondent and was always interested in hearing about PNG friends and colleagues. We exchanged visits and on one of those journeyed to the Orkneys, a sort of "Geriatric Griswalds go to Scotland". This included a canal trip in Wales, where I skippered, whilst Ben and Maxine opened and closed lock gates. Unfortunately, it rained and I was stuck outside in a yellow raincoat and hat looking like an overgrown canary, while the rest were inside, including Maxine's mother Betty, drinking tea. Ben was a great travelling companion even if we did spend an inordinate length of time looking for the cheapest cuppa whenever we stopped.
Ben's funeral was held on the 25 August. He is survived by his daughters Valeri, Marion and Hilary and sons Keith and Steve and his 6 grandchildren & 2 great-grandchildren. Rob Campbell from Scotland, a didiman in Tari for a number of years, represented Ben's PNG colleagues and friends. "Waltzing Matilda" was sung, representing Australia and rugby, both were important to him. In a salute to his beloved allotment his coffin was bedecked with vegetables (grown on family members' allotments) and his garden fork. A respected colleague and good friend, who will be missed by many. Noel and Maxine Wright.
Details provided by daughter Hilary Cox

RACE Sydney (5.9.2016, at Gosnells, W.A. aged 79)
Born in Castletown England. On arrival in Australia, he joined the West Australian Police Force on 11.2.1963, serving until 8.7.1965. On 11.3.1966 he was appointed as a Sub-Inspector in the Royal Papua & New Guinea Constabulary and served widely throughout Papua New Guinea.
In accordance with the provisions of the Australian Government's move to Papua New Guinea Independence in 1975 he was retrenched from the Constabulary under the provisions of the Contract Officers' Permanent Employment Security Scheme on 21.7. 1974 at the rank of Inspector 2/c. The family returned to Perth where he took up a position with the West Australia Prison Service until 1978. In 1979 the family removed to Darwin where he joined the Northern Territory Prison Service where he served with two other former RPNGC officers, Don Dale and Fred Mercer. During his tenure, Lindy Chamberlain was an inmate. He retired in 1997. For his extended service in the Constabulary and prison services he was awarded the National Medal 1975 and more recently the Police Overseas Service Medal with clasp TPNG. Co-incidentally his wife, was also awarded this medal for her service as a Sgt 2/c in the RPNGC Reserve.
He leaves his widow of over 50 years, Judy and five adult children and their families.
Supplied by M.R. HAYES.
REITANO, Mary Alice Kathleen (18 August 2016 in Brisbane, Qld aged 99 years)
Mary was born in Bangalow, NSW and was a wartime nurse and social worker. Her full obituary was published in The Courier-Mail 1 October2016. Words by Paul Reitano.
ROWE, Peggy (nee Margaret Florence Austin) (2 July 2016 in Melbourne)
Peggy was born on 10.02.1929 and had three children and six grandchildren. The family lived at Gunantambu at Kokopo, formerly the home of Queen Emma, pre WWII.