My story: growing up in PNG by Pam Oberman (Part 2)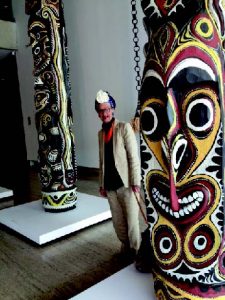 I arrived in Lae New Guinea at the age of six from Brisbane around 1956 on a DC3 with side-saddle seats, accompanied my mother Marjorie Miller, my brother Peter aged 12, and my sister Diane aged nine. Our father, Bob Miller had travelled ahead three months prior to get settled in his new job as Post Master in Lae and to organise a house for us to live in. Mum would find work helping out on the health boats around the islands of Lae to check on the villagers, then later as a telephonist at the Posts & Telegraphs exchange switchboard.
Father was at the airport to meet us with our new house man, Wasuf, who looked very tall and strong in his sparkling white lap lap. Our house looked down to the Hotel Cecil. The house was at the foot of a large mountain, which was once a war hospital that was bulldozed in during WW2. Most evenings there was a gurrea (earthquake); we soon got used to these regular events which turned nasty on one night when we were all out – the houses either side of us were demolished.
We all went to Lae Primary, opposite the hospital, where lots of Australian and Chinese kids attended. On Fridays we would be driven out to an old Japanese Officers' Club for a swim in the cool stone pool; an old army truck was the school's mode of transport at the time. Soon my brother, aged 12 was sent south to boarding school as there were no local high schools.
A few years later Dad was transferred over to Port Moresby where we moved into a Government-issue house with three bedrooms and lots of louvres, our house boi and meri were called Kum and Koi with a cute little boy. My sister and I attended St Joseph's Catholic Primary School down at Ela Beach until we also went south to boarding school in Queensland , returning only at Christmas and staying with our Grandmother in Coolangatta in between for holidays.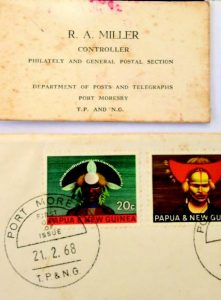 Dad was the controller of the philatelic section of Department of Posts & Telegraphs where his new role involved the design, production, and distribution of the world's most beautiful postage stamps. Once an idea was reached for the next stamp issue, artists from PNG, Australia, and New Zealand were invited to submit their interpretation of the subject, then a winner was agreed upon, and the drawings were put before the Local Legislative Assembly for approval, then off to Switzerland, and later India to be printed. On their return, there was a huge waiting list for First Day Covers from people all over the world.
My parents kept themselves busy. Mum was a good piano player, involved in the local dramatic society in her spare time and during the day worked in the telephone exchange as a telephonist. My father Bob was a 'golf tragic' in his spare time.
I didn't like boarding school and the feeling was mutual, so the nuns thought it would be a good idea to go back to the jungle where they thought I belonged. They would often refer to the PNG boarders as "barbarians from the jungle", which I took as a compliment. I then spent some time at Port Moresby High School which I loved; I remember a great teacher called Mr Holt, who made me aware of how interesting English and Australian History could be. I finished up there about 1966 then attended Konedobu Secretarial College to study shorthand, typing etc. Life in POM was great and we all kept ourselves busy socially and via sports. I still keep in touch with old friends from PNG.
My first job was with the PNG Development Bank, which I loved but about 1971 I travelled south to the big smoke. I eventually took on an apprenticeship in Interior Decoration in Sydney and met my husband while there. He was hand-printing fabric and wallpaper and was a 'cricket tragic'.
I moved back to Currumbin, Queensland in 1985 with my husband and kids – they went to the same primary and secondary school which was rare from what I knew. My son and daughter are in their 30s now and run a tiki bar in Kirra, which has a tropical island vibe to it. It's also a tribute to their father who died in 2010—he was an artist who liked to paint figurative, tropical people and scenes. My mother Marjorie Miller died in Port Moresby 1968 aged 47 and my father Bob died 1982 aged 62 in Queensland. He was about to play golf so that would have made him happy. I paint in my spare time and preside over marriage ceremonies as a Civil Marriage Celebrant. I also like checking out the Facebook page "I used to live in PNG" … some of the old photos and stories are amazing.
Thankyou Belinda Macartney and Andrea Williams for asking me to submit my story for Una Voce.