Mt Fubilan, Ok Tedi & Other Tales – Part one
Fred Pratt is a surveyor and engineer who lived and worked in PNG from 1961 to 2014. He worked at Ok Tedi over the period 1969–83, and again briefly in 2014, and pens the following story about one of Cadet Patrol Officer Harley Dickinson's exploits:

In his later years Harley Dickinson claimed that as a cadet patrol officer he had climbed Mt Fubilan in company with acting ADO Richard (Len) Aisbett, while on a patrol from Telefolmin to the upper Ok Tedi area, to investigate tribal fighting between Wopeimin (Wopkai) and Kamfegolmin (Faiwol) sometime in 1958–59. The Wikipedia entry for Dickinson gives the date as June 1958. A published photo of Dickinson at 'Mt Fubulan [sic] village' (Bultem) is dated 1959. It appears that this is unsubstantiated by official patrol reports.
A search of the patrol reports from Telefolmin Station for the years 1957–58 and 1958–59 shows that Aisbett made three patrols in 1957–58, and five patrols in 1958–59. ADO Bill Brown took over from Aisbett at Telefolmin in July 1959.
Dickinson accompanied Aisbett on two of these eight patrols—Patrol No 3/1958–59 in November 1958 through the Telefolmin Census District, and Patrol 2/1958–59 in October 1958 to investigate reports of tribal fighting between the Wopeimin and Kamfegolmin.
Aisbett had visited the Wopeimin and Kamfegolmin area in June 1958 on Patrol 6/1957–58, but on that patrol he was accompanied by CPO Jim Fenton. That patrol visited Sogolomik and then turned east to the Olsopbip basin. Therefore, it must have been during Patrol 2/1958–59 that Dickinson claimed to have ascended Mt Fubilan.
A brief extract follows from Aisbett's 1958 diary for that patrol, which comprised Aisbett, Dickinson, twelve police, one native medical orderly and one interpreter:
17 Oct: Departed Telefolmin
19 Oct: Crossed Kam River, camped Wopeimin village Sobolmorovip (location unknown)
20 Oct: Reached Kamfegolmin area, south west of Sobolmorovip, camped. Took census.
21 Oct: Returned to, and camped, at Sobolmorovip.
22 Oct: Crossed Kam River to Wopeimin Bultemvip. Arrived 10.50 and camped. Village comprised 'haus Tambaran' and 12 houses. A crowd of around 50 people was assembled and given a stern warning against attacking the Kamfegolmin.
23 Oct: Depart Bultemvip 6.40. Headed north around western end of Hindenburg Wall. Camped at 8,000 ft.
24 Oct: Camped Tifalmin.
25 Oct: Arrived back at Telefolmin.
Aisbett's report contains these comments: 'A census of the Kamfegolmin showed eighty-one people. The Wopeimin were too elusive for a full census to be undertaken but their numbers were estimated at around 250 … The Wopeimin have had little contact with us. They are not a warlike people.'
Aisbett's Patrol Report makes no mention of crossing the Ok Tedi and climbing any mountain.
Seen from Bultem Village, Mt Fubilan is not a prominent peak and there would be no apparent reason to have selected this peak from other surrounding peaks as a mountain to climb. Like Mountains Ian, Robinson, Anju and Bourke, it is an intrusive plug punched through the limestone, and on the south and east is surrounded by high limestone ridges, and on the west by Mt Binnie. As the crow flies it is 17 km almost due west of Bultem Village. The prominent peaks as viewed from Bultem would be Mt Ian (Karik), Mt Robinson to the south and Mt Binnie immediately west of Fubilan.
To reach Fubilan from Bultem on foot would mean following down the Ok Kam to the Ok Tedi junction, then down the east bank of the Ok Tedi to the gorge upstream of the Tabubil plateau (Ok in the local language means river). The gorge is only around three metres wide at its top, and the Ok Tedi is easily crossed on a small log bridge. One would then follow the west bank of the Ok Tedi north to the base of the Finalbin Ridge, cross the Finalbin Ridge and then follow the ridge between the Ok Gilor and the Ok Ningi to reach Fubilan, a journey of over 20 km.
Due to the high copper values in the soil, Fubilan was a vegetation anomaly. It was covered in a dense bamboo-like vine that grew shoulder-high. On the east slope there were sparsely-scattered Brown Pine and on the west slope were sparse New Guinea White Cedars along with the Brown Pine.
To the immediate north, across the Mt Taranaki saddle, was the moonscape of the massive sulphides of Sulphide Creek, and downstream from there the brilliant blues and greens of copper staining. At the base of Fubilan in the Ok Ningi and Magnetite Creeks were the massive outcrops of magnetite and skarns.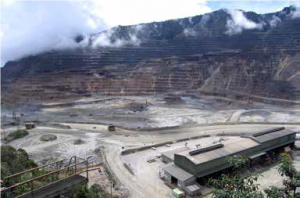 Perhaps because of this weird landscape the Wopkai declared it a sacred place and it was off-limits to all and sundry. The Wopkai had a legend that one of their ancestor-figures was out hunting on Fubilan when his hunting dog was snatched by an evil spirit in the form of a huge eagle, and after that Fubilan was ples tambu (off-limits). The Wopkai, very few in numbers, occupied a vast area and so being denied the Fubilan area would have had no impact on the resources available to them.
The Wopkai villages at that time were: Bultem, Finalbin comprising about four houses by the river at the base of the Finalbin ridge, Kavorabip and Gigabip in the Ok Kauwol valley west of Mt Ian, and Migalsimbip, then out in the Ok Menga basin. The villagers lived in isolation from one another and only gathered irregularly at the Bultem Haus Tambaran.
To reach Fubilan Aisbett and Dickinson would have required guides from Finalbin, the closest hamlet to Fubilan, and as Fubilan was ples tambu it is unlikely that the Finalbins would have co-operated. Had guides been provided the party would then have had to cut a track from somewhere above the Old Camp to the Fubilan summit, as Mt Fubilan being 'off-limits' would have had no hunting tracks leading to its summit.
Once on the edge of Fubilan they would have had to hack a path through the dense bamboo-like vine. Myself and fellow surveyor Mal Murdoch (who worked with me for CRAE at Panguna 1965–67) laid out a 400 ft grid over Fubilan and the chainmen had to hack survey grid lines through this bamboo vine, and that was very, very slow going. For Aisbett's and Dickinson's party to hack their way to the top of Fubilan through the bamboo vine would have taken several hours.
An ascent of Fubilan from Bultem would have taken at least two days, and that is after they had spent at least a day contacting the Finalbins to obtain guides. There is no mention of this in Aisbett's Patrol Report. It would certainly not have been a one-day jaunt from Bultem.
In some articles in the Australian press Dickinson claimed that the patrol went in to put an end to a fierce tribal fight involving up to 100 warriors. The Faiwol (Kamfegolmin) were driven out of an area east of Olsobip sometime in the late 1940s. They sought refuge in the west and settled on the shores of Lake Sogolomik and created Wangbin village. The lake is on the plateau/ridge above the Tabubil Plateau, which the Wangbin also claimed; both were on Wopkai (Wopei) land.
As a result of this incursion on to Wopkai land there were on-going minor skirmishes between the Faiwol Wangbins and the Wopkai Bultems and Finalbins. The numbers involved in these skirmishes would have amounted to no more than thirty total. And as Aisbett noted in his report: 'They (the Wopeimin) are not a warlike people.'
Dickinson has also claimed that he was given special permission by the Wangbins to take fish from the lake. In 1969 Kennecott PNG management planned to install a secondhand hydro plant that they had purchased from Batlow NSW. They planned to use Lake Wangbin (as the name of the lake became synonymous with the name of the village on its shores) as a water source.
I spent three weeks over Christmas/New Year 1969–70 camped on the opposite end of the lake to Wangbin Village which, at that time, consisted of a men's house and five or six small houses. I mapped and sounded the lake and investigated the surrounding area. The lake is a drowned sink-hole, 130 ft (40 m) deep at its deepest point. It is fed by an underground stream. There is no egress from the lake. The lake is a dead lake as it is filled with limestone sludge in suspension. The only fish in the lake are minnows about 5 cm in length which live in the shallow sunlit and aerated water around the lake's edges. Fred Parker, a kiap on leave and collecting for the Bishop Museum, camped with me on Boxing Day. Fred had hoped to collect fish specimens from the lake but all he obtained were these minnows
Aisbett's report makes no mention of them visiting Sogolomik. The lake was 'discovered' in August 1957 by Patrol Officer Booth, and was visited by Aisbett on his June 1958 patrol to the area.
As a surveyor I spent most of my time camped out. In both 1969 and 1970 Fubilan recorded over 500 inches, or 12,700 mm, of rain for the year, with June-July-August averaging 100 inches, 2,540 mm, per month. There were many days confined to camp. I spent some of this time talking to the local labourers who were cutting the survey lines, and hearing and recording their stories and legends. Most could recall Fitzer's patrol of 1963, and the various government patrols to Wangbin and Bultem. There was never any mention of a government patrol crossing the Ok Tedi from Bultem and violating the sacredness of Fubilan.
Anthropological reports describing the life of the Wopkai in the 1960–70s that would support the status of Mt Fubilan as a sacred site are very limited. American medical anthropologist Robert Welsch worked with the Ningerum in the late 1970–early 1980s, and also worked with the Wopkai to ascertain their interactions with the Ningerum. He was engaged by Ok Tedi Development Company to prepare the anthropological report on the Wopkai, Faiwol and Ningerum for the BHP-led consortium's submission to the government for mining leases. The report is unpublished but would be somewhere in the Ok Ted Mining Limited and government archives. The other treatise is Barry Craig's and David Hyndman's, Children of Afek (1990). Hyndman spent several years in the late 1970s living in Bultem Village.
Aisbett's Patrol Report, Telefolmin 2/1958–59 of October 1958, which is the only recorded patrol by Dickinson and Aisbett to the upper Ok Tedi, makes no mention of climbing Mt Fubilan, and had the patrol done so there would have been a description of Fubilan's unique vegetation and of its mineralisation. There would appear to be no available documentation that supports Dickinson's claims.
Patrol Reports are now available online through 'The Library', University of California, San Diego—
see: https://library.ucsd.edu/dc/collection/bb30391860
Editor's Note: Mount Fubilan was described as a copper mountain with a gold cap previous to mining operations. Exploratory drilling in the area began in 1969, and was run by the Kennecott Copper Corporation. In the early 1980s, BHP was granted a special mining lease and the first gold was mined at Ok Tedi in c.1985. In 2002, BHP Billiton withdrew completely from the project, transferring its majority shareholding to the PNG Sustainable Development Program in response to the ongoing Ok Tedi Environmental Disaster.
The Ok Tedi Mine is an open-pit copper and gold mine in PNG located near the headwaters of the Ok Tedi, in the Star Mountains Rural LLG of the North Fly District, Western Province.
All mining operations at Fubilan have had their headquarters at Tabubil.
Mount Fubilan, being located in a remote area of PNG over 2000 m/6600 ft, in a region of high rainfall and frequent earthquakes, means that mine development has posed serious challenges.