Misima After Thirty Years
In 2018 I was working in Papua New Guinea and on one of my field breaks, I met my wife, Dympna, in Moresby and we made a short visit to Misima Island, in the Milne Bay Province, where we had lived for two years in the late 1980s.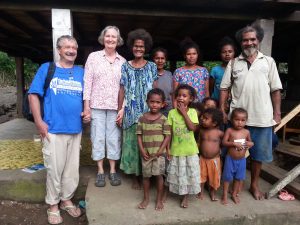 At 7.45 am on 30 March we checked in at the PNGAir desk to catch the 9.10 am flight to Gurney and Misima. We thought that we had arrived in good time to check in, but the check-in person advised us that the flight was full. We protested, and the manager appeared and said that there was one seat available and therefore one of us could travel.
After some negotiations, including pointing out that we had paid for our tickets in November the previous year, the manager went into the departure lounge and persuaded two ticketed passengers to surrender their seats. They came to the check-in counter to get re-ticketed, so we were able to talk with them and we thanked them and gave them K100 for their inconvenience.
Soon after we took off in a PNGAir Dash 8, fully loaded with thirty-six passengers. Upon landing at Gurney, we Misima passengers, about thirty of us, were told to disembark and go into the terminal. There we were advised that there was bad weather at Misima and that we would have to wait for a weather report.
Most of the passengers were men from Misima who were working at Lihir and Simberi mines fly in-fly out (FIFO). The PNGAir ground staff handled the situation very well saying, 'You are all miners and we understand that you want to get home to see your families on Misima, but this is a matter of safety and you all understand the importance of safety. We need to make sure that it is safe for you and our aircraft to land at Misima so we need to get an airstrip report first.'
Everyone was quite happy with that—no doubt thinking about the Cessna Citation that had crashed on Misima airstrip in bad weather in 2010 and killed four passengers.
Several minutes later an airstrip report was received and we took off and finally landed on Misima at 12.15 pm. I was happy to arrive in Misima safely but I did notice that there was no rain about and that the airstrip was not wet.
We were met at the airstrip by Bill and Sandra Callister who, after forty years on Misima with the Summer Institute of Linguistics translating the Bible, were preparing to finally 'go finish'. We then spent five fabulous days with Bill and Sandra in Siagara village, on the north coast of Misima Island, and managed to catch up with many old Misima friends, including Salot Imatana and family, Poate Edoni and family (pictured above), Naomi Collins and Diba Samano.
One aspect we enjoyed was walking over the old mine road from Gulewa to Eaius, now mostly overgrown, and driving through the famous Gama Gama Yowa tunnel on the south coast.
All too quickly it was time to depart, and early on Tuesday, 27 March we departed Siagara by vehicle for the airstrip at Bwagaoia Station. It was a beautifully clear morning and at 9.30 am we checked in to catch our PNGAir flight back to the outside world.
There was no mobile coverage at Bwagaoia that morning and so we sat around in the heat and waited— but the aircraft never arrived. No one knew what was happening because the PNGAir ground staff had no radio communications with Gurney.
Finally, at 2 pm, the Digicel mobile network started working. The PNGAir ground staff rang Gurney on their mobile phones and were told that when our aircraft had landed at Gurney, they had called Misima for a strip report and, as they could not get one, the aircraft turned around and went back to POM.
This lack of communication happened because PNGAir apparently does not have an independent radio network and relies on the Digicel network to communicate with their ground staff. Normally, the next flight out of Misima would have been on the following Thursday but, because of the FIFO miners, PNGAir decided to put on a special flight the following day and so we were all booked onto that. With some considerable difficulty we then had to re-book our Moresby to Cairns tickets and spend the night at the Misima Guest House, which was managed very pleasantly by Violet, the eldest daughter of Salot Imatana.
The following day we checked in again at the airstrip and started the long wait for the PNGAir aircraft. Fortunately, the Digicel network was functioning, albeit at a low level, and we were able to send text messages and have some voice conversations.
At around midday one of the ground staff advised us that the aircraft was on the ground at Gurney, but had developed a problem and would probably be cancelled. Much to our surprise, the aircraft actually arrived and we took off for Gurney and then onto Moresby where we landed at 4 pm. Our luggage arrived swiftly and we walked immediately to International Departures. Air Niugini had just closed the Cairns flight, but fortunately for us, they opened it again for us. With the formalities of security and migration negotiated, we boarded the waiting aircraft and took off at 5 pm. It must be a PNG record for the fastest domestic-international transit time.
As a postscript, the flight delay gave us time to look around Bwagaoia Station including visiting the grave of Eric Ryan, who arrived on Misima in 1936 and was buried there when he passed away in 1992. Eric held onto whatever documents and personal correspondence that passed over his desk, and his son, Roger, managed to salvage it all and carry it down to Brisbane.
At the end of 2018, I visited Roger and he gave me the opportunity to look through the collection of several hundred letters and cards sent by those who had been posted to, or visited, Misima over the period 1946 to 1992. I also came across a copy of a telegram from Flight Lieutenant Dusty Miller to Winston Churchill in May 1940 (which cost 15/- to send), and letters from the likes of Fraser Esdale, Peter Moloney, Bill Speldewinde, Geoff Littler, Jon Bartlett and many many others including Dusty Miller, John (Jack) Wilkinson, (EMA) Bill and Lili Bell, Hugh and Jean Osbourne, Chips and Diana Nichols, and Peter McNab.
After departing Misima, these people wrote to keep in touch with Eric and many of these letters give a fascinating insight into life after Misima—both elsewhere in PNG and 'down south'.