Memories of My Time in TPNG by Phil Willy
The article in Una Voce, June 2017, which was "VALE – Bredmeyer, Theo…" written by Neville Threlfall, stirred memories of my time in TPNG.
Similar to Theo I too commenced work in TPNG, aged 21, in late 1964, and I also worked with the Land Titles Commission of the Department of Crown Law. Although I did not know Theo personally, I understand his position as one to whom I and my workmates could only have great respect. The work I contracted to for two years as Field Officer, commenced in Port Moresby around November 1964 under Commissioner Syd Smith. I underwent training in a drafting office, and field work under Syd and Senior F.O. Norm Oliver.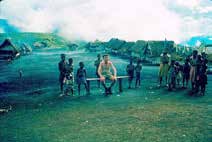 Early in 1965 I was transferred to Rabaul to commence field duties, joining an office headed by the much-esteemed Jack Read, with Commissioners Smith and Kimmorley overseeing the work of 3 or 4 expatriate Field Officers. Our work entailed frequent short or long forays into the surrounding Gazelle Peninsula to obtain data and surveys of local property boundaries as described by local landholders who agreed to or opposed claims to freehold land title by neighbours, usually plantation owners. Plans prepared by F.O.'s were passed to Commissioners who then presented them as evidence in the Court to decide boundaries.
Theo seems likely to be the person who presided over the ultimate court decision-making process in the Land Titles Commission. Please feel free to correct me if I am wrong.
Field officers always worked with a gang of local labourers, translators, guides and a Govt driver. Learning in the field went both ways with F.O.s training chosen potential leaders on the job, and locals tried to teach me to make fire without matches, and of course there was always much to learn about the environment and people. It was satisfying work and rewarded me at the time with new friends, and knowledge of the area.
In April 1965 my fiancé Valerie from Broadmeadows, Victoria, arrived in Rabaul and we were married in the District Commissioners office by D.C. Harry W. West. Our two witnesses were Margaret Hamilton and David Jenkinson [teacher]. David was later sent to build a one teacher school at Tinputz, Bougainville, find his students, and commence classes.
As F.O. my work assignments took me to New Ireland and along the North coast of New Britain during the 2 years. After 2 years in TPNG, Valerie and I decided to return to Australia to commence a "normal" life where land, a house and family played a large part. Common belief at the time was, if you renewed your 2 year contract in TPNG two more times, i.e. 6 years total, you would never leave the place, as it would capture your heart.
Footnote: being a keen a keen bushwalker from the Melbourne University Mountaineering Club, I joined a small group of bushwalkers in Port Moresby and we trained for and walked the Kokoda Trail in the Christmas to New Year break 1964. What great memories we have of those days. Our subsequent life together involved 2 children, careers in Civil Engineering and Occupational Therapy, Teaching, gallery operators, potters and sculptors on the Sunshine Coast, Qld to this day.