Memories by Mark Lynch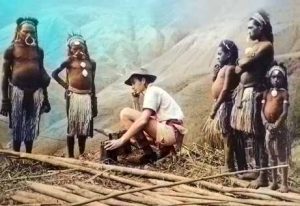 In August 1959, having just turned eighteen, Mark Lynch was at the Australian School of Pacific Administration (ASOPA) in Sydney, undergoing an intense course about a complex and fascinating place, tackling subjects from land use to tropical medicine.
Six weeks later, he and twenty-five other young men were in Port Moresby: 'We were like a bunch of young puppies, wanting adventure.' Adventure awaited in fifteen districts, each a world unto itself. Lynch applied for, and was sent to, the Eastern Highlands.
As a patrol officer, Lynch was involved in everything from ordering supplies and hearing disputes to medical emergencies. And all the while he was trekking further and further out of his comfort zone. 'I had to learn very quickly at least to pretend to be capable of a whole lot of things I'd never be able to do,' Lynch says. 'You just didn't know what you were going to confront and deal with from day to day.'
There were confronting moments, as he picked his way through the impacts of tribal fighting. On patrol, he had to bring in carriers from far away, not from a local village, otherwise they'd often be walking into enemy territory nearby. He was threatened with sorcery. But he rarely felt in danger: 'I only ever had an arrow fired at me once.'
He gradually immersed himself in the different cultures and languages: 'You didn't speak English, you spoke Pidgin all the time. In fact, I dreamed in Pidgin.'
And in the Eastern Highlands, he came to know himself. Mark Lynch became a new man in an ancient land. Lynch spent more than five years in the Eastern Highlands then transferred to the Louisiade Archipelago of islands, off the tail of Papua New Guinea, for fifteen months: 'It was like going to another planet.'
Lynch served as cabinet secretary and was deeply involved in the mechanics of government in an emerging nation. There were many consultations for drafting the constitution, he travelled widely with PNG politicians. Then, in September 1975, when the PNG flag was raised for the first time on independent soil, he was the first secretary of the National Executive Council. 'That was the first cabinet meeting.'
After another three 'very bloody hectic' years as cabinet secretary and twelve months as Prime Minister Somare's special adviser, Lynch decided it was time to return to Australia.
Now Lynch has returned to PNG—in words. He joined a writing group at the Newcastle University of the Third Age (U3A) early last year. The group has just published a book, The Tale Makers, and it includes three short stories by Lynch, drawing on his PNG experiences, from the tragic to the hauntingly beautiful.
Lynch hopes to write a book based on his time in PNG, and he holds 'a secret ambition' to be in Port Moresby for the fiftieth anniversary of independence in 2025. Mark Lynch and PNG remain entwined as tightly as the weave of his bilum. As Lynch says, while slinging the bilum over his shoulder, 'Your heart's still there in many ways.'
Excerpt from 'Breaking Bread: Mark Lynch, former PNG government official and writer:
www.the heraldsun.com.au/Life & Style