Memorial News – PNG Kundu Dec 2020
Commemoration of the 75th Anniversary of the Signing of the Surrender of Japanese Forces at Rabaul, 6 September 2020 The Papua New Guinea Association of Australia commemorated the 75th Anniversary of the signing of the Surrender of Japanese Forces at Rabaul, at the Rabaul & Montevideo Maru Memorial, Australian War Memorial, Canberra, on 6 September 2020.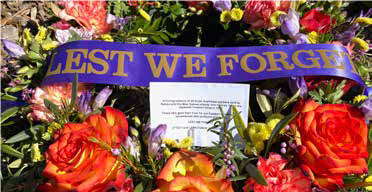 The Instrument of Surrender was signed on HMS Glory. On that day General Hitoshi Imamura, Commander-in- Chief of the Japanese Imperial Southeastern Army formally surrendered to the Australian 1st Army, under the command of Lieutenant General Sturdee.
At the commemorative wreath-laying ceremony in Canberra, a warm welcome was provided by Mr Matt Anderson, PSM, Director of the Australian War Memorial. The PNGAA gratefully acknowledges the outstanding support of the AWM for this special occasion.
Both Mr Anderson and General Campbell acknowledged the passing of Norm Furness, OAM (VX23557), President of 2/22nd/Lark Force Association who passed away on 31 August 2020.
General Angus Campbell, AO DSC, Chief of the Defence Force, delivered the main address (following) reflecting on, and honouring, all those who served and who were sacrificed and remembering all combatants regardless of side or nation.
Unfortunately, His Excellency Mr John Ma'o Kali, PNG High Commissioner, was unable to attend at the last moment. Other attendees included Her Excellency Mrs Vicki Treadell, CMG, British High Commissioner; Captain Manish Rai representing the High Commissioner of India; Major General Anthony Rawlins representing the Chief of Army; Rear Admiral Mark Hammond, AM, RAN, Deputy Chief of Navy; Air Commodore Phil Champion, Director General Strategy and Planning, Royal Australian Air Force; Colonel Mark Goina, PNG Defence Adviser to Australia; Major Brett Gallagher, Chief Commissioner Salvation Army.
Ms Rebecca Mills attended with her grandfather, Dr Les Drew, to represent 2/22nd/Lark Force Association, Michael White represented the NGVR/PNGVR Ex- Members Association and read the Ode.
A number of PNGAA members attended, however, numbers were limited due to COVID-19. All attendees were required to respond well in advance under AWM and governmental requirements.
On this clear, sunny Canberra morning, the Australian Federation Guard's Colour Flag Party added dignity and poignancy to the ceremony.
A bugler, SGT Duquemin, and a vocalist, MUSN Liz Cherry, from the Band of the Royal Military College, Duntroon, were present with the vocalist singing both the Australian and PNG National Anthems.
Photos of the ceremony can be seen HERE .
A service was also held in Rabaul at the same time. Following the ceremony, a luncheon was held at The Pavilion, Northbourne Hotel in Canberra. John Reeves organised this luncheon with twenty-four attendees. AW
Chief of the Defence Force Address
GENERAL ANGUS J CAMPBELL, AO, DCS
Firstly, I want to acknowledge the traditional custodians of the land on which we meet—the Ngunnawal People—and pay my respects to their elders past, present and emerging. I would also like to acknowledge the Rabaul and Montevideo Maru Memorial, in front of which we have gathered today to commemorate the Signing of the Surrender of Japanese Forces in Papua New Guinea.
'Today the guns are silent. A great tragedy has ended. A great victory has been won … The entire world is quietly at peace.'
General MacArthur's radio address to the American people, 2 September 1945
Those were the words of General Douglas MacArthur on the deck of the USS Missouri. He was speaking on the 2nd of September 1945, following the signature of surrender of Japanese Forces and the Japanese Government.
The moment marked the formal end of the Second World War.
As many as seventy-five million combatants and civilians lay dead; perhaps many more, uncounted. General MacArthur further declared that:
In reporting this to you, the people, I speak for the thousands of silent lips, forever stilled among the jungles and the beaches and in the deep waters of the Pacific which marked the way.
This was a truth we knew too well, no matter which country you came from. Almost 40,000 Australians lost their lives in the line of duty; their families never to hear their voices. Many more were wounded, or prisoners of war or both. And many of those Australians who fought and died, or fought and survived were part of the campaign in New Guinea and Papua which ran from 1942 until the declaration of peace.
And today we remember all the combatants, regardless of side or nation. And we acknowledge the significant sacrifice and service of Papua New Guineans who defended their homeland. Who cared for and showed compassion to wounded Australian troops and their injured Allies? Who suffered greatly in a war that came unwanted to their shores and their way of life?
This memorial, is one of many that punctuate our landscape in remembrance. It is dedicated to the prisoners who lost their lives when the Japanese maritime vessel, MS Montevideo Maru, was attacked and sunk on 1 July 1942. It was but one tragedy within the greater catastrophe of world war.
Today, the 6th of September, we commemorate the 75th Anniversary of the surrender of Japanese Forces in Papua New Guinea. The surrender was formalised in an Instrument signed by Lieutenant General Vernon Sturdee, General Officer Commanding of the First Australian Army, and by General Hitoshi Imamura, Commander in Chief of the Japanese Imperial Southeastern Army. Sturdee and Imamura put ink to paper aboard the British carrier HMS Glory, which sat in the waters off the coast of Rabaul. The Instrument was but one of many surrender documents signed by representatives of Allied and Japanese forces across the region.
And with the Japanese surrender in Papua New Guinea, there were sighs of relief. From Papua New Guineans. From Australians. From the Allied forces who had fought in the skies above Papua New Guinea; in its jungles; and on the surrounding seas.
And so today—reflecting on the Japanese surrender in Papua New Guinea specifically and the war more broadly—we commemorate. To honour those who served, and those who sacrificed on our behalf; to remember the principles and ideals that warranted the fight over six long years; and to reaffirm the hard-won, costly lessons of war.
Soldiers, sailors and airmen and women fought for their country, their community, their family and their mates. They fought for freedom—so that we could determine our destiny, and that our destiny would not be determined by others. They made a quiet promise— to defend liberty; to defeat evil—even with their last breath, if need be. Ordinary people in extraordinary circumstances, embodied the simple virtues of Service, Courage, Respect, Integrity, and Excellence in defence of their nations.
Every country suffers in conflict, and conflict comes at a cost to our common humanity. The Hiroshima Peace Memorial Park, the Montevideo Maru Memorial, and thousands of others stand as a testament to this truth. Speaking on the surrender of Japan, General MacArthur looked to the future:
I speak for the unnamed brave millions homeward bound to take up the challenge of that future which they did so much to salvage from the brink of disaster. It is my earnest hope, and indeed the hope of all mankind, that from this solemn occasion a better world shall emerge out of the blood and carnage of the past.
Hard words to hear, seventy-five years on. Weighed against the cost of that war alone, it is uncertain whether we have lived up to the standards of peace and common humanity it demands. Indeed, it is uncertain if we could ever live up to that great cost. And we must make sure that their great sacrifice was worth what it taught us in loss and grief. But we have beaten our swords into ploughshares, and spears into pruning hooks, before. We have made once bitter enemies our close friends.
Today we fight, when we must, alongside our hard earned friends. We remember the principles for which we fight, and the cost of departing from them. Most of all, we must not forget the lessons of MacArthur's war-weary speech. We must not forget historical occasions such as the coming to peace in Rabaul. The friendship between Australia and Papua New Guinea has only strengthened through our remembrance.
And we must not forget the significance of memorials like this one. They offer us this moment to reflect on what it has cost for our society to remain open, and free, and in service of our communities and families while respecting our common humanity.
Something that has come at such great a cost is truly invaluable. It should not be forgotten. We must forever cherish it.
Farewell to Norm Furness
NORMAN HAROLD FURNESS, OAM (VX23557)
15 January 1922–31 August 2020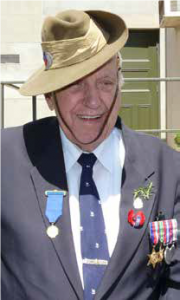 Norm, who was President of the 2/22nd Btn/Lark Force Assoc., was involved in the formative stages, in early 2009, of the Rabaul and Montevideo Maru Society, which has now been integrated into the Papua New Guinea Association of Australia. He tirelessly supported the fundraising for the Rabaul & Montevideo Maru Memorial at the Australian War Memorial in Canberra and spoke, on behalf of all the military, at the dedication ceremony on 1 July 2012.
Norm managed to survive the horrific onslaught of the Japanese in the early part of WWII—his escape from Rabaul in January 1942 involved walking down to Talasea in West New Britain, boating across to the Witu Islands and sailing out on the Lakatoi under extreme conditions from the Witu Islands to Cairns. He always remembered his mates who died in the Tol Massacre, on the Montevideo Maru and whilst escaping, through illness, hunger or drowning.
Each year in January there is a memorial service at Melbourne's Shrine of Remembrance, for many years organised by Norm. And each year in July a casual gathering for families of Lark Force at the original campsite in Traawool, Victoria.
In 2012 Norm Furness was awarded the Melbourne Shrine of Remembrance Medal, and received an OAM in the Australia Day Honours 2016. The citation read: 'For service to veterans and their families'.
Norm was involved with the erection of several memorials in Australia, Papua New Guinea and the Philippines.
Memorial at the original campsite at Traawool in Victoria;
The Montevideo Maru Memorial dedicated at Ballarat in February 2004;
The Rabaul 1942–45 Memorial, dedicated 16 September 1993 on Rabaul foreshore;
The Tol Plantation Memorial, dedicated May 1987 on the site where over 160 Australians were massacred by the Japanese;
Plaque at Bendigo Soldiers Memorial Museum, dedicated 11 November 2011;
Haus Niugini, Frankston, Victoria (part of RSL Park), dedicated 1991;
Rabaul & Montevideo Maru Memorial,
Australian War Memorial, Canberra ACT.
He is particularly well-known for his lifelong active work in support of the widows and families of the 2/22nd Battalion/Lark Force Association, and also for his commitment to the few survivors of the battalion, despite their widely scattered homes. In the 1960s and 1970s Norm was involved in raising funds to build three units at RSL Care, Frankston, for widows of the 2/22nd Battalion.
Following that, Norm was involved in the fundraising for Haus Niugini, Frankston, Victoria (now part of RSL Park), a community centre dedicated in January 1991. On a visit to Haus Niugini a few years ago, Norm realised that there was no longer knowledge about the 2/22nd Battalion/Lark Force which was disappointing.
Norm's efforts as Welfare Officer for the East Malvern RSL Sub-branch earned him both a Life Membership and an RSL Life Membership.
Norm has been interviewed regularly, including for John Schindler's DVD series:
The Tragedy of the Montevideo Maru and Some Came Home.
He was also interviewed for the Australians at War Film Archive, available HERE , and
for the Burwood Bulletin's March 2013 issue, where he spoke about his escape from Rabaul in 1942.
Norm once said 'The 2/22nd Association has been my life as I was born in 1922, lived in house 22 in Fairfield, went into the 2/22nd Battalion, my Army Number VX23557 adds up to 22…'
Norm's seventy+ year commitment to the families of those who did not survive has been extraordinary. In order that history can learn from the past, and so that his mates did not die in vain, Norm has also worked to ensure that what happened to the 2/22nd Battalion, a unit which has not been re‐raised, and Lark Force, will not be forgotten.
Norm Furness was clearly an outstanding Australian. Being one of a fortunate few to escape New Britain at the start of WWII, he has devoted his life to the 2/22nd Battalion community and to helping others. In selflessly and proactively caring about others over a long period of time, he demonstrates a wonderful spirit of humility, kindness and strength that all Australians might aspire to. He has been a loyal friend to his mates who did not survive Rabaul, 1942, by doing all he could to assist the widows and families, and to ensure the memories of their men live on.
Tributes flowed in on the Rabaul and Montevideo Maru Facebook.
ANDREA WILLIAMS
No Longer a Tropical Paradise
Norm Furness gave the following talk at the Shrine of Remembrance in Melbourne, Victoria, on the occasion of the 75th anniversary of the invasion of Rabaul, 15 January 2017.
Many of the force and locals, lost their lives as a result of the Japanese invasion. Approximately three hundred escaped, but have now long since passed on. I was an original member of the 2/22nd Battalion when it was founded at Trawool, seventy-seven years ago. We later moved to Bonegilla Camp with thousands of other men and we became the 23rd Brigade comprising four infantry battalions (the 2/21st, 2/22nd, 2/23, 2/24th). However, things quickly changed and it was decided a new divisional makeup was required. The 9th Division was formed in the Middle East using men from the 6th and 7th Divisions. They wanted more troops from Australia and the 2/23rd and the 2/24th were chosen. This left us one battalion short, so the 2/40th Battalion from Tasmania joined us to make up the three battalions to a brigade. But more was to come!
We became part of the 8th Division and the rumour was that the whole division was going to Malaya, which it finally did. But guess what? Not the 23rd Brigade. Again, we were split up and the 2/22nd was to go to New Guinea, the other two battalions went to Darwin and later to islands in the Timor Sea—Timor and Ambon. Now, back to us!
We finally leave and sail from Sydney to God knows where, as we weren't told a thing. But it turned out to be Rabaul on the island of New Britain. Most of us had never heard of the place and we thought it was a tropical paradise. In Rabaul, the 2/22nd Battalion, comprising 946 men, including officers, was joined by several smaller groups, like signallers, engineers, anti-tank, anti-aircraft and medical units with others to finish up with a total of about 1,400 men. We became known as Lark Force. Then life became so different, we received orders and dug out foundations for two naval guns. We had them cemented in and only one practice shot ended up being fired! Life was good but this was not what we enlisted for. This sort of activity went on for about nine months. We became the 'Forgotten Unit', we lacked so many things and our equipment was so outdated some of it was completely useless.
Finally, Japan entered the war. From March 1941 until December 1941 we were garrison troops frustrated that the real war seemed so far away, but all that was about to change. As enemy planes were soon heard overhead, bombs began to fall … and in January 1942 the war came to Rabaul! With Japan entering the war, it quickly indicated that Rabaul was indeed a prime objective and priority for them. Whilst listening to their planes overhead, our air force arrived—eight Wirraways, built in Melbourne, but built for one reason only—to teach our young pilots to fly. They weren't fighter planes and certainly no match for the Japanese Zeros. I personally saw the five that took off all shot down on their first mission up against the Japanese planes. The Japanese wanted Rabaul as a major base, so that from there they could push towards Australia. On 23 January 1942 in the early hours of the morning, the Japanese invasion fleet arrived, and landings were soon taking place which we found impossible to stop.
We were so outnumbered—out gunned—we had no planes, as our gallant airmen had been lost in the air raids that preceded the landing. We lacked any modern guns and/or ammunition. Our meagre task force put up great resistance that left many of the enemy dead, but we were soon bypassed and surrounded. We had no choice, but to fall back under concentrated firepower and continual strafing by the Japanese planes.
Finally, the order 'Every man for himself' was issued as resistance became impossible, due to a total lack of supplies and communications. So without ammunition, stores, food or medicine, small groups of survivors headed for the mountain ranges behind Rabaul. Some men were to finish up on the south coast, others on the northern coast of New Britain.
The sad story of what happened after that has been told many times. Prisoners being massacred at Tol Plantation and Gasmata. Later, many prisoners of war and civilians lost at sea with the sinking of the Japanese ship, Montevideo Maru, on route to Japan. Others dying in the jungle due to sickness and starvation. We survived that and after months on the move in the most shocking conditions, owe our lives to Patrol Officer Keith McCarthy, who organised the escape plans that saved so many lives.
What happened in Rabaul was a tragedy. We should always remember the sacrifice made by the men of Lark Force. We had a job to do and we did it to the best of our ability with what we had. It at least delayed the enemy's push towards Australia.
Today, very few of those 1,400 men still survive. We are not here today to glorify war, but to honour our dead, and to pray that the younger generation learn by the mistakes of the past.
Edited extract from When the War Came: New Guinea Island 1942, PNGAA, 2017