Memorial News
Memorial News
Are You Interested in a Trip to Rabaul?
A number of people have expressed an interest in returning to Rabaul with a group of interested travellers. The week around Anzac Day 2023 is being considered. At date of publishing we could not get firm prices to offer, but if you are interested, please contact admin@montevideo-maru.org for further information.
Keeping the Memory of George Dalton VX24211 Alive
Ray Dalton was just three years old when his older brother, George, enlisted at aged 20. George was the third of 13 children. His family did not know it at the time, but within two years, the young Indigenous soldier was dead, a casualty of Australia's worst maritime loss. Over three years after the sinking of Montevideo Maru and a month after the end of WWII, George's family received a telegram notifying them he was 'presumed dead' on Montevideo Maru.
Aboriginal military historian, Peter Bakker, believes the disaster was unreported by the government during the war for reasons of national morale, which were already low by 1942 as the Pacific conflict drew closer to Australia. Bakker also speculates that another critical factor in the suppression of details surrounding the incident was because the submarine responsible for downing the unmarked, unescorted Japanese POW ship was an Allied submarine, USS Sturgeon.
A non-Indigenous soldier who shared the same surname, Bombardier Francis Patrick Dalton, served with George in the 2/22nd Battalion. Francis Patrick Dalton's younger brother, Private Bernard Joseph Dalton, who also served in the 2/22nd Battalion, was killed at the Tol Plantation Massacre near Rabaul four months before Montevideo Maru was sunk.
Ray does not know much about his older brother George, but he knows that he was a talented sportsman, a member of the Warrnambool Football Club's premiership side just before the war. Their mother refused to acknowledge her aboriginality. Ray was 18 and a handy boxer, undefeated on the local show circuit, when he came up against an Aboriginal opponent. A chance comment from the crowd that Ray was more Aboriginal than his opponent resulted in his discovering the truth. 'She brought us up as white because she was afraid of losing us, said Ray. His mother feared that acknowledging their aboriginality meant increased chance of their being removed under government policies of the time that created the Stolen Generation.
Uncle Locky Eccles, George's nephew, is a well-respected south-west Indigenous elder. He did not suspect his First Nations heritage until, at age 15 in 1967, a letter arrived from the government advising that Indigenous residents were to be counted in the Census from that time. In Warrnambool's Aboriginal Remembrance Service of 1 November 2021, Locky Eccles spoke publicly for the first time of George's enlistment and tragic death.
Inspired by the NAIDOC celebrations of early July 2022, and the rallying call to 'Get Up! Stand Up! Show Up!' Ray Dalton and Uncle Locky Eccles are more determined than ever to keep alive the memories of their brother and uncle, and those who died alongside him.
Memorial News acknowledges the original article by Jenny McLaren in the The Standard of 15 July 2022.
https://www.standard.net.au/story/7820700/keeping-the-memory-of-warrnambool-soldier-george-dalton-alive/
Members' Stories
The Narromine Star of 7 July 2022 had an article titled 'Remembering the Montevideo Maru maritime disaster: commemorations in Canberra'.
Following publication Kirrilly Janhsen contacted the Rabaul & Montevideo Maru Group and said:
Private William Leslie Everingham was my great-uncle (my mother's uncle, my grandfather's youngest brother). I have just found out that he died on the Montevideo Maru. I am overwhelmed with this information and do not know where to turn next to learn more and connect with others related to this disaster. I am hoping you can help me. My mother has information and photos of William which I hope might be of help.'
Each year around the anniversaries of the fall of Rabaul, the Tol Massacre, Anzac Day, and the sinking of Montevideo Maru, we ask members to share your stories so that more family members can find out about this history. The Rabaul & Montevideo Maru Group also has an excellent online education package available for schools, an informative website and a fascinating book, When the War Came: New Guinea Islands 1942, sharing a variety of stories. Additionally, there are DVDs, online videos, and books available for further information.
We thank those who approach their local newspapers, schools, and history groups to share their stories and research. The Rabaul & Montevideo Maru Group appreciates this ongoing support.
Official Commemorative Plaque
Captain Kay Parker NFX180287 was one of the Australian Army Nurses captured by the Japanese armed forces after Rabaul fell on 23 January 1942. Cpt. Parker spent most of the war as a POW in Japan. Recently Patrick Bourke discovered that her name was not on the commemoration section of the Commonwealth Department of Veterans' Affairs website. He followed this up and received a reply from Ms Kerry Russell of the Office of Australian War Graves saying that a commemorative plaque will now be installed for Kay Parker in the NSW Garden of Remembrance, recognising her WWII war service.
Captain Kathleen Isabel Alice 'Kay' Parker Sly is indeed automatically eligible for official commemoration as an ex-prisoner of war. Prisoners of war did not become eligible for official commemoration until the 1990s, meaning, because she died in 1979, she was not automatically eligible at that time. Years later, many families of deceased ex-prisoners of war were not aware that an official commemoration could be provided.
Unfortunately, we have no contact details for any of Kay's family, however we will provide the commemoration she is entitled to in our NSW Garden of Remembrance. It will be maintained in perpetuity in recognition of her service. I can confirm that her plaque in Palmdale is a privately placed plaque.
Should We Fall to Ruin, New Guinea 1942
This is a new book by Harrison Christian, and is the untold true story of a remote garrison and their battle against extraordinary odds.
Published August 2022 by Ultimo Press ISBN 9781761150067 Paperback 336pp Available from your local book retailer.
Rich in detail drawn from first person accounts, 'Should We Fall to Ruin' illuminates this period in military history. It is a compelling tale of bravery and resilience in the face of a seemingly unstoppable enemy.
Jewish Diggers Experiences of Rabaul
Coinciding with the 80th anniversary, the Australian Jewish Historical Society Journal published a paper by Peter Allen on 1 July 2022 titled, 'The Eight Jews of Lark Force—Tragedy and Salvation: The Japanese Invasion of Rabaul, 1942'.
The paper tells the epic and powerful stories of the eight Jewish soldiers of Lark Force: David Bloomfield, Keith Levy, David Selby and Issy Weingott who escaped New Britain after the Japanese invasion of Rabaul in January 1942, while Harry Bernstein, Albert Fernandez, Leslie Pearlman, and Herbert Silverman MID did not escape. It seeks to bring to light this forgotten saga, illustrating the terrible suffering and demise, as well as fortitude, of the Australian soldiers who confronted the brutal Japanese forces during the Second World War. As exemplified by the experience of these eight men on New Britain, their adversaries included not only the Japanese and their cruelty, but also hunger, exhaustion, disease, volcanoes, tropical jungles, crocodiles, head-hunters and dangerous seas.
Few people appreciate that [New Britain and New Ireland] was the first Australian territory attacked by the Japanese—in January 1942—more than a month before their attack on Darwin, and most Australians do not know Lark Force's horrific story.
The battle for Australia has commenced,' the acting prime minister and minister for the army, Frank Forde, told the nation during an emergency national broadcast on January 24, 1942, the day after the invasion of Rabaul. 'For the first time in her history, an attack has been launched against her territory, for the first time her soil has been violated.'
For the Japanese, Rabaul was important because of its proximity to the Caroline Islands, mandated to them by the League of Nations after the First World War and the site of a major Imperial Japanese Navy base on Truk. The capture of New Britain would offer them one of the best natural deep-water harbours in the South Pacific and airfields to provide protection to Truk, and to attack lines of communication between the United States and Australia.
A total of 1,485 Australian troops made up Lark Force, plus some local New Guinea Volunteer Rifles. They defended the eastern part of the Territory against the Japanese threat of invasion, with more than 1600 km of coastline. The reality was that Lark Force was ill-equipped to repel an invasion. It had no sea support, poor air cover and little artillery. The infantry units were lightly armed and possessed few mortars or machine guns. The view of the Australian Chiefs of Staff was that, at best, this force could no more than delay, briefly, a Japanese advance.
Following the invasion of 23 January 1942, and without an evacuation plan, the ill-equipped Diggers of Lark Force had to fend for themselves. Less than 400 of its 1,485 members managed to escape death. Japanese troops committed a series of massacres of POWs, including at Tol Plantation in early February 1942, where 160 Diggers were murdered. When the Montevideo Maru was sunk, the majority of the 1,053 Australian soldiers and civilians on board had survived five months of facing constant hunger, disease, and unimaginable cruelty as POWs at the hands of the Japanese.
Besides Fernandez and Bernstein who died because of the Montevideo Maru's sinking, Private Leslie Pearlman was brutally murdered in the Tol Plantation massacre.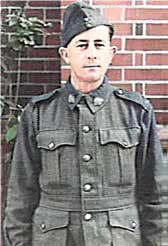 In late January 1942 Captain Silverman and Major Akeroyd, the 2/22nd MO, had been in a party heading westward. As the Japanese occupied Four Ways, cutting off the road to Tobera, the party skirted it and moved on through the dense jungle, avoiding the roads and eventually reaching the Keravat River, near the north coast.
However, following a skirmish there on 26 January, infantry Lieutenant Lennox Henry and Captain Silverman were delayed while treating some wounded troops, and were captured by the Japanese. The officers refused to identify another Australian soldier involved in the skirmish. The Japanese then beheaded Henry on the spot and took Silverman to Rabaul because he said he was a doctor.
Back at Rabaul, on 30 January Silverman had unfortunately not been wearing his Red Cross brassard (armband) and the Japanese would not recognise his status as a doctor. They therefore considered him an escaping soldier and summarily executed him. [65 Watters, Stitches in Time. p. 194.] Captain Herbert Silverman, aged 31 and one of at least five Lark Force officers murdered by General Horii's troops, was posthumously Mentioned in Despatches.
The names of these men are engraved at Bitapaka War Cemetery, Rabaul, and on the Australian Jewish War Memorial in Canberra.
Private David Bloomfield, Lance Sergeant Keith Levy, Lieutenant David Selby, and Signaller Issy Weingott not only survived but continued active service.
Levy was fortunate to escape on one of the last two Sunderland seaplane evacuation flights, after hiking for days to SumSum.
Bloomfield, Selby and Weingott miraculously survived months of hiking through the jungle until reaching Jacquinot Bay, where they were among 156 Diggers and civilians who boarded HMAS Laurabada, bound for Port Moresby on 10 April 1942.
Allen told The Australian Jewish News:
Even as a researcher, I had not fully appreciated until now the primitiveness, cruelty and depravity of the treatment of the Lark Force POWs by the Japanese, and so I feel it is part of our military history that has not been told enough to the broader Australian community, and also the Jewish community.
We all know about the Japanese attack on Darwin, but their attack and invasion of Rabaul—which was then part of a territory of Australia—preceded that and resulted in greater loss of life.
What struck me most during my research was what each of those eight [Jewish] chaps went through, and their stories are a reflection of what all the Australians in Lark Force endured.
Information from:
'The Eight Jews of Lark Force—Tragedy and Salvation: The Japanese Invasion of Rabaul, 1942' by Peter Allen and the Australian Jewish News, 1 July 2022