Memorial News – RABAUL & MONTEVIDEO MARU SOCIETY
The Rabaul & Montevideo Maru Society was established in 2009 and integrated into the
PNGAA in 2013.
The society encourages students and adults to explore the significance of WWII in the Papua New Guinea islands and what the start of the Pacific War in 1942 meant for Australia, including its worst maritime disaster — the sinking of MS Montevideo Maru on 1 July 1942.
If you have news for the members, please contact Andrea Williams on admin@memorial.org.au
Rabaul and Montevideo Maru Memorial
We have received a letter from the Director of the Australian War Memorial (AWM), Mr Matt Anderson. Mr Anderson wrote to give the PNGAA an update of the impact of the significant redevelopment of the Rabaul and Montevideo Maru Memorial in which this organisation, obviously, is a key stakeholder.
It was necessary to remove the sculpture to storage in May 2021 to allow for the construction of the CEW Bean Building extension and new research centre. The AWM has also been in contact with the artist of the memorial, Mr James Perrett, to discuss the removal of the sculpture to storage. It is anticipated that the sculpture will be stored for over two years.
The PNGAA appreciates the advice and supports Mr Anderson and his team in this process.
The New Guinea Volunteer Rifles
Courageous civilian volunteers formed the New Guinea Volunteer Rifles (NGVR) in Rabaul, at the outbreak of WWII in Europe in 1939. They comprised planters, administration officers, merchants, traders, miners, schooner masters and various other members of the New Guinea community—all with an intimate knowledge of the territory and its inhabitants and who wanted to protect their homes and their families. In 1941 a group of equally courageous Chinese men formed their own unit, the Auxiliary Ambulance Detachment. It was these men who, together, led the defence of New Guinea in the Pacific War. Indigenous New Guineans were not sought by the NGVR. This was a policy decision taken by the Administrator. The Territorial Government had a responsibility to protect the people of New Guinea; using them as soldiers would be a last resort.
Initially raised as a militia unit the NGVR was activated for fulltime service following the Japanese landings in early1942. On 22 January 1942 the NGVR, with an AIF group, formed A Company and were located on Vulcan Island beach in the most exposed position. At 2.30 am the grating of Japanese barges was heard on the beach. Dressed in black singlets and shorts the Japanese were not easy to see but, as George McLennan recalls in Ian Downs' book, The New Guinea Volunteer Rifles: '… came over in such numbers …'NGVR personnel then helped rescue survivors of Lark Force from Rabaul in February and March 1942. Between January and May 1942, the 500 men of the NGVR were the only armed force in the path between the Japanese forces and Port Moresby until the arrival of Kanga Force at Wau.
Many of these men were barred from the Australian regular army due to physical disability, nationality requirements or had exceeded the age limit. They developed tactics and initiatives that became examples for professional commando units.
Many of these men played an extremely important role in the crucial years of the war. Many stayed on as Coastwatchers or gravitated to Special Duties under the Australian New Guinea Administrative Unit (ANGAU), the Far Eastern Liaison Office and 'Z' and 'M' Special Units.
Annual Montevideo Maru Memorial Service,
Brisbane, 1 July 2021
The Papua New Guinea Volunteer Rifles (PNGVR)will be holding the annual Montevideo Maru Memorial service on Thursday, 1 July 2021 at the Brisbane Cenotaph. Contact Phil Ainsworth (Email: p.ainsworth@kingco.com.au—Mobile 0418 730 348) for further information. Please also keep in contact through the Rabaul and Montevideo Maru Facebook Page and Group for updates.
Anzac Day, 2021—Rabaul
Susie McGrade reports: Volcano eruptions, earthquakes, flooding, COVID, riots, the Rabaul Historical Society continues with its annual Anzac Dawn Service in memory of all those who made the ultimate sacrifice …followed by the traditional Gunfire Breakfast at the Rabaul Yacht Club and the bottle of Bundaberg rum. No two-up occurred but, since it was a Sunday, a few extra libations and good old yarns continued through the day.
I am so proud of the old guard that keep turning up. Especially grateful to Rory Stewart for the early set up and the cleaning of the Rabaul Cenotaph, and grass cutting of the surrounds; and to David Flinn as MC and the Rabaul Hotel team who light the bamboo flames down Mango Avenue and, of course, the eternal flame. Also, special thanks to Father Matte from St Francis Xavier who officiated, and Albert Konie for the keynote address on 'The Role of the Commonwealth', as well as the guitar players and singers; Willie Flinn who read the poem, Chris Flinn, Johnson Lyons, Ryan Kuckey who were on flag duty and Lilly Blake on the PA; and to the staff of the Rabaul Yacht Club who put on the gunfire breakfast. Thank you to all. Always a big effort by a small group —not always perfectly actioned, but very important nevertheless.
Last Post Ceremony, 1 July 2021, Australian War Memorial Canberra
On 1 July 2021 the Last Post Ceremony at the Australian War Memorial, Canberra, will commemorate the New Guinea Volunteer Rifles and Corporal George William Spensley NGX490(pictured). Currently the Last Post Ceremony is a ticketed event due to COVID-19 and the tickets become available approximately a month in advance. All are welcome to attend.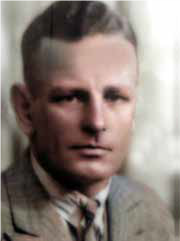 Please advise admin@memorial.org.au if you are attending this event so that tickets can be booked as a group, and you will be kept informed of any details.
Please email names of all those attending, email address, home address including post code, mobile or home phone contact and if you would like to lay a wreath. Alternatively, tickets can be booked via the Memorial's website: https://www.awm.gov.au/visitThe tickets do not need to be printed/presented.
Those who are registered just need to let staff know their name on arrival at the AWM. It is also a requirement in the ACT to check in using the 'Check-in CBR' app. If attendees do not have the app, AWM staff can assist at the front entrance to the memorial.
George William Spensley's name will also be projected onto the exterior of the Hall of Memory on Monday, 12 July 2021 at 1.44 am; Monday, 4October 2021 at 12.24 am; Wednesday, 12 January2022 at 2.39 am.
These dates and times are estimates. The actual time of projection could also change as a result of weather, etc., so it is advisable to check closer to the date: https://www.awm.gov.au/collection/R1696746
Barney Cain Remembers …
The following is an extract from an article written by Claire Hunter and first published by the Australian War Memorial on 2 November 2020. It is the heartbreaking story of an incredibly neglected event in Australian and PNG history, the Fall of Rabaul—and the heart-warming tale of an Escape from Rabaul through the eyes of survivor Barney Cain. '
Feet, do your duty'—Centenarian Barney Cain escaped from the Japanese when they successfully attacked Rabaul in January 1942.
Born in Rye, Victoria, on 6 June 1920 Barney joined the Army on his twentieth birthday. In April 1941, he was sent to Rabaul on the north coast of New Britain as part of Lark Force where he served as a gunner with the 17th Anti-Tank Battery.
The 1,400-strong Lark Force was under-resourced and under-prepared, and could only offer token resistance.
When Barney Cain heard Japanese bombers flying over Rabaul, he thought he was going to die. When the Japanese landed at Rabaul on 23January 1942, the small Australian garrison was quickly overwhelmed and, within a few hours, most of its troops, including six army nurses, [together with seven Australian Government nurses, four Australian mission nurses and one Australian plantation owner] were captured. Whilst more than 800 members of Lark Force were taken prisoner by the Japanese, about400 troops, including Barney, evaded capture.
Barney was one of the lucky ones. Having just re-joined his unit after being discharged from hospital the week before, he escaped to the south side of the island. Barney recalls:
By that time, we were running from the Japanese and you had one thing on your mind—feet, do your duty. I was a driver for a lieutenant who was in charge of one of the troops.
We were down near the Vulcan, a volcano that went up in 1937, when the Japanese landed. They landed in the dark, just down from us, at about 3 o'clock in the morning, and when it just came daylight, he said to me, 'You'd better take the ute up to the top.' It was steep and slippery, and we didn't know what had happened up there, so I went up there to have a look, but he never turned up.
Eventually, some of the New Guinean Volunteer Rifles came up the hill, and I asked them where the antitank blokes were. They said, 'There's no one there,' so eventually we put them on a truck and we landed at what we called the Upper Drome.
That's where everybody was heading, and there was an officer there, Mad Mick, screaming out. He was the2/22nd major, and he was yelling, 'It's all over, it's everyman for himself,' which was great news to us; we'd had orders—you fight to the last, there's no surrender, and all this.
Barney spent the next three and a half months evading the Japanese, crossing rivers, and trekking through the rugged mountains and jungles of New Britain in a desperate attempt to escape. In the ensuing days, groups from the 2/22nd Battalion, ranging from company-strength down to pairs and individuals, desperately tried to escape along New Britain's north and south coasts. Some found small boats and got away under their own auspices, while others were picked up by larger vessels operating from New Guinea.
We were strafed and everything trying to get out, I finished up at Tol Plantation, and I was there when the Japs landed there too.
One hundred and sixty Australians would be massacred at Tol, their bodies left in the jungle.
Barney remembers the moment the Japanese arrived as if it was yesterday:
There were a lot of troops there, all in these small parties, and a Major Bill Owen was organising to get everyone over to the other side of the river. The natives were going to ferry us across in canoes, and around the corner came these barges.
Someone said, 'They've come to rescue us,' but I had a pair of binoculars, and I won't tell you what I said first. I said, 'No, they're Japanese,' … They started firing—I think they were mortars—and it scattered the natives, so they abandoned us, and took off in the canoes.
Men were captured as they tried to escape from the plantation, others were captured when they were unable to cross the rivers in the area, and at least one group surrendered. The prisoners of war were tied together in groups of two or three. They were asked in sign language by the Japanese if they preferred to be shot or bayoneted and were then taken into the jungle where they were shot, bayoneted or burnt alive.
Barney's party had managed to escape when the Japanese arrived.
'There were about sixteen in my party, and half of them took off, and headed up river,' he said.
Using canoes, the men made it across the river, and were walking across an open area when they saw two barges leaving from the other side of Wide Bay.
There were only about eight of us left by then, and one of the other blokes said, 'They're taking prisoners back to Rabaul,' and then—boom, boom, again—they shot at us. They were not taking prisoners back; they were heading over to our side, but then they swung off, and headed off further up the bay, so we took off up into the hills and stayed there overnight.
The next day, we came out, and we headed off, but we never saw a Jap or anything. We made sure we didn't. The Japs were patrolling in that area, and any noises we heard, we got out of the road, and headed up in to the hills. They could have been Jap troops, or not, but they'd been into the village there, and the village didn't want to have one bit to do with us.
The men pushed on to a village where the villagers sheltered them for the night, and eventually made it to Pal Mal Mal at Jacquinot Bay.
Father Ted Harris, a Roman Catholic priest who ran the Mal Mal Catholic Mission, did everything he could to help the Australian troops who stumbled in from the jungle, giving them food, shelter and medicine as they hid from the Japanese at the Drwina and Wunung plantations.
By April 1942, 156 Australian soldiers and civilians had escaped to the Pal Mal Mal area after fleeing Rabaul. They were eventually rescued and evacuated to Port Moresby on board HMAS Laurabada.
The Japs had started to build up in front of us at Gasmata, so we were blocked; we couldn't go any further, and we couldn't go back – we were stuck there,' Barney said. And that's where they were trying to get in touch with Moresby. They had a wireless, but they couldn't reach Moresby with it.
Some of the other blokes had got off on the north side of the island, but we were stuck on the south side. Two Australians—I think they were officers—and two natives volunteered, and came across in a yacht and found us, or found the Pal Mal Mal area.
There were quite a few of us, and they sent back word of how many troops were there, and they sent the Laurabada to come and pick us up.
His body wracked with malaria and dysentery; Barney walked from Drina River back to Pal Mal Mal to board the Laurabada.
I reckon I had at most a fortnight to live, but I made it back to Pal Mal Mal, and we got on that boat, and we landed in Moresby.
We got on the Macdhui, which was a boat that used to do the island trade [to go to Townsville], and I had a pair of shorts on, and that was all I had. I had no boots, and we got on, and—dong, dong, dong, dong—everybody started heading for the dining room.
It was the bell for dressing for dinner, but we'd been three months in the jungle in the same clothes all the time, or what was left of them. We hadn't had a feed in months, and they plonked a loaf of bread on the table for the steward to open. When they came back, we asked if we could have another loaf of bread to eat, and the steward said, 'You're lucky, there's roast turkey tonight.'
Barney will never forget those who helped him during his three and a half months evading the Japanese in the mountains and jungles of New Britain. Father Harris, the man who had helped so many at Pal Mal Mal, was later taken by the Japanese and executed at sea. His body was dumped overboard and eventually washed up on the shore. The Japanese would not allow the locals to bury his body which eventually washed out to sea. A memorial, provided by grateful survivors of the 2/22nd Battalion, was erected on the beach after the war with the simple inscription:
'I was sick and you visited me.'
https://www.awm.gov.au/articles/blog/second-world-war-veteran-barney-cain