M.V. Mamutu by Chris Warrillow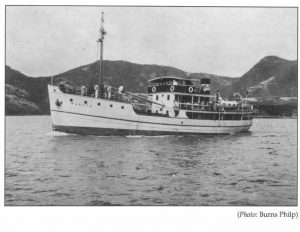 The year 1942 is remembered for many tragic and also heroic events that WWII brought to the (then) Mandated Territory of New Guinea and Australian Territory of Papua. These included the Tol massacre as reported in this Journal earlier this year. The 75th anniversary of the sinking of the Montevideo Maru, with its appalling loss of mainly Australian lives, was remembered at memorial services held in PNG (Rabaul on 22 June) and in Australia (Canberra on 1 July). That ship was sunk by an American submarine in Philippine waters.
Little known is another tragic loss at sea of other Australian lives, mainly civilian, in what were then Australian waters. On Friday 7 August, 1942 the Japanese submarine RO33 sank the M.V Mamutu which was en route from Port Moresby to Daru. There was only one known survivor – William (Billy) Griffin who died in 1993. He was rescued by the survivors of a flying boat which, on 8 August, sank after alighting near a number of Mamutu survivors clinging to an over-turned, partly submerged, life-boat in the hope of saving them all.
In early August, 1942 General Morris ordered the evacuation of the remaining non-combatant European and mixed-race population of Port Moresby. Following repeated Japanese bombing raids most of the female Europeans, local Motu (Hanuabada) people and other Papuans, as well as many of mixed-race, had already left the town. Nearby villages were also abandoned by many of their inhabitants. Some 'went bush' and others to the Galley Reach area to the north-west, and villages along the south-east coast. The army had commandeered all housing in Hanuabada for its Papuan labourers.
Two loads of evacuees were organised to be sent to Daru where they might find safety – even possible subsequent refuge in Cairns.
The Burns Philp owned 300 tons coastal vessel MV Mamutu had been requisitioned by the Australian military to help transport supplies to RAN ships and to its scattered forces along the coast. She had been built in Hong Kong in 1938 and was 34 meters in length with a beam of 7.6 meters. She was assigned the task of transporting some of these evacuees, and left Port Moresby on 6 August, 1942.
Up to 122 passengers and crew of the Mamutu perished, including up to thirty mixed-race children and their parents. Official Australian records contain references to the deaths of many of those on the Mamutu as a result of being machine-gunned, even whilst in the water. However, this is possibly war-time propaganda. Others may have been incinerated by the inferno of exploding fuel drums being carried on deck. The rest drowned.
Numbers vary according to sources. The crew of the Mamutu, under Captain J. McEachren, consisted of 8 Europeans; 2 Chinese and 14 Papuans. Reverend Henry Matthews, Anglican Rector of Port Moresby since 1927, accompanied the mixed-race evacuees and ANGAU assigned Private F. Stork to issue rations. Four members of the Papuan Constabulary and six other Papuans were also reported to be on board.
Stuart (1970) states that on board the Mamutu were "…some 75 distressed mixed-race men, women and children along with a number of Papuans …" and cites the incorrect date of Friday, August 17 (which was in fact a Monday). According to Singe (1979) there were "…some eighty distressed men, women and children on board – only a handful of them Europeans". Aerts (1994) is only able to quote directly from Whiting (1994). Delbos (1985) has a completely erroneous Catholic slant to his account of the disaster.
The most comprehensive account of the atrocity that I have been able to locate is that of Neil Whiting in his book "Wrecks & Reefs – Port Moresby, Papua New Guinea". Of all the sources cited in my bibliography, other than the AWM interview, I believe that he was the only one to have sat with Billy Griffin and discussed the latter's ordeal.
With only one survivor it is understandable that accounts of the disaster are a little confusing. A tape-recorded interview with that survivor is held by the Australian War Memorial. However, Billy Griffin was interviewed in the company of some crew members of the RAAF Short Sunderland which attempted a rescue mission after sighting survivors in the water. Thus, the interview concentrated on the survival and rescue of the aircraft's crew and the assistance Billy gave them once on shore. One crew member of the Sunderland went down with the aircraft after it sank due to damage sustained when alighting into the rough waters of the Gulf of Papua and possibly striking wreckage of the Mamutu.
Billy Griffin and his rescuers finally got to Kikori from where they travelled by boat to Port Moresby.
REFERENCES:
Aerts, Theo (ed.), 1994. "The Martyrs of Papua New Guinea". UPNG Press, Port Moresby.
Australian War Memorial (AWM) tape recording ID Ref. S05254, 1992
Delbos, Georges, 1985. "The Mustard Seed". Institute of Papua New Guinea Studies, Port Moresby.
Jenkins, David, 1992. "Battle Surface – Japan's Submarine War Against Australia 1942 – 1944", Random House, Australia.
Singe, John 1979. "The Torres Strait – People & History", U.Q.P. St. Lucia, QLD.
Stuart, Ian 1970. "Port Moresby yesterday and today", Pacific Publications, Sydney, NSW
Web-sites:
https://www.pacificwrecks.com/ships/mv/mamutu.html (Pacific Wrecks) and
http://www.ozatwar.com/japsubs/mamutu.htm (Australia at War, Peter Dunn).
Whiting, Neil 1994. "Wrecks & Reefs Port – Moresby Papua New Guinea". Robert Brown and Associates (Qld) Pty Ltd, Coorparoo, Qld.
Anyone interested in a more informative (longer) version of this article should request an electronic copy from chris_warrillow@hotmail.com