Literature in Papua New Guinea Part One: TRADITIONAL PUBLISHING BEGINS
Philip Fitzpatrick
Although Papua New Guinea has a rich tradition of oral literature, it was not until 1970 that the first novel by a Papua New Guinean writer was published, The Crocodile by Vincent Eri.
While The Crocodile was the first novel, the first book was written by a New Ireland writer, Ligeremaluoga (also known as Osea). This book, The Erstwhile Savage, sometimes dismissed as missionary propaganda with no real literary merit, was originally written in the Kuanua language but was translated and published in English in 1932. It was republished under a different title, An Offering Fit for a King, in 1978.
Vincent Eri's novel came out of a concerted push by the University of Papua New Guinea (UPNG) to promote PNG literature in the years immediately before independence in 1975. The chief architect of this movement was Ulli Beier, a lecturer in creative writing.
UPNG's Literature Department's first Chair was Frank Johnson and most of his staff were Australians and New Zealanders. They were all enthused by the idea of creating a new literature in Papua New Guinea and purposely restricted the use of traditional English and American curricula. This proved to be a mistake. What Johnson and his staff failed to appreciate was the universal nature of literature. It was only after Beier arrived that young Papua New Guinean writers were able to experiment and merge their own traditional literatures into a distinct form that was recognisably Papua New Guinean.
Most of the material at that time was produced locally as booklets of poetry, short stories or plays with limited print runs. The Papua Pocket Poets series was particularly popular. Perhaps the most significant volume in the series was John Kasaipwalova's Reluctant Flame. Also popular were the literary collections published in magazines like the UPNG's Kovave and the government Literature Department's Papua New Guinea Writing.
In perusing those early works, the transition of the oral literary form into printed works can be clearly seen. In his introduction to Three Short Novels from Papua New Guinea published in 1976 editor Mike Greicus said:
While modern Papua New Guinea writing is founded on the oral literary traditions of a myriad of clan and language groups, it is as new as the emerging country itself, as vital and as exciting. That more will be heard from those writers and from this young literature there can be no doubt.
Some other contemporary writers were Peter Lus, Wairu Degoba, Pokwari Kale, Allan Natachee (Avaisa Pinongo), Leo Hannett, Rabbie Namaliu, Arthur Jawodimbari, Turuk Wabei, Bob Giegao, Jacob Simet, Jack Lahui, Clemens Runawery, Peter Wia Paiya, Renagi Lohia, Joseph Saruva, Herman Talingapua and Ikini Yaboyang.
Under Ulli Beier's benign guidance, the first volume of the journal of PNG, Kovave, appeared in 1969. In this first volume, prose such as Peter Lus' My Head is as Black as the Soil of our Country, John Kadiba's Tax and Kumalau Tawali's Island Life appeared along with John Waiko's play The Unexpected Hawk. The journal was published until 1973 and then once in 1975 to coincide with the celebrations for PNG's independence. It was the first literary journal of real significance and after the first few editions Ulli Beier's students took over editorial control.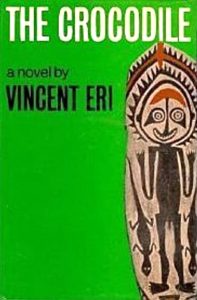 Kovave often published short plays, which were a popular genre for Papua New Guinean writers, perhaps because the form most resembled the animated style of traditional oral story telling. Many of the plays were performed and broadcast on radio by the National Broadcasting Commission. One of the curious things Ulli Beier did was to write Papua New Guinean plays himself using the pseudonym M Lovori. He hoped his students would read the plays and model their own work on them. When four PNG plays were produced in Sydney in 1970 it was ironic that Beier's play, Alive, was lauded by Australian critics as the most 'authentic' while the genuine Papua New Guinean plays were labelled 'awkward' and 'moralising'.
Kovave ceased publication after the 1975 edition and Papua New Guinea New Writing ceased in 1977. It wasn't until 1982 that a new journal, Ondobondo, appeared. This journal was also a publication of the Literature Department, this time under the guidance of UPNG's Prithvindra Chakravarti, and followed the formation of a group of writers of the same name that met monthly for discussions and readings. The new journal included, for the first time, criticism of local writing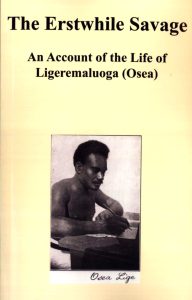 by Papua New Guineans. It also contained extracts from unpublished novels and finally began to attract female writers. Unfortunately, lack of funding led to its demise in 1987.
The PNG Writer's Union was formed in November 1984. The president was Michael Yaki Mel, the vice-president was Francis Nii, the treasurer was Dr Steven Winduo and the secretary was Kevin D'Archy. This union published a magazine, the PNG Writer, in 1985 to celebrate the tenth anniversary of PNG's independence. There were articles by Ignatius Kilage, Kamalau Tawali, John Sari, Joe Kunda Naur, Sorariba Nash, Steven Winduo and many others. It was published to 'give young writers the opportunity to appear in print.' The magazine was sold at K5 per copy for adults and K2 for students. From the sales they hoped to fund young writers to publish their work.
In an interview that was also published in the magazine Ignatius Kilage pointed out that there was a wealth of creative talent in the country. Michael Yaki Mel added:
Let's nurture it along so that PNG literature becomes a living reality: not just something academics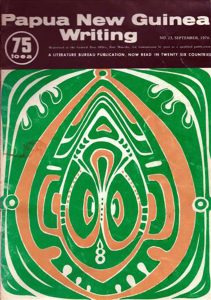 talk about. The best way to do it is to join the PNG Writers Union or to set up a branch in your school, college or home district. Why not hold a meeting in your own area? You will be surprised at the number of potential writers who turn up.
The Writer's Union was at pains to dissociate itself from what was generally understood as university writing promoted by Beier. It did this in part through forewords and editorials that were written in clear, simple English. Unfortunately, like many other literary magazines in the country, the PNG Writer did not survive and membership of the union never reached any great heights.
During this literary flush, and with Beier's encouragement, several UPNG students and alumni, including Vincent Eri, embarked on more ambitious works. To this end, Beier collaborated with Brian Clouston, the Brisbane-based owner of Jacaranda Press. Jacaranda had published some of UPNG's magazines and was one of the few Australian publishers with an interest in material coming out of PNG. Until that time it had only published books from PNG by Australian authors,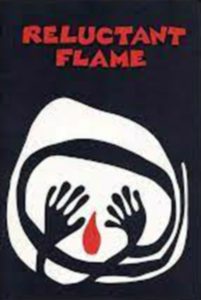 usually educational texts. These sold well and were popular in the PNG's schools.
Little of the literature produced in this period was particularly outstanding. An exception was Trevor Shearston's collection of short stories, Something in the Blood. The most common publications in this period were coffee table books, replete with spectacular photographs and designed primarily as souvenirs.
There was much anti-colonial rhetoric in the writing of Papua New Guineans which appealed to the left-leaning academics at the university, and this was consonant with trends in the newly independent African nations. Ulli Beier had previously worked in Nigeria and was familiar and supportive of this genre.
There were a few interesting autobiographies emerging, such as Ten Thousand Years in a Life Time by Albert Maori Kiki. The book, published by FW Cheshire in 1968, is occasionally disjointed, especially towards the end, but a straightforward style overcomes this minor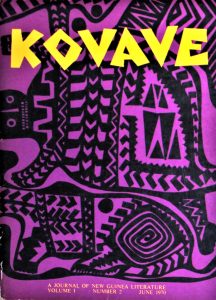 drawback. It was an important book, not so much for its literary merit but because it presented for the very first time an account of what was in the minds of many of the Papuan intelligentsia as the colonial period drew to a close.
In many ways Kiki's work foreshadowed Vincent Eri's later novel in its account of a boy born into a traditional society in the 1930s and inexorably pulled into the world of the white man. Kiki described this transition with a beguiling and candid simplicity and frequently made the point that the old ways that formed his character were never forgotten and helped him cope in later life.
Kiki had a sort of benign intelligence which transcended and stood above the ruck and sometimes intimidated people, especially the denizens in the higher echelons of the Australian administration. Kiki was no saint; he was a brawler, metaphorically and sometimes literally. He went on to become a trade union leader, was one of the founding fathers of the nationalist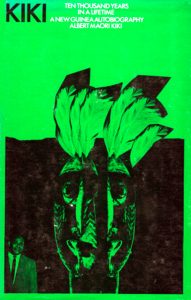 Pangu Pati and Papua New Guinea's first deputy prime minister. In the run up to independence he represented everything that was perceived by the colonial administration and its bosses in Canberra as sinister and communist-inspired among the new Papua New Guinean elite.
When Jacaranda Press published Vincent Eri's novel, The Crocodile, in 1970, it sold out and had to be reprinted almost immediately. While most critics were refreshingly non-paternalistic and supportive, the reaction from Australian readers in Papua New Guinea were mixed. Some of them were still smarting from Kiki's book and did not like being lampooned again, even gently, by a Papua New Guinean, which, as Ulli Beier pointed out, was a bit rich from people who had referred to grown men as 'boys'.
Apart from the African influence invoked by Beier, the writers of this period seemed to take their lead from established European traditions and they mostly wrote for an outside audience. Where they had a message, it was intended for Australian and international consumption. Few wrote for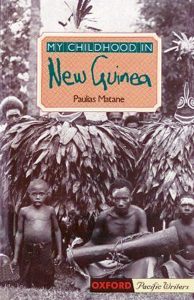 their fellow countrymen.
Paulias Matane was not connected to Ulli Beier's UPNG writers. His first book, My Childhood in New Guinea, was published in 1972. Sir Paulias adopted what was then an uncommon style of embroidering the autobiographical details of his childhood around Rabaul on New Britain into a novel-like narrative. The book takes the reader from his early days in the village, through initiation, wild days as a village delinquent, the war with the Japanese and his early days as a teacher. In it he outlines the principles that have since informed his steady and prodigious output:
Reading is very important. Many of my people do not read at home because books are written by people whose background is not that of Papua New Guinea (PNG). Our people do not want to read these. True, some people want to try, but they cannot afford to buy books. I think I will try to write about this country when I leave school. The books should be small, simple, and cheap.
Now well into his eighties, he has written over forty short books, most of them self-published. He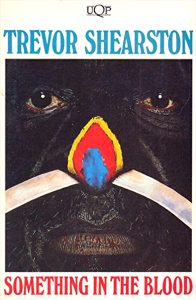 has also been a strong supporter of Papua New Guinean literature, especially during his time as Governor-General, and has mentored several promising authors.
In 1954 Michael Somare, aged eighteen won the South Pacific Commission's Literature Bureau Competition with an essay about his favourite book, Thor Heyerdahl's Kon-Tiki Expedition. The following year he picked up a Forsyth Examination Prize of $40 worth of books. Before he entered politics Michael Somare was a teacher, first in schools and later in the publications section of the Education Department, where he wrote scripts for the Listen and Learn broadcasts on the ABC.
This training and experience showed up in his 1975 book, Sana: an autobiography of Michael Somare. The book was written on the cusp of Papua New Guinea's leap into the vast unknown of nationhood and necessarily articulates Somare's vision for the future. The book also sets out the things that influenced him at an early age and informed his political development.
Sana was Michael Somare's grandfather and it was his wisdom that his son passed on to the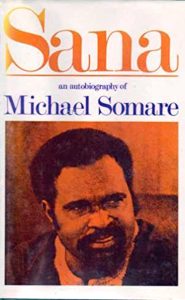 grandson, Michael. Central to this wisdom was what Michael's father referred to as 'Sana's peacemaking magic'. The essence of this magic was the ability to make peace with one's enemies and turn them into friends.
Michael Somare's vision involved melding the myriad cultures and interests of Papua New Guinea into something new and unique which didn't owe its existence to what outsiders might expect or demand. For this reason he happily embraced innovation and new ideas. Of all the books published in those halcyon days, Sana is probably the most important and it bears reading again by any Papua New Guinean interested in both the past and the future of their country.
https://malumnalu.blogspot.com/2011/04/ulli-beier-great-papua-new-guinea-art.html
https://en.wikipedia.org/wiki/Paulias_Matane
http://en.wikipedia.org/wiki/Michael Somare