Life at Daru in the Fifties
Ken McKinnon AO
When we returned from leave to Port Moresby in May 1956, the information was that I was to go immediately to a new posting in charge of education in the Western District, of which Daru was the official HQ, about 400 kilometres due west of Port Moresby. My brief was to develop schools within the district and supervise the widely separated mission schools.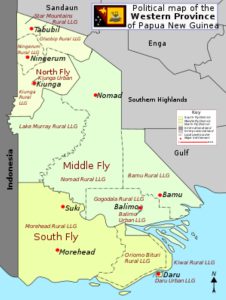 To reach Daru, we were scheduled to take the coastal boat across the Gulf of Papua, an area known for rough weather and storms. The intended transport was a boat typical of the coastal craft in use at that time, being full of rust, cockroach-infested, and taking water. It pitched and screwed uncomfortably even in small seas. The crossing was quite rough, but we eventually arrived safely. It did nothing for our confidence in PNG transport that the same boat sank from unexplained causes on its next crossing three weeks later!
The regular aircraft contact linking Daru with Port Moresby and other parts of Papua New Guinea was the Catalina, which, if the weather was favourable, would fly a multi out-station circuit, including Daru, once a fortnight. For travel within the district, I had to use government or hired boats, aircraft, canoes or walk.
The Kiwai, people who usually had some contact with Torres Strait islanders and sometimes the pearl industry in northern Australia, had wonderful canoes, the best I saw in PNG.
The population of the Western District included many ethnic groups ranging from the muscular coastal Kiwais, long in contact, the Gogadala people who at the time had a culture where the whole village lived in one long-house a hundred or more metres long, to the shy, recently contacted inland people around Kiunga and further north, who lived in tree houses, the women wearing grass skirts and the men large curling penis gourds. There were in fact more than fifty different language groups, many of which had few speakers. The total population was not large, partly because of the large tracts of crocodile infested swamps in the middle section of the Fly.
In my time there was virtually no economic activity in the district. No rubber, no vegetables, virtually no copra. In short, there was no cash economy. The district had been neglected. One Assistant District Officer was so frustrated by the neglect that, when the Australian Minister for External Territories came to visit, speaking out of turn, advocated that the district should be ceded to the Indonesians. He said the district would get more aid and be able to do more that way.
Daru was not an impressive place. When the postwar Labor Minister Eddie Ward came as part of a parliamentary delegation, he had to wade the last few yards from the Catalina tender through clingy mud up to his knees. On arrival, pudgy, puffing and red-faced from the effort he nevertheless won instant support by declaring: 'I don't know what youse guys are getting for workin' here, but I don't think it's enough.'
The tidal effects near the mouths of rivers that were draining silt from hundreds of kilometres away meant that there was a great deal of slogging through muddy banks and avoiding shifting river sands. It was not a district attractive enough to exert a pull by its beauty as some districts in the Highlands did. While there was not that pull, I was enthusiastic enough to want to see 'around the next bend or over the next wave'. I was keen.
We could communicate only intermittently with outposts because the radios of the time were not powerful enough. Even between Port Moresby and Daru, the District Headquarters, radio contact was by Morse code. It was not reliable due to static and interference. Most travel was by boat or canoe. If a boat broke down a few hundred miles up the Fly or around the coast there was very likely no knowledge of its plight for a long time, nor repair services nor rescue craft. Self-reliance was essential.
As Area Education Officer, I was primarily responsible for the Village Higher School which took in both the children of Daru residents including the children of government workers, and students who came in from the Kiwai villages situated along the adjacent coast as there were no other government schools anywhere in the district. My initial orders were to raise the quality of the Daru School and to try to get schools established in other parts of the district.
Fulfilment of the second part of the instruction, of course, depended on the willingness of Headquarters to supply teachers from the meagre numbers graduating from teacher colleges. Neglect to that point was understandable; constant educational considerations were how sophisticated the people of an area were, how big the population was, how far away it was, how good communications were, and how poor the area was.
At the end of my first year Headquarters did begin to remedy the previous neglect by allocating about a dozen new teachers to the district, enabling the opening of six new schools in Kiunga, Balimo (Gogadala area) and Kiwai villages on the mainland. It meant I had to behave more like a district education officer (which I was formally made about eighteen months later) getting out and about the district, pretty much on a full-time basis.
Having responsibility for several schools was also my first opportunity to experiment with the educational curriculum. The nearest to an educational philosophy in PNG was an essay entitled A Blending of the Cultures by the government anthropologist F E Williams. This urged that education should seek to blend the best of western culture with the best of the Indigenous culture. In hindsight, educators who presume themselves able to make such choices were fairly arrogant, with a high risk of unexpected outcomes.
I confess to being taken by the general idea, although not presumptuous enough to know how best to carry it into practice. We had to experiment.
One effort grew out of the complete absence of economic effort. People in villages had little idea of suitable cash crops. Fred Kleckham, the Agricultural Officer, joined forces with me in starting a school at the Agricultural Experimental Station he was establishing on the bank of the Oriomo River three hours by boat from Daru. At this school two young Papua New Guinean teachers from Rabaul, Alkan Tololo and Nelson Ngangane, were enthusiastic pioneers. Alkan was sufficiently capable to succeed me as Director of Education sixteen years later.
There were no funds to give a good start to the establishment of the Agriculture Station School, which was being hacked out of the jungle, bit by bit, slowly. The school was built of bush materials by volunteer labour from villages, as far as two days walk away, on the promise of enrolment for their students. Initially, it taught the standard PNG primary curriculum with some success in the learning of English, capacity to read and write and numeracy. There was little blending of the cultures in learning agriculture because the station itself had not been successful in growing cash crops.
Another effort on Daru itself was more successful. This was an attempt to adjust the schooling of girls to the realities of their future life. A recently arrived keen young Australian, Margaret McDougall, had been posted to the district. At the time it was possible to go anywhere without fear of physical harm, so after about three months of orientation just living in villages from which the girls at Daru had come and becoming known to the inhabitants, Margaret started classes for girls in a purpose-built bush timber school room.
While they learned the core subjects for a good part of every day, their curriculum was expanded to include skills relevant to the transition such as the use of previously unavailable cooking utensils, flavour additives to food and new methods of cooking. Similarly, as a greater range of fabrics was becoming within reach and girls were becoming interested in new clothing styles, dressmaking was made part of the offering. Health and hygiene specifically for girls and baby care was another part of the curriculum. That was a much better 'blending of the cultures' initiative, being both successful and appreciated.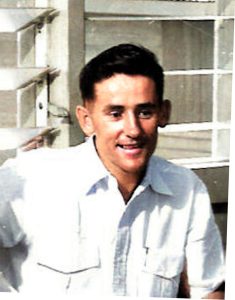 Building and staffing schools was my everyday task. There were other challenges—engine failures on boats and aircraft, canoes that overturned, food that perished and being stymied by the bureaucracy in Canberra.
It is not too strong to say, though, that my four years as Area and later District Education Officer in Daru in the Western District was the period when I came intensively alive, professionally and personally, almost a re-birth. Every day was a wonder, full of new and exciting experiences and hopes. The challenges engendered self-reliance, lack of fear and stamina. No hours were too long; no walk too arduous; no physical impediment too hard; no problem too difficult to solve. Best of all, there was nobody at hand to say 'no, don't even try'. Such a learning situation is hard to replicate.
Editors Note: This story has been abstracted from the author's memoir a copy of which Ken McKinnon has generously donated to PNGAA.