LETTERS
El Partridge Photo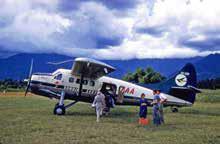 I am a former Macair Charters pilot based at Lae in 1969–70. Later I also flew for Chee Air Charters from Lae. Turning 80 next May, I now have a little more time to consider some of my previous flying days.
To that end I've already submitted an article called 'Beating the Odds at Aseki', which you published in September 2015.
Currently, I am looking for a hi-res scan (500 Kb–1 Mb), showing TAA pilot El Partridge at an unidentified strip, with DHC3 Otter SBR. If you can help, please contact me at the email address below.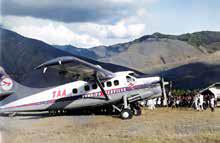 I knew El personally later when he was living on the Gold Coast. El had lent me some slides for copying decades back, but I never got this one. It is an evocative photo, telling it like it was.
Images of the MACAIR buildings at Lae are of great interest to me and I would like to know whether anyone has any good shots taken recently—long after some genius closed Lae Airport down.
So much of it has now fallen to rack and ruin, whilst the rest seems to be a storage yard for shipping containers. No rush but all ideas would be appreciated.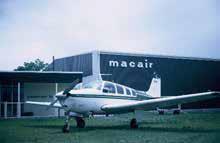 Meanwhile, I had another thought—that PNGAA might consider coming on to the Airhistory website posting suitable PNG aircraft pictures from their collection. I am aware of the required standards (crisp, clear, up to 1 Mb) for publication. We could do it one of two ways:
1. The Association could be put in touch with the Australian moderator, who would then provide advice on how to post the high-resolution images with correct location and date and in which the aircraft registration is clearly visible.
2. Alternatively, you could send me a few images for me to check and then forward on to Airhistory. Of course, all images accepted would be posted on the Airhistory website in a new section 'PNGAA via BD'.
With all good wishes to all at PNGAA.
Ben Dannecker
PO Box 1478, Nowra NSW 2541
Email: jetdrone@outlook.com
Trans Niugini Tours Welcomes Travellers from Overseas
A new year has just begun, and it certainly cannot be as bad businesswise as the last couple of years.
PNG was not affected too much domestically by COVID-19 and Trans Niugini Tours never closed during that period. We kept operating on a reduced scale with our domestic market.
We are now well into restructuring and building back up again as the demand requires, and we have also revived some harder adventure programs, like the climb to Mount Giluwe (one of the seven volcanic summits) and the traverse of Mount Wilhelm from Ambullua to Keglsugl. Village stays can also be arranged in both the Highlands and the Sepik areas.
We have also added some additional festivals that we will operate to cater for the demand and these are listed on our website. All seven of our lodges are open and operating and our staff numbers are back up to over 100. Our standard tours are also available.
PNG Visas must still be obtained online, however, it is now a quick and easy process and we are also hopeful of visas again being issued on arrival in the near future. Flights are operating from Port Moresby to/from Singapore, Hong Kong, Manila and Australia.
We are looking forward to welcoming your readers back to PNG.
Bob Bates
Trans Niugini Tours
+675 542 1438 / +675 7162 3314
Email: bob@pngtours.com
A Thousand Miles to Freedom
Page 30 of the December 2022 issue of PNG Kundu refers to an edited November 1945 newspaper article—the title being 'A Thousand Miles to Freedom'. Readers may be interested to know that the full story of this gripping escape is contained in a book written by May Murray, the wife of one of the escapees, Harry Murray. Containing two stories pertinent to the event, they are titled 'Escape—A Thousand Miles to Freedom' and 'Hunted'.
First published in 1965 by Rigby, it was republished in 1995 by Seal Books, a division of Lansdowne Publishing Pty Ltd. Copies are available through the internet!
Pat Johnson

Paspas bilong Buka
After returning from the Great War my father, Charles Lawie, found it difficult to settle back into civilian life. His wanderings took him to the Territory of New Guinea and he became a trader on Buka Island during the 1920s, based I believe on Hood Plantation. He eventually returned to Australia sometime in the 1930s, married and became a farmer in New South Wales. He brought back a swag of souvenirs from his New Guinea sojourn, but alas, most of them have been dispersed over the years.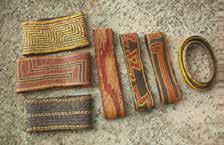 The family still has a photo album of palm-fringed beaches but his black palm bows, arrows, grass skirts and strange nuts have all disappeared. I do have a small collection of woven arm bands which, Dad said, the native men wore on their biceps and called paspas. They are still in perfect condition despite their age. There are six in all, varying in size from 19 cm to 28 cm diameter by 3.5 cm to 5 cm width. The smaller ones would hardly go over a man's hand let alone his biceps. Patterns vary from a plain, close weave to zigzags and something resembling a stylised Omega shape.
Colours range from dark brown through red to a still fairly bright yellow. The yellow is derived (I am reliably told) from the stems of various Dendrobium orchids, carefully stripped, cut to uniform size and somehow softened for weaving. I have tried to make Dendrobium thread myself, but find it very difficult to make the very narrow threads and to soften them. Whatever the other materials are is a mystery, but it is highly unlikely that any sort of machinery would have been available in the time and place of origin of these artefacts.
A few years ago, my daughter obtained three modern paspas of non-specific South Pacific origin from the Queensland Art Gallery. Their composition of brown and yellow material and basic arrowhead weave appear to be identical to the 90-year-old Buka paspas but they are smaller and narrower.
My siblings and I grew up on Dad's reminiscences of New Guinea and his dream of one day returning there. I carried out his dream and lived in Papua from 1964 to 1970, best days of my life!
Donald Lawie
Orchid Cover Photo
Neville Howcroft has written to question the identity of the orchid on the front cover of PNG Kundu December 2022. The photograph on the front cover was of an orchid identified by the photographer as Dendrobium nindii.
Neville, a forest botanist, has sent detailed botanical information to support his opinion that the orchid is not Dendrobium nindii but could not, on the basis of a picture of the flower only, give a name to our cover picture.
Many species of orchids, some of which occur in Northern Australia also are found throughout Papua New Guinea.
Editor
My Catalina Story
While re-browsing through PNG Kundu September 2001 I came across a photo of a Catalina and I wish to share my memory of my adventure with a Cat. I am now 87 and this happened about two weeks before I turned 16.
My mother and I were en route from Brisbane, overnight in Port Moresby, to Samarai where my father, Bert Clauscen, was working with a construction company—he was in company quarters and our accommodation was next door in a saksak house (sago palm).
Before arriving there our adventures started at the Catalina base in Port Moresby. White people sat in seats in the belly of the Cat; men all in white, Mum and I in our best clothes. Local people filled the side seats along the tail. Take-off started and, as we went a little faster, water came rushing in as someone had not shut the rear door. The locals were in a panic. I said to Mum quite calmly 'take your shoes off, Mum'. They were our best.
A man's white trouser leg hung down from above. I don't think he was the pilot but someone pulled his legs to show him the water inside. The plane stopped and, eventually, we returned to the shore and were taken to the bottom pub.
Mum and I were congratulated on being so calm. What did we know? We had never seen or been on one of those things before.
At the pub I distinctly remember a very big man in white who made a beeline for a cane lounge and prostrated himself in it until it was time to go again some hours later. Never mind the ladies—we were the only ones. I believe 'big man' was bound for Woodlark Island.
After morning tea at the pub we were eventually escorted back onto a dry Catalina and off we set for Samarai. We had to stop half-way—I can't remember the name—where we tied up to a buoy and a native canoe came out.
Unfortunately, its prow cracked the window where I was sitting and on take-off I had to hold something—was it a towel?—that would help keep the water out and again on landing— I should say arrival. No man offered to change seats with me but, eventually, we did arrive in Samarai and had a lovely three months there in a house shared with a couple and their small child.
Everything about the lifestyle was so new and unknown to us. We accepted that the shower was a bucket on a rope with a screw-in head; we accepted that the houseboy would cook up a lavish breakfast whether we would like it or not. We soon adapted and, eventually, Mum and I returned to Brisbane. I don't remember the Cat flight back to Port Moresby.
The company for which my father worked completed the construction of the wharf and copra sheds at Samarai and Dad got employment with the Administration as head of the Public Works Department in the Milne Bay District—Samarai was district headquarters then. He eventually built his own house and Mum reluctantly went back. I, too, returned to PNG living in Samarai and Port Moresby in the years between 1958 and 1975.
I hope you enjoyed this story.
Audrey Strutt
Information Wanted
I am seeking any information/leads that could help in research on Arvid and Milija Blumentals who were in Port Moresby from 1951 to 1966. Arvid worked with the Commonwealth Department of Works & Housing as designer of sewerage treatment and draining works. From 1965 to 1966 he was Acting Sewerage Engineer in PNG and Milija worked as an accounting machinist.
Please contact Yana:yanadipietro@gmail.com
Thank you.
Yana di Pietro