LETTERS & MEMORIES
Three Degrees of Separation …
Congratulations on another excellent edition of PNG Kundu.
I found the article by Steve Capelin about his novel based on the ill-fated attempt to colonise New Ireland and his associated research quite interesting. Even today travel in that part of the world is still very challenging.
In 1970 I was in Sixth Form (Year 12) at Dubbo High School with Kathleen (Kathy) Morandini. Kathy's great-grandfather, Domin-ico Morandini, was one of the Italians who went to New Ireland in 1880.
Through marriage my Bourke cousins have a connection to the Morandinis. Their father, Laurence Bourke (my father's brother), married Gene Nash. Gene's sister, Patricia, married a Brian Cass. Brian Cass's sister, Marjorie, married Ray Morandini, Ray Morandini was Kathy's father and the grandson of Dominico Morandini. A rather long line of family connections. I hope it is not too confusing!
Another family link to New Ireland is Lloyd Sibraa, my father's cousin, who was in the 1st Independent Company. In early 1942 he was recorded as being captured at Kavieng, New Ireland. Lloyd has been listed as dying as a POW on the MS Montevideo Maru on 1 July 1942.
Patrick Bourke
Editor: With Patrick's approval I for-warded his letter to Steve Capelin who responded as follows:
It's quite amazing how many people can track a connection to this story. Three degrees of separation and all that. I have a family tree of almost 500 people (and growing) most of whom I've never met or will ever meet, all of whom are descendants of my great-grandfather who was on the expedition. I'd estimate he has around 10,000 direct descendants and then further connections such as Patrick's. It feels like it goes on forever.
The Morandinis were a family of five on the voyage, the youngest a two-year-old.
Kathleen was a 1954 baby according to my records, so it all fits. Like my family, the mother seems to have named the children and the Italian Christian names vanished. My father was a Kevin, his siblings Rita, Cyril, Nathaniel (could have been Natale but not so), and then an Esma!!
Steve Capelin
Panaras Jack
The September 2021 issue of PNG Kundu has a story which refers to Panaras Jack. I knew this fellow reasonably well as his plantation was next door to the one I managed (see PNG Kundu, December 2021). Panaras Jack's name was Jack Western. He was a raw-boned, argumentative fellow and he leased 'Panaras' from Burns Philp & Co. It was a small, rundown property about twenty-five km from mine, 'Patlangat'.
To visit Jack, as I did occasionally, required a long walk along a jungle track and every so often along the beach so I would usually stay overnight with him. Jack was married to Marie, a New Ireland woman who was part Chinese, and he treated her very badly. She was trapped in a position from which there was no escape.
However, she was killed accidentally when Jack's World War II Jeep turned over on the rough track from 'Panaras' to Kavieng. By coincidence, I was in Kavieng that weekend having arrived by copra boat. I was staying in Jack Caffy's pub where I met Panaras Jack. He was never a boozer when I knew him but there he was, slumped over the hotel bar, crying. There was no one else there.
'Marie's been killed,' he told me, 'you have to go to the funeral today.'
There were three in attendance at that funeral—Jack, a Catholic priest and me. Tropical rain pelted down and we were all soaked to the skin. Jack was crying uncontrollably. I have never forgotten the scene or been to a funeral like that one. The PNG Kundu story brought it all back.
Ian Smith
Tim Terrell
I read the letter in the latest PNG Kundu from Dr Holly Northam, OAM regarding the death last year of Tim Terrell. I met Tim in early 1962 when he and Judy were at Finschhafen. He was the ADO in charge of training the first group of Assistant Patrol Officers, i.e. the first Papua New Guineans to be trained in this role. I can't remember how many were being trained, just a few, maybe six.
I took one, Leana Gari, on his first patrol, which was actually the start of building a road from Siki Cove to the mission station at Sattelburg. The road was intended to eventually reach the patrol post at Pindiu.
I spent thirty-four days (January to March 1962) on that task, but I don't think Leana was with me for all that time. After a short break for the seventy labourers to go back to their villages and tend their gardens, I spent another forty-eight days on building the road.
Peter Worsley
The Star Mountains
The stories by Chris Sharples in PNG Kundu September and December 2021 about the Star Mountains brings back memories. I was posted to Telefomin in early 1965 and soon afterwards had Tom Hayllar (mentioned in the September story) and his five fellow expeditioners staying with me.
They were a mixed group. Tom Hayllar, the leader, was an experienced bush walker and traveller who had already walked across Australia. The others were Barry Craig—then a schoolteacher but later an anthropologist, Paul Symonds a psychologist, Dave Cook a geologist and Mike Shepherd a geology student. The sixth member, Jean Huon Navrancourt, left the group three weeks after the expedition began.
The expedition was a difficult exercise and the mysteries of Mount Capella filled me with awe.
My experience at Telefomin and my contact with these expeditioners later inspired me to write a series of three novels based on the life of a fictional character, Amon Mortlake, who is successively involved in an expedition to the Star Mountains, in mining in that area and later, in Australia, as a mining consultant and dealer in New Guinea artefacts.
Martin Kerr
Editor's Note: Martin Kerr's many publications, including the three Amon novels, are available at maskimedia.com.au and some as ebooks from www.amazon.com.au/kindle-books. Tom Hayllar's account of his expedition, The Star Mountains, was published in 2016 and is also available as an ebook from Amazon.
Belated Vale
I always follow the Vale notifications—sad, but good to know how people's lives have progressed over the years.
I was wondering if you could add my parents, Agnes Prudence Alexandra Frank and Kendall Thomas Frank, to the Association's records?
My mother died on 3 March 1988. She and her family lived in Papua New Guinea from early in the twentieth century—Scottish relatives were gold miners. She was secretary to the Administrator and then Mr Groves, the Director of Education. She worked for the Legislative Assembly and taught typing to the Administration's native employees. We were all evacuated during World War II and she returned in 1945 or 1946.
My father set up the telecommunications throughout Papua New Guinea before World War II and was a coastwatcher. Born in Western Australia on
4 November 1904 he died in North Queensland on 21 August 1951. He is written up in the Australian Dictionary of Biography: http://adb.anu.edu.au/biography/frank-kendall-thomas-10236
I was born in Port Moresby and PNG holds a very special place in my life and memories.
Thank you to everyone for all your work
Prue Clarke, OAM
Apology
I refer to my response to the Vale for Ms Marjorie Walker in the December issue of PNG Kundu.
It has been brought to my attention that Ms Walker's maiden name was also Walker not, as I said, Zeck and the correct name of the school I attended was St Gabriel's Church of England Grammar School.
I apologise to her family for the lapse in my memory of events that took place forty-eight years ago.
Suellen Holland
Tom Herket
I have a comment on the story on Page 62 of PNG Kundu, December 2021. Tom was one of 208 civilians on the Montevideo Maru—and he is also listed in my article.
Jim BurroweS
Kiap Debate
In the December 2021 issue of PNG Kundu Ian Spencer wrote about the origin of Kiap and invited debate to continue. My late husband, James Sinclair, was meticulous with research so I offer some interesting facts some of which come from the Oxford Dictionary and some from his books.
Variously Captain (Kiapin) refers to: An officer holding subordinate command; a position in the Army or Navy; Superintendent of a mine (about 1600); Foreman of a workshop (1885); Head Boy of a School; Head of a Cricket Team; Chief of a Club.
And then to New Guinea where Kiap was a term used for all field officers of TPNG administration from lowly Cadet to DC. Kiap was loosely used as a term for patrol officer. This position can be traced to the very beginnings of Australian administration in then British New Guinea from 1906. Then patrol officers were termed Government Agents—a term actually more accurate than patrol officer. More senior officers were called Assistant Resident Magistrates and Resident Magistrates.
Kiap was a Pidgin term and originates in the Mandated Territory of New Guinea between the two World Wars. It was a corruption of the German word 'kiapin'. The term was not used in the Territory of Papua during this period, although the position of patrol officer was common to the two Administrations.
Jan Sinclair
Rabaul Photos
I recently came across an internet site with fantastic photos of Rabaul, which brought back great memories for my brother and me. The site can be accessed at: Rabaul–The Town–Google Sites—https://sites.google.com/site/simpsonhafen/home/the-town
Eddie Leonard
Keith de Lacy Eulogy
A tribute/eulogy for Keith de Lacy published in The Australian on 26 November 2021 for the former treasurer of Queensland does not mention the fact that he was in the Territory of Papua New Guinea at one stage with the Department of Agriculture Stock and Fisheries.
Keith was Principal of the Popondetta Agricultural Training Institute (PATI) where I knew him more than fifty years ago. DASF was running PATI to provide certificate level training for their local agricultural extension officers.
I am told that the Institute no longer exists—closed, no money.
John Horne, ex-DASF
Sky High Over the Wahgi
Our Air Niugini F70 flight from Mt Hagen today takes us over the great Wahgi Valley and Chimbu.
I think about the Leahy brothers and Jim Taylor who discovered the valley in the 1930s.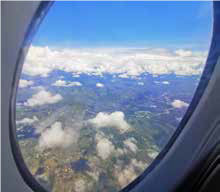 They walked all the way from my home in Salamaua, Morobe (the New Guinea boom town of the 1930s), through valleys, mountains and rivers to find this hitherto unknown land: a people that time forgot.
Up in the cockpit is young Engan pilot Captain Lloyd Timano.
He epitomises how the Highlands of PNG has changed since the days of 'First Contact'—from Stone Age to Jet Age.
The sky is so clear I can see for miles and miles. I can see the towering Wilhelm in the distance. Down below is Karamui, South Chimbu, touted as the next 'food bowl' of Papua New Guinea.
I can't help but become a tad emotional as I see the panorama unfold before my eyes.
'Oh Lord my God, when I in awesome wonder, consider all the world Thy hand has made …'
God has given us a beautiful country with so many, many resources.
We are not poor, as some would like us to believe, far from it. We must all build this country, with positivity, not destroy it with negativity.
The plane starts descending into Port Moresby.
Malum Nalu
Postcard from Port Moresby, Papua New Guinea
When I returned home to PNG after my UNE studies, I joined the National Department of Education, first acting and then as the Director for Inclusive Education, where I worked for seven years.
My first greatest achievement was completing a major review of the National Special Education Policy and Guidelines and developing a ten-year Strategic Implementation Plan (2020–29). My second was completing post-doctoral study.
Since then, I have been the Principal Appointment Advisor with the Teaching Service Comm-ission of the Ministry of Education. Here, I initiated a pilot project for inclusion in PNG schools, beginning with those with a visual impairment and followed by other disabilities.
The New Zealand Government, through the Maori Ministry of Foreign Affairs and Trade, provided development aid for the introduction of an inclusive model in three PNG provinces. Thanks to a New Zealand consortium (Christian Blind Mission—CBM) and a grant of NZ$1.6 million, this model is now being rolled out in three provinces as a pilot project, and will eventually be extended to PNG schools in all provinces. This means the government, as well as development partners including DFAT (AusAID), will fund the projects.
After the project is completed, I intend to achieve my goal of becoming an Associate Professor/Professor. I also want to invite UNE to help achieve my next project—to deliver online education to the Autonomous Region of Bougainville. In this way, I can assist the children, young people and adults of Bougainville to build their capacities and prepare for self-determination.
I thank my PhD supervisors (Adjunct Professor Dr Thomas Maxwell, Dr David Paterson, and Dr Charles Kivunja), UNE, and above all God Almighty for his manifold wisdom and for helping me to achieve these milestones from humble beginnings.
Dr John Pokana
Editor's Note: The University of New England Alumni News has generously agreed to our republishing this letter in PNG Kundu. They advise that there are 195 UNE alumni with an address in PNG.
Men of Misima
Throughout 1941 concern increased about if, and when, Japan would declare war on the US, UK and Australia. There was obviously concern at an official level about the vulnerability of the Territory of Papua and the Mandated Territory of New Guinea because, from the beginning of that year, it became increasingly difficult for the wives of residents of the two Territories to get approval to return after being in Australia on leave.
There is no better illustration of the foreboding of Territory people about the likelihood of war than a circular sent to the men of Misima on 20 September 1941 (three months before Japan's attack on Pearl Harbor) by the resident magistrate on Misima, Alec Rentoul.
Reproduced here, this document was found among the papers of Eric Daniel Ryan, a resident of Misima before and after World War II. It, and other documents, were given to Deryck Thompson by Ryan's son, Roger. This circular gives some background to the series of articles commemorating the battles of 1942 during the New Guinea Campaign, which we will be featuring in the journal during the coming year.
John Egerton, Editor
TO THE MEN OF MISIMA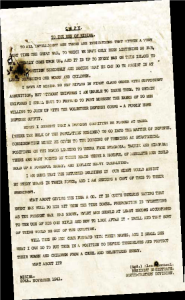 To all intelligent men there are indications that within a very short time the Great War, to which we have only been listening so far, may actually come upon us, and it is up to every man on this island to view the position seriously and decide what we can do to assist in at least defending our women and children.
I have at Misima 20 new rifles in first class order with sufficient ammunition, but without uniforms I am unable to issue them. To obtain uniforms I shall have to forward to Port Moresby the names of 20 men willing to join up with the volunteer defense corps—a purely home defense outfit.
Might I suggest that a defense committee be formed at Umuna (where the bulk of the population resides) to go into the matter of defense. Consideration might be given to the digging of trenches at strategical positions on the roads leading to Umuna from Bwagaoia, Tauhik and Siagara; there are many points on these roads where a handful of resolute men could hold up a powerful enemy and inflict heavy casualties.
I am sure that the returned soldiers in our midst would assist by every means in their power and I am sending a copy of this to their president.
What about giving the idea a go. It is quite useless saying that every man will do his bit when the time comes. Preparation is everything as the present war has shown. Every man should at least become accustomed to the use of his own rifle and how to look after it—drill and that sort of thing would be out of the question.
Will then 20 men come forward with their names, and I shall see what I can do to put them in a position to defend themselves and protect their women and children and from a cruel and relentless enemy. What about it?
Misima 20th. November 1941
(Sgd.) Alec. Rentoul.
RESIDENT MAGISTRATE, SOUTH-EASTERN DIVISION.