LETTERS & MEMORIES
Teaching at Rabaul Sixty Years Ago
This week marks the 60th anniversary of the start of my teaching career in PNG. My first school was Malabunga High School, a one- to two-hour drive from Rabaul, depending on the condition of the roads. During the four years in the Gazelle, I tried to get into Rabaul nearly every weekend—mostly for sport but also for social activities.
I competed in rugby league for Comworks, 1963; athletics for Malabunga 1963–66; basketball for Malabunga 1964–66, baseball for Malabunga 1964–65 and AFL for Ulapia in 1965. At the end of 1966, I was selected as an athlete to compete in the South Pacific Games in Noumea, New Caledonia.
In 1966 I also taught at Kerevat Senior High School for three months and Rabaul High School for about one month.
In those days Rabaul was a beautiful town.
David Keating
Sepik Figure in Canada—Information Please
The Manitoba Museum in Winnipeg, Manitoba, Canada requires assistance in getting information about a dramatic, full-sized carved wooden figure in its collection. The figure was collected by Donald and Jane Paterson while on tour in Papua New Guinea in the late 1970s from a German trader in the Sepik River area.
The carving, identified by the donor as an 'ancestral' figure in style was fashioned from wood, pigments, shells, leaves, hemp and cassowary feathers. Any information on this type of ethnographic 'tourist art' and the maker would be greatly appreciated.
The donors of this figure were residents of Winnipeg and had a unique history of their own. Jane Paterson became one of the first female pilots in Manitoba and travelled with her husband to various areas of the world.
Donald worked for his family's grain business, Paterson Grain, for sixty-six years. An avid pilot, Donald enlisted in the Royal Canadian Air Force in 1940 and served overseas as a flight-lieutenant piloting Lancasters. He completed 29 missions and received several awards including the Distinguished Flying Cross.
The couple enjoyed travelling and Donald had a reputation for 'a traveller who had seen the world from Pole to Pole, whether by plane to the North Pole or by the first civilian expedition to the South Pole'. In addition to piloting himself across Africa in the 1950s, trips were made to Easter Island, the Galapagos and other areas such as PNG.
Katherine Pettipas
Curator Emeritus, the Manitoba Museum at kpettipas@mymts.net
Taim Bilong Kiap
It is not often mentioned that we kiaps were also in charge of the prisons and their warders.
As well as being the police officer in charge of our station (town) we were also the magistrate who sentenced any wrong-doers we had arrested, and if we sent them to jail we were then in charge of them whilst they served out their terms of imprisonment.
On the very rare occasions that a prisoner escaped on my watch, I usually went down to the kalabus (gaol), deputised the remaining prisoners and sent them off to recapture the escapee(s) and return them to the gaol.
Never failed! I never punished the escapee—rather, I would share a smoko with him and have a heart-to-heart chat. When he had finished his prison term I would have him to tea and scones in the haus wind in my garden. I always gave them a going-home pack of useful tools from government stores, with some tobacco and laplaps.
Seriously, it was wonderful to be part of taim bilong kiap.
Tony Bunting
Information Wanted
Recently I saw the medallion in the photos below on eBay and purchased it out of curiosity. The vendor had no connection with PNG and was unable to provide any provenance. I would like to know more about its history. The use of 'Papua' and 'New Guinea' and the inclusion of Samarai indicates that it was probably produced in the mid-1960s. If anyone has any information about this medal, please contact me.
Deryck Thompson dandy51@bigpond.net.au
Fire at Samarai
Some 70 years ago I was employed by Burns Philp (BP) at their store in Samarai. As part of my duties, I was responsible for the Shell Depot which, apart from supplying fuel for plantations and outstations, also provided fuel for Qantas aircraft which, at the time, involved Sandringhams and Catalinas.
As a result, the 'My Catalina Story' in the 'Letters & Memories' of the March 2023 edition of PNG Kundu, caught my attention as did the name Bert Clauscen. My story involves an incident in Samarai which involved Bert.
From memory the year was 1953/4 and the time was approximately 11 or 12 at night. As a single person I was housed in the BP Batch. Following a PNGVR parade we were relaxing when we noticed a fire down near the swimming pool.
Deciding to investigate, we discovered that there was a fire emanating from a store shed used for Works Department equipment under the control of Bert Clauscen.
The alarm was raised and not long after the fire brigade arrived under the control of Frank Hoeter, Police Inspector, along with his policemen who were inducted as firemen.
Fire fighting equipment was limited but, fortunately, either the Soochow or Shansi had arrived the day before and discharged a mobile pumping unit for fire fighting purposes.
This was eagerly brought into action with a hose connected to the nearest tank of water. Unfortunately, the tank was quickly emptied and a decision was made to draw sea water from the swimming pool area. Having secured the water supply, it was now the problem of attacking the fire.
Of course, all this activity created great excitement with much shouting. The most vocal was our Fire Chief Hoeter in his efforts to direct the hose whilst having to move his line of firemen clinging to the hose. His expletives berating his firemen could clearly be heard by Rev. & Mrs Grant who were staying in the Methodist Transit House directly opposite the inferno.
Despite the lateness of the hour, Mick Healy, our District Commissioner arrived, complete with hat and walking cane, to inspect the damage.
It was reported the next day that not only were some Government stores affected and lost, but also a recently acquired and uninsured outboard motor belonging to Bert Clauscen was listed as a casualty.
Ralph Allan
Paspas
The latest issue of PNG Kundu arrived! Thank you so much for the wonderful presentation of the story of the Queen's visit to Goroka. My late husband wrote several more stories like this one, perhaps from time to time they too could be published in Kundu?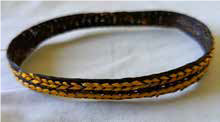 In the section 'Letters & Memories', there is a letter by Donald Lawie, Paspas bilong Buka. He mentions that several years ago his daughter bought three woven armbands (brown and yellow) at the Queensland Art Gallery but he is not sure of their provenance. I bought the armband pictured around 2010 in the Queensland Art Gallery shop after I saw information that the armband was made in West Papua (actually, this was the reason I bought it!).
In Brisbane there is a strong supporter of West Papua, I think it was in 2017 that in the city centre I saw a demonstration in support of West Papua independence. Perhaps the same person would supply those armbands to the Art Gallery shop?
Maria Friend