Letters & Memories
Airstrips at Lake Kutubu
The brief history of the Terrells in the September issue of PNG Kundu is excellent but there is an error in the second paragraph, page 41. The original Lake Kutubu grass airstrip at Moro was just as far from Lae as the current Moro strip built by Chevron!
The Kutubu oil project owes its existence to the hundreds of Hercules (civilian version of the military Lockheed C30) flights carrying tens of thousands of kilos of material from Lae (Nadzab) to the newer Moro airstrip for the construction of the facilities to produce the oil for export.
Road access by extension of the Highlands highway came after production commenced.
'First Oil' production for export began on 27 June 1992. First operations into the new Moro 'strip began in May 1990. The official opening of the 'strip was on 15 June 1990.
Moro is approximately 400 kilometres from Nadzab. Three Hercules, supplied by Southern Air Transport, could each carry 20 tonnes of freight. At peak construction, in good weather, they sometimes managed five round-trips a day. Over 62,000 tonnes was flown by these aircraft to enable construction to be completed on time and below cost.
Chris Warrillow
Burial of the Flying Cowboy
I read the article on Squadron Leader Peter Turnbull DFC with interest (September 2022, PNG Kundu). My late father (Private Bert Armit, QX1501, B Company, 2/12th Btn, 18th Brigade, 2nd AIF) fought at Milne Bay and was part of the detail that buried Squadron Leader Turnbull DFC with dignity. My father's younger brother, Lionel, recorded his war service during his later years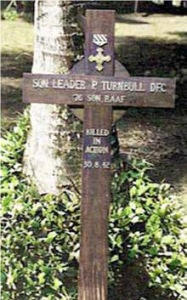 and it included the following passage:
Meanwhile, two volunteers were required to go out and bury Sqdn Leader Peter Turnbull. Whilst Cpl Viv Rammett led an RAAF party to crash site, both 'Ringer' Albert Simpson and I volunteered to carry out the burial of his remains. (Peter Turnbull had crashed whilst carrying out low level strafing operations, forward of KB Mission).
Both Ringer and I dug the grave, whilst the RAAF personnel arranged the body in a canvas covering. The RAAF party was smartly dressed in clean starched uniforms, shoes polished, and wearing their navy-coloured forage caps—an unusual sight in this jungle. Ringer Simpson who always carried a Bible, read the 'Burial Service' and I, where necessary, answered the prayers.
Dad enlisted in October 1939 with others whilst working in Hughenden. Together with recruits from Townsville and Cairns, they went into the rifle companies.
Lest we forget.
Brian Armit
War Stories
The series of the Australian War Memorial's Kokoda Campaign stories in the past couple of editions of PNG Kundu was appreciated. However, due to their creation several decades ago before the authenticity of some military records began to be questioned, the articles perpetuate mistakes by military archivists, many of whom relied on American interpretation of the Kokoda Campaign on which to base their conclusions. Subsequent respected historians and authors followed their direction, further compounding the misinformation.
Of all the articles in the Kundu's wartime series, I found one in the June edition, 'Damien Parer, Master Photographer' the most interesting. As a kindred newsreel cinematographer, I am very much aware he used the word 'Track' in all his shot lists and dope sheets—background story information—which Damien included with all his exposed film sent back to Australia, and which is now in the AWM's archives. The existence of this evidence, amongst a mountain of similar material which has not been taken into account when it decided on its official version of the Kokoda Campaign does little to enhance its reputation. The Australian Cinesound newsreel was the only one which attempted to portray the conflict from an Australian perspective.
I was privileged to work in the early 1960s with Kate Vellacott-Jones before she retired. Kate was a British-Canadian journalist who was stationed in Port Moresby for the Australian Broadcasting Commission at the outbreak of the war. We talked about her wartime experiences and MacArthur's press conferences where she confirmed his 'Trail' directive to all the correspondents. If Kate was with us today, she would be disappointed to see how some aspects of Australia's official presentation of the Kokoda military campaign differs from reality.
I have previously expressed my concern in PNG Kundu over the AWM's reluctance to accept overwhelming evidence, including within its own vaults, which confirm historical documentation mistakes had been made.
I sincerely hope a compromise will soon be found to allow the AWM to admit, in its promotional materials and displays, that the 'Trail vs Track' argument has existed for 80 years and, rather than continue in denial, that there was never an alternative to their official account of the campaign. An open and factual explanation of how the controversy occurred, should be a part of their future plans.
Daryl Binnings
Films on Pre-Independence
While researching information about the pre-independence era of Papua New Guinea, it occurred to me to pass on to members that a number of excellent films about the work of officers in the Administration are available, at a small cost and in digital format from the National Film and Sound Archives: https://shop.nfsa.gov.au/new-guinea-patrol
Will Muskens
Queen Elizabeth II by Mathias Kauage
Mathias Kauage OBE (1944–63) was from Miugu, Chimbu Province, Papua New Guinea.
When the Gallery of Modern Art, Glasgow, was officially opened by the Queen in 1996 Kauage was invited to the opening. He attended the opening wearing bilas—full ceremonial PNG dress—and met the late Queen.
Following this he created a series of works depicting the event and sent the Queen a portrait he had painted of her as if she were wearing bilas. It is now in the Royal Collection and was said to be a favourite of the Queen.
SUE AHERN
The Pacific Newsroom
Wanted—Patrol Boxes
A significant part of patrol life in PNG were the patrol boxes that accompanied every journey. It is evident to me now that we have none in our collection. I realise this is probably because they are such useful boxes for storage.
BUT, if anybody has one or more in good condition that they can bear to part with—they would be gratefully received by us.
Cheryl Marvell
Mobile 0438635132
Email: collection@pngaa.net