Letters & Memories

PNG's Views on the World
At the PNGAA 2022 AGM lunch at the end of April, the presentation on 'PNG Voices: Perspectives on Australia and the World' from Drs Andrea Connor and Hannah Sarvasy, sponsored by the Whitlam Institute, into language and attitudinal research with people in areas of the Huon Peninsula, provided an outstanding, fresh and, in my view, rare and valuable set of insights into what and how people really feel about many issues that affect them.
In its own way, even with basic methodology the information yielded a more authentic look at these things than would, say, a conventional vote or a survey, which usually have a narrower focus. I am sure that such information can be used to facilitate more tailored approaches to questions of relationship, assistance and intent between our two countries. And that we have a capacity to play helpful connective roles in such matters.
Development assistance/ aid, as we well know, is/has been a complex issue e.g. this 2019 Lowy Institute article:
https://www.lowyinstitute.org/the-interpreter/curious-case-aid-concentration-papua-new-guinea
It's interesting to note that the above article was written three years ago. And note also this:
https://png.embassy.gov.au/pmsb/cooperation.html
To me we have, through the sorts of things we heard at the AGM, further confirmation that the provision of aid is not just about amounts of dollars, but an integrated suite of information that, inter alia, says at a community and personal level: 'What does this mean for me and my community?' And while this is not just a PNG issue, but a universal question, our particular focus however is of course on Australia–PNG and regional issues. I look forward to more on this.
Robin Mead
AGM Speakers
I was so impressed with the sincerity and humility of the speakers from the Whitlam Institute at the AGM on 30 April. No disingenuous grandstanding on the problems facing our Pacific neighbours with a 'one size fits all' set of solutions. Clearly the priority of the research was 'listening' and 'hearing'.
That approach was also evident at the lunch where our comments were taken with respect and genuine appreciation. The results of the survey reinforce my belief that the similarities between our two nations in what we value most for community unite us far more than they divide us.
Having a personal interest in the Sepik, I am so impressed with the scholarship initiative for this remote area. A great contribution and definitely the sort of activity that can define the future of the PNGAA.
I look forward to seeing you all again soon and definitely support the PNGAA in exploring new ways to expand and remain relevant with our role in the wider Pacific as well as PNG.
Liz Thurston
Letter to President
Many thanks for inviting the Whitlam Institute to present our PNG Voices research to the Association's AGM.
Hannah and I were both very impressed by the depth of knowledge and connection to PNG that was represented at the gathering. It was a real pleasure to meet you and your colleagues and to engage in a spirited discussion about the research findings.
We are yet to have hard copies printed but would be most happy to send your group copies when they are ready. Please let me know the best postal address.
We do hope to stay in touch in the future and wish you all the very best with your endeavours in the future. Please feel free to download a copy of the research from our website – HERE https://www.whitlam.org/publications/pngvoices
Andrea Connor
Editor's Note: Please see the article on the back cover of this issue for more information.
Indigenous Soldiers 1940–45
Congratulations on your Kokoda/Port Moresby Campaign feature (and Anzac Day 2022) in the June 2022 edition—a very timely focus.
I have been studying this Campaign for over fifteen years so I could not help noticing the errors which crept into your text, map, and photo captions. My main concern was the text about the Papuan Infantry Battalion; a text which seriously under-stated the achievements of those indigenous soldiers between 1940 and 1945.
I am willing to be a future point of contact about the role and operations of the Papuan Infantry Battalion (and the New Guinea Infantry Battalions).
I appreciated your aim to achieve a balanced handling of the key Allied agencies in the Kokoda/Port Moresby Campaign—in this you were successful.
Greg Ivey
Editor's Note: Greg Ivey is the Vice President of the PIB NGIB HQ PIR Association (and PNGAA member), and editor and author of many publications, including a comprehensive review of Philip Bradley's famous book, Hell's Battlefield: The Australians in New Guinea in World War II, published by Allen & Unwin in 2012.
Post Courier Special Edition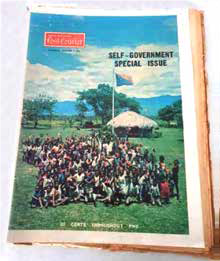 I lived in PNG when I was very young; my father, Graham Farrell, was a maths teacher at Bugandi High School, Lae from 1970 to 1973. My parents, now in their 80s, wish to sell: Post Courier, Saturday 1 December 1973 issue—Self-Government Special Edition.
I hope that some of the readers of PNG Kundu might be interested in buying it.
Kelly Davies
kelly@pyramiddisplays.com.au
A Chaplain's Souvenir
Perhaps your readers will be interested to read about a special souvenir my father, Arthur John Wagstaff brought back from New Guinea during the Second World War.
An Anglican minister, he served for four years as a chaplain in the AIF and his service number was QX45121. When he was at Milne Bay with the 29th Infantry Brigade the Papuan people built a chapel from native materials for the regular services he conducted for both the servicemen and the local people.
A feature of this church was the small crucifix which adorned its altar. The crucifix was made by a serviceman, whose name, regrettably, I do not know, from the aluminium melted down from the wreck of a Japanese aeroplane and the attached figure of Christ is of the same material. The quality of the figure suggests that an experienced sculptor was involved. The cross, square in cross section, is 180 mm high and 100 mm wide. The figure of Christ is about 75 mm high.
The base on which the cross stands is of brass and looks like the remnants of an artillery shell. Included in the markings on the underside are 1942, 25 Pr and a single arrow. The percussion plate has been fired. The small square block sitting on the circular base is also of brass.
My father survived malaria and dengue and came home after the war, but sadly died five months later from cancer of the pancreas. My brave mother did a wonderful job being left with the task of rearing me and my two younger brothers.
The crucifix stayed in the family for many years but some years ago I gave it and some associated photographs of the construction of the church at Milne Bay to a church in Victoria. I had hoped that they would make use of it. This never happened so recently, on my request, the people at the church returned it to me. Sadly, some of the photographs have been misplaced or lost.
I considered sending the crucifix to the Australian War Memorial, but have now decided that it should stay in my family as a poignant memento of my father.
Lorna Hamilton
Editor's Note: Chaplains have served in the Australian Army since WW I. During WW II, 639 full-time army chaplains served in the different theatres—34 of them were prisoners of war. In the campaigns in the SW Pacific Area, including PNG, 14 chaplains died—6 from enemy action, 5 from illness and 3 from accidents during service.