LETTERS & ENQUIRIES
Administration Records
Recently some colleagues and I, who were veterinary officers in the then Territory of Papua & New Guinea (TP&NG), prepared a paper on the Territory's veterinary service between the end of World War II and independence. We would have liked to include a list of all veterinarians who, like us, spent some of our careers in New Guinea. We could not find any record of what we estimate to be about fifty such vets.
This raises a bigger question. Is there a record anywhere of people who served in the administration of TP&NG? This question applies not only to administration people but also to Commonwealth employees, business people, primary producers, miners and missionaries. All these people and their families contributed to an important part of the history of Australia and Papua New Guinea.
I would like to see the Association use its best efforts to find and record information about as many of these people as possible.
John Egerton, DASF 1956–64
Re: Track or Trail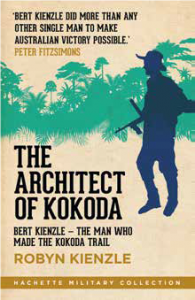 Further to the item 'Track or Trail' on page 10 of PNG Kundu, March 2020, the matter is explained in the book, The Architect of Kokoda: Bert Kienzle—The Man who Made the Kokoda Trail, by Robyn Kienzle, Bert's daughter-in-law (Hachette, Sydney 2000).
What the diggers called the Kokoda Track was the particular pathway they happened to be using. In fact, the Kokoda Trail consisted of several tracks. When it was built, Bert Kienzle 'had to select from a series of tracks from village to village the best route over the ranges'.
Sometimes a track might be blocked by landslide, tree fall or washout and another track had to be used around it. Sometimes more than one track was used to go in the same general direction. For example, the map shows that the trail from Efogi to Templeton's Crossing consisted of two separate tracks, one via Kagi and the other via Myol (see page 16 of this issue). So 'The Kokoda Trail' was the generic inclusion of all these different tracks.
The definitive explanation of what it should be called was made by Bert himself: We who fought knew it as the Kokoda Trail. A trail means a path through a wilderness and this is surely what it was for most of us. So, I appeal to you to revere and keep naming it Kokoda Trail in memory of all those gallant men who fought over it. Lest we forget.
So—that is why it is called the Kokoda Trail.
CHIPS MACKELLAR
ED: The current official gazetted place name is 'Kokoda Trail'. This is used by the Papua New Guinea Government, the Australian Army and the Australian War Memorial, and was adopted by the Battles Nomenclature Committee as the official British Commonwealth battle honour in October 1957.
Patron's Message
General Jeffery has asked me to write to you to tell you how much he enjoys reading Una Voce (and now PNG Kundu) when it arrives in our office. He reads it from cover to cover and is constantly impressed by the articles and the photographs. It is a superb product, one of which you should be very proud.
He especially enjoyed the article and photos of the Huli Wigmen of Tari and commented that PNG is one of the few countries left in the world that has maintained its traditions and culture.
Wendy Button, PA to Major General the Hon. Michael Jeffery, AC, AO (Mil), CVO, MC (Retd)
Pilot's Name?
Would you know the name of the pilot in the Kompiam Patrol Post crash landing of 1960s?
I was a kiap from 1952–75. In the 1950/1960s I was in the Wabag Sub-district and am trying to recall the name of a pilot who was in a crash landing at Kompiam Patrol Post in the early sixties. I knew him very well and he was very cranky about the type of Cessna he was driving.
The damaged aircraft was dismantled and local tribesmen were gathered to carry the parts to Wabag. I have a photo of a DC3 on Wabag airstrip being loaded. After I left the Highlands in late 1963 I never met him again. I did hear that many years later after he had retired he had done a lot of helping for others from PNG in Sydney. I heard he died a few years ago.
I have recently found that the DC3 is now a feature of the Qantas Museum at Longreach, and also that the Cessna still exists in private ownership; no longer of service, of course. I would be very grateful if you could help. Many thanks in advance.
Graham Hardy
Articles in PNG Kundu March 2020 Brought Back Memories
What a great edition of Kundu (good name) March 2020. Max Uechtritz's centre spread, Wigmen of Tari, is amazing photography. I've never seen PNG ceremonial photos of this powerful imagery, well done.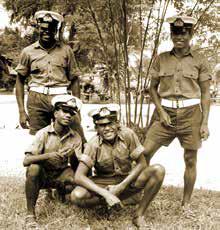 Sam Bateman's timely article reference to Lieut Karrie Frank brought back fond memories of he and Midshipman Jerry Singiroti babysitting my sisters and me at various times in the mid-sixties. We would play my mother's 78 records and crack up at Alvin and the Chipmonks every time. Above is one of my father's photos, though can't actually identify any one in it.
If anyone can identify those in the photograph please contact me at: pb.barmarine@bigpond.com
Peter Barr
Wonderful Memories of a Beautiful Country
Just want to tell you how delighted I am to receive my first copy of PNG Kundu, and I have now read many articles with great interest.
My husband, Gordon Hayes, first went to Rabaul in 1947 as the junior officer in a group of five, to re-open the Commonwealth Bank after the War, and to get things rolling again. They managed to find an old Army Quonset Hut and open up 'shop'. The Japanese were still in compounds then and the firing squad could be heard.
He met many famous identities of that time, including Golpak and the well-known Paul Mason of Coastwatcher fame.
It was after his return to Australia that I met Gordon and was fascinated with the many stories he had to tell, never dreaming that I would one day go there myself.
However, in 1970, because of his knowledge of the culture and ability to 'tok pisin' we, as a family, moved to Port Moresby for four years during which time Gordon was the Deputy Chief Manager for the whole of PNG, covering thirteen branches of the Commonwealth Bank.
I have wonderful memories of a beautiful country and of its beautiful people and I am so glad that I joined PNGAA.
Merle Hayes
Moem Barracks, Wewak
I am keen to hear from anyone who lived in Moem Barracks or Wewak in the period 1968–74. My late father, Padre Ossie Dale, served with 2PIR at Moem in those years.
My family also enjoyed a wonderful couple of years at the Patrol Boat Base at Lombrum, Manus Province, from 1975–77.
Please contact me on 0490 498 029 (mob.) or charlottedale1@dodo.com.au (email).
Ross Dale
Charlie Scols
I have been asked by some local people at Bensbach, Western Province, to try and locate an Australian who was based at Weam sometime between 1964–71. He was in the Australian Army and his name was Charlie Scols. If anyone has information about this person could they please contact:
garrickhitchcock@hotmail.comarrick Hitchcock
ANMEF Website
My website, https://www.anmef.com.au/, is now live. It is nowhere near finished but with 200 stories written—about 20% of total, I thought I would load it up and keep working on it, hopefully with some contributions from the public. One good thing about the current lockdown is that I am well ahead in my research—if just a little stir crazy.
Michael White
Interview Online
Interview with WWII Pilot Fred Hargesheimer and Coastwatcher Matt Foley—Rabaul PNG, 19 May 1988, is available on HERE.
Names of Gentlemen in Photograph

I would appreciate any assistance in identifying the unnamed gentlemen in the photo below.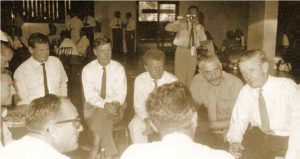 If you can help, please email me at rabauljewel@gmaul.com
WARREN YOUNG
Milne Bay Schools
Thank you for kindly putting the article about the Milne Bay schools in PNG Kundu.
All the schools in PNG are like this. I must have sent the wrong USB and it was not easy for people to realise the magnitude of the problem with the photos. I am so excited about the wonderful magazine we now have and would love you to put a message in the next one thanking everyone for the amazing information it has.
I found the article from Sam Bateman about the PNG and Australian Navy so interesting as my grandson, Tony Neville, is deployed on an Australian patrol boat and my granddaughter, Natasha, is in the Army with 141 Sig Sqn. My granddaughter, Chantelle, is in the RAAF and attached to the Institute of Aviation Medicine.
My son, Michael, and I had our garage packed to the ceiling with hundreds of boxes we had sorted and packed, but we had no way of getting them to PNG. Many Queensland schools were about to upgrade to computers and we were fortunate to be swamped with around 2,000 books as a result.
Then, with the help of the Australian High Commissioner in PNG and the Director of DFaT in Brisbane, the Wing Commander from Amberley, an RAAF photographer, as well as a captain from the Australian Army's 1st Signal Regiment and other soldiers all came with a large army truck. After morning tea, all boxes were packed into the truck and taken to RAAF at Amberley. The Coronavirus has delayed the trip to Port Moresby, but I am so grateful to our Defence Force for what they have done and know they will be on their way when things settle down.
Colleen Neville
Yorishime Maru Tragedy
I am researching the WWII tragedy when a group of missionaries were taken on the Japanese vessel, Yorishime Maru, and transported to Hotegan camp, near Hollandia (today Jayapura). The group consisted of Catholic and Lutheran missionaries, together with some lay people who were initially imprisoned by the Japanese near Madang, then moved to Manam Island before being transported to Hollandia, now Jayapura, on the Yorishime Maru.
On the way, on 6 February 1944 the ship was strafed by American bomber planes and several were killed.
I would like to make a complete list of those who were imprisoned in this group. I have some names of missionaries, although these are often first names only, and no names of the lay people. The majority of the survivors were taken to an American Army hospital near Brisbane in June 1944.
If you could assist, please email me at jozefem@gmail.com
Fr Jozef Maciolek, SVD, Madang, PNG