Letters & Enquiries
Looking for a Heroine
I am working on a book and TV documentary project that has a missing link that one of your readers may be able to provide. During the 1942–43 Battle of Buna-Gona in New Guinea, Australian Department of Information (DOI) combat cameraman, George Silk, a New Zealander, took a series of photographs that the department subsequently considered too graphic, and banned from publication.
Silk considered his shots the best he had ever taken—among them the now famous image of 'Fuzzy Wuzzy Angel' Raphael Oimbari helping blinded Private Dick Whittington along a bush track (pictured below).
Silk felt it vitally important that Australians, and the world, see how desperate the fighting in New Guinea was.
So, he wined and dined a young lady from the DOI stationed in Port Moresby, and she agreed to covertly help him. She ordered prints of Silk's best shots from the lab in Sydney, and passed them onto Silk.
He in turn passed the prints on to a Life magazine reporter who passed them onto Life photographer George Strock, who was returning to the US. Strock had Silk's picture of Oimbari and Whittington published, full page, in Life in March, 1943. It cost Silk his job with the DOI, but he was quickly hired by Life, which used his photo as ammunition in a campaign to have the US War Department overturn its ban on publication of photos of dead and seriously wounded Americans.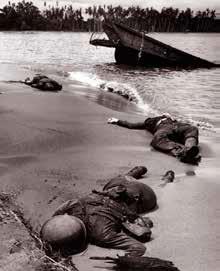 The campaign came to be backed by US President Franklin D Roosevelt, who considered the American public too complacent about the war. As result, a photo taken by George Strock of three dead Americans on Buna Beach was published by Life in September 1943, shocking America (pictured at right). In 2014 Time magazine called it the most influential photograph of World War II. It probably would not have been published had George Silk's photo not paved the way. And that would not have happened without the help of the young lady from the DOI. Do any of your readers know the identity of the anonymous heroine?
STEPHEN DANDO-COLLINS
Beaconsfield, Tasmania Editor's Note: The author of this letter has asked that contact with him should be made through editor@pngaa.net
Finding Eve
I am writing to ask whether anyone among your readers has a contact with someone from Mt Hagen in PNG.I went to boarding school with Eve Fox, who spent many school holidays on our property west of Rockhampton over a period of five years. Her brothers were attending boarding school with my brother and also came to us for several school holidays. This was from 1965 to 1969 so Eve was twelve to fifteen at that time. Her father was John Fox who lived at Korn Farm at Mt Hagen. Sadly, I lost contact with Eve as I travelled a lot after I married and I guess she married too, but I did hear that she moved to Nauru. Anyway, I will at some point check out births, deaths and marriages, which may give me a clue, but after looking at your old website and reading so many stories it inspired me to give you a try. Thank you in anticipation.
CAROLYN HEALY
0419 742 727
carolynterryhealy@gmail.com
Birds of Paradise
Peter Stace drew my attention to this YouTube link. It is a story by Cornell University and National Geographic about birds of paradise, their behaviour and habitat. It is a quality production and well worth a look. https://www.youtube.com/embed/REP4S0uqEOc
JOHN EGERTON,
Editor
PNG Books
I have seen a range of books written about PNG in the journal over the last few years. I do not know if your readers are aware of the two books described below. I have a personal interest in them both.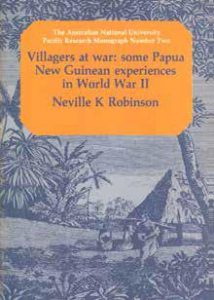 The first is Villagers at War: some Papua New Guinean experiences in World War 2. I am the author.
It was first published in 1979 by ANU then was republished in 2012 by UPNG Press. The second book is Meeting the Challenge: Australian teachers in Papua New Guinea pre-independence 1955 – 1975. This book, edited by G Burke, has twenty-four stories by Australian teachers who worked in PNG pre-independence.
I wrote one of those stories. This book was published by Copyright Publishing, Brisbane in 2005. Second-hand copies of these books are available online atwww.abebooks.com at the time of writing. My opinion is that it would be helpful for the Association to create an archive online of books about the relationship between Australia and PNG. It is possible one exists but I am not aware of it.
NEVILLE K ROBINSON
Seeking Photographs of Port Moresby
I am presently compiling a book on Port Moresby—its history, suburbs, iconic buildings, interesting characters and related topics and would be grateful for any old (i.e. before about 1970) photos of the city. I have assembled quite a few pictures already, but it is always good to have a selection, particularly from early in the20th century and just before and just after World War II, to demonstrate the transition of the town to the city that we have today. I prefer to have jpeg files. I can be contacted on the email address below for any contributions.
JOHN BROOKSBANK
jwbrooksbank@gmail.com