Letters & Enquiries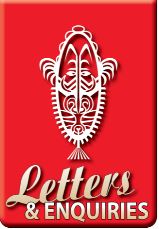 Featuring commentaries about previously published articles and news items, along with opinions of interest to PNGAA members. Also included are enquiries from those who require assistance with their research or finding someone from the past. Please send your contributions to editor@pngaa.net
The Kokoda Trail/Track Debate
I refer to the current Kokoda Trail/Kokoda Track debate in PNG Kundu. 'Kokoda Trail' is the official name of Battle Honour awarded to the Papuan Infantry Battalion and the ten Australian infantry battalions who fought in the Kokoda campaign by the Commonwealth Battles Nomenclature Committee in 1958.
Battle Honours or colours symbolise the spirit of a regiment for they carry the names of battles that commemorate the gallant deeds performed from the time it was raised. This association of Colours with heroic deeds means they are regarded with veneration. In a sense, they are the epitome of the history of the regiment.
The full history of a regiment is contained in written records, but these are not portable in a convenient form. On the other hand, the Colours, emblazoned with distinction for long and honourable service, are something in the nature of a silken history, the sight of which creates a feeling of pride in soldiers and ex-soldiers.
This is a significance that some who have never worn the uniform will never fully comprehend. It would be a brave person who had the temerity to suggest that these battalions unpick the word 'Kokoda Trail' from their regimental colours and replace it with 'Kokoda Track'!The Australian War Memorial, which is the custodian of our military heritage, honoured the Battle Honour of the ten Australian infantry battalions who fought in the Kokoda campaign by naming the Second World War Galleries'Kokoda Trail'.
'Kokoda Trail' is the official name recognised by the Returned Services League of Australia.
A motion by the NSW Branch of the league to have the Kokoda Trail renamed 'Kokoda Track' was defeated at the RSL National Congress held in Dubbo on 14–15September 2010.
During the establishment of self-government in 1972, PNG government officials from the Department of Lands decided to examine the name of the mail route between Owers Corner and Kokoda with a view to formalising an official name for it. They determined that the name 'Kokoda Trail' would be proclaimed. One can assume they would have been influenced by the name of the Battle Honour which had been awarded to their Papuan Infantry Battalion in 1958.
Chief Minister Michael Somare assumed office on 23 June 1972when the nation achieved self-government as part of the process to independence in 1975. Somare accepted the recommendation of the Geographic Place Names Committee and the name 'Kokoda Trail' was gazetted on 12 October 1972 (PNG Government Gazette, No. 88 of 12October 1972, page 1362, column2. Notice 1972/28 of the PNG Place Names Committee refers).
Further details on there search behind the official name can be found HERE.
MAJOR CHARLIE LYNN,OAM, OL
PNG Independence
Thank you for the interesting articles in September issue of PNG Kundu. I recalled many happenings from 1969 to 2004, first with the United Church and, from 1984, with the PNG Bible Society. Independence in 1975 was a really special time to always be remembered. The enclosed article is just a personal account of that wonderful occasion.
I agree with Sean Dorney about Australia's ignorance about PNG being a loss for both nations. Fora few of us at least the people will never be forgotten but, sadly, many of the younger generation may not much less on our door step.
Thank you for keeping the vital connection alive.
Independence Day
16 September 1975 was a wonderful day of celebration after preparation following on from Self-Government. Young, educated, Papua New Guineans eager for the job of running their own country were aware that there would be many challenges, but they felt ready.
Their desire was for the Konedobu workforce with both Australian and local staff to carry on with the daily administration. This routine work generally ended up with a qualified PNG national, ably assisted by a former office bearer.
A number of celebrations both before and after the big day were enjoyed by old and young, as well as those in between. These included three different church services, with the Papuan one held at Poreporena, Hanuabada Village, in the United Church, a Pidgin one held at the Lutheran Church, Koki, with the English one at the Catholic Cathedral, Ela Beach. All these attended by dignitaries and people from all walks of life.
On 15 September a special ceremony at the stadium was held to lower the Australian flag. Rather sad in a way but, as mentioned by the Governor-General Elect, it had been lowered and not torn down.
Night brought a storm with its own fireworks and typical heavy rain. After the storm had moved on, there were local fireworks and, on midnight, the Governor-General Sir John Guise announced via National Broadcasting Commission (NBC)that the country was now Papua New Guinea and independent. The big day dawned calm and the early sunshine saw all roads leading to Waigani. As the United Church Volunteer Business Manager, together with Margaret Peterson, a senior educationist, we hailed the first passing truck, already pretty well packed with local enthusiastic Papuans and made a joyous bumpy ride to about as far as transports were allowed. This was followed by a rather boggy walk until reaching newly laid bitumen leading to where the morning's event was to take place. A very important part was the dedication of the Foundation Stone for the new Parliament House.
Not the privilege of politicians but, as a Christian country, religious ministers did the honours. Bishop Ravu Henao of the United Church to pray in Motu and Bishop of the Catholic Church to pray in Tok Pisin.
It was timed to the second, the length of the prayer for exactly [the time] when the few aircraft were to take off from Jacksons Airport with a flyover at the vital moment. Everyone ready and the planes taking off, then a message arrived to report that Imelda Marcos, wife of the Philippine President, and her entourage of forty, were awaiting transport at the airport.
Everything was put on hold until the unexpected visitors arrived on stage—what diplomatic action. Then everything continued like clockwork but with no 'flyover' as the planes had to return to base to refuel having flown around and around!
Prince Charles representing Queen Elizabeth II, was dressed in Dress Army Uniform and walked right past me having a rather animated conversation with the Commander of the Defence Force.
Their backgrounds could not have been more different with one having an upbringing providing his needs, the other from a remote village in the Owen Stanley Ranges, early mission education before chosen for further study and training in Australia.
The afternoon and days to follow were spent winding up celebrations before the real work began.
NITA TOBIN
EDITOR'S NOTE: For further reading see the piece by Stuart Inder MBE' Independence Day Reminiscences' published in Una Voce, September2005, available on the PNGAA website HERE.
Rivers of the Western Province – Ok Tedi or River Tedi -Tautologies
As I am on the committee of the PNGAA and was the PNG Government's first Ok Tedi Coordinator, my old friend, Fred Pratt, sent me a draft copy of his three articles on Mount Fubilan with an invitation to comment or make suggestions.
I would like to place on record that, in paragraph 2 of his article in the September edition of PNG Kundu, Fred did not insert the word 'River' in his references to the Ok Tedi and Ok Mani.
Neither did I! 'Ok' is the word for 'river' in most of the local (Min linguistic groups') languages in that part of PNG. Hence, most rivers and streams in the area are prefixed with Ok. Similarly, to the south, the prefix Wai is used by Ningerum language speakers. Thus, for example, a tributary of the Alice River near Rumginae should not be referred to as the Wai Mart River.
CHRIS WARRILLOW
Editor's Note: Apologies for this error and thank you for the useful explanation! Well Done (again)! Many thanks to our2020 Editor, Andrea Williams, for steering PNG Kundu through a difficult year. Her exceptional knowledge, dedication and experience have been invaluable—as always. JG
COVID-19!
2020 has been a very different year for all of us. Our thoughts went to our Victorian members especially as the New South Wales border with Victoria closed at 12.01 am on Wednesday, 8 July 2020 asCOVID-19 numbers soared. Some restrictions were eased on 13 September. In the meantime, one of our members, Donald Mackenzie penned the following and we are sure many of you will relate to the experiences:
WELL! HERE WE GO AGAIN! Lockdown for a full six weeks. Some people just don't get, or understand the ramifications of a pandemic. Now! We're only allowed out for essentials. Therefore, a visit to Coles can only be done by one person in the family with a surgical mask worn when walking out of home and into the shop; and then have to leave it on till home again . . . quite strange.
We are counted in to the store from a line outside; we have our temperature taken by a laser – by door monitoring personnel, and ushered to the hand sanitation station to rub and dry clean! Use a wet Dettol wipe for your basket handle, and then look toward your aisle for your social distancing route. So, now, when walking through Coles, everybody swaps left to right, or right to left, to miss oncoming possible spreaders of corona virus, whilst all the time wondering . . . 'Am I safe, am I far enough apart, who has touched this can of Glen 20, why don't they move quickly? Oh! What did I want in this aisle again?'
Then people look longingly through your mask to see if they actually know you, with long eye contacting stares. You just nod your head. Hopefully, they may see your tell-tale crow's feet eyes smiling, and maybe recognise you under your winter beanie and separating mask.
OMG! That was just the beginning of Day 1, Aisle 1, of the start of your Coles visit for food. Then to the chemist after Coles and maybe Bunnings … 'Have I got my trade card?' Blast, this is a minefield of rules, and I've got six weeks of this. There's going to be a lot of planning for future painless visits.
DONALD MACKENZIE
Wartime Memories
Seeking those with memories of their time in Papua New Guinea – Anzac Days, the Kokoda Track, War Graves and World War II.
Do you have memories, from your time in Papua New Guinea, about how Australians commemorated World War II?
Australian National University History PhD candidate, Alexandra McCosker, seeks your stories, if you'd like to share them. If you were involved or
participated in Anzac Day services or other World War II commemorative events, such as the 'Return to Kokoda' or 'Return to Wewak' events; if you have walked the Kokoda Track or have visited sites of World War II significance, such as Bomana, Lae and Rabaul War Cemeteries, and/or other significant sites such as Cape Wom – Alexandra would love to hear your story!
Alexandra is exploring the idea of pilgrimage to Papua New Guinea looking at how Australians remember and commemorate the Kokoda campaign and, more broadly, the WWII campaign in PNG.
If you would like to have a chat either via telephone, email, written letter or in person, Alexandra would be really grateful to make contact with you. She can be contacted initially via email at: alexandra.mccosker@anu.edu.au
Trail or Track (again!)
As always, I gain immense pleasure to see my copy of PNG Kundu arrive in the post, however, I would like to add my comment regarding the debate over 'trail or track'. My husband, Gordon Hayes, first went to PNG in 1947 and was very definite about it being a 'TRACK'. Americans rode on a trail but Aussies walk down the TRACK.
MERLE HAYES
Tribute to Keith Dyer
I arrived in TPNG as a raw eighteen-year-old Cadet Patrol Officer, fresh out of high school in Melbourne, in March 1958 and posted to Madang District. A brief stint at Bundi Patrol Post to hold the fort for Geoff Whiteoak who came to Madang while his wife was awaiting the birth of a child, and then transferred by DC Les Williams to Saidor in May 1958,where Keith Dyer was the ADO. A strict authoritarian man, reflective of his upbringing in South Australia, Keith (or 'Mr Dyer' as was the fashion in those days) soon realised that his new cadet would be on a steep learning curve and set about the task with resolve. At work, Keith was a strict disciplinarian, insisted on exactitude and unqualified accuracy in carrying out the daily outstation routines, and submitting detailed reports on census patrols that I carried out. Those who have worked with Keith would agree with me that the terms 'half-measure', 'near enough is good enough' were never part of his lexicon—to the contrary, although not obsessed with perfection, Keith clearly held the view that every task had to be done well.
But away from work both Keith and Gwen never failed to open their hearts and homes to myself and other field workers, and were extremely hospitable wherever they lived. On tennis courts the Dyers were formidable partners and always super competitive, and I recall a time when he came to Goroka in 1972 and, despite our sixteen-year age difference, literally wiped me off the squash court! Following our return to Brisbane, we stayed in regular contact and I visited him regularly at Victoria Point. I feel really fortunate to have been a good friend of Keith and Gwen Dyer and admire him enormously for having had such a long and remarkable life filled with achievement!
WILL MUSKENS
(Please see 'PNGAA Vale' in the December issue.)