Laurie Bragge's generous donation to James Cook University
The Bragge Collection, gifted to James Cook University by Laurie Bragge, features two intimately connected components – more than 600 material culture artifacts collected by Mr Bragge during the time he lived and worked in Papua New Guinea, and the extensive personal library he amassed containing various resources, which he used intensively when writing his multi-volume history of the Sepik.
Laurie Bragge spent more than 45 years living and working in Papua New Guinea after taking a job with the Australian administration as a Patrol Officer (or Kiap) in 1961, and during this time he developed a deep appreciation and respect for PNG and the peoples of the Sepik. He spent most of his time in the Sepik area but also in other parts of the country such as the Highlands, Milne Bay and the Gulf Province.
Approximately 135 guests enjoyed the official launch of The Bragge Collection held at the Cairns Campus Library on 22 May 2019. Special guest speakers included JCU Vice-Chancellor and President, Professor Sandra Harding, AO, Dr Andrew Moutu, Director, PNG National Museum and Arts Gallery, Professor Nola Alloway, Dean, College of Arts, Society and Education and Mr Laurie Bragge, Collection Donor. Professor Henry also read out a special message sent by Sir David Attenborough who is a personal associate of Laurie Bragge and spent time with him in Papua New Guinea.
Laurie Bragge has generously gifted this collection to James Cook University to facilitate further research into this diverse and fascinating tropical region and the societies that call it home.
The material artifacts from this collection are curated by the Discipline of Anthropology, Material Culture Collection (College of Arts, Society and Education), and housed in The JCU Cairns Institute. To enquire about these items, please contact Professor Rosita Henry.
Laurie Bragge's personal library is managed by JCU Library Special Collections (Library & Information Services), and housed in the JCU Cairns Library. Access will be available in the Special Collections Reading Room on arrangement.
The Bragge Collection Archive is listed in NQHeritage@JCU, the online Special Collections repository of James Cook University. The archival record available at https://nqheritage.jcu.edu.au/694/ includes:
Video (Patrolling the Past: a conversation with Laurie Bragge about his work and life in Papua New Guinea).
Listing of the material culture component of the Bragge Collection
Listing of the library component of the Bragge Collection
The Library component of the Bragge Collection is the personal research library of the donor, Laurie Bragge. It consists of a wide variety of materials which can be considered in two groups – published and unpublished materials.
Published materials
There are over 550 publications covering a range of subjects pertaining to Papua New Guinea and the donor's research interests. The subjects used in the library listing have largely been assigned by the donor and include PNG Pacific & World History, Primitive Art, Religion and Sepik Anthropology. The published materials from the library component of the Bragge Collection are available for consultation in the Cairns Campus Library Special Collections.
Unpublished materials
The unpublished materials in the Collection, which includes the history of the Sepik written by Laurie Bragge, are currently not available for viewing.
These materials range in type and include:
Patrol Officer Reports produced by Laurie Bragge whilst he was an Australian government employee
Personal diaries kept over many decades of Laurie Bragge's life
3500+ photographs taken by Laurie Bragge
Transcribed oral histories collected from Sepik elders by Laurie Bragge and the associated index he has created to accompany them
Laurie Bragge's own history of the Sepik presented in 5 parts over 7 volumes.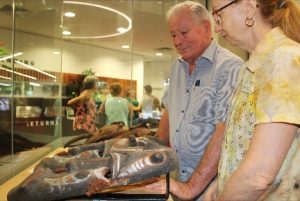 These materials are known to contain a range of sensitive content, therefore they have entered a process of "discovery and description", prior to the Library seeking expert advice on appropriate access conditions.
JCU Library is continuing a significant journey with these materials which involves listing and describing the material – so that those listings and descriptions can be used to consult others. The others may be stakeholders in the material, including individuals, groups, government agencies or institutions. JCU Library will be working closely with Professor Rosita Henry (JCU Discipline of Anthropology, College of Arts, Society & Education) throughout this process.
Any enquiries in regards to the Bragge Collection can be directed to specialcollections@jcu.edu.au