Korfball in Papua New Guinea (Part 4) by Roy Kirkby
Korfball World Championships 1978
Just prior to Independence in 1975 I left the country after 13 wonderful years there. In 1978 the first world championships were organised and Papua New Guinea was invited to take part with all air fares and accommodation financed very generously by KNKV (The Royal Netherlands Korfball Association). The Foreign Minister of PNG contacted me in Australia requesting that I organise and accompany the team. Therefore I went up to PNG in mid-1978 to select a squad through trials coupled with referee and coaching courses in Port Moresby and Madang to re-invigorate the sport.
The squad was selected and at a meeting just prior to my return to Australia I went through the procedures required before they could leave. This included getting passports, health checks and immunisations and letting them know the appropriate organisations to get these from such as the Foreign Office and Department of Health. There was silence for a couple of minutes after I had gone through these including writing them on a large sheet of paper. Then there was a response:
"I have an uncle who works in the Foreign Office who has a cousin who works in the Passport Office and he can organise our passports"
"My sister-in-law works at the hospital and she can organise the injections."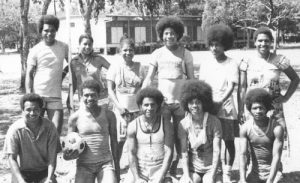 All the arrangements would be made – they were using the "wantok" system of family and friend connections. Traditional means for modern needs continued to be valued.
Everything worked out well and I was able to meet with the team in Sydney on the way to The Netherlands. On arrival in Amsterdam, the PNG team were all given winter wear including raincoats and boots by Dutch friends since none had been overseas before nor experienced this intensity of cold. They were a great hit wherever they went especially when they included some traditional dancing in traditional dress, though I had some problems in winter trying to get sufficient leaves for decoration in the dances. They were also very popular to watch playing partly because they were not disciplined like the other teams so these opponents didn't know what they would do next. In addition they played with great enthusiasm. Swan, the Dutch National Coach, had organised some coaches for them but in the end he told them to let them play their natural game which they did for every spectator's joy and attracted national television wherever they played.
Politics did play a small part in the event. At that time some West Irianese and others resisting Indonesian rule had been involved in terrorist activities in Holland and it was feared by the PNG and Dutch governments that the korfballers might be used to promote their political activities or even kidnapped! These people felt a close affinity with Papua New Guineans since they shared a border and cultural ties. We decided not to have an overt security presence. As it was, a large band of West Irianese came along to all the PNG games and our players befriended them. Our PNG management asked just one thing from them and that was to not show any West Irianese flags or other political signs so there could be no embarrasment for the players or their government. They agreed to this and behaved perfectly throughout the time. At the end, they arranged for a special mumu for the PNG team and no one was kidnapped and they all had a great time.
But it was to be the end of an era. After the 1978 championships I was able to keep in contact with various players for a few more years. However, the organisation fell apart, as for many sports in the country after independence, especially those run by Papua New Guineans who had far more important contributions to make to their country's future. However, I am sure you could go back there now and walk into many villages and find someone who knows about the sport or who had an uncle or an aunt or grandparent who played. You might even find a village or a school playing the game, adapted to their own rules of course.
POSTSCRIPT
Korfball is now well established in Australia and nearly 70 countries around the world. The PNG example is often quoted as one where it was successful in countries with a strong non-Western cultural tradition in the way both genders took to playing the game together and its part in establishing better gender relationships. Roy Kirkby is the President of Korfball Australia and can be contacted at president@korfball.org.au.
More information about the sport can be found on the websites of Korfball Australia and the International Korfball Federation (IKF).