Korfball in Papua New Guinea (Part 3) by Roy Kirkby
Madang Teachers' College, Madang District, 1972-75
A year's absence from PNG in 1971 was followed by a return to lecture at Madang Teachers' College. I found that as a result of our Goroka students' enthusiasm, when they visited a couple of years previously, korfball was established as a sport at the college. So I could take it to a more sophisticated level. At the college a korfball club was started, partly as a result of my visit to Blauw Vit club in The Netherlands.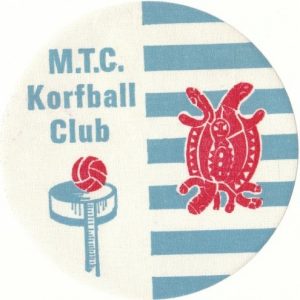 We established ourselves in the college and Madang community. We raised money to purchase and construct equipment and make it available to the local schools and sports centre.
We undertook projects for the college and the community, in one case a shade hut on the college sports field for players and spectators.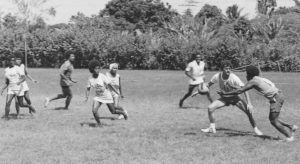 For the expansion of korfball, we focused on its educational worth – valuing cooperation between males and females, developing non-contact physical skills, sportsmanship and community consciousness. It therefore became very attractive to school organisations and of course teachers.
In Madang we were able to develop it as a community activity with the blessing of the Catholic Mission in Madang utilising its Sports Centre and fields to play 3 division korfball outdoors in the first instance.
Sometimes I would play a game and referee a couple of games meaning three hours out in the tropical sun.
However I was helped considerably by Gabriel Chawan, a refugee from West Irian (Dutch New Guinea) who had learnt korfball as a young boy when his country was ruled by the Dutch. He becamer an enthusiastic advocate for the sport in Madang where he was one of our first referees.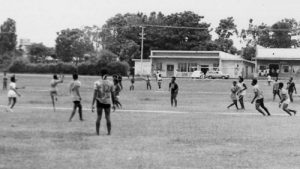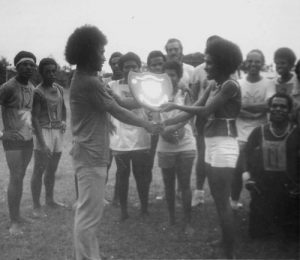 Jackie Kine, President of PNGKA presents the Henk van Driel Shield (we named it in honour of his role in helping us establish korfball in PNG) to the winners of the Madang Field Korfball League in 1974. In the following year it was my team United's turn to win it.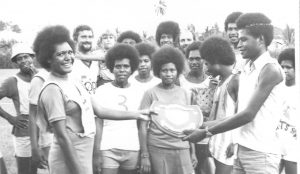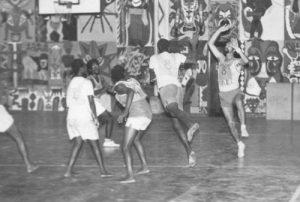 We introduce Micro Korfball which was the popular developing indoor form of the sport internationally which is played in two instead of three zones and of course on a smaller court – 20m by 40m.
From the first I insisted on all leadership positions in club and national association should be held by nationals and I would be the advisor.
Madang Teachers' College was the base for the first club (MTC) and we set up a national association –Papua New Guinea Korfball Association – and we were granted membership of the International Korfball Federation in 1974.
In the early 70s we were now hearing that graduates from Goroka were introducing korfball all over the country so we set about creating resources for them.
Baskets were being made in Madang at a Lutheran Mission and sent where needed, a newsletter was started and the Rule Book published.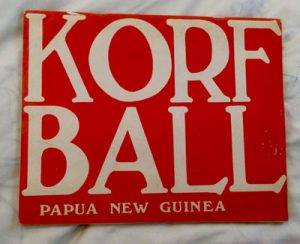 We had a poster designed and a series of introductory film strips and posters made by the Department of Information.

An extract from the book the English and Pidgin versions of the same extract.

The above shots taken from the korfball development film strips of 1974.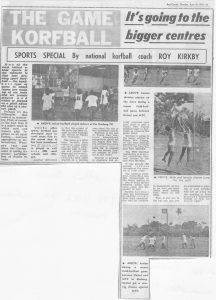 We had korfball being played in all districts and in urban and village settings. However, with the fully localised administration it was a difficult time. At Independence, President Jackie Kini moved on to a high position in teacher education. Many other like her were suddenly thrust into high flying jobs in the country's administration and their skills were redirected to more important jobs serving the new nation. Anne Sevua graduated as a teacher, married and had children, but maintained her interest and in 1978 came along to the World Championships as Joint Manager of the PNG team.
Continues as Part 4