Korfball in Papua New Guinea (part 2) by Roy Kirkby
Goroka Teachers College, Eastern Highlands District 1968 -70
In 1967 I was posted again but this time to the new UNESCO-sponsored Goroka Teachers' College. The college trained primary and high school teachers who would be posted to all districts of the country once they graduated so it was an opportunity for the first time to think about expanding korfball. However, I did not consider this initially and I just wanted to introduce it as another sport students could play in the college.
Another change here was to get real korfball baskets and I contacted the International Korfball Federation (IKF) and began corresponding with Henk van Driel, who was then the Secretary-General and he sent me a pair of baskets and balls from The Netherlands – the original home of korfball. From these baskets we were able then to show local basket weavers what was required so we could set up local suppliers.
The students were very attracted to korfball. By the second year, in 1969, our korfball numbers amongst the students had expanded to make it one of the most popular sports in the college. We had students from every major cultural group across the country. This was unusual because for other sports they tended to form on a cultural regional basis. What is more important we had as many male as female wishing to play and playing together without any gender issues.
These students had a lifetime contact with European cultures. All had a full mission or government high school and some part-university education so they were sensitive to European values and to possible changes in their own cultural norms.
The college encouraged identification with their cultures and while the students were playing korfball and other sports one day, on another they would be engaged in a singsing to celebrate their traditional cultures.
The students thought we should put together a booklet showing some korfball skills including, at this stage, the "sling shot" useful in 3 division korfball.They thought the pictures might be a useful teaching aid if they introduced korfball in their practice teaching or schools when they were posted.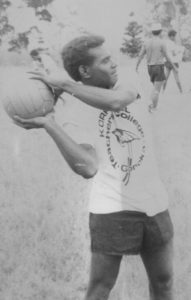 The korfball students soon began to consider other social occasions they could celebrate together and the Australian barbecue was popular. The korfball students also got involved in raising money for various community and college projects and for making equipment.
At the time we didn't consider expanding the game other than introducing it in other teachers' colleges around the country. When opportunities came, It wasn't easy for the students to visit the other colleges since we had to fly to other centres carrying our own posts and baskets often on smallish aircraft and at great personal expense. But they were keen to do this.
One of the first students to take an interest in korfball was Malevu Kove. She was a great sports enthusiast and encouraged other students to start playing the game and, significantly, not just from her own cultural group. It was easy then for the College and the korfball community to agree to choose Malevu to be awarded the first College Sports Prize and it was for korfball.
Malevu, on her own initiative, introduced korfball into Australia when she was on tour in NSW with the PNG Netball Team in 1968. She was staying with a NSW physical education teacher in Sydney and introduced the sport to students and staff at that teacher's high school. When Malevu completed college she was posted to her own Central District on the coast where she introduced korfball in a number of villages and Port Morseby. However, most sadly, Malevu died only a few years later and before PNG was to play in the first World Championships in 1978 where I am sure she would have starred as a player, as a great ambassador for her country and a true pioneer of our sport throughout the world.