Korfball in Papua New Guinea (Part 1) by Roy Kirkby
INTRODUCTION
Korfball is a handball-type sport a little like netball or basketball. A major difference is that it is a dedicated mixed team sport with an equal number of both genders playing together. The game and rules are based on three principles for success in play: all round ability, cooperation and ball handling and movement skills without contact. (For more information see the Korfball Australia or IKF websites). I had played the sport in England and the main reason for introducing it in my schools was that I recognised that the time would come when male and female would need to work together more closely and an ideal opportunity would be through their experiences in school. Further, the sport had an educative tradition that seeks to develop the social skills of boys and girls playing together. It also encourages the development of more community-related skills particularly those that foster gender cooperation and involvement in community development. However, as you might expect, there could be some challenges with getting acceptance of or commitment to these Western cultural values in some of the traditional communities of Papua New Guinea.
KOMPIAM, Western Highlands District, PNG, 1962-63
In 1962, I graduated as a teacher from the 3rd "E" course and was posted to Kompiam. This area at the time was partly uncontrolled territory where the people had only had contact for a few years and many were still engaged in traditional fighting. However, the Government Patrol Post of Kompiam, like a little village, had government employees such as native police and their families who would be from the coast and would have played games such as football (soccer) and I assumed that my local students may have seen a football game on the station, if none other.
The students were a mix of some station children, local Enga boys from hills around the school and boarders from clans with only recent contact some days walk away. All were about 11 years old, except for some of the station children who were younger and included a couple of girls. I had plenty of time to explain the idea of playing a game and to make the equipment. The game would take place next to the school on the side of the grass airstrip, the game taking up in those days an area about the size of a football pitch divided into three zones with four players from each team in each zone, so 12 in a team.
I allowed the children to select the teams and we started playing. After a few minutes there was a noise of loud arguing behind the play. Then suddenly they began to disappear quickly off the pitch and down to their dormitories and returning with spears and knives. They lined up in two lines on the pitch opposite each other about 8 metres apart. They began shouting abuse at the other line in their language and threatening with their weapons while slowly moving towards each other. I realised then that they had divided themselves into traditional allied clan lines and were doing what their elders did at the first sign of disagreement, which was to prepare to have a fight! It took me a few minutes to stop them, calm them down and force them into two separate dormitories with the help of my Enga haus boi who was a local like them and who thought it all great fun.
After that, korfball did continue but I was careful to make sure that the different clan groups were mixed in both teams and the rules about settling arguments were to be European-style with the first port of call the referee! Eventually I had all the school playing but with some modifications. For example, I had to have the few girls we had in the school all playing in one division-they were not yet ready for mixed gender activities.
JIMI RIVER, Western Highlands District,1963-64
My experience at Kompiam encouraged me to try again at my next posting, Jimi River. The school was built on a mountainside on a number of levels but with one of the terrace levels large enough on which to play korfball. Again, the local people had only a few years' contact with Europeans but there were no dominant clans represented by the students in the school. They were mainly boarders and who came from eight different language groups from the length of the Jimi valley. So, when forming teams, we didn't have to worry that rivals might be enemies – they might be but they would not have the numbers to take on others or have established allies! Again I was limited to less than a year in the school but I seemed to get further with these children. They began to recognise the characteristics of this game and I was even able to get two teenage girls to play in a division with boys successfully, which was no doubt partly due to them being bigger than the boys and their father being the senior policeman on the station.
However, again the game could only be played within the school since there were no other schools in the valley and no access roads out. I was on the move in just over a year but this time to the main highlands valley – the Wahgi and to Keltiga a few kilometres from Mount Hagen.
Keltiga, Western Highlands District , 1964-5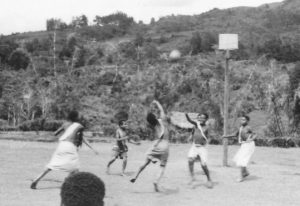 The people of Keltiga had nearly 30 years' experience of Europeans but they maintained their traditional culture which still meant it was difficult to get the people to recognise the importance of having girls educated in school. Hence my Year 4/5 class was all boys but they really enjoyed korfball and a couple of them – the first to attend high school – l was later to meet again as students at Madang Teachers' College where they took up korfball again.
However, korfball at Keltiga was fairly short-lived because of my involvement with introducing tea production and a pilot New Maths Project.I did not get further than having korfball as a class activity. However, my new Prep class of 6 year olds was composed of one-third girls and they did get to play together. My move to Mount Hagen Primary School as Deputy Headmaster and involvement in the extended New Maths project meant I did not get to introduce korfball there. But that was just a hiccup in the development of the sport in Papua New Guinea.