Kavieng, New Ireland, Overseas Wharf in 1917 by Jim Ridges
Prior to the Australian military occupation of German Neuguinea in September 1914, Kawieng in Neu Mecklenburg (as the Germans called New Ireland) was just a small, but very busy and increasingly important settlement and harbour.
The very first German official had only arrived, with his wife, 14 years earlier at the site of Kawieng on 30th June 1900, previously an area used by a few white traders from about 1880, living among the 'wild' New Irelanders.
That official, Franz Boluminski, was an energetic, hard but fair man determined to change New Ireland and drag it into the 20th century in the way his colonial government wanted. In the 13 years before his death in Kawieng, remarkable progress had been made in transport communications and the plantation economy, along with improved health services and German justice that reduced tribal fighting, payback, sorcery and cannibalism—so that business could flourish.
A 165 kilometre long, wide road down the east coast had been built. Numerous plantations had been developed or were about to come into full production, and in 1912 overseas vessels started a regular shipping service, in addition to the NG coastal service already established. All overseas cargo movement from ship to shore and back however, was done by lighters. Some coastal vessels were small enough to tie up at Boluminski's small ships wharf.
After the Australian military occupation took control, and as Great Britain and its allies were at war with Germany, all shipping and trade with Germany was banned so that the Australian Burns Philp shipping company now provided all shipping services to and from New Guinea. This just about coincided with large increases in the copra produced in New Ireland and New Hanover at a time when demand and prices were good. It can only be assumed that Burns Philp, who had the ear of the Australian government, was quick to point out that loading facilities were non-existent in Kawieng, and the Administration would have seen the chance to levy fees for use of a wharf.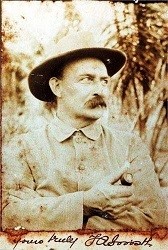 So, on 16th May 1916 the 'British Military Administrator' entered into an agreement with Frederick Arthur Smith, the planter and sawmiller on Tsoi Launung island, 'for the building of a wharf on a certain piece of land at Bagail being Block Number 26/5'. Smith also leased, and from early 1917, operated the wharf, collecting the charges gazetted on 15th April 1917.
On 14th June 1918 (gazetted 24.9.1918) he was relieved of those duties and lease 'in the events that happened the Administrator did re-possess and re-enter upon the said land and wharf'. Thereafter it was 'managed and carried on… as a government wharf'. What 'the events that happened' causing the action to re-possess are not known, either ill health, skulduggery or a realisation that the wharf could be a 'good little earner' for the permanently cash strapped Administration. Smith died January 1924 and is buried at Pakail cemetery, Kavieng.
In the 1921-22 Australian annual report to the League of Nations it reported that the wharf at Kavieng could handle ships up to 5,000 tons and the 1927-28 report said that a new schooner wharf had been added, the approaches improved and the main wharf extended.
At the end of 1935 the 1935-36 report states 'extensive repairs and rebuilding to the Kavieng wharf'. The 1938-39 report says extensive addition to the main wharf is in hand requiring 70 piles. Berthage length will be 280 feet, draught would be 27 feet. A new cargo shed was complete, however the 1939-40 report says the extension to wharf was temporarily halted awaiting suitable superstructure timber. There are no later reports before the war and Japanese occupation on 23rd January 1942.
Photos taken soon after the end of the war in 1945 show Kavieng Wharf extensively damaged. This is hardly surprising as there was very heavy low-level USAF B25 bomber 'softening up' bombing raids, particularly in February/March 1944, prior to the American landings on Emira island to establish an advanced airbase. As well, very heavy shelling of Kavieng town by a US fleet, including four heavy battleships, on the morning of the actual landings, had the airstrip, town and the wharf as major targets for destruction.
The substantial damage to Kavieng Wharf from the shelling and bombing did not prevent it being where the worst war crime in New Ireland was committed, probably that same evening. Convinced that the shelling preceded a US invasion, Japanese officers took the 32 or 33 surviving European civilian prisoners they held, led them individually blindfolded to the wharf, garrotted them all, went to sea and threw the bodies overboard with weights attached.
Current wharf has a length of 94 metres, width 12 metres, and a depth of 7 metres.There were plans in the 1980's to build a new wharf, south of the original wharf, to take larger vessels and Bagail plantation was purchased from BP's to allow a fish cannery and wharf facilities to be built. A new road was built through the mangrove to the new site and in the 1990s the Deputy Prime Minister Chris Haiveta 'turned the first sod'. That however was the last that was heard of a new wharf so the 1917 wharf continues to serve, though few overseas vessels now visit Kavieng.
Jim Ridges, 2015