Kalibobo Spirit Sepik Expedition (Pt 3) 27th December 2016 – 2nd January 2017 by Dame Carol Kidu DBE Dr (Hons)
Time was catching up with us as we dropped off our local guide and sped back to the main river (only getting a little "lost" on the lake once but then back on track). Soon after 5pm as pre-arranged for a sing-sing group, we arrived at Kamindimbit village on the bank of the main Sepik river. The sing-sing and more market mania filled our brief visit before returning to the Kalibobo Spirit to prepare to head further back downstream.
31st December 2016
New Year's Eve was partially a rest day in the morning and Sir Peter allowed for Dr Jo to return to the Timbunki Health Clinic to check on progress of the buffalo victim. We found him in a similar condition but even more distressed with pain and unable to sleep at night. His mother was eager to allow Jo to cut the wound by this stage and Sister Anna and Dr Jo quickly went into action. Our next destination downriver and left on the river truck to follow the Keram River tributary of the Sepik for a one hour full speed trip to Simundo Village. It was a glorious journey (with a local guide to help on the river) passing family hamlets nestled between their vegetable gardens, lush forests and endless pitpit grass. There was birdlife galore in both directions and of course we slowed to a stop for the
river traffic to avoid swamping the long dugout canoes loaded with people and produce.
When we arrived at the village renowned for story boards, superb Story boards emerged from all directions plus string-bags made by the ladies. Time was limited because of the long journey back but patient was transferred to the minor surgery room and both sister and doctor quickly gloved up. I was so impressed by the immaculate way that Sister Anna maintains the clinic and how she was able to provide Jo with almost all she wanted to perform the minor but painful surgery to cut an outlet point and release the pressure of the abscess then flush out the wound with saline solution. We left knowing that Jo had probably saved the buffalo boy's life and just hope that the antibiotics would finish the task. He was a very brave young teenager and deserves to live a full life. Thanks Sir Peter for making it possible to add to the very many medical rescues that you have done during your lifetime relationship with the Sepik.
By 4pm on New Year's Eve we had reached had the river truck loaded and money in the crafts- people's hands before our departure for the long return journey to the Kalibobo Spirit. It was a New Year that the people of Simbundo village will remember.
The Kalibobo Spirit continued downstream to anchor off-shore from Bien village for New Year's Eve and a special dinner of succulent turkey and roast vegetables followed by Christmas pudding with brandy custard. But the truth is that every dinner was a special three course meal and lunch was two course plus hot breakfasts and fruit galore. No chance of losing the weight that I wanted to lose. I had neglected to inform in advance that Dr Jo is a vegetarian but the chef extraordinaire, Tau, quickly catered to that. And Captain Peter could not resist getting into the kitchen to bake fresh cakes for us.
New Year's Eve dinner was accompanied by French champagne and party poppers exploded by the Captain and spraying us all – guests and crew – with tinsel and glitter everywhere.
Most of us retired after yet another exhausting day and re- emerged close to midnight to give a treat to Bien with foghorn blasts and flares. To our surprise Bien returned our treat with their treat of real fireworks exploding up and down the shore – undoubtedly purchased from someone with access to the Indonesian border. It was a good night but I think most of us forgot about any New Year resolutions!!
1st January 2017
The morning was spent travelling to the mouth of the river where we noticed that one of the logging mother ships had departed with its cargo of logs, most likely unrecorded.
We headed on through the ocean swell to arrive at Boisa Island and village in the early afternoon. The island of volcanic rocky outcrops and an ocean swell created a more difficult landing from the river truck than the banks of the Sepik but there were many helping hands for those who might fall like me. The villagers were so pleased to have visitors that they did continuing welcoming activities starting with traditional dancing before the introductory speeches started by a community leader and finished by Bruce who said he was there as a tourist but addressed the attentive crowd with the eloquence that marked him as the Bossman bilong Australia insait long Papua New Guinea.
There were many activities to observe – cooking to prepare for a village feast for the chief that afternoon; then further along bananas being cooked in the fire ashes where a one year feast for a young boy who had died the year before was being held; Bruce contributed K100 to mark our respect for the occasion and on our return past the area later a bunch of bananas was given from under the sitting platform to a young girl to carry to the river truck to reciprocate; Jo was asked to visit a sick lady who could not walk; then we joined the group who had proceeded to the SDA choir welcome song; then there was more traditional dancing and Georgia and I got into the swing of the dance which instigated much hilarious laughter from the crowds; not to be out-beaten, a Catholic youth came with his guitar to sing a song about Carol Kidu and of course at the end whispered to me and told anyone willing to listen that the Catholic church need more guitars and a keyboard!!. With all the activities along the way we never made it to the school which would have been an up-hill climb.
Throughout the total walk people were presenting mangoes and other fruit to our team with a special focus on Alistair and Georgia. Laughter, friendliness and generosity followed us all the way back on to the river truck because time was moving and we still had one more village visit to do after a quick swim by the young ones in our team
Too soon the Kalibobo Spirit headed off again towards Manam Island – an active volcano in the Pacific Ring of Fire that surrounds the Pacific Ocean. Two distinct smoke spirals were rising from the crater of the volcano but no fireworks erupted during our short stay. However meeting the people of Manam certainly made up for that. Manam volcano erupted in 2004 and the population was evacuated to Care Centres on the mainland. It was a relocation fraught with problems and some chose to return to the island after the volcano settled down and have been rebuilding their hamlets (although the children still go to school in the Care Centres during the school year). The walk through the hamlets was peaceful and beautiful and I loved the feel and sound of the volcanic ash crunching under our shoes. The volcanic ash and larva result in bountiful supplies of fruits and when Sir Peter said he wanted bananas and fruit to buy for the ship and the resort, bunches of bananas, mangoes and pineapples appeared in dishes on ladies' heads from all directions – far more than needed but Sir Peter kept buying rather than sending people away disappointed.
And then he offered the ride in the river truck – how many can fit in the river truck??? Children and adults raced from all directions for the ride – full to overflowing to the enjoyment of all. All to soon our adventure was over and the Kalibobo Spirit set a course to take us back to the Madang Resort.
2nd January 2017
Alistair and I were on deck early to be greeted by a most brilliant sunrise that seemed to go on forever and on the opposite side of the ship were two rainbows running parallel and disappearing into the sky. What a glorious ending to the best cruise that I have ever been on. Thank you to Captain Sir Peter Barter and his wonderful attentive crew for making it possible. Thank you to my fellow adventurers – it was a great pleasure travelling with all of you. And thank you of course to our friends – Kali who terrified village kids wherever he went but would not hurt a fly and Jojo the cockatoo who joined us for K50 and loved sleeping in Dr Jo's shower recess.
My bucket list now has on it to return to the mighty, massive, monumental, mind-blowing, mysterious and mystical Sepik River during the dry season so I can see the rhythm of the river in a different cycle.
Basic Information about the Kalibobo Spirit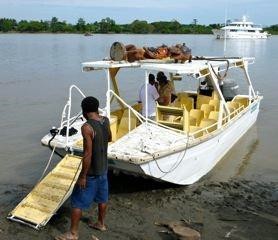 The Kalibobo Spirit is a 20m luxury motor yacht owned by MTS and operated largely as a private charter vessel in PNG waters. It operates several scheduled cruises along the Sepik River and outer islands including the Trobriand, D'Entrecastreaux groups in Milne Bay.
Accommodation is limited to 12-16 passengers in double, twin and single cabins all with private bathroom, TV, telephones. There is a separate lounge, dining room, upper covered deck and flybridge. The vessel has a helipad, hydraulic aft ramp, three tenders including a fast river truck that can carry 20 passengers at 30kts to remote areas and waterways.
The vessel is under full PNG Survey and equipped with radars, GPS, Depth Sounders, Sonar all of which has a back up. It is crewed by up to 9 PNG qualified crew members and the Company has more than 40 years experience in operating expedition ships in PNG and Solomon Islands.
The vessel is based in Madang at the Madang Resort which has direct air connections 3 times a day by Air Niugini and PNG Air to Port Moresby and beyond.
More Information: www.mtspng.com Email info@mtspng.com T: +675 424 1300 F: +675 422 3541 or write for a brochure and schedule for 2017.