It All Started With Jeeps – Sept 2020 Kundu
I was born in Toowoomba in 1940 to a farming family. My mother had plans for me, but my father had a practical bent, and after spending time at Toowoomba Grammar I left school in year ten to join Eagers Holden as an apprentice. I must have had some talent because I finished in four years with a bonus pass in January 1957.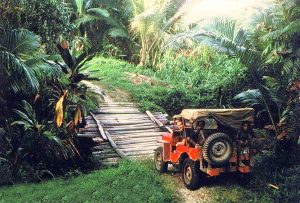 Dad always said 'go diesel'. I joined a youth group, the Young Australia League and went to Cairns and visited the Tablelands. We stayed in a hostel next to the council workshops. Fascinated by heavy machinery, I arranged a transfer to Tanner & Kenny, road construction contractors. Later I went to Main Roads, as a field mechanic (fitter) A Grade, covering petrol and compression ignition engines (diesel).
I spent four years travelling all over the peninsula. I also mixed with young people and went on social outings. I met my first wife, Marlene, and we got married in 1960.
The Overseas Mission was looking for an artisan/mechanic to go to East Sepik to rebuild and restore eight military Jeeps and so, with my wife, I went to PNG in 1967.
We travelled out on rough hilly roads to Maprik. I was my own boss and reported to the superintendent of the AOG Mission, Pastor Cyril Westbrook. Marlene taught at the Hayfield School.
My Jeeps collected names. Jeep 1 came from Toledo, Ohio, and had been donated from Australia. This was called Cyril. Jeep 8 was named Dorcas, a biblical woman who helped the poor. This vehicle went to Fred Evans. They were stored in a corrugated iron workshop at Hayfield, and I arranged to have a special place reserved just for me and the vehicles I was working on. This was continuous work, breaking down battered Jeeps, occasionally straightening chassis and replacing engine parts as needed. I brought a lot of spare parts from Sydney. Fortunately, a previous artisan body builder had left me with eight bodies to be joined over the reconditioned Jeeps.
My assistant mechanic, Gaswat, was always on to me to teach him to drive. Teaching locals could be scary. Okay, easy. When you come to a bend slow down, brake and, if necessary, put both feet down on the pedal to avoid stalling. But Gaswat panicked and drove straight into a moreta shed. Fortunately, no damage to the jeep. He also wanted to ride the motorbike. It was a BSA Bantam and again he went into a building. But he learned quickly and in later years Gaswat went into business with tipper trucks and worked on the Sepik Highway in 1977, including bridges.
Whilst Jeeps were used to further the gospel message in the area, they were vital for supplying village trade stores and getting our nurses to aid posts. They also had to drive these vehicles. Doubling the clutch to come down to first gear was a bit of a problem because if a nurse stalled in a river, the Jeep's engine would be flooded. I taught them to remove the fan belt from the generator (a lever pulled it aside). Then put a grain bag over the front of the jeep—so creating a protective bow wave: 'Never stop while in first gear because, if you do, water will get into the distributor. Always have weight (trade goods and medical supplies) in the back.'
Crossing some rivers, the women complained of water up around their knees. Sometimes they raised their skirts, forgetting that wet clothes dried really quickly in the tropics. These girls took my advice and gentle ribbing in good measure. They worked hard and were a credit to the mission and the local population.
I became an expert in crossing rivers. In fact, threatened with rising water on one occasion, I left a Jeep at the Nanu River on my way back to Hayfield from Jambitanget in the Wasura. I stripped down to my underdaks and slung my boots, tying my clothes behind my neck. Cautiously I went into the water to check the depth. My height standard for a Jeep to cross was mid-thigh, but a rising 'tide' swept me off my feet. Fortunately, I kept my head and swam with the flow. Finally, I made it to the pitpit, worrying about snakes and crocodiles. Cut all over, I clambered back to dry land. Then I had to find a track back to the road heading for home. The Jeep was retrieved safe and sound the next day.
The locals were invariably friendly. Kids were always looking for a lift. They scrambled all over the Jeep I was driving: 'Tell me which village you want to be dropped off at,' I asked. They told me, but many times passengers disappeared. 'Missing' children were a worry, but fortunately no accidents.
The job finished in 1969 and I was interviewed in Wewak to become a foreman at the mechanical workshop in Kavieng, servicing all New Ireland.
Sworn in as a public servant by District Commissioner Ted Hicks, I was on my way to get into heavy machinery. But that's another story.
Bevynne Truss went to the Sepik in 1967 and remained in PNG for ten years, finishing as a plant inspector for Public Works Department in Goroka. Subsequently, he took a two-year secondment from Water Resources Queensland, volunteered and provided consulting services on a number of projects in PNG.