In the Spirit of His Forebears by Belinda Macartney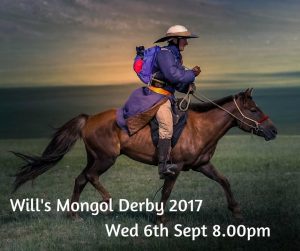 In the spirit of his forebears…
interview with Will Comiskey and his mother, Pip Comiskey (nee Parer)
words by Belinda Macartney
www.facebook.com/willcomiskeymongolderby/photos
Una Voce regularly reports past stories of adventure, of courage and tenacity. This is the story of a young man who has been inspired by his forebears to challenge himself way beyond his comfort zone. Why? Because he can… and he wants to go on a quest of his own.
A sense of adventure runs strongly through Will Comiskey's veins. Inspired by reading stories of his uncle, Ray Parer, the famous aviator (the second man to fly from England to Australia and the first in a single engine aircraft—only two aircraft completed the race), and his grandfather Cyril Parer's brother, Damien Parer, war photographer. Growing up on a cattle property in Central Queensland, Will lived his own daily adventure with his father Frank Comiskey, who had also spent time in New Guinea working with cattle in the Markham Valley in Dumpu for Bruce (RIP) and Barbara Jephcott.
Will first heard about the Mongol Derby from some friends who had done the race.
The race recreates Chiggis Khaan's ancient horse messenger system; over 10 days and 1,000 km, racing from 7am to 8.30pm every day—on semi-wild Mongol horses—riders change their mounts every 40km. Riders must be self-supporting, carrying only 5kg of gear, sleeping alone on the steppes at night or with local Mongol families, who never knew he would be turning up!
So, with all that adventurous blood running through his veins and wanting to let his father (RIP) know that he had learnt the lesson well, Will won the race equal first with two girls in 2016. In 2017, Will was inspired to give the Mongol Derby a second go. He simply couldn't wait to challenge himself again. Will said " it was tough and incredible fun all at the same time". Will has claimed the title of the most successful Derbyist to date with a win and fourth place from two starts. But Will is very humble about all this saying that he is glad to have challenged himself and live out the spirit that flows in his family.
Will and his survival skills are a living legacy of the personal challenge and sense of adventure that have been handed down through his family, who lived and worked in PNG.
Una Voce is pleased to bring you this story suggested by PNGAA member, Rob Parer.