How the Papua New Guinea Flag Was Designed on Yule Island by Mary R Mennis MBE
In 1971, all Papua New Guineans were encouraged to enter designs for a new flag. Various ideas and colours were listed to help stimulate these designs.
On Yule Island, Sister Joseph Mary taught the art class and she encouraged her students to take part in the competition by colouring in their own designs. She saw the various possible designs for the new flag and thought them a bit insipid in green, white and gold. She copied them and gave them to the girls in her art class. Fifteen- year old Susan Karike was one of the girls in her class.
Sister Joseph Mary described what happened next: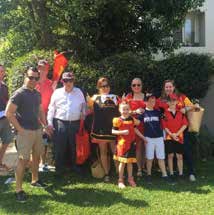 We discussed what the girls considered to be Papua New Guinea's national colours and came up with yellow, red and black. And so the girls went to work on the designs they had been given in the three stripes. One of the students was Susan Karike. There were some arguments in the classroom that day because Susan had been allowed to colour her design in texta colours whereas the other students only had coloured pencils.
I said to her. "Susan, I'm tired of seeing stripes, draw a line across it diagonally, from corner to corner, and fill it in."
Susan got her ruler and said "I can't do it from corner to corner as I'll cut part of the stars or the bird off".
I said, 'Well put it along a little bit so it can be exactly diagonal'.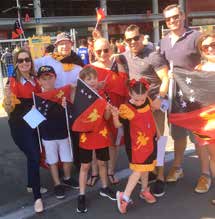 The students coloured their designs and we showed them to the school. They liked Susan's best. I had taught Susan to sign everything she did, so she signed this design of the flag. When the Constitutional Committee came to Yule Island, Susan's design was presented to them. Within a few days it was accepted by the Parliament. Apparently, there was a very hot debate on it. I understand that when the votes were counted, the House was divided with exactly the same number on either side of the House. Sir John Guise had the casting vote and he voted in favour of accepting this design for the flag. Some of the French Sisters on Yule Island pointed out that the diagonal stripe from top left to bottom right was not seen as appropriate as in Europe it is seen as a bit sinister. They wrote to the government with their concerns but Sir John Guise said, "Well we're not in Europe so it doesn't matter!"
During Independence Day celebrations in 1975 when Susan Karike raised the new flag, Sister Joseph Mary proudly looked on. Each morning, when the flag was raised on the flagpole she remembered the other occasion in the art class and the part her Yule Island School took in it. (I interviewed Sister Joseph Mary in about 1981 when I lived in Port Moresby).