Gabriel Samol—One of PNG's Forest Statesmen
Gabriel was born on Manus Island, and graduated in forestry in 1971 from the Bululo Forestry College. In government service he rose to the level of Assistant Secretary in the Department of Forest. He commenced as an assessment forester, and then became Regional Forest Officer, Morobe Province, in Lae.
AFTER INDEPENDENCE IN 1975 he was among the pioneer senior national forest officers from the regions to be appointed to understudy senior expatriate officers at the Forest HQ in 1977, and eventually became Assistant Secretary Port Moresby in the Department of Forest. In that role he led the PNG delegation to USA to present the status of PNG's forest resources and to seek funding from the World Bank. He was one of the team members who put the legislation together prior to the Commission of Barnett Forest Enquiry, which led to the establishment of the PNG Forest Authority (PNGFA), which replaced the Department of Forest.
He resigned in 1992 having served the forestry service for over twenty years, moving on to seek a career in the private forest sector, where he rose to Assistant General Manager of various companies, before deciding to establish his own consulting business. He also ran his own small-scale milling business in Lae.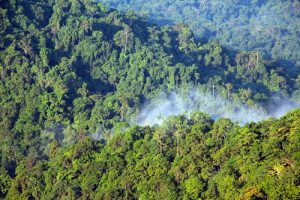 However, in recent years, forestry inaction drew him back into the forestry political arena and he rejoined the main industry private sector player as forestry co-ordinator. He became president of the Association of Foresters of PNG (AFPNG), and that enabled him to represent AFPNG in the National Forest Board, and he was then elected chairman of the PNG National Forest Authority Board. Prior to his retirement he was the Assistant Executive Officer of the PNG Forest Industry Association.
His forestry activities were recognised by the Commonwealth Forestry Association in awarding him the regional medal for forestry excellence in the Pacific. It was in April 2001 at the 16th Commonwealth Forestry Conference held in Fremantle, Western Australia, where he received the CFA Regional Award for Excellence. He was the first PNG forester to receive the Queen's Regional Award for Excellence in Forestry.
The citation read:
Mr Gabriel Samol of Papua New Guinea whose professional career has illustrated his commitment to sustainable forest management and particular concerns for those whose lives depend on forestry activity.
Sadly, Gabriel Somal passed away on 11 April 2019, aged seventy-one years. A brief vale notice was in the June edition of Una Voce.
His various colleagues in the forestry industry have described Gabriel as great forester, a natural leader, a true gentleman and a loyal colleague. Other colleagues also referred to his outstanding skills as an internationally-qualified soccer referee who could have been a FIFA referee.
The consensus amongst the many friends and colleagues who commented upon his passing was that Gabriel Somal was one of the legends of foresters in PNG, whose legacy in the forest industry in PNG is long-lasting.
This article was compiled from information supplied by Dick McCarthy from McCarthy & Associates (Forestry) Pty Ltd, and Bob Tate from PNG Forest Industries Association in their obituary for Gabriel Somal.