Frederick Peter Christian Kaad, OBE – Sept 2020 PNG Kundu
With specials thanks to Gaynor Kaad, for her major contribution and generous assistance.
Frederick Peter Christian Kaad, OBE, we salute you with a tribute of admiration and respect from the members on 12 September 2020—your 100th birthday. Thank you for your great achievements and for your contribution to our lives.
You have always been an inspiration: a competitor and a leader. Those traits may have developed between 1937 and 1939 at Sydney Boys High where you represented your school in athletics, rowing, and Rugby Union. You broke long-standing records in the broad jump, sprints, and 120-yard hurdles. In the latter event, you were the fastest man out of the blocks in Australia.
In 1940, after the nation went to war against Germany and Italy, and you joined the Army, a Sydney newspaper reported, 'Fred Kaad, star schoolboy athlete has enlisted in the AIF.' They got that wrong; your parents would not sign the papers for you to go overseas, so you joined the Citizen Military Forces. As Gunner Kaad, you served with a coastal battery near South Head—at the entrance to Sydney Harbour. And that was where the Army was determined to keep you. They knew about your athletic records and prowess as a rugby union winger. The war was a long way away, and they wanted to win all the interservice competitions with the Navy and the Air Force. That was until the Japanese bombed Hawai'i and started moving south towards Australia.
When you were discharged medically unfit from the CMF following an accident, you re-enlisted in February 1942. You joined the AIF, and within weeks, NX89868 Private Kaad was in New Guinea where the Japanese Army was on the offensive, attempting to capture the town of Wau. You and your cohorts landed as reinforcements to the 2/17th Infantry Battalion on the notorious uphill airstrip which was under enemy fire.
Your next move was an unexpected transfer to the Australian New Guinea Administrative Unit (ANGAU). Promoted to warrant officer, you mainly worked under someone of commissioned rank, but in 1943 in the Northern District of Papua you conducted two solo patrols accompanied only by a small detachment of police. Your task was to restore native confidence following the withdrawal of the Japanese forces.
You got to know Captain JB McKenna and, later, you became acquainted with Lieutenant-Colonels S Elliott-Smith and JH Jones, and Majors Horrie Niall, Allan Roberts and Jim Taylor. They were all a long way above your pay grade, but they all played roles in your postwar career.
A few ANGAU officers accompanied the Allied forces that recaptured Aitape in an amphibious landing on 22 April 1944. You and other ANGAU personnel landed later. You became a member of Cole Force, a small ANGAU group attached to the 17th Australian Infantry Brigade advancing through the Torricelli Mountains, driving towards Maprik against stubborn Japanese defence. Your task: 'to locate and destroy enemy in the area; to obtain intelligence of enemy movements, to contact and rehabilitate the local people, and to recruit native labour.'
When elements of the 17th Brigade captured Maprik at the end of April 1945, the Japanese forces retreated to the hills around Ulupu and Yamil, and to Wewak where they surrendered on 13 September 1945. That was one month after they had formally surrendered in Tokyo Bay.
You were a lieutenant in ANGAU when the Army let you return to civilian life on 18 July 1946. Three weeks later, on 9 August, you became a patrol officer in the Papua New Guinea administration.
In September JB McKenna became Assistant Director of Native Labour. McKenna had been your captain in ANGAU at Ioma, and he persuaded you to become District Labour Officer at Samarai. That was where you met the love of your life, June Grosvenor, who was enjoying the tropical isle. She and a friend were working as office secretaries after three years as wireless telegraphists in WAAAF. You and June returned to Samarai after your wedding in Sydney in September 1948.
The job in Samarai must have palled. You reverted to being a patrol officer in February 1949, and the director transferred you to New Ireland. When famed coastwatcher, Jack (WJ) Read, DSC (US), who was in charge of the district, posted you to New Hanover, he said that Taskul Patrol Post 'would afford ample scope for one of your keenness and experience'.
Ian Downs took over from Jack Read as District Officer at Namatanai at the end of February, and you got to know him well during your eighteen months at Taskul. You lost a Territorian friend when fellow kiap, Gordon Steege, resigned and returned to Australia in August 1950. Still, you acquired his cane chairs and two dalmatian dogs.
You had just returned from leave when Mount Lamington erupted on 21 January 1951, destroying villages and gardens, and killing more than 3,000 local people and thirty-five expatriates, including District Commissioner Cecil Cowley and all the administration staff at Higaturu.
You were familiar with the area and its people from your ANGAU days. You volunteered your services and flew into Popondetta—the emergency operations centre—on the second flight to land there the next day. As Assistant District Officer in charge, first at Ilimo, then at Saiho, you led the team engaged in rescue, rehabilitation, resettlement and area development.
Sydney Elliott-Smith became the new District Commissioner on 12 March 1951, but the success of the relief and recovery phase was attributed to 'the strong leadership provided by Colonel Murray [the Administrator], Dr Gunther, Ivan Champion and Fred Kaad.'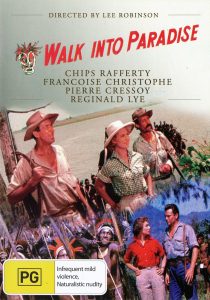 When you returned to Australia in December 1951, prior to attending the two-year Diploma of Pacific Administration course at the Australian School of Pacific Administration in 1952 you declared that you were 5 foot 10½ inches tall (179 centimetres), weighed 13 stone (82.5 kilograms) were brown eyed with auburn hair, but you did not mention your bald patch.
You returned to the Territory in February 1954—to Goroka in the Eastern Highlands. Ian Downs was District Commissioner and, knowing you from Taskul, he encouraged your enthusiasm and gave you free rein to implement your new ideas.
You became a movie star in June 1955 when you, police Sergeant-Major Somu, and Qantas pilot Dick Davis played cameo roles in Walk into Paradise. Filmed in English and French, the movie introduced Papua New Guinea to the world and preserved a vital segment of the country's colonial history. The worldwide audiences saw glimpses of Port Moresby and Koki, Madang, and the Police Training Depot at Goroka. More importantly, they saw basic kiap patrolling, villages and the people. Perhaps the most spectacular footage was filmed in the Asaro Valley. Hundreds of traditional festooned villagers beat drums and waved spears as they stamped and danced to flatten a newly-constructed airfield. The movie was a box office success in Australia, France, the United Kingdom and the United States when released in 1956. The Sepik River premiere, at Angoram in 1957, was in the world's first paddle-in theatre—a flotilla of canoes parked side by side and end to end floating on the river between two anchored schooners.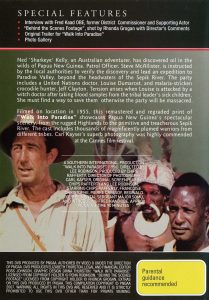 When you returned from leave to the Sepik District in February 1956, District Commissioner Sydney Elliott-Smith arranged for you to take over the Maprik Sub-district. In December, you moved to Wewak as acting District Officer of the vast Sepik District. At that time, it encompassed most of north-west New Guinea: from the Madang boundary westward to the border with Dutch New Guinea, and from the islands near the equator to the mountainous border with Papua.
You and June introduced the tiny town to LP records, loud music and Shirley Bassey singing the blues. June converted the Sepik Club's Saturday dances to come-in-costume carry-ons culminating in the spectacular Arabian Nights Ball.
You had only served five months as District Officer when District Commissioner Elliott-Smith abandoned his post and disappeared to Australia. Surprisingly to many, the Administrator bypassed some senior officers who were in the wings and appointed you to replace him. Perhaps to avoid uncertainty, the Assistant Administrator, John Gunther, used the government gazette to announce that you had replaced Elliott-Smith. You remained as Acting District Commissioner of the Sepik until Bob Cole took over as DC in September 1957. Dick White (seniority May 1939) was your District Officer, and Tom Ellis was ADO in charge of the Wewak Sub-district.
You attended the University of Queensland as a fulltime student in 1959, completing a Bachelor of Arts degree, and you made the news again on 5 May 1960 when you became the first person to have joined the Administration since the war to be promoted to District Commissioner. You took up the position of District Commissioner, Central District, Port Moresby in December.
The next four years were frenetic when you took on other weighty tasks in addition to your District Commissioner responsibilities.
In March 1961, you represented Papua New Guinea at a meeting of the South Pacific Commission in Noumea, New Caledonia which led to the inauguration of the South Pacific Games. Fiji hosted the games in 1963, New Caledonia in 1966, and Papua New Guinea in 1969. You also took an active role as Assistant Commissioner of the Papua New Guinea Branch of the Boy Scouts Association, and you completed a Postgraduate Diploma of Public Administration with the University of Queensland.
In 1962, you were appointed Secretary to the Select Committee on Political Development and travelled back and forth across the country with the members. Their report resulted in the introduction of universal suffrage and the first House of Assembly of Papua New Guinea in 1964.
Also, in 1962, you were elected President of the Amateur Athletic Union of Papua New Guinea, and you were captain of the Papua New Guinea athletics team at the Commonwealth Games held in Perth, Western Australia in November.
The turmoil continued in 1963 when Minister Hasluck decided—on Gunther's recommendation—that you should be the Executive Officer for the Commission on Higher Education. Gunther said that you were 'one of the best-educated and most able of the District Commissioners'.
You accompanied the three commissioners: Sir George Currie, Dr John Gunther and Professor Oscar Spate to big and small centres across Papua New Guinea, and to universities in Australia and the Pacific. But even when the Minister tabled the Commission's final report in the House of Representatives on 23 March 1964, you were not off the hook. You were back in Canberra discussing the report with the Department of Territories in July.
You had returned to the Territory and settled into your new appointment as District Commissioner, Madang, when disaster struck on 3 September. You were alongside the pilot in the front seat of the single-engine Dornier that crashed on take-off at Tauta in the Ramu Valley. Ray Jaensch, the pilot, did not survive. You suffered damage to your spinal cord, leaving you a paraplegic and in a wheelchair. You received extensive burns to your legs and from then on you suffered continuous low-level pain and spasms of acute short-term pain about every forty-five minutes. (Please turn to page 24 for Bryan McCook's article 'Tragic Events at Tautu', for more information about the crash.)
Following that tragic accident, you flew to Sydney—medically evacuated—on TAA Flight 1303. You spent the next six weeks in the Intensive Care Unit at Royal North Shore Hospital, followed by nine months in their Spinal Injuries Unit, and you commenced a Postgraduate Diploma in Educational Administration by correspondence with the University of Queensland.
You displayed more of that indomitable spirit on 30 March 1965 when your medical team allowed you to attend a seminar on New Guinea in Canberra. You concluded your discussion with 'One day I will get back as a District Commissioner. I am like MacArthur. I shall return.'
After your discharge from Royal North Shore Hospital, the PNG Administration seconded you to Sydney to lecture at the Australian School of Pacific Administration. You travelled around Australia to interview applicants for employment in PNG Administration; you visited PNG at least twice a year for conferences and consultations, and you completed the Diploma in Educational Administration that you started while in hospital.
In 1971 you completed a full year as a live-in student at the University of New England University studying towards a master's degree. You were the first student permanently in a wheelchair to study and live for a full academic year in a university college.
At the end of each weekend, you drove your big old Ford Fairlane back to Armidale with your wheelchair on the bench seat behind you. Your eldest daughter, Gaynor, kept you company on each trip then flew back to Sydney. When June, your wife, died twenty-six years ago, Gaynor took over, devoting her life to being your carer, guardian angel and constant companion.
In 1972 you were retired from PNG on medical grounds and appointed as a lecturer and course director at the Australian School of Pacific Administration (ASOPA) in Sydney. And you completed your master's degree by correspondence—graduating in 1973 as a Master of Educational Administration (Hons).
You continued as a lecturer and course director when ASOPA became the International Training Institute (ITI) in 1973—the year that Australia granted self-government to Papua New Guinea. Your students now came from the developing countries in the Pacific, Asia, Africa and the Caribbean as well as PNG. You retired from the institute in 1985 but continued with some consulting work in Papua New Guinea, Cook Islands, Solomon Islands and Fiji.
In 1980, on the recommendation of the Papua New Guinea Government, the Queen made you an Officer of the Order of the British Empire 'for public service and services to the training of Papua New Guineans'. Papua New Guinea added to that recognition with the Thirtieth Anniversary Commemorative Medal in 2005, and the Royal Papua New Guinea Centenary Medal in 2008.
Your close involvement with the Papua New Guinea Association of Australia, and its predecessor, began in 1972 and has continued to this day. You served as honorary secretary as well as editor of Una Voce (the Association's journal) until 1989. And even though you were living with continual pain, you ended the newsletters with encouragement to us all. In the October 1981 newsletter you ended with: 'Remember when you are fed up, tired and wondering whether it's worth it—many clouds do have a silver lining, and the sun will shine tomorrow.'
You were the Association's Deputy President for years. In 2001 you and Mrs Roma Bates were appointed to be our Patrons 'in recognition of your distinguished service to the community, to Papua New Guinea, and in particular to our Association'. The Governor-General, Major General Philip Michael Jeffery joined you in 2003. The Association awarded you Honorary Life Membership in 2011.
We look back over the last fifty-six years with wonder and amazement. Despite your injuries, your enthusiasm was contagious. You spread happiness and encouragement to those around you. The members of Spinal Injuries Unit from Royal North Shore Hospital—the doctors (John Grant, AO, John Yeo, AO and Dr Sue Rutowski), the matron-in-charge Nancy Joyce, and nurses Barbara Hoefnagels and Susie Hirst became lifelong friends. And soon after leaving the hospital, you were adding the challenges of the wider community to your endeavours.
Among your other activities, you were International Commissioner representing PNG with the Scout Association of Australia from 1966 to 1972; a trustee of the Airmen's Memorial Foundation of PNG and a board member since its inception in 1969; a member of the Australia Council on New Guinea Affairs from 1968 to 1975; Deputy Chair of Organizing Committee Far Eastern and South Pacific Games for the Disabled held in Sydney in 1974; a director of the Paraplegic and Quadriplegic Association of NSW (ParaQuad) from 1966 and Vice President from 1975 to 1998; Pacific Area Consultant for the Commonwealth Council on Educational Administration from 1976 to 1999; Chair of the Spinal Research Foundation from 1991 to 2004 and Director from 1977 to 1991; a member of the Committee of Management of Physical Disability Council of NSW from its formation 1994–99; Director of the Spinesafe Education Program (now Youthsafe) from its incorporation in 1995 until 1999 and, prior to 1995, you were associated with its management when it was known as Awareness & Prevention Spinal Injuries. You were also a Member Educational Advisory Committee for Spinal Injuries Nursing Course, NSW College of Nursing, and a member of three of Mosman Council's Community Advisory Groups between 1995 and 2009.
The Australian College of Education invited you to be Fellow in 1980 and Life Member in 2002. You were also awarded life membership by the ParaQuad Association of NSW, Sydney High School Old Boys' Union, and Mosman Returned Servicemen's Club. And you received Rotary's Shine on Award for outstanding support to others with a disability.
2000 may have been a standout year. The Governor-General awarded you the Australian Sports Medal in August and, in October, you were selected to be a torchbearer to carry the flame from the lighting ceremony at Parliament House in Canberra to Paralympic Games in Sydney. You made the event spectacular and thrilled the crowd when, instead of driving your wheelchair directly down Miller Street, North Sydney as instructed, you made a complete circuit of the huge Victoria Cross intersection before passing the flame to the next bearer.
You interviewed some of us before we went to Papua New Guinea. You taught others at ASOPA. Some—like myself—worked under you in the Territory. Everyone knows about your role in the Association. We all thank you for being in our lives, and we all join in wishing you a very happy one-hundredth birthday.