Farewell to the Grand Chief PNGK June 2021
Grand Chief Sir Michael Somare,GCL GCMG CH CF SSI KStJ KSG PC

9 April 1936 – 26 February 2021
Known as the Father of the Nation and Papa Blo Kantri, Sir Michael led PNG into independence from Australia in 1975, and was one of its longest-serving politicians, with a career that spanned five decades.
The following address was given on the occasion of the Memorial Service for Grand Chief Sir Michael Thomas Somare on 14 March 2021 at Kensington, Sydney:
Your Excellency John Kali, Acting Consul General Leo Oaeke, President Sydney Wantoks Roxanne Pouru, Fr. Roger Purcell, Professor Ted Wolfers, ladies and gentlemen –
It is my honour to be here today on behalf of the Papua New Guinea Association of Australia as we remember the Grand Chief Sir Michael Thomas Somare.
Grand Chief Sir Michael Somare was a towering figure in Papua New Guinea's journey to and through nationhood. He was an energetic, astute, optimistic, confident, yet humble, kind, thoughtful and skilled politician who touched every one of us here today in his role as the first Prime Minister of Papua New Guinea.
At the Administrative College in Waigani, in the 1960s, talk of nationalism was gaining pace.
This was just 20 years after WWII had destroyed much of PNG and many Australians and Papua New Guineans had suffered. Australia had also lost many of its men in the European war. Nation building was a priority.
In 1964, the year of PNG's first Legislative Assembly, Australian kiaps with Papua New Guinea police and carriers were still doing first-contact patrols in restricted areas. Eleven years later PNG was an independent nation.
Together with other young nationalists, Somare was an inspired member of the Bully Beef Club founded at the Administrative College in 1966 to discuss their own ideas about the future of PNG. In 1967 members of this club formed the Pangu Party.
In 1972 Sir Michael became the only Chief Minister of the Australian administered territory of Papua New Guinea and eventually Papua New Guinea's first Prime Minister, leading PNG's peaceful transformation from Australian administered territory to independent nation. He was a vision of stability in national dress.
Despite political, social and economic hurdles, Somare had to balance the nation. With over 800 distinct language groups in PNG, and 111 members in the National Parliament, and with each member responsible for anything up to 12 language groups, uniting this nation needed an extraordinary talent and a brave person.
In setting up the Constitutional Planning Committee and explaining its role to win the peoples support, Sir Michael, in his mid-30s, was planning a modern PNG.
The Somare style of leadership brought wise consensus decisions without having to use force. Principles of sana – consensus, discussion, inclusion and peaceful resolution of conflict emphasised the traditional Melanesian way of sitting down and exhaustively talking things out until a consensus is reached.
Always a strong communicator, Somare fostered pride among Papua New Guineans. He had compassion and a great capacity to communicate with everyone – young and old; all races and status. He had a wonderful sense of humour.
Sir Michael's long commitment in parliament and to his country is to be admired. For forty-nine years he was prime minister on three separate occasions over that time, holding the top post for 17 years in total, over four terms. He also served as the Foreign Affairs Minister, Leader of the Opposition and the local Governor of East Sepik Province. Sir Michael built a nation that straddles the Pacific and East Asia, gaining respect, nationally and internationally, as a senior statesman of PNG.
On the morning we heard that Sir Michael Somare had passed away on 26 February 2021 I was preparing to attend the funeral service for Fred Kaad OBE, Patron of the Papua New Guinea Association of Australia.
It was a doubly momentous occasion as I thought of Fred's work, and others like him in the lead up to Independence, including that of former District Commissioner and former PNGAA President Harry West. Men who had all been so instrumental in founding and growing the Papua New Guinea Association of Australia based on their long working lives in, and commitment to, PNG.
Harry was regularly in touch with Sir Anthony Siaguru who was also a long term PNGAA member before his untimely death in 2004.
Another active PNGAA member, David Marsh, had been asked by Sir Michael to organise PNG's Independence celebrations with only three months' notice– it was brilliantly executed but a task far more complex than people might consider.
PNGAA's former treasurer Ross Johnson, who was on the 2nd House of Assembly Select Committee for Constitutional Development with Sir Michael (and who is here today), Mark Lynch who was Cabinet Secretary leading up to Independence and remaining afterwards for several years, Bill Brown, Ken McKinnon, like all members of PNGAA, have a special and continuing interest in PNG.
It was a multi-nation team that assisted 'the Chief' and supported him throughout, and there was mutual respect. Many pieces made up the complex building blocks which led to Papua New Guinea becoming independent.
PNGAA members had worked with Sir Michael as the speed of change gathered pace in the lead up to Independence. I've heard comments that they felt privileged to have the opportunity to work with Sir Michael and his new team; so many good people and at such a historic time.
Sir Michael remained friendly with many Australians, and he valued those relationships.
Today, PNGAA is fortunate to have a close relationship with the PNG community here in Sydney, and I believe Sir Michael would have been pleased that the friendships and strong links continue.
Sir Michael generously flew to Sydney with Sir Raymond Thurecht in 2017 to be an honoured and respected guest at the annual PNGAA Christmas lunch. Members enjoyed catching up with him and many smiling memories were shared. Taking a country on a journey to a peaceful independence is something both nations can be enormously proud.
The mark of a great statesman is how he is remembered and what he is remembered for. People remember Sir Michael affectionately as 'Papa blo kantri', the founding father. He was an influential and successful figure who had a broad vision for a united Papua New Guinea.
Our thoughts go to Lady Veronica Somare and his family especially at this time.
In his last address to parliament in 2017, Sir Michael said he '…gave the best years to this country…I hope you will each find the grace to continue our dream for this country.'
Let's dream…and remember this outstanding man who made his dream reality, inspiring a nation and becoming our nation of PNG's first Prime Minister.
Andrea Williams
Some Reflections in a Speech by the Rt Honourable Sir Rabbie Namaliu at the Memorial Service for the Grand Chief Rt Honourable GCL GCMG CH CF SSI KSG PC Sir Michael Somare at St Stephens Catholic Cathedral in Brisbane on the 14th of March 2021:
This afternoon we thank the creator for the life of Michael Thomas Somare, our Grand Chief and Founding Father of the Independent State of Papua New Guinea.
We thank Lady Veronica Somare (who herself has not been well for a while) and their children. Bertha, Sana, Arthur, Michael and Dulciana, who throughout their lives have shared their husband and father with the people of Papua New Guinea.
We also thank the people of East Sepik Province for their generosity and understanding of the commitment by the Prime Minister to the people of Papua New Guinea.
Two weeks ago, when Grand Chief passed on, the Prime Minister, James Marape declared a mourning period of two weeks.
Over the two weeks, our people in every province have gathered to mourn the Grand Chief in their distinctive cultural ways – traditional mourning attire and body marks. In Port Moresby, each of the four regions- Momase, Highlands, Southern and the New Guinea Islands have paid their respects to honour the Grand Chief on different days in their own traditional ways.
It would have been of great satisfaction to Grand Chief to see so many of the younger generation who were not even born at independence turning out and eager to learn about who and how he led the country to Independence. It has been a tremendous sight to see the young people celebrating his life and mourning him in our learning institutions from primary and secondary schools to universities and colleges with different placards and captions – invariably with the word freedom on them.
I believe that is how the Grand Chief would have wanted it to be as his vision was to unite and build a diverse country of 800 linguistic and ethnic groupings into a strong, prosperous, and united country irrespective of where they were from. The mourning period has demonstrated that the Grand Chief was the ultimate embodiment of being a Papua New Guinean, first and foremost.
It was not an easy task for him, given the different history of our Country. Papua was a British colony until Britain handed it over to the Commonwealth of Australia to administer at Federation in 1901.
New Guinea on the other hand was administered as a trust territory by the Australian Government under the Trusteeship Council after the second world war.
Before that New Guinea had been a mandated territory administered by Australia under the League of Nations from the end of the First World War. Prior to that, New Guinea was a German colony.
During the Second World War, New Guinea was occupied in significant areas by the Japanese Imperial Forces who established their headquarters for the Southwest Pacific in Rabaul. It was from there that the Japanese launched their attacks on the Kokoda trail, the Battle of Milne Bay and the Battle of the Coral Sea amongst others.
Michael Somare who was born in Rabaul on April 9th 1936 was six years old when the second World War broke out in 1942. His father Ludwig Sana who was a senior Sergeant in the New Guinea Police Force based in Rabaul had to evacuate his family to a village called Bitapabeke in the Kokopo District where he was given the Tolai name, To Palangat. The family was evacuated out of Rabaul and taken back to Wewak a year or so later where his first school was taught in Japanese by the Japanese army. Until his passing he could still speak a little bit of Japanese as he could speak a bit of Kuanua from his growing up in Rabaul.
Papua New Guinea was administered jointly for the first time from 1949 when the Federal Parliament passed a legislation to administer the two territories as one to be known as the Territory of Papua and New Guinea.
It was with this background that Sir Michael Somare developed his vision for Papua New Guinea. First, he was selected amongst the first teachers to undertake further studies at Sogeri High School outside Port Moresby with the likes of Sir Paulius Matane, Sir Alkan Tololo, Sir Ronald ToVue, Sir Sere Pitoi, and Sir Kwamala Kalo to take on further responsibilities in the Education Department throughout the country. They were amongst the first generation to be appointed to senior positions in the public service.
Sir Michael undertook further studies at the Administrative College in Port Moresby in 1965 during which he met a number of colleagues in the likes of Albert Maori Kiki, Jerry Nalau, Joseph Nombri, Epel Tito and Dr Ruben Taureka where they formed what is affectionately known as the Bully Beef Club – an informal political discussion group that later became the anchor to the Pangu Pati, the first political party to be formed in 1967 in an environment where political parties were an anathema to the Australian Administration which regarded them as rebel rousers. The Pati first announced itself on the floor of the House of Assembly in 1967 under the leadership of Sir Paul Lapun, Member for South Bougainville as Parliamentary Leader with a small group of outspoken leaders in the House of Assembly including Sir Barry Holloway (Kainantu), Sir Pita Lus (Maprik), Tony Voutas (Kaindi), Zure Zurenuoc (Finchafen), Paliau Malaot (Manus) and Siwi Kurondo (Kerowagi)
Sir Michael Somare who by this stage had changed careers from being a teacher to that of a radio announcer and journalist, transferred back to Wewak after graduating from the Administrative College. It was through Radio Wewak that he became well known throughout the East Sepik Province. It proved to be a great steppingstone in his decision to run for election to the House Of Assembly at the urging of close friend and Member for Maprik Sir Pita Lus and former Member for Wewak in the 1964-68 House Sir Pita Simogun a former Police Sergeant and a decorated serviceman, who served with the Allied Forces during the second World War.
In 1968 Grand Chief Sir Michael Somare was elected for the first time as the Member for East Sepik Regional as a Pangu Pati candidate – this was the first time that the Pangu Pati fielded candidates on the platform of fighting for independence. As the Pangu Pati increased its numbers in the Third House of assembly (1968-1972), it also decided to change its strategy and put in a younger and better educated leader to lead the Pati. As a result, the Parliamentary wing decided to elect Sir Michael Somare as the new Parliamentary leader to replace Sir Paul Lapun to take on the Australian Administration on the floor of the House of Assembly. They were immediately dubbed as the angry young men by the Administration and by those who supported the official line.
It was in 1968 when I first met Sir Michael Somare as a young student at the University of Papua New Guinea, just after he became leader of the Pangu Pati. When he and a number of his colleagues, which included Sir Paul Lapun, Sir Barry Holloway, Tony Voutas, Sir Cecil Abel and Sir Maori Kiki who was the General Secretary of the Pati, came out to the university to attend a seminar on the constitutional future of Papua New Guinea. It was organised by the University jointly with the New Guinea Research Unit, the field branch of the Australian National University based in Port Moresby and the New Guinea Council, a forum formed by eminent people in both Papua New Guinea and in Australia to discuss issues relating to the future development of Papua New Guinea.
A number of eminent speakers from Australia including academics from the ANU were invited to speak at the seminar including Sir John Kerr an eminent jurist who addressed the seminar on some options for the constitutional future of Papua New Guinea and Sir Michael Somare who outlined the Pangu Pati's platform and his vision for the future constitutional development towards Independence.
It was at this seminar that Sir Michael Somare and some of his colleagues met with a small group of students, including Mekere Morauta, Leo Hannett, Leo Morgan, Martin Buluna and myself and proposed to us to set up a branch of the Pangu Pati on campus, a task we were only too happy to do. We met with Sir Maori Kiki from time to time and with Sir John Guise who initially joined the Pati but left not too long after when he was overlooked for the leadership of the Pati. We knew that throughout this period we were being monitored very closely by ASIO from which a number of their officers had become part time students at the University of Papua New Guinea.
The Parliamentary Wing of the Pangu Pati effectively became the Opposition in the House of Assembly in 1968 to 1972 without being recognised initially and officially as such. It became a very effective opposition that advocated very strongly its platform of Independence for Papua New Guinea.
It was not surprising then that, after the 1972 election, the Pangu Pati having increased its numbers in the House of Assembly, Sir Michael Somare was invited by the Australian Administration to form the first coalition Government with him as the first Chief Minister.
Sir Michael Somare with the support of the Peoples Progress Party under Sir Julius Chan, the National Party under Sir Thomas Kavali with the support of the three Mataunagan members from East New Britain Oscar Tammur, Sir John Kaputin, and Damien Kereku and a number of independents formed the first coalition Government that had the official blessing of the Australian Government.
Sir Michael Somare as Chief Minister, in forming his first cabinet, chose respected and experienced leaders from the new coalition partners for the key ministries such as John Guise as Deputy Chief Minister, Sir Julius Chan as Minister for Finance, Sir Thomas Kavali as Minister for lands, Sir Albert Maori Kiki and Sir Paul Lapun.
In the first year the new coalition government adopted an 8-point plan to guide them in policy development into the future. Amongst the plan was a strong commitment to the 7th point that provided for a rapid increase in equal and active participation by women in all forms of economic and social activity. His commitment to gender policies was evident when he set up a woman's advisor position in his office in 1975 which emphasized the promotion of women in the public service and the genuine respect of women as equal partners in life and in nation building.
The new government under Sir Michael Somare's leadership then negotiated with the Australian Government under the Prime Minister Sir Billy McMahon through a very able and relatively young Minister for Territories in Andrew Peacock. Unlike his predecessor Andrew Peacock with broad bi-partisan support from the Australian Parliament moved quickly to negotiate for an Independence timetable, although in the House of Assembly and in the community, there was far from unanimous support for Independence, particularly amongst the more conservative members of the House of Assembly. Remember from when the first House of Assembly elections were held, the only requirement to stand was that you had to be a resident of Papua New Guinea. For the period before Independence, we had a significant number of Australians and our own members who got elected to the House of Assembly who did not support early Independence. As a result, agreement was reached by the Coalition Government to map out a transitional pathway to Independence based on a timetable for the gradual transfer of powers from Canberra to Port Moresby with ongoing budgetary support. This eventuated in Papua New Guinea being granted self-government at the end of 1973.
In the meantime, the House of Assembly established a Constitutional Planning Committee with the Chief Minister, Sir Michael Somare as Chairman and Father John Momis, Member for Bougainville Regional as Deputy Chairman.
The Constitutional Planning Committee effectively chaired by Father John Momis undertook a comprehensive and genuine consultation process throughout the country as well as visits to selected countries to learn and ascertain what might be useful and relevant to inform its deliberations and recommendations.
It was on the basis of the report of the Committee that a Constitution was finally adopted by the House of Assembly leading to the final powers on Defence and Foreign Policy being transferred from Canberra to Port Moresby, when Independence was finally granted on the 16th September 1975.
The constitution included Queen Elizabeth as Head of State, a representative national parliament that could only be contested by citizens of Papua New Guinea as defined by the new Constitution and importantly an Independent Judiciary that would ensure the Constitution was upheld at all times by the Parliament and the Executive arm.
The personal relationships that Sir Michael Somare developed with both the Whitlam Government and the Federal Opposition through Andrew Peacock were crucial, along with the support of the House of Assembly, and the country as a whole to secure Independence peacefully without bloodshed.
The peaceful transition to Independence was unquestionably Sir Michael Somare's greatest achievement. For those of us who had provided supporting roles to the Chief Minister at the time, it was our proudest moment too.
It was the most spectacular day on the 16th September 1975 at which Her Majesty was represented by His Royal Highness Prince Charles at a ceremony held at the Sir Hubert Murray stadium where the Australian flag was lowered for the last time by our First Governor General, Sir John Guise and presented back to the Australian Governor General, Sir John Kerr. Amongst the honoured and distinguished guests at the ceremony were the Australian Prime Minister the Honourable Gough Whitlam and the Federal Leader of the Opposition, the Honourable Malcom Frasier.
In the words of Sir John Guise, he said he was proud and pleased to see the Australian flag being lowered peacefully rather than being torn down. It was replaced by the hoisting of the Papua New Guinea flag.
It was the best testament to the leadership of Grand Chief Sir Michael Somare because on that day he also became the Founding Prime Minister of the newly Independent State of Papua New Guinea. I had the honour and privilege of being present on that day.
I was on the academic staff of the University of Papua New Guinea when in January 1974, I was invited by the Chief Minister Michael Somare to join his staff as Principal Private Secretary and Head of the Office of Chief Minister. I took over from Sir John Yoklunn, an Australian who had been seconded from the Administrative College where he was the Chief Librarian to assist with the setting up of the Office of the Chief Minister. He also appointed, as my Deputy and Private Secretary, Dame Meg Taylor who is soon to retire [from the role of] Secretary General of the Pacific Islands Forum, with two Principal Research Officers in Sir Moi Avei and the Late Dame Nahau Rooney. We joined our colleagues who were already there, Tony Voutas, Sir Cecil Abel, Paul Cowdy, and Austin Sapias with Jenny King as Executive Secretary to the Chief Minister. We began to fondly call the Chief Minister "The Chief" then and throughout his life. His appointment of two well qualified women in Dame Meg Taylor and Dame Nahau Rooney to his office reflected his strong commitment to gender equality as emphasized by point-7 of the 8-point plan.
As a team we were required to provide political advice on all matters that came to the Chief Minister in conjunction with the Department of Chief Minister and District Administration headed by Paul Ryan, an Australian who had been in Papua New Guinea as a long serving officer in the Department of District Administration. He was succeeded by Phillip Bouraga who had come up through the ranks of the Department of District Administration as Secretary of the Department. They were ably supported by Tos Barnett as Head of the Legal and Constitutional Affairs Division and his Deputy Ilinome Tarua who succeeded Mark Lynch as Secretary to Cabinet. The Department provided all the technical and professional advice on all policy matters to the Chief Minister.
That was the most challenging but also the most fulfilling time of our life because through serving Sir Michael as Chief Minister and later Prime Minister, we had direct access and involvement in most of the discussions to do with the transfer of powers from Canberra to Port Moresby, budgetary discussions as well as policy matters pertaining to the debate on the Report of the Constitutional Planning Committee as well as discussions in relation to all other matters such as the re-negotiation of the Bougainville Copper agreement.
I had the privilege of accompanying the Prime Minister, Sir Michael Somare to New York where for the first time the Papua New Guinea flag was hoisted to mark the formal admission of Papua New Guinea as the newest member of the United Nations after which the Prime Minister addressed the United Nations General Assembly. It was an emotional moment but also proud moment as our Prime Minister and our first Ambassador to the United Nations, Sir Paulius Matane, took their seats in front of the name designated for Papua New Guinea as a member of the International community of Nations after having endured being congratulated by a long queue of delegations including the Australian delegation just outside the main speaking lectern.
Two weeks before Independence Day the Prime Minister had appointed the Minister for Education, Sir Ebia Olewale and delegated me to accompany him to attend the last session of the Trusteeship Council at the United Nations where formal statements were made by Australia and Papua New Guinea to end New Guinea's status as a trust territory under Australia's tutelage. The Australian Ambassador to the UN and Sir Ebia Olewale addressed the Trusteeship Council for the last time but not without a little bit of last-minute drama.
For prior to our arrival in New York, Father John Momis and John Teosin had arrived to address the Trusteeship Council that as Bougainville was unique and different to the rest of Papua New Guinea, it was entitled to be given the right to self-determination by being allowed to determine its own future. In the end having heard from Sir Ebia Olewale and Australian Ambassador, the Trusteeship Council adopted a resolution that formally ended New Guinea's status as a Trust Territory and recognised Papua New Guinea as one United Country including Bougainville.
In early 1974 the Chief Minister and his Cabinet decided to grant the first interim Provincial Government to Bougainville and appointed Dr Alexis Sarei to be Provincial Commissioner and Leo Hannett as Advisor to the Chief Minister on Bougainville Affairs to set it up under special legislation enacted by the House of Assembly until final provisions for a legal framework were provided for in the new Constitution. When the Chapter on Provincial Government was withdrawn from the Constitution at the 11th hour, Father John Momis, who was then Member for Bougainville Regional, decided to resign from the House of Assembly in protest and with the support of the Interim Provincial Government announced a unilateral Declaration of Independence. Their submission to the Trusteeship Council in New York was to seek official recognition of that declaration.
I had remained in New York after PNG's admission to the United Nation as a member of the Papua New Guinea delegation at the direction of the Prime Minister to assist our Ambassador Sir Paulias Matane in his new role.
On return towards the end of the year in 1975, the Prime Minister Sir Michael Somare decided he had some unfinished business in Rabaul, East New Britain, which threatened national unity as well as unity within the province. East New Britain had been plagued by political infighting between three main groups since 1969 when the Mataungan Association was formed to oppose the introduction of multi-racial council in the Gazelle Peninsula on the grounds that it was imposed from above without adequate consultation with the local population. As a result, after the first election to the Gazelle Local Government Council, it was prevented by the Mataungan Association from being sworn in and therefore prevented from going into operation because it wanted the amalgamation of the Gazelle Local Government Council as a steppingstone to assume gradually taking on greater responsibility towards self-determination. This situation invited both the Australian Prime Minister, John Gorton and the Federal Leader of the Opposition, Gough Whitlam to visit Rabaul and meet the Leaders to gain first hand insights into the situation. It was during this visit that Gough Whitlam famously said, when addressing a large crowd organised by the Mataungan Association at Matupit just outside Rabaul, that if he won the next election he would grant Independence to Papua New Guinea.
This political impasse existed from 1969 to 1976 when Sir Michael, as Prime Minister, and after an unsuccessful search for a suitable person from the Province to be appointed, decided to send me instead to take up the position as Provincial Commissioner of the East New Britain Province. My specific mandate was to unite the three political groups namely the Mataungan Association, the Pro Council Group and the Warbete Kivung, a group that had organised itself into a self-funding organisation without official recognition from the Administration in the 1950's, with the rest of the province under a new Provincial Government. Within six months after taking office, we had united the three groups and after extensive consultations with the rest of the Province, it was agreed to set up the East New Britain Interim Provincial Government which the Prime Minister had the honour of coming to Rabaul to promulgate and officially open in July 1976, the second to be established in the country after Bougainville. Proper elections were held to the new Provincial Assembly on the basis of the new constitution adopted soon thereafter.
Mission accomplished, I was ready to return academia when I was informed that I had just been appointed by the Prime Minster and his cabinet to become the new Chairman of the Public Services Commission responsible to the Prime Minister. In this position I worked very closely with my colleagues – the Secretary of the Department of Finance Sir Mekere Morauta, Director of National Planning, Sir Charles Lepani who had succeeded David Beatty, Secretary of Foreign Affairs and Trade, Sir Anthony Siaguru, Secretary for the Department of the Prime Minister and Cabinet, Philip Bouraga, as members of the Budget Priorities Committee which was the main policy advisory mechanism established to advise the Prime Minister and Cabinet on all matters relating to development and budgetary allocations.
At the end of my term as Chairman of the Public Services Commission in August 1979 and after having declined reappointment, the Prime Minister appointed me to be a member of the PNG delegation to the UN General Assembly in September 1979. I returned at the end of year to re-join the Office of the Prime Minister as an advisor when the Prime Minister, as Parliamentary Leader of the Pangu Pati, persuaded me to run for the 1982 election as a Pangu Pati Candidate. I successfully contested the seat of Kokopo Open. As Parliamentary Leader of the Pangu Pati he won a significant electoral majority of 52 seats-3 short of an absolute majority of 55.
I was appointed by the Prime Minister to be Minister for Foreign Affairs and Trade during a period when our relations with our closest neighbour Indonesia was going through a testing time, though we maintain good diplomatic relations. One of the biggest conflicts that had serious implications for that relationship was when fighting broke out between the OPM and the Indonesian Military on their side of the border in West Papua or, as it was known then as Irian Jaya, resulting in about 12000 to 15000 people from West Papua crossing to our side of the border to escape persecution. We had to act very quickly because we were concerned that the security of our people on our side of the border was at risk, with the potential for fighting between the OPM and the Indonesian Military spilling over to our side of the border particularly when the Indonesian Military were in hot pursuit of OPM Rebels.
It was then that the Prime Minister and his Cabinet laid down very strict and clear guidelines as to the movement of people crossing the border and the procedures for seeking approval to cross. This was done to avoid any hostages being taken during the confrontation and to avoid our people being targeted with our own military personnel stationed on the border being inadvertently drawn in.
It was during this time that as Foreign Minister I had to deal with a young journalist who had been in the country for a while and was well known to both the Prime Minister Sir Michael and me. He was married to a young Papua New Guinean, played rugby for the National Rugby League team, the Kumuls, as Captain. Without our knowledge and without approval from the authorities he had decided to cross the border to interview OPM freedom fighter leaders. We only found out about it when the interview was relayed on the ABC news, much to our chagrin, placing the Government in an extremely difficult and embarrassing position.
I was left with no option but to inform the Prime Minister, who had also seen the interview, and the Cabinet on what had happened, as part of a report of the largest influx of border crosses into PNG territory and the security risks that it had presented. As a result, the Cabinet made a number of decisions and directed me in no uncertain terms on what to do. That was one of the most difficult tasks as I had to deal with someone who I knew well and respected as well as regarded as a tambu [family], him having been married to the region where I come from.
Sean, it was nothing personal against you, I was just doing my job when I had the unpleasant task of deporting you for that breach of protocol. Fortunately for Sean Dorney it was only a short sojourn as he was allowed back into the country not long after. In fact, both Sir Michael Somare and I had agreed, a few years later, that he was too good a journalist to lose to Papua New Guinea for fair and balanced reporting for the most part, with only a few exceptions, and that he deserved to be recognised in the Queens Honours list for his contribution to journalism in Papua New Guinea and the Pacific.
After Sir Michael lost Government to Pais Wingti in 1985, I succeeded him as leader of the Opposition and as Parliamentary leader of Pangu Pati in May 1988. When I was elected as Prime Minister in July 1988, I appointed Grand Chief Sir Michael Somare as Foreign Minister, where he served with me with great distinction until 1992. It was not until the 2002 national election that Grand Chief returned as Prime Minister when I was again appointed for a second time as Foreign Minister and then Treasury, serving until 2007.
Throughout our long association we did not always agree but when you had been in politics for over 40 years disagreements with even your closest friends are inevitable. But overwhelmingly it was an honour and privilege to serve him and maintain a warm and genuine friendship with him and his family until his sad passing.
It is and will always remain a lasting tribute to the Grand Chief that he served the nation with great commitment and great distinction for close to 50 years, one year shy of 50 years in fact. For that we must be ever grateful.
If you look at his long record of service, he was also known for his capacity of forgiveness. The various coalition governments that he put together to form stable government is testament to that. He served as Prime Minster for a total of 17 years and for three years as Chief Minister, in all 20 years altogether; the longest of any Prime Minister from a total of five coalition Governments. He was a master at forming coalition Governments serving as Chief Minister from 1972 to 1975, Prime Minister from 1975 to 1977, 1977 to 1980, 1982 to 1985, from 2002 to 2007 and after the 2007 National Election from 2007 to 2011.
I personally valued his enduring friendship and his political support greatly even in difficult and divisive times.
Grand Chief Sir Michael Somare held Australia and Australians in high regard. He always regarded Australia as PNG's closest friend, neighbour and most important bi-lateral development partner. Overall, his relations with Australia were harmonious and mutually beneficial. He worked with more Australian Prime Ministers than any other PNG Prime Minister. As Chief Minister from 1972 to 1975, he worked with the McMahon Government through Andrew Peacock as Minister for Territories and with the Whitlam Government on the transition from self-government to Independence. Subsequently, he worked with the Fraser, Hawke, Howard, Rudd and the Gillard governments during his four terms as Prime Minister. Some of his close friends and golfing and horse punting partners were Australians, up until the time of his passing.
That was especially demonstrated when he made an historic address to the Cairns session of the Queensland Parliament in 2008.
At Independence, Grand Chief Sir Michael Somare established diplomatic relations with China and adopted a One China Policy. Apart from establishing diplomatic relations with Indonesia he established and maintained good relations with its regional neighbours including all Asean countries and Japan. He ensured that Papua New Guinea played a constructive role in the United Nations, in the Commonwealth, in the Pacific Islands Forum and in the Melanesian Spearhead group.
The passing of the Grand Chief marks an end to an extraordinary and distinguished career that will remain unrivalled in the annals of Papua New Guinea history forever.
The fact that Grand Chief Sir Michael was honoured in a State Funeral at the Sir Hubert Murray Stadium in the presence of a packed attendance is a solemn reminder that it was here 46 years ago that he stood tall and proud to accept the full reign and responsibility of being Prime Minister when our Governor General Sir John Guise symbolically handed back the Australian flag to his Australian counterpart Sir John Kerr in the presence of both the Australian Prime Minister, Mr Gough Whitlam, and the Federal Leader of the Opposition, Mr Malcom Fraser, and witnessed by the Sovereign Representative, His Royal Highness Prince Charles.
It was a most fitting farewell to the country's most distinguished Chief of our Nation and the most revered Founding Father of the Independent State of Papua New Guinea.
May His Soul Rest in Eternal Peace.
TRIBUTE TO THE LATE GRAND CHIEF SIR MICHAEL SOMARE
Edward P (Ted) Wolfers
Introduction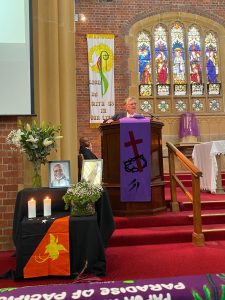 I appreciate and offer my sincere thanks for the honour of being invited to present this address on the present sad occasion
My children join me in sending our sincere, heartfelt condolences to Lady Veronica and her children – Betha, Sana, Arthur, Dulciana, and Michael Junior – and other members of the extended Somare family, together with the people of Papua New Guinea mourning the recent sad passing of Grand Chief Sir Michael Somare.
It says something very important about the late Grand Chief's role and many positive contributions in Papua New Guinea that his passing is marked by what is truly national mourning.
The condolence messages and public statements originating in other Pacific island countries – and further afield – underline the significant, positive contributions the late Grand Chief has made to international relations and by the example he set and the inspiration he provided for leaders and other observers in other countries.
Personal Memories
I first met Grand Chief Sir Michael Somare when I was briefly a visiting lecturer at the Administrative College (then often called 'AdCol') – which was then at 6-Mile – Port Moresby, in 1965.
The classes in which we both participated included more or less conventional classroom presentations and discussions on diverse aspects of governance.
Following the suggestion of the Principal, David Chenoweth, they also included discussions one night a week in which the students and I sat on the floor and exchanged information and ideas about more contentious contemporary political issues and events, such as the processes of decolonisation – and the views of leaders – in other parts of the world, including Africa. Participants in these discussions were able to take part in the conversation in languages other than English, provided that an interpreter was available (as was the case with students preferring to speak Hiri Motu).
The Bully Beef Club began to meet at the back of the main building, where students shared food and drinks.
Further conversations took place when we walked to the Boroko Hotel on Friday nights – with expatriates driving past sometimes offering me a lift but not the Papua New Guineans with whom I was walking (I used to decline their offers).
Two years later, when both of us were living in Hohola (in his case in a small brick house, of a kind referred to locally as a 'dog-box', close to Murray Barracks), I sometimes used to see him standing on the side of Wards Road waiting for a bus to take him to work in the morning and offered him a lift. We also met socially.
Life before politics
As an energetic critic of the colonial order, Michael Somare wrote a number of articles critical of Australian policies and practices in Papua New Guinea. They included articles for the New Guinea Quarterly, edited by the late Peter Hastings, for which he used a series of pseudonyms when writing while he was still a public servant.
When he stood for election to the House of Assembly in 1968, a number of expatriates in Wewak and Madang, inspired by the white supremacist regime in what was then Southern Rhodesia (now Zimbabwe), made clear in various ways that they opposed him. They included expatriates who drove around town with 'Recognise Rhodesia' stickers on their cars. A candidate who operated a small mechanical business in Wewak told people from the Sepik River who came seeking repairs to take their outboard motors to Somare to have them fixed.
Michael Somare was nonetheless elected.
While he was opposed both to expatriate racism and dual citizenship, he went on, when the contents of the post-independence Constitution were being debated, to urge Members of the House of Assembly considering the requirements for citizenship following independence 'to forget about the colour of their skin…. I urge all members … to forget about their racial differences. If you have been ill-treated once, never mind, forgive those who mistreated you.'
Grand Chief Sir Michael Somare has told the story of his life before independence in Sana, which was first published by Niugini Press in 1975.
Having been born and lived in Rabaul and attended a Japanese school, Grand Chief Sir Michael's strong sense of nationalism in a wider world has firm roots in his personal experience.
Political achievements
As an observer of his policies and actions, it seems to me that some of Grand Chief Somare's most important achievements have received little recognition. While some required action, others were matters of acceptance.
Thus, soon after assuming office as Chief Minister in 1972, he announced the formation of the Constitutional Planning Committee (CPC).
I was privileged to be one of a small team of Permanent Consultants to the CPC.
Unlike precedents in other colonial relationships, the constitution for an independent Papua New Guinea would not be imposed or negotiated over the table, so to say, with the departing colonial power.
The constitution would be legislated and implemented by Papua New Guinea's parliament following widespread consultation with the people. Australian laws would cease to apply unless the National Parliament decided to accept some pieces of legislation.
The CPC was charged with consulting the people and recommending Papua New Guinea's independence constitution. It consulted the people by asking questions, not offering options. As a result, it is not particularly unusual to meet Papua New Guineans who recall being consulted and truly believe that they helped prepare the Constitution.
Although he was chair of the CPC, the Chief Minister rarely attended meetings. His time was preoccupied with other issues, policies, and events, including implementation of the transfer of government functions and powers from Australia, Cabinet meetings, interactions with other Ministers and senior officials (including officials engaged in the transfer of functions and powers from the Australian Government), and diverse kinds of public appearances.
The consultation process and the CPC's deliberations took longer than originally expected. Presentation of the CPC's Final Report and implementation of the Constitution were accordingly delayed. The Chief Minister, the Government, and the House of Assembly accepted the delay.
When the CPC presented its Final Report to the House of Assembly in August 1974, the Chief Minister and his Deputy, Sir John Guise, presented a dissenting Minority Report, which was later replaced by a Government Paper. While they did not agree with many of the CPC's recommendations, they did not prevent the CPC's Final Report from being presented, published and debated in the House of Assembly before being presented, debated and the Constitution itself adopted when the House was reconstituted as the Constituent Assembly.
Moreover, the constitution-making process moved on as originally envisaged – with many issues being vigorously debated in the House of Assembly and then the Constituent Assembly.
Thus, much as he had hoped to move more quickly to independence and disagreed strongly with many of the CPC's recommendations, Grand Chief Sir Michael allowed the constitution-making process to move ahead as previously agreed.
Five years later, Prime Minister Somare was faced with – and lost – a vote of no-confidence. Again, in a manner not followed by leaders in quite a few other newly-independent countries, Grand Chief Sir Michael Somare accepted defeat and left office. This was another noteworthy, unusual and generally unremarked contribution to Papua New Guinea's constitutional continuity, which has, despite interruptions – the Sandline affair in 1997, in particular – been maintained.
Contributions like Sir Michael's tend quite frequently to be overlooked. However, the result to date is that, among the 190+ independent countries around the world, Papua New Guinea is now one of the 40-50 oldest unbroken constitutional democracies. Not a bad achievement when one reflects on the fears and doubts expressed by many Papua New Guineans and expatriate residents before independence!
In short, accepting a situation can make an important and positive contribution to a key principle of good governance such as respect for and continuity of constitutional arrangements.
Much the same can, arguably, be said in regard to the eventual outcome of the political crisis in 2011-2012 (for which former Prime Minister, Hon. Peter O'Neill, has recently expressed apologies to the Somare family).
Looking beyond constitutional arrangements and procedures, Papua New Guinea is not exactly the country it was at independence.
Grand Chief Sir Michael Somare was Prime Minister for a total of almost 17 years, longer than anyone else, albeit with other Prime Ministers serving at intervals during the period (the Grand Chief's terms of office as Prime Minister were 1975-1980, 1982-1985, and 2002-2011).
He clearly played an important part not only in directing and managing the Government-of-the-day, he also held other portfolios, both while he was Prime Minister and at other times.
The breadth and diverse aspects of public policy for which he was responsible help to explain why he is mourned by so many people in every part of Papua New Guinea.
As previously outlined, Grand Chief Sir Michael Somare played a key role in laying the foundations of national government.
In his days as Chief Minister and then as Prime Minister he advocated and oversaw implementation of policies to promote economic development for the benefit of Papua New Guineans, foreign policy, and many other aspects of government and citizens' daily lives.
Provincial and local-level governments were established and subsequently underwent significant changes.
Political parties now appear to play a more important role in national politics.
Meanwhile population has grown.
Services required and provided have changed (just think of the use of mobile telephones and the Internet in contemporary Papua New Guinea).
Foreign aid has generally become less flexible, being tied to particular projects and programmes (as well as donors' procurement procedures).
COVID-19 is taking an increasingly heavy toll of human lives.
The nationwide embrace of Grand Chief Michael Somare as 'father of the nation', 'a national icon', and 'leader of a thousand tribes', as he has been described following his passing, was hard to imagine for any future leader before independence.
Personal values
In addition to his political achievements, Grand Chief Sir Michael Somare's personal values help to explain the nationwide respect – and sorrow at his passing – which are being expressed.
He respected his marriage to Lady Veronica.
He was a good father.
He was a man of firm religious faith.
He was a powerful orator, charismatic, and a leader who truly believed in, advocated and worked to uphold the rights and potential of Papua New Guineans.
He was committed to both the principles and practices of democracy – a man who accepted loss and understood that policies and practices would not always go as he believed to be right (or, at least, the best possible).
He remembered friends and acquaintances and continued to recognise and welcome them with a cheerful smile (sometimes to their embarrassment when other people were watching).
Grand Chief Sir Michael Somare was a truly humble man (I can recall an occasion when we walked into a room to meet with critics and opponents, who sat with their backs to him and left as he entered. When he was asked how to describe the event to a wider public which regarded the Grand Chief as a respected national leader, he avoided likely negative public reactions to the way in which he had been treated by directing that it be simply announced that the meeting had been adjourned).
Conclusion
Thus we are gathered to honour the memory of a truly outstanding, pioneering leader, always faithful to his country, the people he represented, his family, and his friends.
It comes as no surprise that he decided to be buried at home, at Kreer Heights in Wewak.
May his soul rest in eternal peace.
And if one might be permitted a footnote: may the example he set continue to inspire the current and future generations of young Papua New Guineans, their neighbours and friends, both at home and abroad.
Federal Parliament Tributes for the late Sir Michael Somare
On 15 March 2021 the Australian Prime Minister Scott Morrison, in placing on record the death of Sir Michael Somare and acknowledging with gratitude the special and long relationship between Papua New Guinea and Australia, went on to say:
The ties are deep, forged and remembered at Kokoda, Port Moresby, Milne Bay, Lae, Rabaul and, of course, Bomana, and by the many kiaps, those young Australians who patrolled and worked with local village communities, walking across their vast and rugged interior, because it was once a territory of Australia. Indeed, we defended it during the Second World War.
The leader of the opposition Anthony Albanese, quoting Gough Whitlam in his speech of condolence said that:
Papua New Guinea had 'found a man whose time has come'. Confounding the doomsayers, Papua New Guinea made the transition to independence in peace, without either political or economic collapse. As PNG's first Governor-General, Sir John Guise, so famously put it on 16 September 1975, 'We are lowering the flag of our colonisers, not tearing it down.'

Mr Albanese concluded by saying in Tok Pisin:
Mipela sori tru long lusim yu, Grand Chief. Bel bilong mipela olgeta i hevi tru.
Memorial Mass, Sydney
A memorial mass for the late Grand Chief Sir Michael Thomas Somare CGL, GCMG, CH, CF, SSI, KStJ, KSG, was held in Kensington, Sydney, on 14 March 2021.
Steven Gagau, former President of the Sydney PNG Wantok Association and PNGAA Committee member, was MC on this special occasion, with the Principal Celebrant being Fr Roger Purcell, MSC.
Leo Oaeke, PNG Sydney Acting Consul General, welcomed everyone to the service. The speakers were His Excellency John Ma'o Kali, PNG High Commissioner to Australia, Sir John Kaputin, CMG, Andrea Williams on behalf of the Papua New Guinea Association of Australia and Professor Edward (Ted) Wolfers. Mr Alexander Meekin spoke on behalf of the Department of Foreign Affairs and Trade.
Thoughts were with Lady Veronica Somare, her children—Betha, Sana, Arthur, Dulciana, Michael Junior and their families.
Despite the torrential rain in Sydney, a large audience attended to show respect for this influential and successful leader who had a broad vision for a united Papua New Guinea and who remained friendly with so many Australians. It was clear how united PNG had become as people in all cities joined together to express their grief and acknowledge the loss of this astute leader and PNG's Founding Father.
It seemed poignant that, despite it being over forty-five years since PNG independence from Australia, the late Grand Chief's passing initiated such a heartfelt farewell from so many Papua New Guineans and Australians living in Australia.
Before lunch, which followed the service, a short remembrance ceremony was held with flag raising, singing of the National Anthem and National Pledge, led by Liz Corner and Daniel Luke.
Thank you to PNG Consulate General and Sydney PNG Wantok Association, with special thanks to colleagues Steven Gagau, Roxanne Pouru, Daniel Luke and the wonderful Sydney PNG community whose warm spirit of togetherness welcomes everyone.
It was a memorable day of tribute to Sir Michael, a day those present will long remember.
Andrea Williams
Memories of PNGAA Christmas Lunch with Sir Michael Somare, 2017
At the Committee Meeting before the lunch, we were informed that 'the Chief' would be in attendance and would give a speech. I must admit I was very excited but felt slightly anxious, as Events Co-ordinator, that all went well.
It was obvious that the members were thrilled about Sir Michael's attendance as the registrations started to arrive immediately. Some travelled long distances to meet up with Sir Michael. One couple came from Darwin.
Roger and I arrived early to set up the room for our members and guests. As with most of my events, Steven Gagau came early to assist. This time he was accompanied by his wife, Dr Jennifer Gagau.
Frantically dashing here and there setting up the decorations, the book table, raffles, etc.,
I turned to see that the Consul's wife, Mary, had arrived with Sir Michael. Our first, most important guest! Early, amidst the mad rush to have everything looking decorative and welcoming!
What could I do but greet him with respect and then explain we had a very important leader coming to visit us today and that I had to continue with preparations and he would have to excuse me. With a hearty laugh, he made himself comfortable on the outside area.
Sir Michael was most willing to have photos and chat with everyone. He obviously enjoyed meeting up with old friends including Ross and Pat Johnson, Quentin and Jan Anthony, just to name a few. In fact, Pat had made the very first PNG flag to be used officially, which is in many of the photos taken on the day.
Sir Michael spoke about his quieter life in PNG now in his retirement. I believed he appreciated the warmth, respect and admiration shown to him by all in attendance having been the First Prime Minister of PNG leading it through the transition of early Independence and for many more years after that.
Sara Turner
Farewell for Sir Michael Somare in Brisbane
In Brisbane, on Sunday 14 March, 2021 the Papua New Guinea community and friends showed their respect at a memorial service in the Cathedral of St Stephen, for a man known as 'Father of the Nation', founding Prime Minister, and loved family man, Grand Chief Sir Michael Somare.
The COVID-friendly memorial service that I attended for Sir Michael Somare was an uncharted experience in some respects along with the familiar elements of a solemn Christian farewell to a man known as 'Papa Bilong PNG'. I joined other PNGAA members, Phil Ainsworth and Kieran Nelson, for the service.
For the processional entrance, communities in traditional dress representing the PNG regions included: the Autonomous Region of Bougainville, headed by Veronica Henderson; Nombri and Bomai of Simbu, representing the Highlands; Geam and Aunty Maggie from Momase; Irianny Wanma of Kairuku and Milne Bay representing the Southern/Papuan Region and Scholastica of Manus, the Niugini Islands region. All were in their traditional attire and fine bilas.
The former Prime Minister of PNG, Sir Rabbie Namaliu and the Minister for Housing and Urban Development, Mr Justin Tkatchenko were represented. Sean Dorney delivered the last tribute. A great grandchild helped to carry the picture of the late papa bilong kantri. Special thanks are offered to the choir of East New Britain.
Stella Miria Robinson and David Tekwie led us through the occasion, with memories recounted from the lectern, uplifting live music from choirs and musicians, followed by a communion mass solemnised by Fathers Dylan and Paul.
Later there were refreshments provided by the PNG Federation Qld Inc., and more memories shared in the adjoining Francis Rush Centre.
There are many moments I will remember from that day: the uplifting music, Bougainville friends from my childhood, and hearing for the first time much of the history of the country and the man who shaped it as a modern, independent nation. This was an occasion that Sir Michael would have been very pleased to witness—PNG people of all ages embracing new technologies, in the beautiful setting of the cathedral, while bringing time-honoured traditional customs to an occasion of solemnity and celebration.
Many people worked hard at late notice to bring this occasion together.
Maureen Mopio Jane, Vice President of PNG Federation Qld Inc. posted comments in the PNGFQI Facebook group, acknowledging the collaborative effort to hold this memorial mass at short notice.
The Memorial Working Group comprised the PNG Federation Qld Inc. represented by Aiva Kassman, as Treasurer and Maureen Mopio-Jane as Vice President; Stella and Emily Taatu represented the Brisbane Gold Coast Catholic Community Group; UQ and QUT student leaders David Tekwie, Janet and Tom Parun and Betty Rehder; the PNG Consulate OIC Jeffery Kiangali and his office staff; Ken Dixon most importantly captured the ceremony for online viewing. Television coverage was provided by Stefan Ambruster of SBS. Through the PNG Federation Qld Inc. newly-elected President, Lynette Wessel, the Gatton SDA choir participated in the solemn mass.
Belinda Macartney
VALE Sir Michael Somare,
laid to rest 16 March 2021 at Kreer Heights, Wewak, East Sepik Province