Farewell to the Grand Chief From ABC News (PNG Kundu March 2021)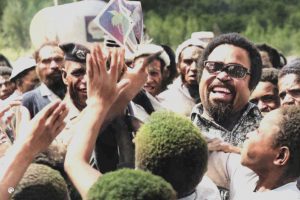 Papua New Guinea's first prime minister, Sir Michael Thomas Somare, gcl, gcmg, ch, cf, ssi, ksg, pc, died on 26 February 2021 in Port Moresby, aged eighty-four. Known as the Father of the Nation and Papa Blo Kantri, Sir Michael led PNG into independence from Australia in 1975 and was one of the country's longest-serving politicians, with a career that spanned five decades.
Michael Thomas Somare was born on 9 April 1936 in Rabaul, and raised in the East Sepik Province, a region he went on to represent in parliament. In 1972, he was elected as Chief Minister of the territory and pledged to lead it to self-government and then independence. Just three years later, PNG gained its independence and Michael Somare became the country's first prime minister at the age of just thirty-nine.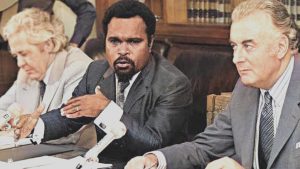 PNG observers, like the ABC's former PNG correspondent, Sean Dorney, say it was not an easy task to unite them and form one country. 'Sir Michael is absolutely unique and there is no-one else in the rest of the Pacific or Australia or New Zealand who had anywhere near the political career that he has had. It's not just he has been around for so long, but he actually dragged the country through to independence and I don't think people appreciate how difficult that situation was.'
He stayed in parliament for forty-nine years, and was prime minister on three separate occasions over that time, holding the top post for seventeen years in total, over four terms. He also served as the Foreign Affairs Minister, Leader of the Opposition and the local Governor of East Sepik Province.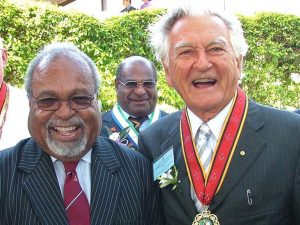 But Sir Michael's five decades in PNG politics were not without controversy. He was ousted from parliament, and the prime minister's post in mid-2011, after being out of the country for several months for heart surgery in Singapore. However, elections were held in mid-2012 and the people of his East Sepik Province voted him back into parliament. Five years later, his political career finally came to an end when he retired.
'We progressed through many waves and changes in the world, we survived our own bad decisions,' he said in his last address to parliament in 2017. 'We have united at times when the world thought it was not possible to do so, we must be thankful and we must always count our blessings. I gave my best years to this country by serving as a politician. I hope you will each find the grace to continue our dream for this country.'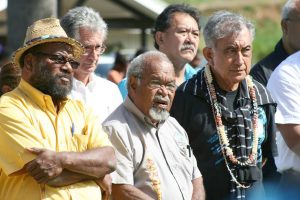 People in Papua New Guinea knew Sir Michael affectionately as 'The Chief' and the 'Father of the Nation'. He is one of only two people in PNG to be given the official title of 'Grand Chief', and was knighted by Queen Elizabeth II in 1990.
He is survived by his wife, Lady Veronica Somare, who he married in 1965, and their five children.
Edited extract from ABC News, © Bethanie Harriman—https://www.abc.net.au/news