Family Farm to PNG Development Bank — Story of a Didiman by Murrough Benson — Part Two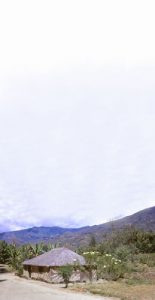 Part 1 in the June edition of Una Voce described my move to PNG and my posting as a didiman to Kundiawa, the administrative centre for the Chimbu District.
IN MID-JUNE 1966 I was posted to Gumine, about thirty miles south of Kundiawa and a couple of hours' drive—on a good day that is, with no rain, no landslips, no breakdowns (luckily, Land Rovers were generally pretty reliable) and no punctures, a combination not often enjoyed. The limestone-paved roads (where they were paved at all) were pretty harsh on tyres so we always carried a repair kit with plenty of vulcaniser patches. Another hazard on the road was pigs, and it was a good idea to avoid hitting one, as the usual response of the owners if you didn't stop was to remove the decking of a bridge further down the road to halt your progress while compensation was negotiated.
Fortunately, I managed to avoid hitting any pigs in my time in Chimbu, although I did once hit one on the Highlands Highway in the Western Highlands. I was lucky to avoid any confrontation with the local people on this occasion though as there was no one nearby at the time, and the big wide road allowed me to get well away from the scene before the dead pig was found.
Apart from access by road, Gumine was also serviced by Omkalai airstrip, renowned for its thirteen per cent slope up the ridge out of which it had been carved; it was said to be the steepest constant grade of any airstrip in the Southern Hemisphere. It was about seven miles from Gumine by road, but only about two miles if you took the tough one-hour walk across the big gorge between the station and the airstrip.
This route became quite familiar to me as the Department of Agriculture, Stock and Fisheries (DASF) extension centre was alongside the airstrip, and transport was often not available to make the trip on wheels. Departing planes would disappear off the end of the strip, down over the Wahgi River far below, before circling to regain height and going on their way.
Coming in to land presented another challenge: making sure the plane maintained enough momentum to reach the level parking bay at the top. More than one pilot not familiar with the strip found themselves stranded part way up and had to call on local manpower to help them complete their journey by giving the plane a push. A government air charter plane serviced Omkalai three times a week from Goroka, bringing in our supplies and mail, so we were by no means isolated. If we flew to Goroka it only took about fifteen minutes and Kundiawa was barely seven minutes away.
Apart from physically visiting other centres, communication with the outside world was by means of letters, telegrams or the twice-daily scheduled two-way radio hook up (known as the 'sked'). The 'sked' was used mostly to communicate with people within Chimbu. Most people also had a good shortwave radio to keep in touch with world news, sporting events and so on.
Gumine was a pretty little station at an altitude of 5,600 feet with a wonderful temperate climate—warm days and at least two-blanket nights. Annual rainfall was about 90–95 inches, mostly falling from November to March. Mosquitoes were practically non-existent and I rarely saw a snake there, which I was very happy about. The station serviced a population of about 38,000 people. During my time there it was home to seven expatriates—the Assistant District Commissioner (ADC) and his wife, a patrol officer, cadet patrol officer, a primary school teacher, doctor and myself.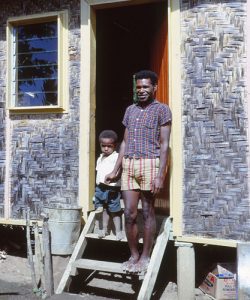 Initially, I shared a permanent materials house with one of the kiaps, but after a few months I chose to make way for a newly-arrived liklik kiap (cadet patrol officer) and moved into a little place of my own. It was a single-bedroom house with corrugated iron roof, woven pitpit walls and pitsawn timber floor—basic but very comfortable. I had my own mangki masta, Kuri, who bought all the vegetables and fruit at the weekly market on the station—never any shortage of lovely fresh local produce—and did all my cooking and cleaning. Kuri also came on patrol with me and looked after all the domestic arrangements while I was out working during the day. Sometimes his wife and children would help with the chores, too.
Regular meals or parties in each other's homes were our main social outlet and other recreation took the form of tennis, table tennis, football and swimming. The occasional weekend or few days away on business or pleasure at one of the bigger centres provided a bit of variety. One of those jaunts not long after I went to Gumine was to shear some sheep near Goroka for a woman, who taught the local people how to spin and weave wool and other materials. I met up with the fellow who was with me on my first patrol outside Kundiawa, and it took us most of a day to shear thirty or forty sheep with extremely long and greasy wool. We also marked a few lambs while we were there.
The DASF office when I first went to Gumine was an eight-foot square kunai (tough, long-bladed grass) hut with woven pitpit walls and a dirt floor. It was clearly designed for people much shorter than my six foot two frame—but it didn't really matter for I didn't intend spending a lot of time there. The rats obviously enjoyed the meagre stationery supplies, but I'm not sure that the recipients of my monthly reports were particularly impressed with the quality of what I sent them—and that's before they even got to read the content. I suspect my explanations may have fallen on deaf ears, too; a bit like some of those excuses teachers get from students who have not done their homework.
A visit by one of the DASF 'big wigs' from Moresby, after I had been at Gumine for only a couple of weeks, hastened the funding of a new office; it's probably an understatement to say he was not particularly impressed with our kunai hut. Nothing like getting them out in the real world to get a bit of action—not that I was particularly concerned about action on that front at the time, but the presence of both the regional and district agricultural officers at the time probably added some weight to the argument for an upgrade. Our new office, complete with concrete floor, corrugated iron roof and woven pitpit walls was ready for use early in 1967.
The local DASF staff with me consisted of a very capable assistant agricultural officer, who had done a two-year course at PATI (Popondetta Agricultural Training Institute), an agricultural assistant who can perhaps be best described as a bosboi (foreman), again very capable in that role, and nine farmer-trainees who stayed with us for up to twelve months, and learned by helping us with our work in the field. The idea was that they would then return to their villages and help spread the word around. How effective this trickle-down approach was, however, is debatable. I suspect many of these young men drifted into town rather than return to their home places.
End of Part 2
Part 1 can be found HERE
Part 3 can be found HERE