EVENTS
Below is a listing of upcoming functions and events of interest to PNGAA members—if you have an activity you wish to advertise or promote, please send the details by the next Copy Deadline, 2 July 2021, to editor@pngaa.net
SYDNEY
PNG Tales No. 2
Members and guests are invited to a lunch and talks given by the following speakers:
BOB LAWRENCE: 'Pacific Islands Monthly: historical perspective'
LESLEY WENGEMBO: 'Art Practice and Journey of a Contemporary PNG Artist
Where: Hornsby RSL Club,4 High Street, Hornsby
When: Sunday, 6 June 2021 at11.00 am–3.00 pm
Public Transport: Train to Hornsby Station. RSL is five minutes away.
Parking: RSL Club and parking station beside club.
Entry: Inform desk that you are attending an event to have your ticket validated. Disability access is available.
Luncheon: $40 pp, includes lunch & some drinks.
CASH BAR ONLY.
Please advise special dietary requirements at the time of booking.
Contact: Sara Turner 0401 138 246.
Email: events@pngaa.net
Payment: Electronic transfer BSB062 009; Acc. No. 0090 7724.Please notify treasurer@pngaa.net when payment is made.
Please Note: the gathering will be subject to the COVID-19restrictions applicable in NSW.
PNG History talks
PNGAA member, Donald Denoon, has advised that the Pyrmont History Group is hosting two talks about Papua New Guinea.
DAVE WILKINS: 'Patrols into the Stone Age'
Sunday, 20 June 2021, 5 pm. DONALD DENOON: 'Whitlam's Roles in Papua New Guinea'
Sunday, 18 July 2021, 5 pm.
Where: Jacksons Landing Station,
58 Bowman Street, Pyrmont.
Cost: These events are free for everyone with an interest in history and people. At present up to 50 people can attend. The talks are recorded and available, later, on the following website: https://pyrmonthistory.net.au/sunday-talks BRISBANE
Annual PNGAA Brisbane Lunch 2021
Where: The Ship Inn, South Bank
Parklands, Brisbane
When: Sunday, 25 July 2021 at11.30 am–3.00 pm
Cost: Food and drinks at own expense. Booking: at Facebook page or this website https://www.trybooking.com/BQXVGRSVP: 21 July 2021.Donation: $10.00 when booking requested by PNGAA to help fund ongoing projects.
Entry Conditions: The Ship Inn will still require the guests to all sign in using the QR code (please check that you have all downloaded the Check In Queensland App).
GOLD COAST
Gold Coast PNG Club
Luncheon: Noon, Sunday, 20 June 2021Independence Day Luncheon: Noon, Saturday, 19 September 2021
Christmas Luncheon:
Noon, Sunday, 28 November 2021
Where: Southport Golf Club, Slatyer Avenue, Southport
Contact: Heather Kingston
hkingston@live.com.au/0412 999
999 or Ru Taylor prt7@live.com.au/0418521285RSVP: Five business days before scheduled date.
Special note: After registering, lunch must be paid for whether you attend or not, unless notification of non-attendance is given five business days before the event.
Advance notice:
The Gold Coast PNG Club is celebrating fifty years in June 2023 with planning underway for a bikpela bung wantaim to mark the occasion. Details will come out in the coming months.
Cairns Lunch, April 2021
Eighteen people at tended this lunch and all enjoyed reminiscing of past days in PNG. No mention made of Chris Warrillow's eightieth birthday!
The attendees were: Alan Davey, Bob Welsh, Chris Warrillow, Deryck Thompson, Dympna Leonard, Geoff Hartnett, Lyall Forde, Graham King, Caroline Fountain, Hugh Miller, Jim and Any vander Kamp (and son Dillon), Martin Kerr and Anna Chu McGibbon, Rod Cantlay and Rod and Gini Donovan.
Get Together at Rathmines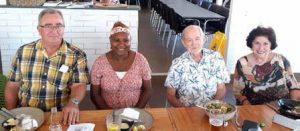 After more than a year of lockdown, isolation and social distancing many of our Hunter Valley members came together on8 April 2021 for a social catch up. Our events co-ordinator, Sara Turner, and Lake Macquarie member Suellen Holland organised a tour of the Rathmines Heritage Centre followed by lunch at the historic Rathmines Bowling Club.
Our morning started with a visit to the (newly-opened) Rathmines Museum, which included a tour of World War II photographs taken by acclaimed photographer Max Dupain, followed by a walking tour of the old Rathmines (Catalina) Flying Boat Base.
The event was attended by twenty-seven members, many of whom had not seen friends for twelve months or more. We give special thanks to our tour guides Jan Mitchell and Rebecca Dallwitz and to the Rathmines Bowling Club for a great lunch. We thank everybody who attended and hope to see you again very soon.
Lukim Yu,
Suellen Holland,
for Sara Turner,
PNGAA Events Co-ordinator