EVENTS DIARY
Perth Christmas Lunch, November 2021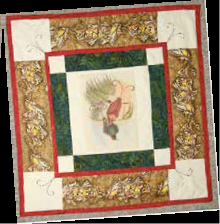 The Perth Christmas lunch was held at the RAAF Club on 26 November 2021 and the highlights of the day were the short films of the main towns in TPNG in the 1960s. Daryl Binning brought along his mobile projector and showed films of Moresby, Lae, Rabaul and Madang in the sixties. Fabulous. We all loved it.
Jill Worsley made another lovely quilt (pictured), featuring a bird of paradise,
that raised $90.00 for the PNGAA charities. Rose Lowe won the raffle.
Our next lunch will be on the 25 March 2022 and Daryl Binning will return us to our shared past with his marvellous films.
Linda Cavanaugh
Asia Pacific Triennial Art Festival
PNGAA members Belinda Macartney and Don Wotton, curator of Paradise Palette, visited an annual exhibition of Port Moresby Street artists held at the Petrie Terrace Gallery, Brisbane QLD.
They also attended the Asia Pacific Triennial Art Festival (APT10) at QAGOMA, South Brisbane. Their advice is to start on the top floor where PNG arts are well represented and work down towards the river café!
The exhibition is of its usual exceptional international standing and well worth a visit if you are in Brisbane. The exhibition closes on 25 April 2022.
Lunch at Cairns, December 2021
About twenty people attended our lunch in early December 2021. A newcomer was Maggie van Fleet, daughter of Peter van Fleet, who was on my kiap intake course in February 1972 (fifty years ago next month). Unfortunately, Peter is not in good health and is in a care facility in Brisbane.
As usual, old memories were shared, and a few good stories were told and retold, and a few new ones surfaced from the mists of time!! Caroline Fountain and Hugh Miller, who were also present, escaped the photographer (overleaf).
We had apologies from Allan Wood, Arch McArthur, Bobbie and Allan Graham, Chris Warrillow, John Mudge and Caroline McIntosh, Terry Gough and Wayne Dorgan.
Deryck Thompson
PNGAA Melbourne Luncheon
Some PNGAA members and visitors gathered at the Curry Vault in Melbourne on 7 December 2021 to celebrate freedom—and to enjoy some drinks, food and conversation.
Looking forward to next curry lunch sometime in March 2022!
Andy Grainge
PNGAA Visit Kokoda Track Memorial Walkway
Wednesday, 23 March 2022
The executive committee decided at its meeting on 27 January 2021 to visit the Kokoda Track Memorial Walkway in Concord to examine further the potential for collaboration with that group.
All members of PNGAA are invited to participate.
Venue: Killoola Street, Rhodes Park, Concord 2137
Time: 10.00 am
Parking: Available at site and at Concord Hospital.
Public Transport: Rhodes is the closest rail station and within easy walking distance. See also: https://www.kokodawalkway.com.au/planning-your-visit/
RSVP: Contact Cheryl Marvell 0438 635 132 or Andrea Williams 0409 031 889.
PNGVR Executive Committee Meeting
Saturday, 9 April 2022
Venue: PNGVR'S Museum, Wacol, Brisbane at 10.00 am
Catering: Bring your own lunch. All members are welcome.
Photos of event goers . . . .