EVENTS DIARY
A Huge and Very Warm Welcome to Sigrid Yaru!
Recently an ask was put on PNGAA's social media for someone, or a group of friends, to organise the annual Christmas lunch in Sydney this year, usually held on the first Saturday in December.
We were absolutely delighted to hear from Sigrid Yaru … and details will be on the PNGAA website and in the next journal as soon as the Christmas lunch event details are sorted. Please pencil the date in your diary—Saturday, 2 December
—and ensure you come along and say hello!! Anyone who has enjoyed a Sydney Wantok event will know of her, and here is a little about Sigrid's background:
'My name is Sigrid Yaru, I'm from Morobe and Enga provinces in Papua New Guinea. I reside in Sydney and have done so for the past 18 years when my immediate family and I migrated from Papua New Guinea in 2005.
I currently work full time at the Commonwealth Bank but, aside from that, I am also a Community Engagement Lead for Sydney Wantok Association and on the Board of Pacific Professionals Network—all with the aim of fostering relationships between Papua New Guineans and the rest of the community in the diaspora.'
SYDNEY
Bush, Brush and Bubbles
An evening with Archibald 2021 and Wynne 2020/2021 Finalist, Julianne Ross Allcorn
Date: Friday, 3 November 2023
Time: 6.30 pm–9.30 pm.
Venue: Roseville—venue to be advised to confirmed participants.
Cost: $150 includes art materials, 3 hours of art instruction, great company, and high tea canapés. BYO bubbles and drinks (glasses supplied). Limited numbers (12).
RSVP: 18 October 2023.
Payment to PNGAA BSB: 062-009 Acc. No. 0090 7724 Ref: ART + your surname.
Email: coordinator@pngaa.net to confirm your spot.
Having returned from a delightful sojourn at an artist workshop and residence in the wonderful La Porte Peinte, Noyers, sur Serein, Bergundy, Julianne completed numerous artworks and enjoyed creating with fellow artists. This was followed by an art escape to the Australian Centre and then the Grampians in Victoria, so memories and inspiration are overflowing!
Julianne is an artist who draws inspiration from nature … Her artworks perfectly illustrate what an immense Influence the natural beauty around us can have on the imagination of an artist—Purple Noon Gallery.
Julianne is a highly accomplished practising artist with works in many collections and has displayed in many group and solo exhibitions.
Awarded the 'Trustees Watercolour Prize' in the WYNNE 2020 AGNSW, Julianne's artworks are held in various private collections around the world—London, Cornwall, Switzerland, USA, France, Australia
Born in Rabaul, PNG, and now residing in Roseville, Sydney, Julianne was the Events Co-ordinator of the Papua New Guinea Association of Australia from 2009–15 and curated the PNGAA Art Exhibition 2015.
Julianne says: My two loves in life besides my family are dancing and creating artworks. Without these I am not whole. Drawing is meditation. Teaching is the reward.
PNGAA Annual Christmas Lunch
Date: Saturday, 2 December 2023
Further details will be available soon on the PNGAA website and in the next journal.
 BRISBANE
Anniversary Luncheon to Acknowledge the Disbandment of the PNGVR
Date: Saturday, 21 October 2023
Time: The NGVR & PNGVR Ex-Members Association luncheon will be held after the AGM.
Venue: Everyman's Hut, 907 Boundary Road, Wacol.
The Papua New Guinea Volunteer Rifles (PNGVR) was formed in 1951 and disbanded in 1973.
SUNSHINE COAST
Kiap Reunion 2023
Date: Sunday, 12 November 2023
Time: 10.00 am.
Venue: Kawana Waters Hotel, 136 Nicklin Way, Kawana Waters.
Cost: meals and drinks at own expense.
RSVP: 15 October 2023. The venue needs to know approximate numbers by this date.
Contact: Peter Salmon – (mob.) 0438 092 052 or (email) kiap@optusnet.com.au
Transport/ Parking: Hotel parking available.
Special Notes: This invitation is extended to all kiaps, their families, their friends and other acquaintances from a previous lifetime such as chalkies, didimen, etc.
The Kawana Waters Hotel is the same venue as for past years. Drinks will be available at bar prices from the Lounge Bar and Public Bars and these bars will be open from 11.00 am to 10.00 pm. Some of the diehards have been known to congregate on Saturday afternoon for pre-Sunday drinks.
The venue outlook is over water to an extensive marina and has a covered outdoor deck area linked to an indoor bar/lounge with adequate dining and seating facilities available for our use. The bistro adjoins our area and, as with previous reunions, you will be able to order your own meals and sit with whom you choose.
The restaurant will be open from 11.30 am to 8.30 pm. Informality will continue to be the order of the day. There will be no speeches, everyone is far too busy catching up with friends. This format has proven popular so we will stick with it.
The Kawana Waters Hotel (https://www.kawanawatershotel.com.au/) has sixteen renovated motel-style rooms. If you require a booking, please phone the hotel on 07 5444 6699 and mention that you are part of the 'Kiap Reunion' group to secure a unit. It is the case of first in, etc. but we know the rooms were found to be very much in demand. The Function Co-ordinator has allowed us a 10% discount on accommodation. Other accommodation is available nearby.
Our email address list is up to date as much as it can but not all kiaps are listed, and some email addresses may not be current. Please mention the reunion to all of the kiaps you know just in case they are not on the list.
 GOLD COAST
Gold Coast PNG Club Christmas Luncheon
Date: Sunday, 26 November 2023
Time: 12:00 noon–2.30 pm
Venue: Southport Golf Club
Cost: To be advised.
RSVP: Monday 20 Nov. 2023
Contact: Iava Parapa-Falvey, 0416 820 680, iparapafalvey@yahoo.com
Transport/Parking: Onsite Parking available.
Reports, News & Reviews
functions, reunions and ceremonies held throughout Australia & PNG
CANBERRA: Montevideo Maru Memorial Luncheon

This was held in Canberra at the Pavilion Hotel, followed by the Australian War Memorial (AWM) Last Post Ceremony when the story of the three Turner brothers who died on the MS Montevideo Maru was told (see the Inside Back Cover).
Over 50 attended the luncheon (above) including many descendants of those lost and several of the team which assisted in finding the wreck of the Montevideo Maru in mid-April 2023. The luncheon was organised by PNGAA's John and Carolyn Reeves. Kylie Adams-Collier sang her 'Montevideo Maru 1942' song at the start of the luncheon.
The keynote speaker was Andrea Williams who was on the search ship, Fugro Equator, when the wreck was located. Andrea's talk was accompanied by many photographs and a good description of the technicalities involved finding a vessel over 4,000 m under the ocean using an Autonomous Underwater Vehicle (AUV).
Another speaker was Mark Dale, a nephew of the Turner brothers, who gave a moving address at the luncheon. Other Association members present were Michael White and Neil Gow.
PHIL AINSWORTH
MELBOURNE: PNGAA Lunch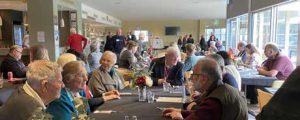 There was a fantastic turn-out of around 80 people at the Melbourne PNGAA lunch on Saturday, 22 July 2023 at East Malvern RSL (, including three evacuees from Rabaul at the time of the Japanese invasion, who all had relatives on board the MS Montevideo Maru.
Our guest speaker for the day was Andrea Williams who was part of the delegation on board the Fugro Equator ship searching for the Montevideo Maru wreck, sponsored by the Silentworld Foundation with assistance from Department of Defence. Michael Gooding, from Silentworld, also attended.
The humanitarian expedition aimed to find the final resting place of 1,053 military personnel and civilians from 14 nations, most of whom were Australian soldiers. The sinking of the ship 81 years ago resulted in one of the most tragic losses of life in Australian maritime history.
Andrea's detailed presentation gave a great insight into the search and ultimate discovery of the remains of the shipwreck. Also, how sensitively the search was handled and the consideration given to the lives lost.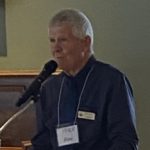 Thanks and appreciation must go to Peter Ryan for organising this event and the raffle prizes, and to all those who helped out on the day.
Please check the PNGAA website HERE for photos of the event.
Claire van Bakel
BRISBANE: Montevideo Maru Memorial Service
At the Brisbane Cenotaph on Saturday, 1 July 2023 the NGVR & PNGVR Ex-Members Assoc-iation held its 81st Anniversary Service commemorating the sinking of Montevideo Maru, and the loss of at least 36 NGVR soldiers.
Twenty-four members and friends as well as descendants of those lost on the ship and their friends attended this special service in Brisbane, the first conducted since the finding of the wreck of the Montevideo Maru off the coast of the Philippines in April this year.
Paul Brown opened proceedings and introduced Vice President, Bob Collins, then Assn Patron Maj. Gen. Professor John Pearn AO, RFD delivered a very insightful address followed by prayers, wreath laying, the Last Post and Reveille and the singing of the National Anthem.
Reprinted from Harim Tok Tok, August 2023
CAIRNS: July 2023 Lunch
Our regular lunches here in Cairns have fallen by the wayside, but I do try and arrange a lunch whenever we have visitors to Cairns and this often results in people catching up after long periods of time.
Recently Chris Warrillow (1959) and Phil Browne (1972) (and wife Elza) were up from Melbourne. Chris and Phil last met in Kagua in 1974 when Chris was ADC Kagua and Phil was posted there as a Patrol Officer. Also, Geoff Hartnett (ex-Talair) caught up with Arch MacArthur (1971)—they had last crossed paths in Alotau in the mid-1970s.
Present at the lunch: Arch MacArthur (1971), Bob Welsh (1968), Chris Warrillow (1959), Eric Willsmore (no information), Geoff 'Skippy' Hartnett (ex-Talair/AirNiugini), Hugh Miller (ex-Coastwatchers Madang), John and Elizabeth Fenske (ex-Talair/AirNiugini), Martin Kerr (1964), Phil (1972) and Elza Browne, Tony Pryke (1962), Warren Bartlett (1965) and Deryck Thompson (1972) and Dympna Leonard.
Apologies: Chris Makin, Laurie and Mai Bragge, Lyall Forde, John Wilkinson and Paul and Marie Van Staveren.
Note: Years in brackets indicate year of appointment as kiap.
Deryck Thompson
Gold Coast: PNG Club 50th Anniversary
Congratulations to the Gold Coast PNG Club on reaching its 50th Anniversary—a significant milestone which we, as members, should celebrate. And celebrate, we did, in style with a bikpela pati, a spectacular cultural event held on 24 June 2023 at the Corporate Suites of the Gold Coast Turf Club, attended by over 160 members and guests.
Commemorating this landmark, the Club hosted a Charity Raceday as part of the bikpela pati with all the fanfare and jubilation. The event was a resounding success, raising more than $21,000 for our charity beneficiaries—the Kokoda Track Foundation, Paradise4Kids through Haus Pikinini, Lite Haus International, PNGAA Scholarship Fund (see page 4) and YWAM Medical Ships (PNG)—to help their sterling efforts in supporting and improving education and health care services in PNG, especially in remote communities.
The Corporate Suites overlooking the racecourse provided an ideal setting for the bikpela pati as it was 50 years since the first formal gathering was held at the old Trotting Club in Southport.
The suites were ablaze in the national colours of PNG; tables draped in black tablecloths topped with gold and red table runners, the chairs were encased in yellow and red sashes while the colourful flowers as centrepieces completed the ensemble.
As the members and guests entered the venue, they were in awe of the atmosphere, abuzz with glitz and glamour from high-end couture and fashion accessories as well as the colourful PNG traditional costumes! Their attention was immediately drawn to the lavish auction items on display and the many raffle prizes—return airline tickets, jewellery, fashion accessories, hamper baskets, wines, champagnes, signed football jerseys, restaurant vouchers and basketware and painting from PNG.
President Greg Pike welcomed everyone and thanked the Club Committee members, led by the incomparable Julie Webb, for their efforts in organising the extravaganza. He then introduced Kieran Nelson, our Guest Speaker and made special mention of Yoshimi Ewing another original club member.
Kieran, accompanied by his lovely wife, Margot Lambert-Nelson, spoke of the early days when he joined the Club with his parents in the 1970s and remembered the first gathering at the Trotting Club. 'As a member of the PNGAA, New Guinea Volunteer Rifles and PNG Volunteer Rifle Ex-Members Association I would like to pass on the best wishes of these associations and congratulate the Club on your achievements over the years,' he said.
Congratulatory messages were received from the PNG High Commissioner to Australia, His Excellency, Mr John Ma'o Kali, CMG, OBE and the Acting Consul-General, Mr Jimmy Ovia.
We are extremely grateful to all the sponsors who heard our plea for help and contributed generously to our worthy causes. These were Aesthetically Yours, Air Niugini, Des & Sue Kurtz, Digicel, Don Wotton (Paradise Palette), Indie Vibes, Framed Just For You, Gold Coast Magazine, Gold Coast Suns, Gold Coast Turf Club, Hogans Jewellers (Toowoomba), JAR Millinery, Karen Gosling, Lainie Moore Jewellery & Fashion, Liz Clift International, Margaret Sponberg, Mariana Jewellery, Michael Dooley Photography, Mozza Mozza Restaurant, Performance Studios, PNG Bilums & Baskets, Queen Emma Chocolates, Recession Chic, Schuck Restaurant, Sirromet Wines, Slim Magazine, SP PNG Hunters, Starfire Diamonds Sonia Stradiotto Couture, Southport Golf Club, Tea by Birdy, Terry White Chemists, Ultraderm and Unique Trends.
Bruce T, in his elaborate bilas, resembled a fierce highlands warrior and the Roro Dancers in their colourful yellow and red grass skirts and tattooed faces were a big hit with the revellers as they proudly showcased PNG culture. It was certainly the highlight of the festivities.
A massive thank you to those who contributed in some way to making the Club's 50th Anniversary celebrations a huge success and to all who attended.
We couldn't have perfected the successful extravaganza that was the bikpela pati Charity Raceday without the expert help of Jasmin Feenan, Gold Coast Turf Club's Event Coordinator, who executed and delivered our requirements and logistics in a timely and professional manner.
The elaborately decorated Photo Wall, which featured intricately handmade velvet roses sewn together was created by Luxe Designs and the flowers and table settings were produced by Nikki Bartlett.
The Roro Dancers from the Queensland Kairuku Association (QKA), who have been performing for the last six years, have gained a lot of popularity in the Brisbane and Gold Coast communities. They are passionate about the preservation of their culture, language and traditions which they proudly promote at every opportunity.
Maureen Mopio-Jane, the Public Relations Officer of the QKA had this to say, 'Many thanks for your kind hospitality and selecting our Roro Dancers to represent PNG. Congratulations once again for reaching 50 years. All the best for the future. We proudly enjoyed performing for your organisation and are glad to hear the crowd were pleased.'
Bruce T, who was very popular with everyone, said that he and his dad, John, were honoured to have been asked to participate at the 50th anniversary celebrations. He spoke of the importance of cultural ties to PNG and was proud to have demonstrated his heritage to signify who he is. From Tondmong village in the Western Highlands Province, Bruce is of the Nenga Engmb tribe. His father John lent his expert skills in preparing Bruce for his magnificent warrior look for the event. Following the end of the festivities, Bruce said, 'It was a joy sharing my identify with all of you and I sincerely hope to be part of the Club's events in the future.'
The judges had their work cut out for them as they tried to concur in choosing the winners of the best-dressed male and female categories among the many stunningly dressed women and dashing men in their raceday wear. Finally, four lucky winners were selected.
Wayne Nuku and Peter Tuitama of the Poly Boys kept us entertained with the sounds of the Pacific Islands and upbeat modern songs until the late afternoon.
Bob McGahan, the photographer, deserves an award for having the patience of a saint! He was in high demand for photo sessions especially with Bruce T. I am reliably informed that Bob produced over 700 photographs! Interested persons should visit the Club's Facebook page to upload their selections or contact a Club Committee member.
'Auctioneer' Charmaine Partridge was brilliant in working her charms on the potential bidders for the lavish auction items. Congratulations to the lucky winners of the bumper raffle prizes and the successful bidders on the magnificent auction items!
Judging by favourable feedback received, a good time was had by all who attended and enjoyed the festivities particularly the cultural aspects of the bikpela pati, thanks to Bruce T and the Roro Dancers.
The Club is proud to be celebrating this momentous occasion and pays homage to its founding fathers; Doug Elphingstone, Bob Wilson and Terry Powell. Thank you to the current and past committee members who are to be commended for their commitment and dedication to the Club's continued success and to the members for their unwavering support.
Iava Parapa-Falvey