EVENTS DIARY
Melbourne Christmas 2022
The PNGAA lunch in Melbourne on 19 November 2022 had a great turnout of 60 attendees including kiaps, relatives, PNG locals, Rabaul & Montevideo Maru Group (R&MMG) members or relatives, 2/14th Battalion members, and 2/22nd Battalion members and relatives.
We had attendees who made a great effort to travel, some from far and wide in country Victoria, and even an attendee from NSW who happened to be in Melbourne at the time.
Proceedings started with a 'Welcome' speech by Yana Di Pietro, who also thanked all the previous organisers of these events.
This was followed by an introduction of the main speaker by Peter Ryan, a new member. Peter's background with PNG started with his father who fought with 2/14th in PNG. Peter now runs trekking tours in the Kokoda Corridor and wanted to get more involved and found PNGAA. He became a sponsor of the Kokoda Track Foundation and funds two full-time staff at Kokoda Hospital—Thomas (Tropical Diseases) and Maggie (Midwifery).
He also mentioned Chris Warrillow, and John Quinn as kiaps, and read the article from The Commando magazine regarding the official kiap recognition. Peter then introduced some of the attendees such as Marg Curtis—2/22nd Lark Force, Gillian Nikakis who assisted with the R&MMG commemorative seat and storyboard event on 23 January 2023 in Mornington and George Gemmill who organised the Montevideo Maru Mural at Stanhope RSL.
David Howell, the guest speaker, spoke about the battle of Bita Paka in 1914 in which the Australian Naval and Military Expedition Force engaged the Germans defending the radio station at Rabaul. He indicated its importance to subsequent battles, its relevance to World War II, and to today. His talk was very informative and well received.
A raffle, held during proceedings, raised $400 for the PNGAA scholarship fund.
A more complete coverage of the event can be found HERE.
Claire Van Bakel
Kenthurst Rotary International Sepik Dental Project
Two years ago, at the PNGAA Christmas Lunch in Sydney, we were fortunate to be seated on the same table as Karo Haltmeier. Karo is a Rotarian with Kenthurst Rotary International and mentioned that her club was fundraising to build a dental clinic in Papua New Guinea (PNG).
In 2020 Michael O'Connell (Kenthurst Rotary Club President) approached Karo for advice on a project for PNG to be funded by Rotary International. After careful discussion, Mike and Karo decided on a dental clinic in Karo's home village, Korogu. The village is located on the Sepik River in the East Sepik Province.
I (SH) immediately offered to host a 'fund- raising' lunch and, not one to miss an adventure, 'invited' myself along on the Sepik Project trip. I also coerced my cherished childhood friend (former PNGAA Events Co-ordinator), Sara Turner, to help with 'everything'. Sara is also volunteering her services and will accompany me on the Sepik trip.
On 8 October 2022, Sara and I hosted a lunch at the Royal Motor Yacht Club, Toronto. It was a cracking event attended by committee members from Kenthurst Rotary Club, Committee Members, and members from the PNGAA, family and friends.
Our PNGAA songbird Kylie Adams-Collier also entertained us with song and guitar.
After a short welcome, introduction and speech, Sara's husband Roger took charge of our many raffles, guessing competitions, lucky door prizes and the silent auction.
The generosity of all who attended was unsurpassed. We are proud to say we raised, (including online donations), approx. $2,400.00. A special mention is due to Steven Gagau and the Sydney Wantoks who raised a whopping $500.00!!
The funds will help cover the costs of a dental chair, dental equipment, generator, water tank, roofing for the clinic and accommodation, building tools, timber and transport fuel.
The estimated budget for the project is AUD $50,000.00.
The clinic will be staffed by volunteers and will provide dental services to approximately 200,000 rural people.
It is an honour and pleasure to be involved with such a wonderful project and we look forward to our Sepik Dental Project trip and we thank everybody who contributed to this great cause.
Suellen Holland & Sara Turner
2022 Canberra Christmas Lunch
Well, what can one say? 2022 ended with a superlative Christmas Lunch for the Canberra and Southern NSW members at the Pavilion Hotel on 10 December. It was encouraging to see the great mix of characters get together. Some were obviously old friends, and others became new friends.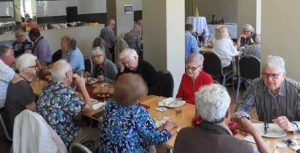 Many thanks go to our two speakers for the day, Dr Henry Ivarature and Rod Miller.
A special thanks goes to Rod, who stepped in at the last minute to discuss his book, Lost Women of Rabaul, leaving everyone looking forward to his next book; hopefully, we won't have to wait 20 years for this one. (See review PNG Kundu, June 2022, page 61.)
Dr Henry Ivarature provided an insight into the issues faced by being the only person from PNG appointed to a senior executive role at the Australian Pacific Security College at ANU. He was a delightful and articulate speaker who regaled the gathering with the story of his journey to where he is today.
John Reeve
Perth Christmas Luncheon
Our Perth PNGAA Christmas luncheon was held at the RAAF Club in Perth on Friday,
25 November 2022. We had a lovely day with most of the regulars.
Peter & Jill Worsley donated a hand-made throw with a Bird of Paradise in the centre and Phillip Bradley's book, D-DAY New Guinea. New member and old territorian, Bill Fielding, drew first prize and won the quilt, and Greg Leech won the book.
$90 was donated to the PNGAA from the raffle.
Bill is 98 and fought in WWII and joined the Department of Agriculture Stock and Fisheries (DASF) after the war and left when many permanent officers left in 1972.
If anyone knows any former or interested PNG folk in the Perth WA area, all are welcome to come along to the 2023 gatherings!
Linda Cavanagh Manning
PNGAA Sydney 2022 Christmas Lunch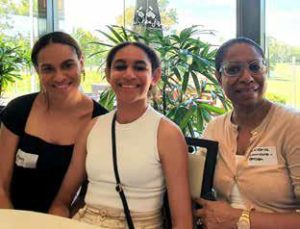 A very successful Christmas lunch was held at North Ryde Golf Club in Sydney on Sunday, 4 December 2022 with guest speaker, Dulciana Somare-Brash, from Port Moresby.
Dulciana was a delight to meet, as were her two impressive daughters—Reia and Tia. Our PNGAA members are always interested in current issues between Papua New Guinea and Australia, and enjoyed the knowledgeable and candid talk very much. It was refreshing to hear how life and the economy is in PNG at the grass roots level. Dulciana, Reia and Tia enjoyed meeting other guests, and those attending thoroughly enjoyed meeting them! Thank you to Max Uechtritz for enabling this.
It highlighted, again, that Australia needs to step up its own education to inform Australians about the significant joint history of our countries, with an outcome of broadening continuing links.
Our thanks to Cheryl Marvell for organising the event so magnificently. Balloons decorated the tables and guests were treated to two magnificent cakes, beautifully decorated with the PNG Coat-of-Arms and the PNGAA Logo, as they entered the spacious room. The cakes didn't just look good, they were absolutely delicious! It was a special treat which was really appreciated Cheryl, thank you. Look at the photos and drool!
Kylie Adams-Collier kindly ensured we had some wonderful photos of the day—thank you Kylie—and thank you to Claire van Bakel and Roy Ranney who help behind the scenes with uploading these to the website.
A full set of photos can be found HERE.
PNGAA events are always great gatherings of people and it's appreciated when members travel distance and from interstate to join in. This year we wished Libby Cadden a 'Happy 107th Birthday' for a few days later. An elegant, beautiful lady, Libby is always organised with gathering a table to attend! Bronwyn Vickers attended from near Port Macquarie bringing a delicate, hand-painted cream silk tablecloth, which she is hoping to find the name of the artist for, together with some Post Courier articles including stories of prime events in the lead up to PNG Independence. Items like this are always welcome and provide great conversations. Joan Stobo attended with family—again a great supporter of PNGAA events and so good to see Joan looking fabulous. Jane Clifton-Bassett came from Canberra way, encouraging some of her friends along too. And there were more …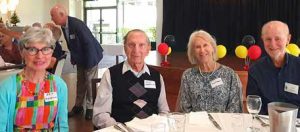 This year our fundraising was focussed on raising funds for the PNGAA Scholarship, which will support secondary school students in PNG in the pursuit of their secondary education.
Initial funding will support two students attending secondary school in Wewak. In time, PNGAA aims to extend this to more students. Students with good citizenship qualities, sufficient academic ability, and a lack of family income—a lack of employment opportunities for their parents—will be selected from Grade 9 to Grade 12 for the program. See information elsewhere in PNG Kundu and on the PNGAA website at https://pngaa.org/pngaa-scholarship-fund/. PNGAA appreciates donations for this program and for your ongoing interest and support.
This year, the PNGAA Christmas Lunch had a silent auction with the beautiful quilt donated by Jill Worsley, and written up in previous PNG Kundus this year, along with a special framed tea towel of a lakatoi. A table of PNGAA books was for sale together with the very useful PNGAA tote bags.
Phil Ainsworth, Roger Carroll and Rod Miller were 'stars extraordinaire' helping with sales and fundraising. We collected $2,285.53 which covered PNGAA book and tote sales as well as the silent auction items. Jill Worsley's quilt raised an extraordinary $500 for the PNGAA Scholarship Fund—it was wonderful to see the generosity of members who bid, thank you.
Together with the $400 raised at the Melbourne Lunch and $90 raised at the Perth Lunch—we have given the PNGAA Scholarship fund a great start!
We look forward to seeing you at events in 2023!
ANDREA WILLIAMS