Events Calendar
As we are all aware with current circumstances, anything could change before events. The PNGAA will be guided by government advice on gatherings, and any changes to events will be advised as required. Please keep an eye on our social media and your emails for any updates.
Thank you.
PERTH
PNGAA Christmas Lunch
Date: 20 November 2020
Venue: New Dining Room,
The RAAF Club, 2 Bull Creek Dr,
Bull Creek (Perth, WA)
Time: 12 Noon
Cost: Counter lunch; Parking Available
RSVP: 27 November 2020
Contact: Linda Cavanaugh
Manning M: 0429 099 053 or E: lindam121@bigpond.com
SYDNEY
PNGAA Christmas Lunch
Date: Sunday, 6 December 2020
Venue: Killara Golf Club,
556 Pacific Highway, Killara, Sydney
Plenty of parking/ten minutes'walk from Killara Railway Station;
Disability access available
Time: Registration—11.30 am; Leave premises—3.30 pm
Cost: $70 pp for two-course meal.
Please advise if you have any special dietary requirements when booking and prior to the event. Attendees to pay for their own beverages at members' rates. Special Guest Speaker TBA
RSVP: 20 November 2020
Payment: Please see Treasurer's Corner at the back of this issue for payment options, and notify treasurer@pngaa.net when payment is made.
EFT PAYMENT:
Bank: CBA: BSB 062 009;
Account No: 0090 7724
You may make up your own table of 8 or request seating with friends.
Contact: Sara Turner
M: 0401 138 246 or E: events@pngaa.net
BRISBANE
Paradise Palette
Haus Piksa
This is a PNG Film Festival &Contemporary Art Exhibition curated by Don Wotton on behalf of the Tumbuna Visual Arts Assoc. Venue: Petrie Terrace Gallery,
3/162 Petrie Terrace, Brisbane
Dates: 04–15 November 2020 – all welcome
More information: Don Wotton
(email) wottond@gmail.com
PNGAA Annual Lunch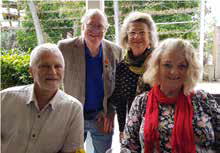 Easing of COVID-19 restrictions in Queensland meant that the annual lunch was able to proceed at The Ship Inn on 26 July 2020.Those who took the opportunity to have an enjoyable lunch while they caught up with friends were Phil Ainsworth, Murrough and Joy Benson, Roger and Sabrina Butterick, Rolf and Lynette Grubwinkler, Des Hoban, Dyanne Jackson, Lilianne Kramer, Belinda Macartney, Joanne and Ian Martin-Blakey, Kieran Nelson, Graham Tuck, Sharon Wallace, David West, Hellen White and Don Wotton—some of whom are pictured here.
MELBOURNE
The Bloody Beachheads: The Battles of Gona, Buna and Sanananda
The Battle of the Beachheads was the bloodiest of all the Papuan campaigns. The resolve and tenacity of the Japanese defenders was, to Allied perceptions, unprecedented to the point of being fanatical, and had not previously been encountered.
Keynote Speaker: Dr Peter Brune, author of A Bastard of a Place.
Date: Saturday, 20 March 2021 at8.30 am to 4.30 pm
Venue: Royal Historical Society of Victoria,
239 A'Beckett Street,
Melbourne, Victoria 3000
Contact: HERE
CAIRNS
Ex-Kiaps Gathering
This has been delayed from July 2020 until 24 July 2021.
Information in PNG Kundu, March 2021.
Contact: Deryck Thompson – E: dandy51@bigpond.net.au